Hamilton 'has met his match' in Verstappen, says Horner ahead of crucial Hungary showdown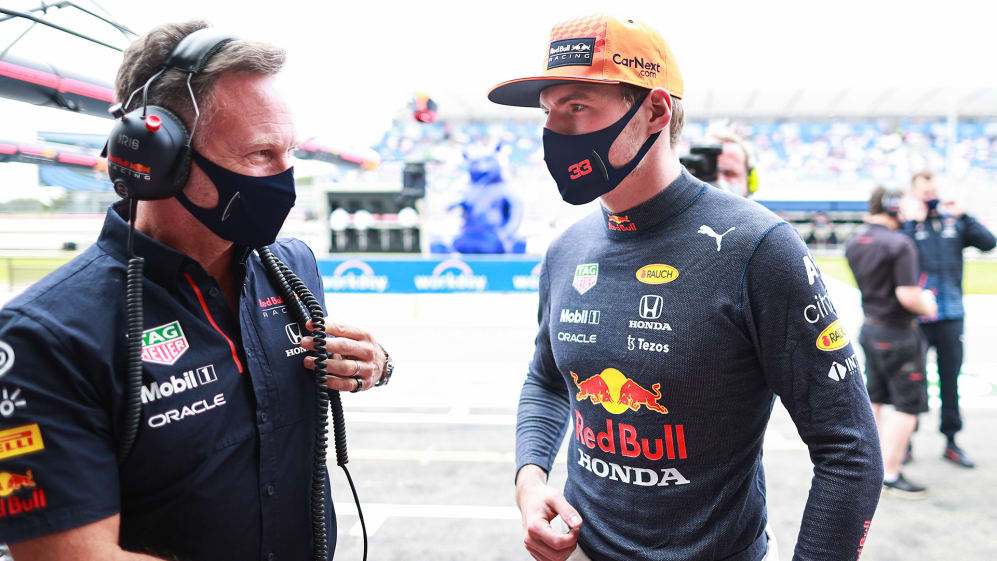 Red Bull Team Principal Christian Horner has maintained that Lewis Hamilton was the "aggressor" in the Silverstone clash that saw Max Verstappen retire from the British Grand Prix on Lap 1, and says the emergence of the Dutchman as a genuine title contender means the seven-time champion has finally "met his match" after years of F1 dominance.
Horner was very vocal with his frustration on Sunday after the Grand Prix, labelling Hamilton's triumph a "hollow victory", while Verstappen said the Briton's celebrations were inappropriate. Mercedes boss Toto Wolff and driver Hamilton responded in kind, with the reigning champ saying "when someone's too aggressive, these things are bound to happen," and insisting "there needs to be respect on track". And it seems that the war of words is far from over before the Hungarian Grand Prix.
READ MORE: David Tremayne on Hamilton and Verstappen – and when the gloves come off in F1 rivalries
"The aggressive 17-year-old F1 rookie Max Verstappen that Hamilton is referring to is not the Max Verstappen of today, just as Hamilton is not the same driver he was when he entered the sport," wrote Horner in his Red Bull column after the British GP.
"Both drivers are of course uncompromising in their driving style, but they are both highly skilled drivers with a great deal of experience. The reality is that Hamilton has met his match in a car that is now competitive, and I agree that both drivers need to show each other respect, but Hamilton was the aggressor on Sunday."
Horner also responded specifically to comments made by rival boss Wolff, who branded Red Bull's takes on the incident as "so personal".
"I would like to respond to some comments I have seen from Toto, who is quoted as saying our comments regarding Hamilton having caused the accident were 'so personal'," he said.
READ MORE: Red Bull estimate damage to Verstappen's car from Hamilton collision will cost them $1.8 million
"I would like to make it clear. This was an on-track incident between two of the best drivers in the world. At the point in time when you have a driver in hospital and the extent of any injuries have not yet been made clear, your car has been written off and the stewards have penalised the driver seen to be responsible, it is natural that emotion comes into play, for all involved, whether you feel wronged or victorious."