'I want challenging races' says Hamilton as he welcomes Red Bull threat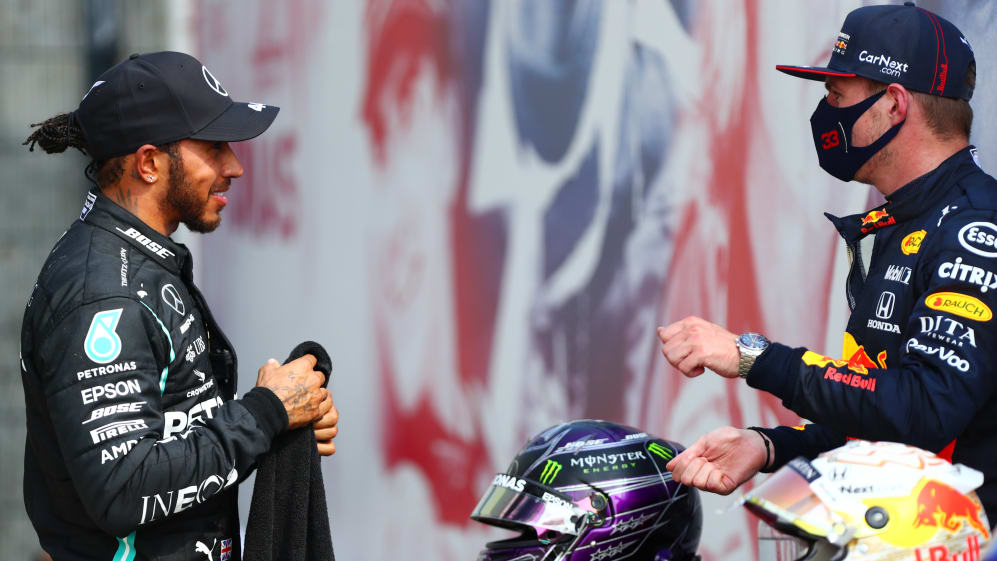 You'd have forgiven Lewis Hamilton for reeling slightly after Mercedes were knocked off their perch by Red Bull and Max Verstappen at last weekend's 70th Anniversary Grand Prix. But after finishing P2 in the race behind Verstappen, Hamilton said he welcomed the challenge from what appears to be a Red Bull team finding their feet with the RB16.
Having been narrowly outqualified by Valtteri Bottas on Saturday, Hamilton then spent much of the second Silverstone race behind his team mate too, before some on-the-fly Mercedes strategy allowed him to pull off a late-race surge that saw him climb past Bottas to second at the flag, as Verstappen took an accomplished victory.
READ MORE: 'We just had a slower car' – Wolff counters Bottas 'sleeping' criticism after Silverstone defeat
It may have been the first time in 2020 that Mercedes had been beaten, and on pure Red Bull pace to boot – but Hamilton said that he was now relishing the possibility of a challenge coming from someone other than his team mate.
"I think it's great," said Hamilton after the Grand Prix. "I want to have races where they are challenging like today.
"Obviously the Red Bull… seems to be quite close in race conditions to us, and today stronger, so it shows they don't have as bad a package as people had said in the past. I think it's good – it will be interesting to see the progression through the year and I definitely [won't] overlook them. We need to keep a close eye on them and keep working to push forwards because it's not going to be easy by any means.
"But I don't think my team has that mentality anyway; we just keep our heads down. I was hopeful today – wishful thinking that we'd have some sort of race towards the end. But maybe in the future we'll get to have some."
READ MORE: 'His grandma must drive quickly!' – Horner hails 'amazing' Verstappen after Silverstone win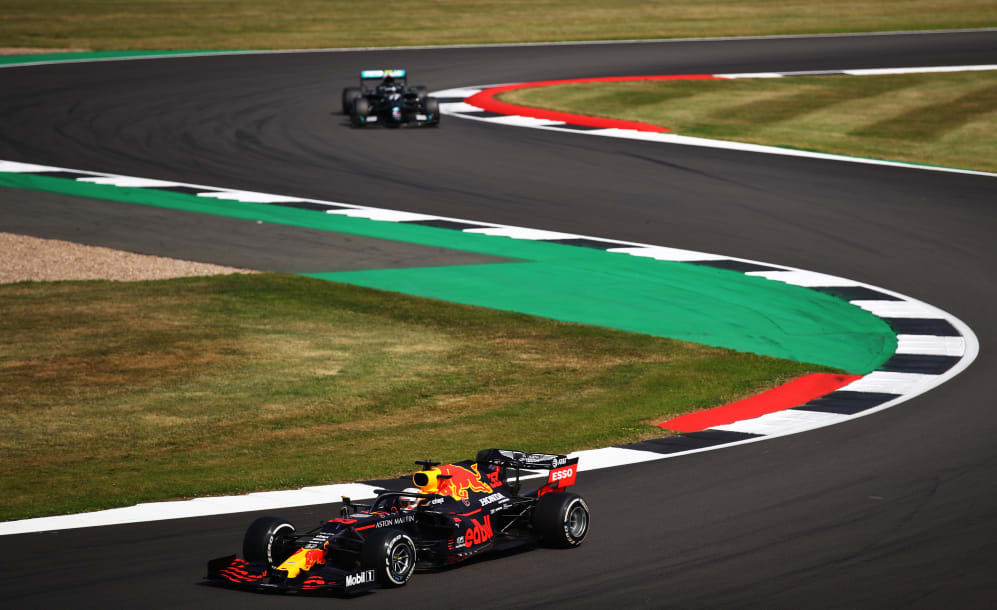 There's no doubt that Pirelli shaking things up with the tyre choice at the 70th Anniversary Grand Prix – as they brought a set of compounds one step softer than at the British Grand Prix the week before – contributed to Verstappen's win, with the Dutchman the sole driver in the top 10 to start on the hard tyre before two-stopping his way to victory.
But the "exciting" race that that change of compounds brought had left Hamilton in two minds about using softer tyres in the future…
"We've come here with the softer tyres, which has made the racing more exciting," said Hamilton.
READ MORE: Jolyon Palmer unpicks Vettel's weekend to forget at Silverstone
"Part of me doesn't want to propose we go with softer tyres moving forwards, because maybe we'll be in this position again!" he laughed. "But ultimately one-stop sucks – we should never be doing one-stops in this sport, it's never been good watching as a fan. It makes it more exciting when there's more."
Although Verstappen's win allowed him to pass Bottas for second in the drivers' standings, Hamilton's damage limitation in the race meant he's still sitting pretty at the top of the table, with a 30-point lead over the Dutchman ahead of the Spanish Grand Prix.