Feature
ICYMI: Baby pics, bubbles and plenty of buzzing bees – it's the best social media from Japan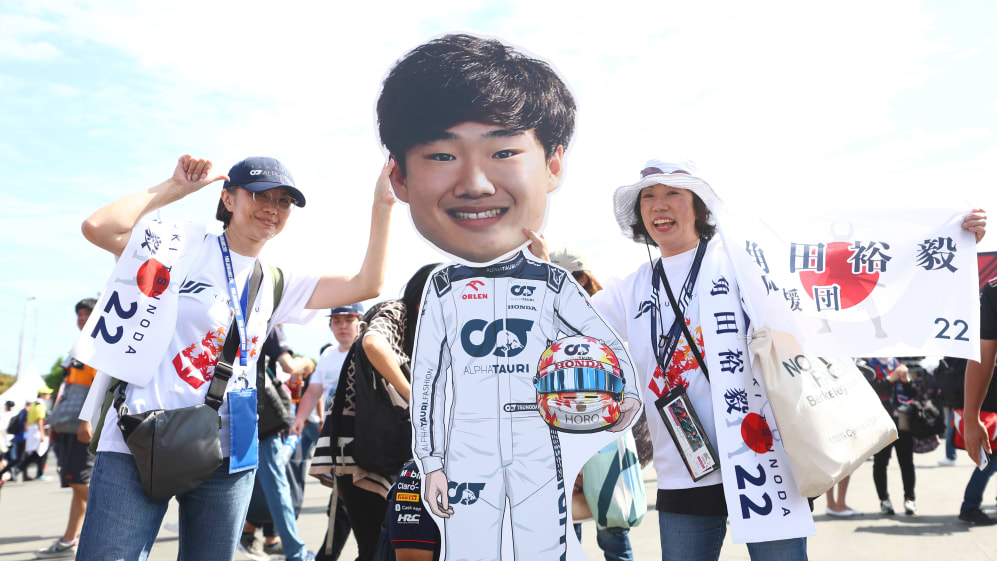 The Japanese Grand Prix weekend will be remembered for Max Verstappen's emphatic victory that sealed the constructors' crown for Red Bull. But that wasn't the only thing going on in Suzuka. A former world champion returned to the grid for starters, a couple of drivers released their inner child and the fans made for a brilliant atmosphere. Without any further ado, here is the best social media from Japan...
Rome wasn't built in a day
When did you last think about the Roman Empire? Did you wish that some straight Roman roads had made their way into the Suzuka track design? Do you ever wonder which F1 drivers would have made good gladiators?
READ MORE: 'I'm very proud of everyone' – Verstappen overjoyed as Suzuka win seals constructors' crown for Red Bull
If you've missed this trend on social media, never fear - the teams haven't, and George Russell and Carlos Sainz are clearly the two to go to if you wish to discuss historical facts.
Oops! Error retrieving Twitter post
Oops! Error retrieving Twitter post
Honey, I'm home
Sebastian Vettel returned to the F1 paddock with a very special mission - to install some bee hotels down at Turn 1. He managed to get all the drivers to join him down there, and even entrusted some of them with the job of decorating his hotels.
It's all in a bid to increase both bee numbers and also aid in his mission to preserve the biodiversity of all living things. As well as getting behind the worthy cause, it caused a real buzz to have Vettel back in the paddock.
READ MORE: How Sebastian Vettel made Turn 2 at Suzuka a hive of activity with his 'Buzzin' Corner' project
Oops! Error retrieving Twitter post
Oops! Error retrieving Twitter post
Oops! Error retrieving Twitter post
Guess who?
Who is prepared for the cuteness overload that is baby Yuki Tsunoda, with AlphaTauri digging in the archives to find these snaps. Tsunoda was a man in demand all weekend at his home race, but he still had time to reminisce about trips here as a youngster.
Quite what happened to this angelic cherub of a child though, is a mystery – especially for his poor race engineer, who is often on the receiving end of some potty-mouthed rants about traffic.
FACTS AND STATS: Verstappen's 13th season win means he could sprint to Qatar title glory
Oops! Error retrieving Twitter post
Oops! Error retrieving Twitter post
Oops! Error retrieving Twitter post
A double celebration
Landing not one, but two podiums and one of them being a driver's first ever in F1 was definitely worthy of a decent sized celebration. Luckily, Norris didn't manage to break any trophies this time but you can always count on him to sew some sort of chaos when he's near a bottle of champagne.
HIGHLIGHTS: Watch the action from an entertaining race in Japan as Verstappen takes a commanding victory
As for Oscar Piastri's engineer though, he was more concerned with capturing the moment than getting a face full of fizz.
Oops! Error retrieving Twitter post
Oops! Error retrieving Twitter post
A Mother's love
Speaking of Piastri, his mum had a very important point to make post-race. Now that he's picking up silverware, she's going to need a bigger trophy cabinet installed at their family home.
And based on the fact he has signed a deal to stay with McLaren until 2026, and so will be around F1 a good while longer, it better be a sizeable upgrade.
ANALYSIS: Why McLaren moved to lock down Piastri with a fresh contract extension
Oops! Error retrieving Twitter post
They came, they saw, they dressed to impress
Where to finish but with the fans? They are always a highlight of coming here, from their enthusiasm for the sport, to their inventive headwear, memorable signs and all manner of fancy dress.
It's hard to spot the genuine drivers sometimes such are the number of fans in full race suits and helmets, although the teams wouldn't have it any other way.
Until next year, Suzuka!
Oops! Error retrieving Twitter post
Oops! Error retrieving Twitter post
Oops! Error retrieving Twitter post
Oops! Error retrieving Twitter post