Feature
Is 2020 make or break for Renault? 5 takeaways from their season launch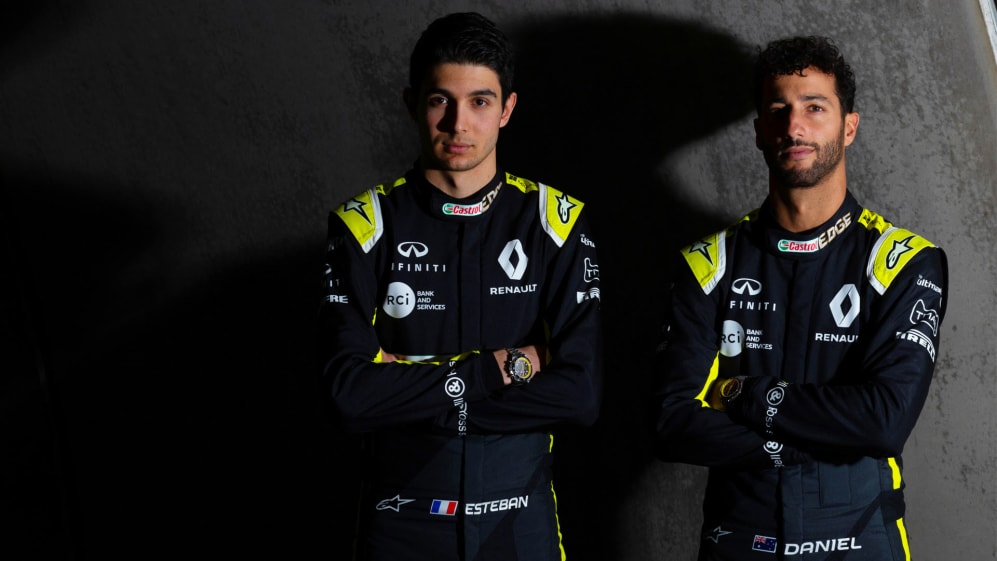 Since returning to Formula 1 as a works team in 2016, Renault have generally been bold with their hopes and ambitions. The first three years saw progress, but the French manufacturer stuttered last year, suffering an embarrassing defeat to customer team McLaren. They cannot afford another season like it – but as we explain, their task isn't simple.
A car-less launch in Paris
The sun may have been shining, but there was a chill in the air as the F1 fraternity arrived in Paris for Renault's season launch at their impressive L'Atelier Renault facility on the Champs Elysees. The first thing the invited guests will have noticed when they arrived is that there was no car to be seen. Instead we were treated to a few teaser shots of the R.S.20.
READ MORE: 2020 'pivotal' for Renault after team missed last season's targets, says Abiteboul
It was an interesting decision. Did they choose that path because they are running late? Renault chief Cyril Abiteboul strenuously denied this: "If anything, we are much more on schedule than we were last year". His view is that there is no point bringing forward your production date – and in turn losing development time – just so you can have your new car at the launch. The better bet is to push up until the limit and then head straight to Barcelona.
He also said there's no point bringing a showcar, because it's "a waste of money" and it only leads to confusion as to whether it's their old car or the new car. Neither driver has seen the new car yet, which is noteworthy, but they won't care if it's quick out of the blocks when they get hold of it in testing next week.
What can we expect from the R.S.20?
When we finally see the new car, you'll likely see many similarities to its predecessor. The reasoning behind this is that they do not have to start from a blank sheet of paper, and thus spend time and resource trying to understand their car. Once they have got a baseline at testing, they can focus on performance and, in their words, develop aggressively in the early part of the season.
They want to finish fourth in the constructors' championship, a feat Abiteboul says is "realistic" but acknowledges will be difficult because of the strong challenge McLaren will represent. When asked how Renault balance trying to meet that target with making sure they don't fall behind on their 2021 work, Executive Director Marcin Budkowski opted to use his "joker" and not answer, demonstrating how much of a dilemma Renault face.
READ MORE: 'We won't be content with midfield supremacy' – Renault
Their best-case scenario is that the car is reliable out of the box - engine chief Remi Taffin spoke about wanting to get through testing with as many miles as possible, rather than focusing on performance - so they can iron out bugs early and hit the ground running in Australia. A strong start to the year, coupled with an aggressive development plan in early races, would ideally allow them to score big points and ease off the gas, to allow them more resource for 2021 – as they all know that is the year when they can make big gains.
Which Daniel Ricciardo will we see?
While wanting to prioritise 2021, and thus give themselves the best chance possible to make jumps up the pecking order does make sense, it does risk 2020 turning out to be a damp squib. If that happens, Ricciardo will undoubtedly start asking himself whether Renault really is the place for him beyond the end of his contract, which expires at the end of the year.
Renault, then, will need to operate a fine balance, proving to Ricciardo that they have learned their lessons from last year with gains this seasons as well as making a big step forward in their preparations for next year, thus potentially giving the Australian a car to fight for silverware.
READ MORE: Ricciardo planning to spend more time at Renault factory pre-2020
Ricciardo will want to make improvements on a personal level, too. He admitted he wasn't happy with how things went last year and thus took some downtime over the winter back home in Australia to reassess things and have a reset. At the launch, he was still his jokey self, but there was a sharper edge. You suspect he'll knuckle down, better integrate with his mechanics, and aim to drive closer to his ultimate limit.
Esteban Ocon is riding high
Esteban Ocon was in tremendous form at the Renault launch, the Frenchman oozing excitement about a return to a race seat at a team that has long wanted him and whom he has previously been keen to drive for.
Having had a year out, Ocon will be rusty, so that's why he's spent much of daylight hours since agreeing on the deal at Enstone, integrating himself with the team and getting ready for the coming campaign. He was feeling so good, he said this was one of the best winter preparations that he's ever had.
Many expect Ocon to push Ricciardo hard, with some suggesting he will get the better of his more decorated team mate. Ocon is oozing confidence right now and has no pressure, because if he doesn't beat Ricciardo but matches him closely, that'll rank as a good year, and if he beats him, it'll be an excellent one.
A revised technical line-up
Change has been sweeping through the halls of Enstone for many years now, the French manufacturer investing in their ageing facility to transform the site while recruiting heavily to bring them closer to the staffing size that the big teams – Mercedes, Ferrari and Red Bull – operate.
The latest change has been the recruitment of Pat Fry as technical chief, replacing long-serving Nick Chester. Fry was hot property after he swooped in at McLaren, revised the way they worked and scooped up – in his words – the low hanging fruit, of which there was much.
READ MORE: Need for 'stronger technical leadership' sparked Renault aero restructure – Abiteboul
How he will perform working at a manufacturer, where there is a larger management and leadership team, meaning it will inevitably take longer to get things approved, is a big question. Renault have already picked up all the low-hanging fruit, too. Interestingly, it seems that while Fry will have an eye on 2020, his largest focus will be on 2021 – as that is where he can have the biggest influence.
Renault need to improve this year, to keep the board happy by meeting their goals, but impressing in 2021 – and becoming one of the top teams that are capable of fighting for podiums, race wins and ultimately championships – is far more important. It'll be intriguing to watch.
READ MORE: Renault tease 2020 F1 car at season kick-off in Paris