Feature
Jolyon Palmer's Analysis: The theory behind nailing an F1 start
It all kicked off at the start of the Russian Grand Prix, as Sebastian Vettel benefitted from team orders to slipstream past polesitter Charles Leclerc – before stonewalling suggestions of letting his team mate back past. But as former Renault F1 racer Jolyon Palmer explains, while the teams can plan their race starts as much as they like, all those well thought-out stratagems tend to go out the window as soon as their drivers' visors go down.
The start of a race is one of the most high-pressure, critical moments in the Grand Prix weekend, particularly for the drivers. The field is at its most condensed and small mistakes can cost a lot of places – or even worse, lead to an accident.
So much planning and preparation goes into every aspect of the weekend. From the moment the drivers turn a wheel in FP1 to the chequered flag on Sunday, almost every aspect is meticulously planned. But the start is almost impossible to plan in the same way.
POWER RANKINGS: Which former champion has fallen out of the top 10 after Russia?
On race day morning, pre-race meetings will be conducted between the drivers and team to decide the strategy, starting tyres if the driver hasn't qualified in the top 10, and anything particular in terms of car settings or engine modes that can be used in specific situations.
But the race start itself is usually up to the driver. The best thing they can do is look through videos of historical races, to get an idea of where a good place to go at the first corner is, where the riskier places are, all depending on where you are starting.
WATCH: How Mercedes took advantage of Ferrari's misfortune in Russia
In reality, for most of the drivers much of this goes out of the window as the lights go out, as you have to react to what is going on around you, avoiding drivers that have got poor starts and getting into spaces that are opening up ahead, rather than their pre-planned route of choice.
It's almost impossible for teams to orchestrate a start – and on top of that, you have your own fiercely competitive drivers to keep in control
For the drivers at the front, though, it is a bit more simple.
The drivers on the front row have a clear run to the first corner, and the drivers on the second row can usually find a way between the two ahead if they get a great launch, so start tactics and preparation become more important. This is why you sometimes see drivers pull up to the grid at an angle, because they have an idea of what they want to achieve immediately.
READ MORE: Vettel not keen to discuss details of pre-Russian GP agreement with Leclerc
From a team's point of view, it is still almost impossible to orchestrate a start, because there are too many variables in play and too many other cars around. On top of that, you have your own fiercely competitive drivers to keep in control – and with so much going on, sticking to a plan can be difficult.
In Sochi, though, the run down to Turn 2, the first proper corner, is the longest of the year – and because the increased slipstream effect of these 2019 cars is so big, strategy can be used – and indeed sometimes has to be used – to maintain position.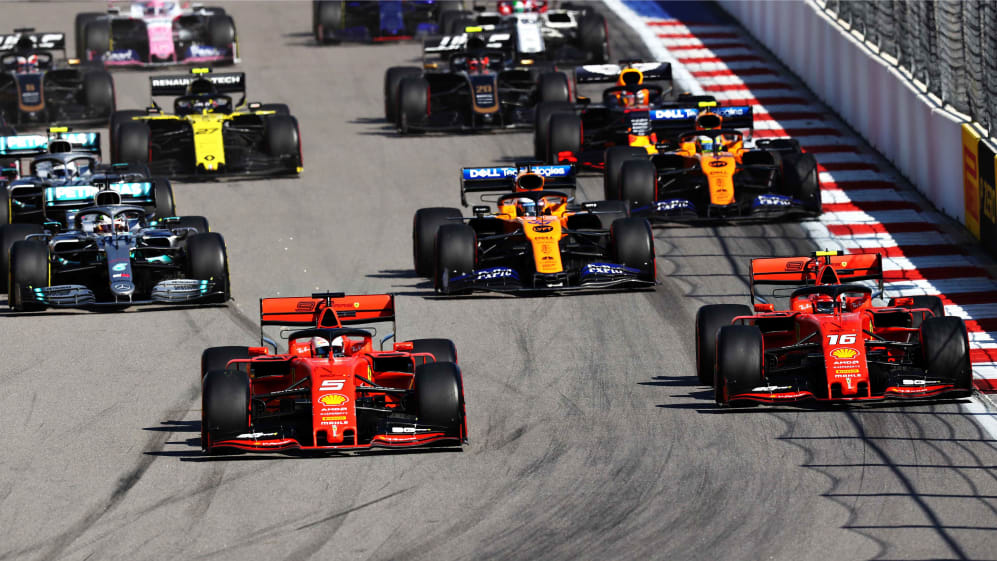 On Sunday, Sebastian Vettel took the lead of the race in a team orders strategy by Ferrari focused solely on helping Vettel pass Lewis Hamilton at the start to leave Ferrari in command of the race.
This was a carefully thought-out plan, which Ferrari will have opted for having seen the starts from the last couple of years.
In 2017, Valtteri Bottas started third and leapfrogged both Ferraris to lead and then go on to win the race. In 2018, Mercedes learnt from this and used their own tactics to keep the Ferraris at bay, as Bottas, who was on pole, moved immediately across to slipstream Hamilton down to Turn 2, helping him defend from Vettel in third.
Oops! Error retrieving Twitter post
Perhaps Ferrari's team orders in this case were unnecessary, and gave them an unintended headache of having to swap the positions back after the first lap
Ferrari orchestrating the start of the race between their two drivers was effective in giving them a one-two position, but in reality they were always likely to be there anyway because of other start parameters.
They started on the soft tyre compared to the mediums for Mercedes, while they also started on the clean side of the grid, rather than the dirtier inside part that Mercedes occupied.
So perhaps team orders in this case were unnecessary, and gave them an unintended headache of having to swap the positions back after the first lap, to have the car they wanted in front.
READ MORE: 'Deliciously ironic' that Vettel failure inspired Hamilton victory – Mercedes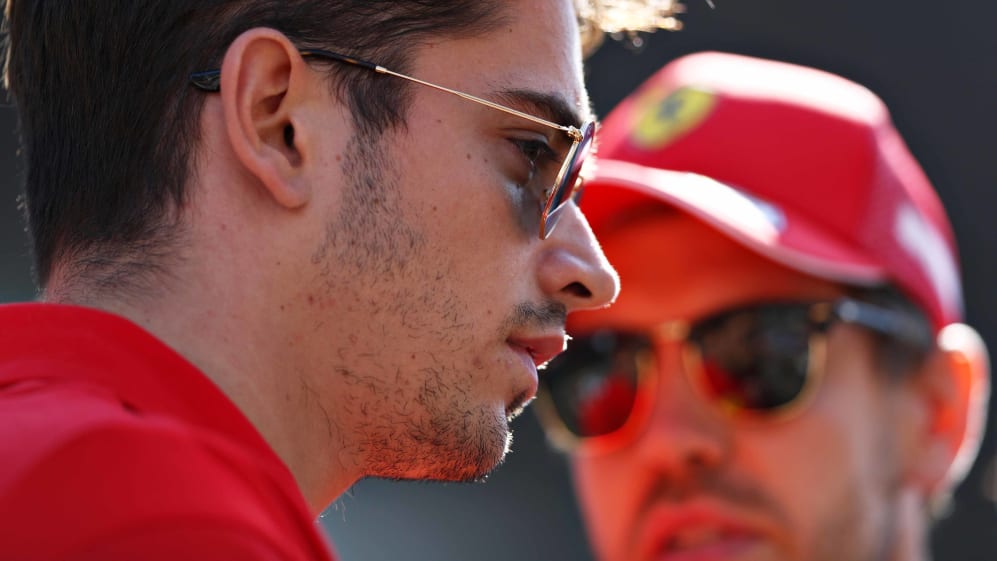 As a driver, you have to trust in your team mate to obey the orders of your team. But you also have to trust your team to be firm with that driver to enforce the order once you've held your end of the bargain.
Leclerc held his end of the bargain in Sochi, in helping Vettel down to Turn 2, but Vettel didn't return the favour, citing two reasons over team radio for not yielding the position when asked to:
He would have passed Leclerc regardless (he was almost a full car-length ahead into Turn 2)

Leclerc needed to close the gap (it was one second at the time)
Oops! Error retrieving Twitter post
With a race win on the line, drivers will do all they can to dissuade the team from having to switch the positions. Vettel was using all his arguments to stay ahead, even inadvertently trying to call a pit stop to cover off Leclerc, when he complained his tyres were going off.
This sort of thing is very harmful to the driver dynamic. For Vettel, he might have felt the trust had gone after Monza qualifying, when Leclerc didn't tow him around in Q3 as agreed. But for Leclerc, it seems the trust must be gone after Sochi, despite everything he's said to the contrary.
It is true that nobody is bigger than the team. But in these cases, with wins and poles at stake, the drivers will push that to the limit – and that is where problems arise.