Feature
Jolyon Palmer's Analysis: Why Abu Dhabi proved F1 shouldn't lose DRS just yet
Ex-Renault F1 racer Jolyon Palmer looks back on the 2019 season finale at the Abu Dhabi Grand Prix, and particularly why the technical glitch that denied drivers the use of the Drag Reduction System in the early part of the race created some intriguing scenarios – both good and bad…
In Abu Dhabi we witnessed an interesting situation brought about by an issue with the DRS for the first 17 laps. This affected the race and created some more interesting scraps, as well as hindering some drivers' strategies and helping others.
The pure racing was slightly different when DRS was deactivated. There was more chance of drivers pushing to overtake in corners we don't usually see.
READ MORE: Renault avoided 'punch in the guts' by securing fifth in standings, says Ricciardo
With DRS active, you will never get passing into Turn 5, for example, as it wouldn't make any sense. If you overtook at Turn 5, your opponent would simply pick up DRS on the exit of Turn 7 and have a good go at dragging back past you in a straight line, as the activation point is just on the exit of Turn 6.
With no DRS, however, we saw Valtteri Bottas put a move on Lance Stroll there on his way up through the order, and also the most audacious of passing attempts from Carlos Sainz on Daniel Ricciardo, as he exited the pits. We also saw drivers defending into Turn 17 a bit more – a corner that hasn't really seen overtaking in Formula 1 since DRS was created on the back straight.
READ MORE: Abu Dhabi performance 'a worthy final race for me', says Hulkenberg
So in some ways, we saw better, more authentic racing whilst DRS was deactivated. But there were also some warning signs of what abandoning DRS might create.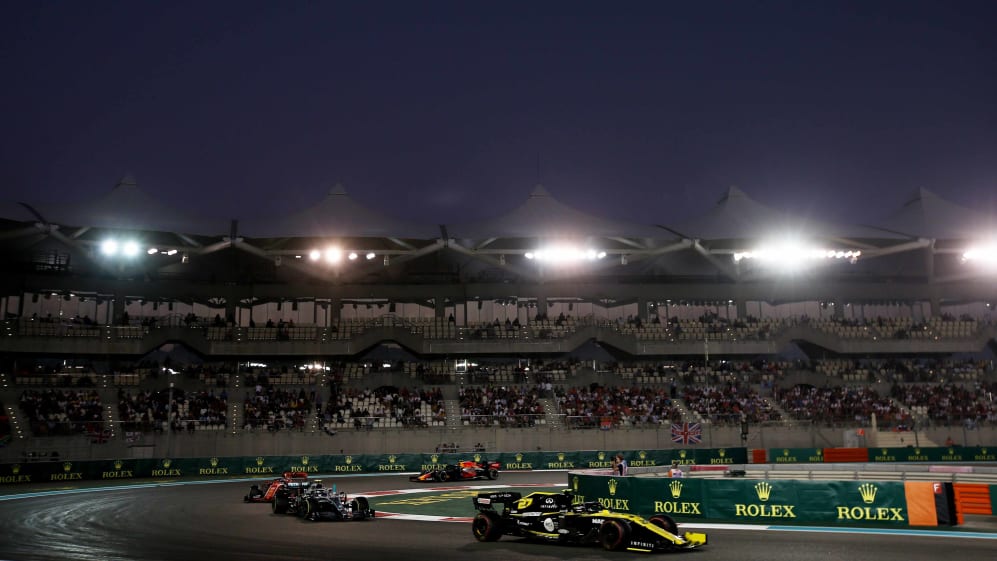 Bottas vs Hulkenberg
When Valtteri Bottas caught Nico Hulkenberg, the first of the upper midfield rivals he came up against, he got stuck behind. He also had Sebastian Vettel up behind him, in a Ferrari with good top speed, but Vettel couldn't make inroads into Bottas, who in turn couldn't pass Hulkenberg.
In these laps, Bottas was losing around 1.5-2 seconds per lap to Lewis Hamilton, who was lapping on the same tyres in clean air, showing how much quicker Bottas could have gone and the Mercedes was. But he couldn't pass the soft-shod Renault.
READ MORE: What were the best and worst teams from the Abu Dhabi season finale? – F1 Fantasy
So whilst we might have seen better wheel-to-wheel racing on occasion – and it was nice even seeing the Renault of Hulkenberg holding off Bottas and Vettel – until DRS was open again and Bottas simply drove by in a straight line as normal service was resumed, without DRS we will be in real danger of having no good scraps at the front in cars that are more evenly-matched than a Renault and a Mercedes.
Even with DRS, Hamilton couldn't pass Charles Leclerc at Monza, but without it we would have lost the drama of the run-up to Turn 4, or the lock-up where Leclerc was under pressure at Turn 1 and subsequently chopped Hamilton through Curva Grande.
In reality, these cars still aren't good enough at following each other to have more organic racing, which I would love to see with the scrapping of DRS. It was brought in as a plaster to poor racing in 2011, and since then, to be honest, the cars have probably struggled to race each other even more, so the plaster isn't ready to be removed just yet.
Hopefully the rule changes being brought in for 2021 can result in the cars being able to follow more closely, which is what we are crying out for, in order to get rid of DRS and the slightly artificial racing it can sometimes bring, such as in Spa, when nobody wants to be first out of La Source, for fear their rival behind might pick up the DRS and simply drive past them on the straight.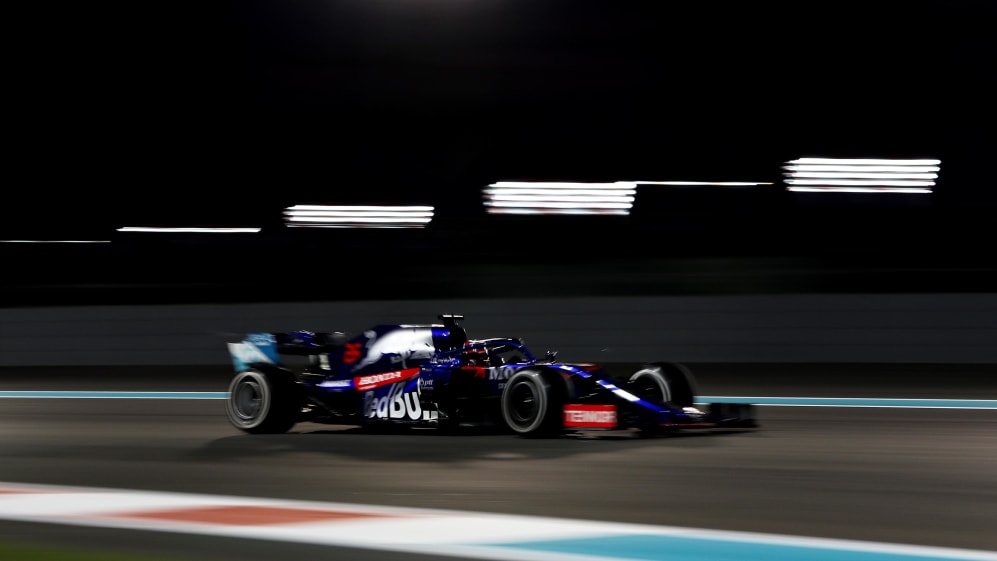 Who did it help?
In Abu Dhabi the lack of DRS significantly helped Sergio Perez and Daniil Kvyat, and to a lesser extent Hulkenberg, in their battle with Lando Norris, Ricciardo and Sainz.
Norris, Ricciardo and Sainz had to pit early after starting on soft tyres, and when they did so they dropped into traffic behind Romain Grosjean, which cost Norris a good few seconds to Hulkenberg – who was then running in clear air at the front of the midfield – even though Norris was on new tyres and Hulkenberg on used.
MUST-SEE: The last-lap Perez overtake that left McLaren's Norris 'embarrassed'
That brought Hulkenberg into the mix when he pitted as DRS was activated again, and the same effect benefitted Perez and Kvyat, who started on the medium and hard tyre. They didn't lose anything to the drivers that pitted early, and so when they emerged on fresh tyres, they were immediately in the fight for best of the rest.
Who did it hinder?
As well as the McLarens and Ricciardo, Bottas and Vettel were also clearly hindered behind Hulkenberg, but Bottas particularly lost out because he started from the back, so had to work for nearly all of his overtakes. If DRS is going to falter in one race, it is a disaster for it to be in the one where you are in a Mercedes starting from last.
Ultimately, Bottas had a very strong race, finishing on the tail of Leclerc, despite being a pit stop and 20 seconds behind the Ferrari man as DRS was finally opened and he cleared Hulkenberg.
The fact he actually caught Hamilton over the remaining 37 laps, by four seconds on a like-for-like strategy, underlines how impressive Bottas' drive was. If he could have cleared the backmarkers quicker with the help of DRS he surely could have ended up on the podium.
READ MORE: Bottas hails Abu Dhabi as 'one of my best races of the season' as he goes from last to P4