Feature
LONG READ: How Leclerc made himself Ferrari's leading man
Standing on the top step of Monza's iconic podium, with the Ferrari's adoring Tifosi worshipping him below, Charles Leclerc revelled in the enormity of what he had just achieved. The Monegasque had clinched his second Grand Prix win, a week after securing his first. It was Ferrari's first at Monza since 2010. But it was more than that. The Tifosi, celebrating wildly, had christened a new hero. Ferrari, titleless since 2007, had their faith in him confirmed. Leclerc is indeed the real deal. And he's now Ferrari's main man.
The way Leclerc brutally fended off Lewis Hamilton for more than an hour, racing at an average speed of more than 150mph, showed the kind of ruthless edge only a handful of drivers in the history of motorsport, let alone Formula 1, have demonstrated. This was only his 35th Grand Prix – 14th for Ferrari, F1's most famous team – and came in a season where at the start, Ferrari Team Principal Mattia Binotto said that in 50-50 situations, they would favour four-time world champion Sebastian Vettel, given Leclerc's lack of experience.
READ MORE: Emotional Leclerc reflects on his Monza victory: 'If there's one race you have to win with Ferrari…'
| | VETTEL | LECLERC |
| --- | --- | --- |
| Victories | 0 | 2 |
| Podiums | 6 | 7 |
In his first race for the Scuderia in Australia, he was told to hold station behind Vettel, despite being quicker. He dutifully did as he was told. Next time out in Bahrain, he ignored a similar request, passed Vettel and was all set for victory before an engine issue struck. In China, he moved over for Vettel at the team's request – and then lost time as Vettel lacked pace. In Baku, he crashed in qualifying, where he looked like he had the pace for pole, and that cost him any hopes of clinching victory.
It looked, at this stage, as though perhaps Ferrari were marginally right to favour Vettel – winner of 52 Grands Prix – because Leclerc was still green. He was still learning. Vettel still looked like their safest bet for a championship tilt. But Vettel wasn't storming ahead, despite having had assistance from his team with regards team orders. After four races, he led Leclerc by just five points. And he was making mistakes. Think Bahrain, when he spun off by himself. Think Canada, when he cracked under pressure from Lewis Hamilton.
The French Grand Prix proved to be a turning point. Leclerc finished third, scoring his second successive podium and third of the season. But it was more than just a podium. It was the second time he had defeated Vettel on track when both had seen the chequered flag. And it was the result of a change that he had finally been confident enough to make.
On arriving at Ferrari, he tried to adapt his style to the SF90 so as to not run before he could walk. He realised early on that it wasn't working, but out of respect to the famous name, he pushed on and tried to make it work. But after trying all avenues, he requested changes, particularly regarding the set-up, ahead Paul Ricard – and the results were immediate.
When we spoke ahead of the summer break, I asked him why he had chosen to wait so long before making changes, particularly as it echoed the chain of events the previous season when he waited until Azerbaijan before tweaking things at Sauber, he said: "At Sauber, a relatively small team, I realised quite early that I wanted things differently. Coming to Ferrari, Ferrari is Ferrari, they have a lot of experience in F1, and it's not as easy for me, especially in my second year in F1, to arrive and change anything.
| | VETTEL | LECLERC |
| --- | --- | --- |
| Average grid position | 5.21 | 4.79 |
| Pole positions | 1 | 4 |
"I did not want to sound and look arrogant inside the team, which it can give this impression when a young driver comes to the team and wants to change everything. So I wanted to take my time, try to adapt first to the car and then ask for the changes that I have now got. It was clear from the beginning [that he needed to make changes] but I was not completely sure if I had to adapt my driving style to this type of balance, because sometimes the balance can feel quite bad but it's the way you achieve the lap time, and this changes a bit from car to car.
"So I wanted to take the time to adapt my driving style to this car and then see if it can go in a direction that is maybe a bit more natural to my driving style and gain a bit more lap time, but first I wanted to adapt my driving to the car."
Waiting, it seems, paid off. From France onwards, Leclerc has out-qualified Vettel in all seven races. A senior figure told me in Italy they would be surprised if Vettel qualifies ahead of Leclerc at any of the remaining races this season. It's hard to disagree. Leclerc's average grid slot in 2019 is 4.79, versus Vettel's 5.21, though given both have been afflicted by issues in qualifying, perhaps the better barometer is Leclerc's four pole positions to Vettel's one.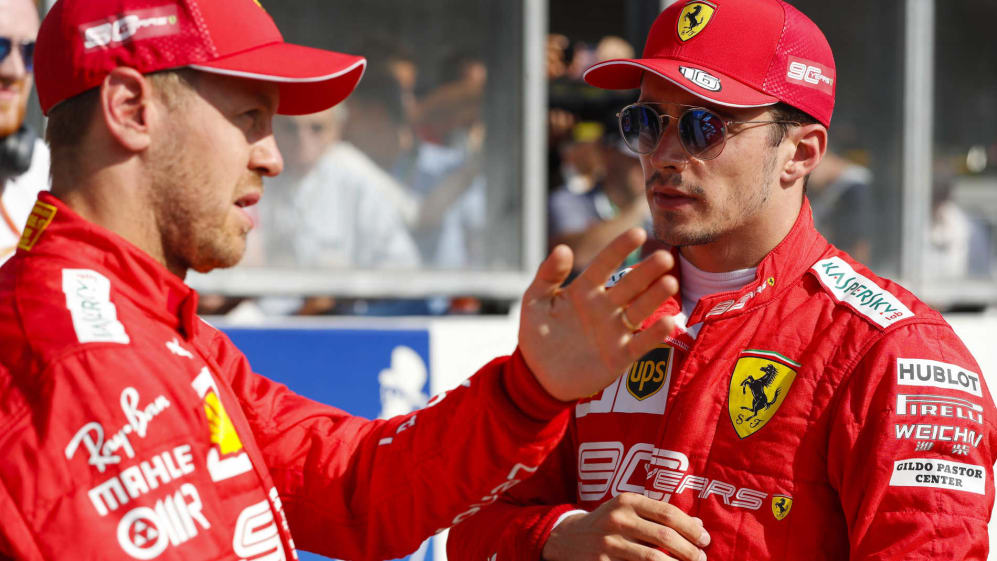 And his brutal self-examination has made him into quite the racer too. In Austria, he was outmuscled by Max Verstappen. In Germany, he got caught out in the wet conditions. But refreshingly, each time he made an error, he would own up to it and vow to improve.
"I always thought it was better for me to be hard on myself," he says. "I try to be honest with myself, when it's my fault, I say it. I think it's the way forward and it's the way you learn the most. Sometimes, I may sound very angry with myself on the radio, but getting out of the car, I analyse a lot more the situation than the reaction in the car. I wouldn't call it pressure… it's difficult to put pressure on yourself. I'm just having very high targets and try to achieve them. And when I don't, I try to analyse the session in the most honest way to understand where I can be better."
It's a trait few F1 drivers have. But it's one that is paying dividends. Of the races that Vettel and Leclerc have both finished, Leclerc has finished ahead in five of the last six. He has led 207 racing laps this season (24.56%), a figure that compares very favourably to Vettel, who has managed just 73 (8.66%). When you look at laps spent in the top three, Leclerc has managed 492 (out of a possible 843) while Vettel has 342.
| | VETTEL | LECLERC |
| --- | --- | --- |
| Laps led | 73 | 207 |
| Laps in top 3 | 342 | 492 |
Leclerc's Belgian Grand Prix win was a breakthrough. He had finally got off the mark, having threatened to do so on at least three occasions this year. He won a race in 2019 before his team mate, the supposed team leader, although Vettel had played a key role in that win, by holding Hamilton up for a crucial handful of laps.
It was Italy, though, where Leclerc really stamped his authority. And it came on a weekend where Vettel helped him not once, but twice. In qualifying, Vettel gave Leclerc a tow in the first runs. But Leclerc didn't return the favour, as had been agreed, in the second runs. Vettel was furious and ended up fourth, with Leclerc on pole. Although Q3 ended in rather farcical circumstances, it was perhaps a first glimpse at a ruthless side to Leclerc.
Then in the race, he showed he was willing to go to the absolute edge in the pursuit of victory, earning a black and white flag, the equivalent of football's yellow card, for unsportsmanlike behaviour in defending from Hamilton. Leclerc had been burned by events in Austria, when he had been outmuscled by Verstappen for the win. When Verstappen wasn't penalised, Leclerc vowed to change his approach. He has since got his elbows out and they were fully extended in Italy as refused point blank to let Hamilton past.
READ MORE: Will Buxton on why the FIA has got it right with black and white flag rule
To do that against one of F1's greatest drivers, currently driving at his peak, was a sign. This was a new, steely Leclerc. He wasn't willing to be pushed around. He wasn't willing to be play second fiddle. He wanted victory. He wanted to be number one. The similarities to a young Hamilton are scary, particularly if you think back to Hungary 2007. He wants team harmony, sure, but you get the sense he is also prepared to do what it takes to ensure personal glory. The overall result in Italy was victory, one that was hard earned and deserved.
But while the Tifosi were falling head over heels for Leclerc as he dazzled them with his on-track antics, the other driver in red was giving Ferrari increasing reason for worry. Running fourth at the start of the Italian Grand Prix, he spun, all on his own, at Ascari. It was a big error, his second in as many years in Italy and ninth in 27 races. Worse was yet to come, mind, as he clipped Lance Stroll – whom he says he didn't see until it was too late – earning him a 10-second stop-go penalty and all but ending his hopes of a point, let alone a podium.
It's quite a turnaround in form for Vettel. Despite his lack of pace in the first seven races, versus Leclerc, he still claimed 100 points versus his team mate's 72 – more than a race win's worth of points difference. Look at the next seven races, though, and those positions are reversed, with Leclerc scoring 110 points over the spell, and Vettel just 69 – nine short of two race wins' worth of points. That's quite a dramatic swing internally, and reason to suggest the Monagasque is now the top dog at Ferrari.
| | VETTEL | LECLERC |
| --- | --- | --- |
| Points round 1 to 7 | 100 | 72 |
| Points rounds 8 to 14 | 69 | 110 |
The swing is even more impressive when you compare to his rivals, though. The title order after seven races had Hamilton leading on 162 points, 62 clear of Vettel and a staggering 90 ahead of Leclerc. But reset and look at the last seven races in isolation, and while Hamilton still leads the way on 122, Leclerc is just 12 points – a fourth-place finish – behind, with Vettel 41 further back. That is title-challenging form.
In the first seven races, Leclerc proved he deserved his promotion to Ferrari in just his second season, despite many suggesting it was too early. Then in the next seven races, he has proved not only that he has the chops to be the number one at Ferrari, but also that he is capable of challenging Mercedes and Hamilton for the title. It's quite a feat…