Feature
Meet Oscar Piastri, Alpine's new reserve driver looking to go one better than Leclerc and Russell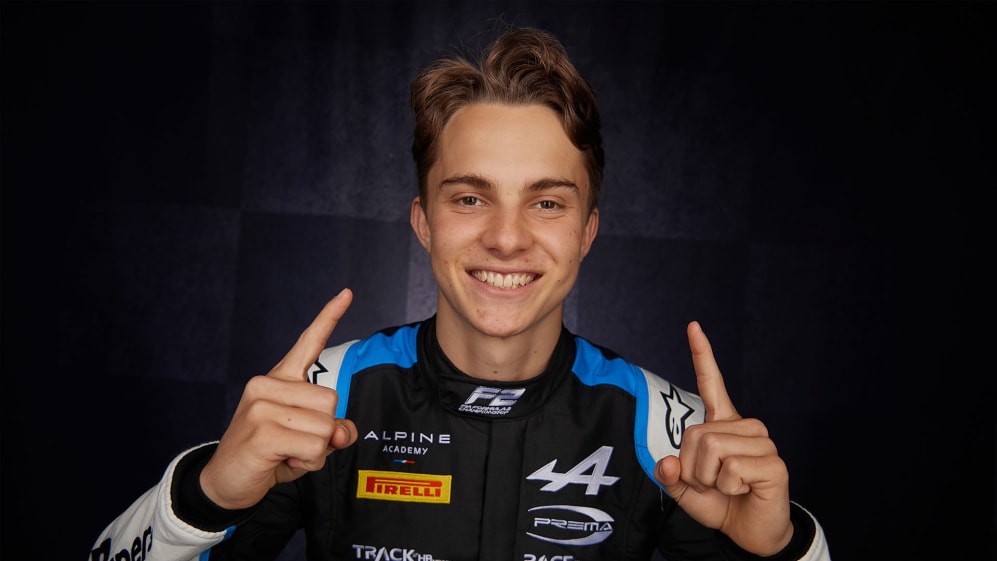 "It would be silly if I wasn't coming in and trying to get that third title," Oscar Piastri says matter-of-factly.
The Australian has recently been announced as the Alpine F1 team's reserve driver for 2022, but his immediate focus is on achieving a feat that even generational talents George Russell and Charles Leclerc weren't able to on their way up the junior ladder.
READ MORE: Australian F2 racer Oscar Piastri named as Alpine's reserve driver for 2022
Leading 2022 Alfa Romeo driver Guanyu Zhou in the Formula 2 championship battle by 36 points, Piastri is on course to emulate Russell and Leclerc by winning back-to-back F3/GP3 and F2 titles.
But what separates Piastri from the pair on paper is his 2019 Formula Renault Eurocup crown. Neither Russell nor Leclerc had won a title in the season prior to winning GP3, with Piastri now in with a chance of pulling off a hat-trick.
So who is Oscar Piastri, and how did he get here?
An unconventional route to racing
The PREMA driver's route to racing started a little differently to most. Ultimately, he ended up following a pretty conventional path, which included various karting championships, as well as two single-seater titles – in Formula Renault Eurocup and Formula 3. But initially, he began by racing on a much smaller scale, with remote control cars – not just for fun, but competitively.
WATCH: How Oscar Piastri clinched the 2020 Formula 3 title
"There is no age limit or age groups," Piastri explains. "There is basically the top class and then the second class. I won the second class when I was nine, which was pretty cool. That was the highlight of my RC career, but I definitely raced them competitively – it wasn't just around the backyard. I think when I won the national championship, the next youngest competitor was 17 – it's a very broad range of ages.
"Me and my dad were talking about it [as a potential career] and we did think about doing it, but trying to travel the world at the age of nine or 10, even with my dad, would have involved a lot of risks and uncertainties."
Transitioning into the cockpit
Ironically given his previous statement, Piastri then opted for an even more uncertain career path.
"Someone we met through RC had a daughter with a go-kart and I had a go on that," he recalls. "I'm pretty sure I spun on my out-lap when I hit the brakes, but I loved it and within a week I had my own.
"Having raced remote control cars, I kind of had a rough idea on racing lines and how the basic principles of driving worked, so I picked it up pretty quickly."
ANALYSIS: Why Alfa Romeo went for Zhou, how the deal came together – and who else was in contention for the seat
The move to karting came in 2011 at the age of 10, but it took another three years for him to truly get serious. From there, things moved fairly quickly. He made his single-seater debut in 2016 and finished as British Formula 4 vice champion a year later.
Within two years he'd won Formula Renault Eurocup – which earned him a spot in what's now the Alpine Academy – and been taken under the wing of Australian racing legend Mark Webber, after the pair were introduced by the trainer they share.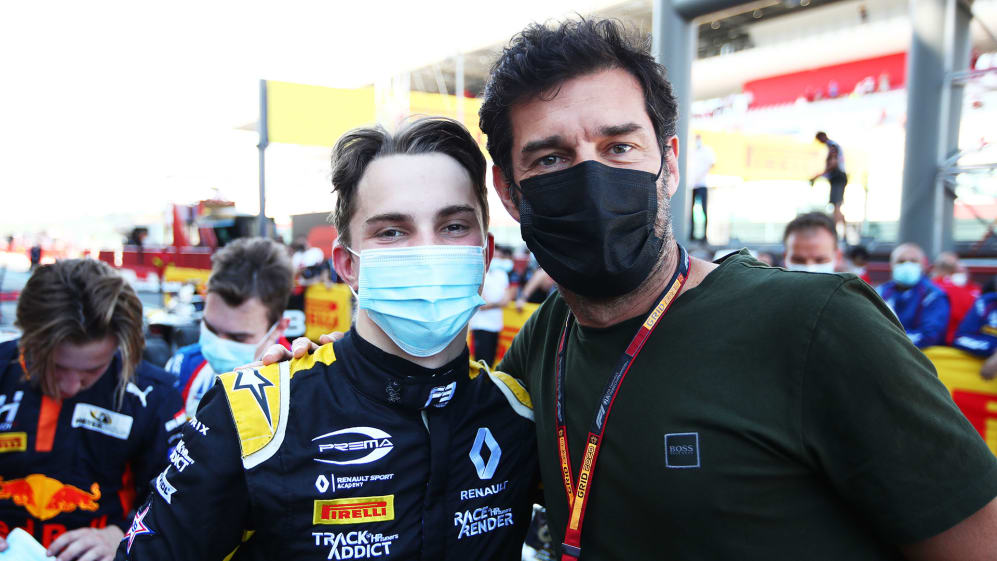 Making a name for himself
Still relatively unknown when he made the step up to F3 from Formula Renault with PREMA, Piastri's Twitter following sat at 795 in January 2020. That figure is now at 46.6k.
His standing on track has grown even more dramatically than that. Piastri seemed to learn at a rate of knots in a Covid-19 disrupted F3 campaign last year, picking up the crucial elements that could make him a contender. Tyre management, consistency and speed were the key traits in that title-winning season, and helped to mask the areas where he was less assured, like in qualifying.
F1 NATION: Mark Webber on helping to guide Oscar Piastri's career
Despite never taking pole, Piastri won the championship with six podiums, including two wins, and finished out of the points just three times.
"Last year, our race pace was always our biggest strength," says Piastri. "In quali, as a team, we could be beaten more easily than in the races. Whereas in the races, we generally didn't go backwards.
"The tyres were quite a challenge in qualifying, because in all of the series I've raced in before, you can run quite a few consecutive laps; in Formula Renault, you could do six or seven in a row without a problem. That is a difficult skill to learn as you go from being able to gradually get quicker and quicker, to having to hang it all out on one lap – it took some getting used to."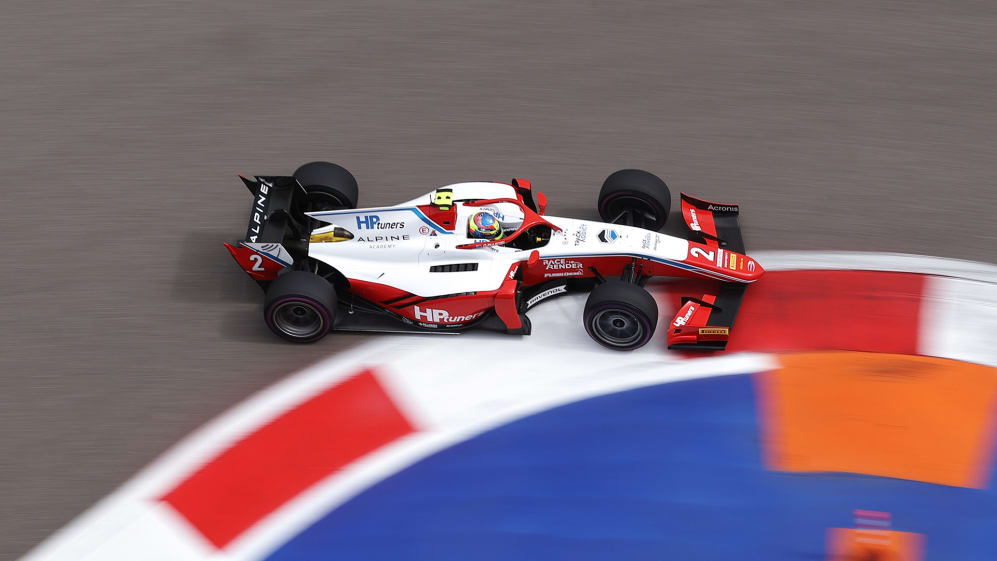 Adding to his arsenal
Consistency has been the hallmark of Piastri's junior career, and that's been carried over into F2 this year, where the Alpine Academy racer leads the drivers' standings with two rounds remaining.
Finishing inside of the top five in 11 out of 17 races so far this season, Piastri has missed out on the points just three times. He's also finished on the podium in five out of six feature races (where you start in your qualifying position, as opposed to the two reverse grid sprint races) and has the highest average finishing position of the grid.
READ MORE: Why Alpine's foray into Formula 1 is working – and why the team is feeling optimistic about the future
His consistency is a characteristic that should appeal to those in F1 keeping a watching brief on the young Australian. The 20-year-old is also extremely calm – you'll struggle to find any examples of him losing his temper over team radio.
"I thought that I could challenge for race wins, but I probably wasn't expecting to be so consistently at the front," says Piastri on the current campaign. "Consistency is something that I've had as a trait throughout my career, and I was expecting to be consistent in my results this year – but maybe a bit lower down!"
After struggling last season, Piastri has now added qualifying pace to his toolbox too, following some extensive work on that area during a test at Barcelona. Having never qualified first in F3, he's now part of an exclusive club of drivers to have taken a hat-trick of poles in F2, alongside Leclerc, Russell and Alex Albon.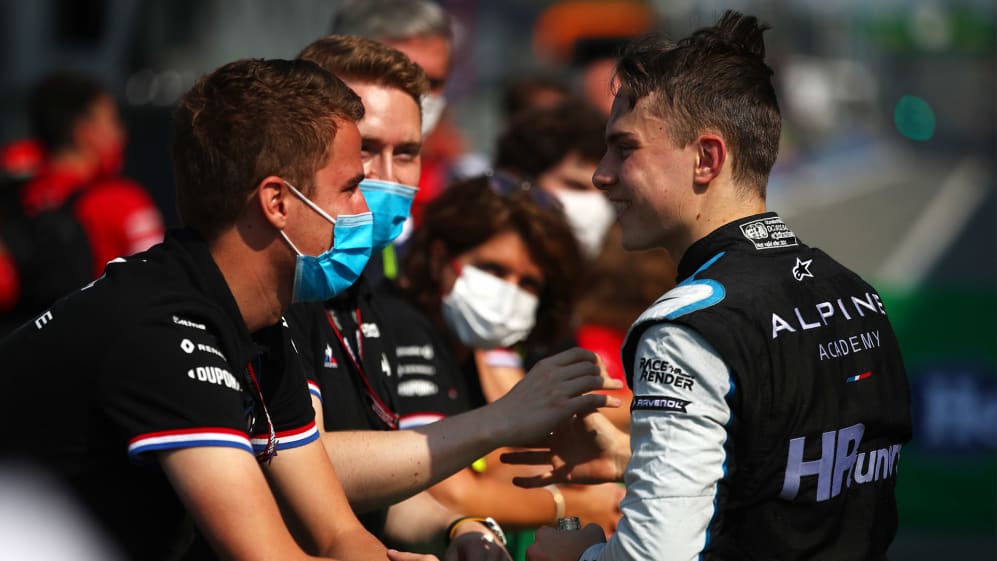 "In Round 1, our race pace was fine, but our qualifying pace was still lacking a bit, so in the [F2] test at Barcelona, we really knuckled down and focused on quali pace a lot. The next round in Monaco was the first weekend, since the start of last year in F3, where I was actually happy with my qualifying.
"Qualifying third, especially in Monaco, was a big confidence boost, and sort of the last piece of the puzzle. From a personal point of view, that was quite a big moment in terms of getting my qualifying mojo back, I guess.
"I think in the first half of the year, we've basically nailed everything at least once. We've got the quali pace now, our race pace has been strong nine times out of 10 and we've been consistent."
READ MORE: Moving to Europe and taking titles – Oscar Piastri on the moments that made him
What's next for Piastri?
Although the PREMA driver won't be on F1 grid in 2022, he will be working more closely with Alpine, replacing former Red Bull and Toro Rosso driver Daniil Kvyat as their official reserve.
And while he's said that he's "ready for Formula 1 now", the 20-year-old appreciates the lack of seats available for 2022 and the reasons for that, with both Fernando Alonso and Esteban Ocon tied down for the season already at Alpine as F1 prepares for a massive regulations overhaul next year.
After Albon was named as Russell's replacement at Williams, the only realistic opportunity was at Alfa Romeo, a seat that eventually went to Piastri's primary title rival, Zhou.
READ MORE: Vasseur explains why Zhou is the 'right choice' for Alfa Romeo – and reveals how he and Giovinazzi have cleared the air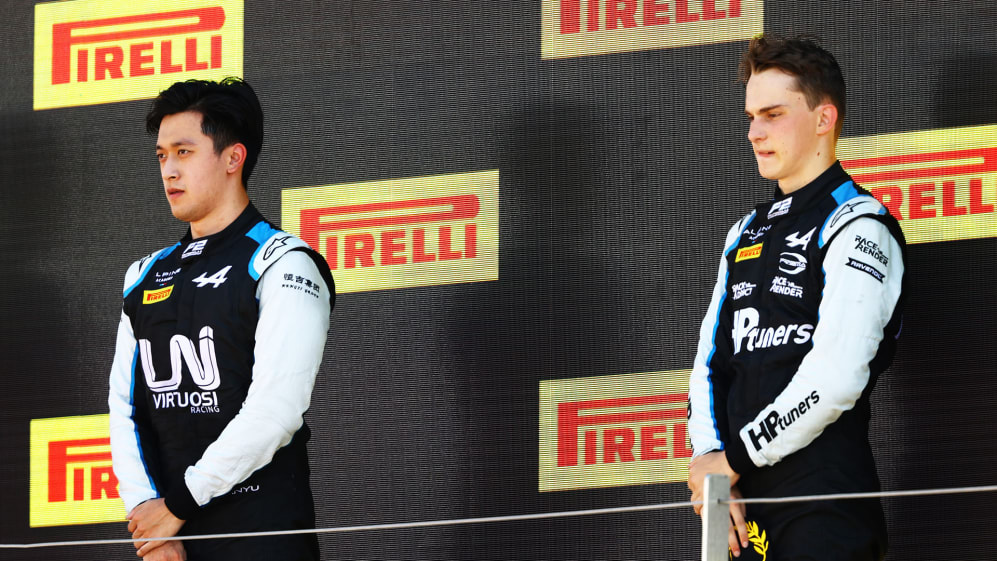 Despite leading the championship, Piastri's name was only ever loosely linked with the seat by the media. Asked whether he found this strange, Piastri replies: "Yes and no.
"Yes, because it does feel a little bit strange to me that the championship leader is not getting mentioned for these seats by the media, but at the same time, I can very much understand why. I am linked with Alpine and Fernando has been confirmed for next year."
READ MORE: 'Other drivers may have been going crazy' – PREMA boss Rosin on what sets Piastri apart from his rivals
Working alongside Ocon in 2022, Piastri won't have to look far for an example of a driver who sat out a year on the side-lines before earning a seat. The Frenchman spent the 2019 campaign as a reserve for Mercedes before getting an opportunity with Alpine (then called Renault) in 2020 – while he's now tied down until at least 2024.
Targeting a full-time seat in 2023 with Alpine, winning a third successive title before stepping into his new job is his immediate aim.
"Even if it was set to be my first title ever, I would be silly not to try and get it – it would certainly be a CV booster!" says Piastri. "I know it's my rookie season, but I think that we have shown in the first half of the year that we are more than capable as a team, and myself. I think aiming for anything less would be undershooting our potential."