Feature
Why Alpine's foray into Formula 1 is working - and why the team is feeling optimistic about the future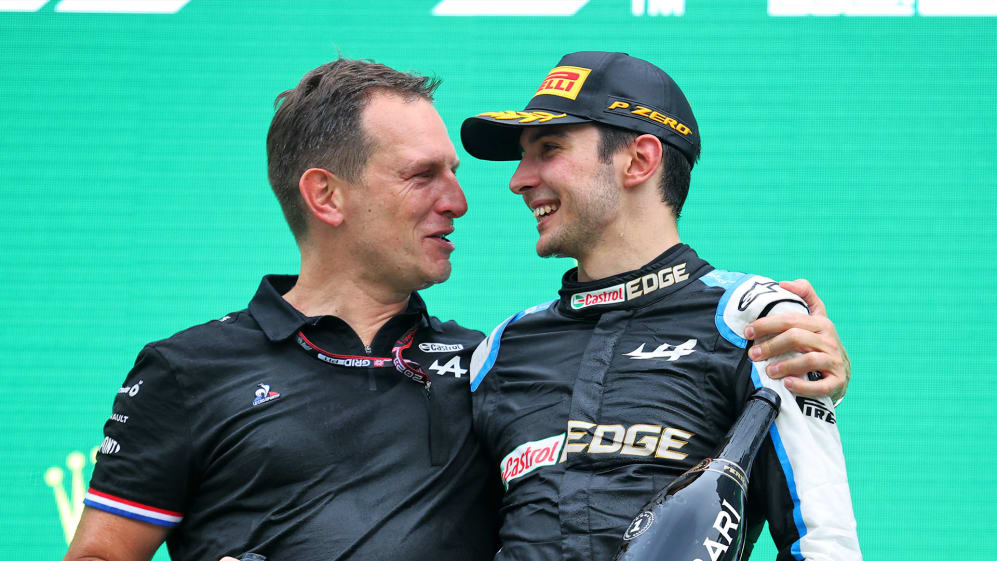 It's Saturday night at the Hungaroring and I have arranged a chat with Alpine CEO Laurent Rossi to discuss the team's progress since the rebrand from Renault ahead of the current campaign. Within the first 15 seconds, he's admitted the team are "not where we should be" as he feels fifth in the constructors' championship (two places higher than the seventh they stood at that point) "matches the natural pace of the car".
Little did either of us know that 24 hours later, a miracle would occur and their situation would be significantly different. After a chaotic first corner in slippery conditions, Esteban Ocon not only emerged unscathed from eighth on the grid, but he found himself in the unusual position of leading the Grand Prix.
TREMAYNE: From almost flipping burgers to winning a Grand Prix – why no one can begrudge Ocon's victory
More remarkably, he was still there 71 laps later at the chequered flag to secure his and Alpine's first win. Overnight, Alpine nearly doubled their points tally to 77 (Fernando Alonso contributed a fine fourth place finish too) to lift them up into fifth above AlphaTauri and Aston Martin. In the blink of an eye, they were back on course.
Even before that heady day in Budapest, though, Rossi was excited by what he had seen in his first seven months in the job – where he has been tasked with bringing the Enstone-based squad back to the front and enhancing the Alpine brand. "It's a strange year," he says. "Not so much effort has been put on the current car and more towards the next, so it's difficult to catch up on the points we lost early in the season. In other circumstances, we might have accelerated a bit to get back on track. Here, it's a bit what is lost, is lost.
READ MORE: 'The volcano is still there' – Alonso admits he still hates losing as much as he ever did
"On the other hand, I have reason to be optimistic. The team is working way more as a team than it looked like last year. I can see a lot of cooperation between the two sides of the garage. Every single race, every single session, I can hear engineers trading tips on why Fernando or Esteban went faster in this corner or that one. It's made easier by the fact these two are more often than not setting out on a similar setting so we can share most of that setting from one car to another. That's nice, as the dynamic is good.
"On track, we're building our weekends much better. Both drivers have outqualified the car quite often, as in it has qualified much better than its natural pace, and that is testimony of the good work here. We are leveraging every single driver of performance that is left outside of the car itself. Drivers are put in optimum conditions, they are confident and the team is listening to the feedback. All of this is a good basis for the future and makes me quite optimistic for the day we have a faster car."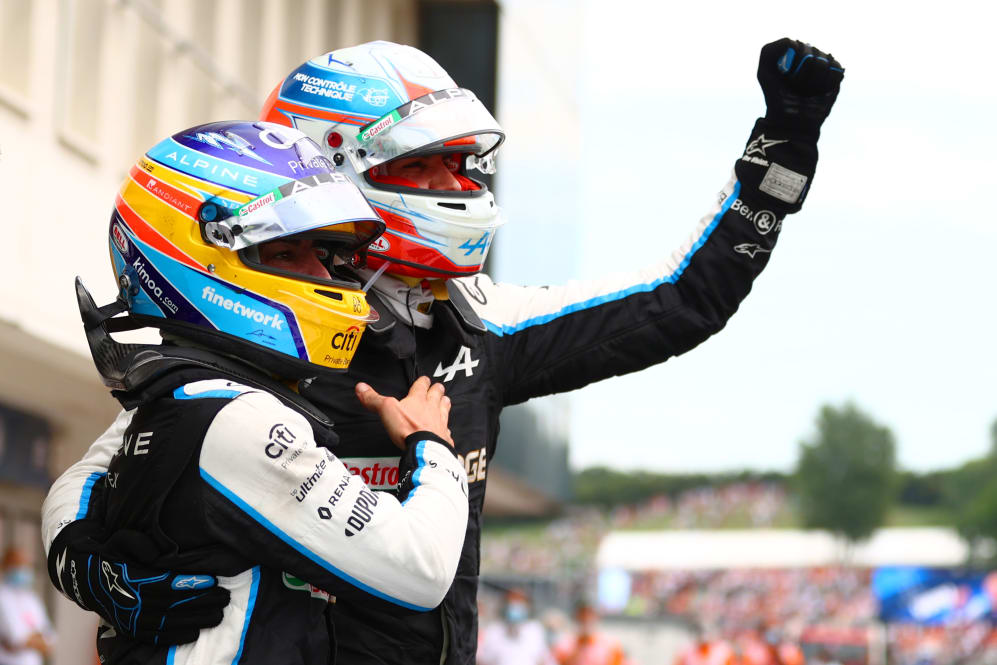 With sweeping new technical rules coming into play next year, every single team knows this is an opportunity to make a big step in performance – and Alpine are no different. Rossi feels that their car has had inherent problems that are difficult to deal with because of stability in the rules.
A blank sheet of paper, then, delivers an opportunity. "We have been carrying hefty heritage in terms of technical choices we made and we cannot catch up," he adds. "We need to get it right from the get-go because then we have all it takes, more or less, to be successful. We're not dramatically different from others. Obviously there are departments where we are stronger than others, departments where we are relatively weaker. But we have a similar structure, arguably similar talents.
READ MORE: 10 things you need to know about the all-new 2022 F1 car
"It's more a question of the starting point, which was not the same. And it shows this year. This car has reached its limit. We can burn the midnight oil on it and we're not going to find 30 points of aero. Others still have room for improvement. Some bets that have been taken were wrong or not ideal. But that's life. Everyone lost their bet apart from Mercedes.
"For 2022, we start from a good base and we have the capacity to systematically, continuously improve the performance from one race to another. That's the most important thing. Next year, we're going to see if we are well equipped to do so. I think we are."
To make the most of whatever package they have next year, Alpine need two drivers operating at a high level. And based on what we've seen this year, they have just that. In Alonso, they have a super motivated returning double world champion who has shaken off the rust to prove time and time again in 2021 why he is one of F1's true greats.
READ MORE: Alonso explains key change Alpine made to the car to suit his driving style – and get him scoring consistently
"Everyone – and I have to say, including me – were wondering where he would be [when he returned]," said Rossi. "It was more of a case of 'let's see'. The first six races, people had doubt, but we internally didn't. Before the first race, we didn't know where he is going to be but as soon as we saw him in Bahrain, we were knew it was going to be okay. It felt like he had last raced in December, because he has lost nothing of his talent or his sharpness and we knew it was only a matter of races until he found his way back. He's very strong and I am super happy."
Fernando is pushing so hard that it elevates the performance of the whole team
And it's clear, says Rossi, that Alonso's presence is having the positive impact on the staff that management hoped his recruitment would instigate. "There is the motivation to do well," he says. "Fernando is a double time world champion who should be already at five or six titles in different conditions. You want to be on par with him as you know he is going to be requesting excellence. He will double click on every choice but in a very good way.
"He never dismisses people, he is just asking for the sake of making progress. If you're on the receiving end, very rarely do you feel like he's criticising you. It's just he wants to go a bit further and analyse if there is no other alternative. He is pushing so hard that it elevates the performance of the whole team. People want to be on par with that and they just overdeliver all the time."
READ MORE: 'OCON VAINQUER!' – Listen to this French commentator going crazy over Ocon's maiden win
In Ocon, they have a young, hungry racer that has shown his potential at Force India, is rated highly by Mercedes with whom he was part of their junior programme, and has coped well with the arrival of Alonso. When he had a run of races where he appeared lost, the Frenchman didn't let his head drop.
And once given a new chassis, with further analysis showing there were issues with the previous one, he was back to his best immediately. And then there is that win in Hungary. Forever he will be known as the driver who gave Alpine their first Grand Prix victory.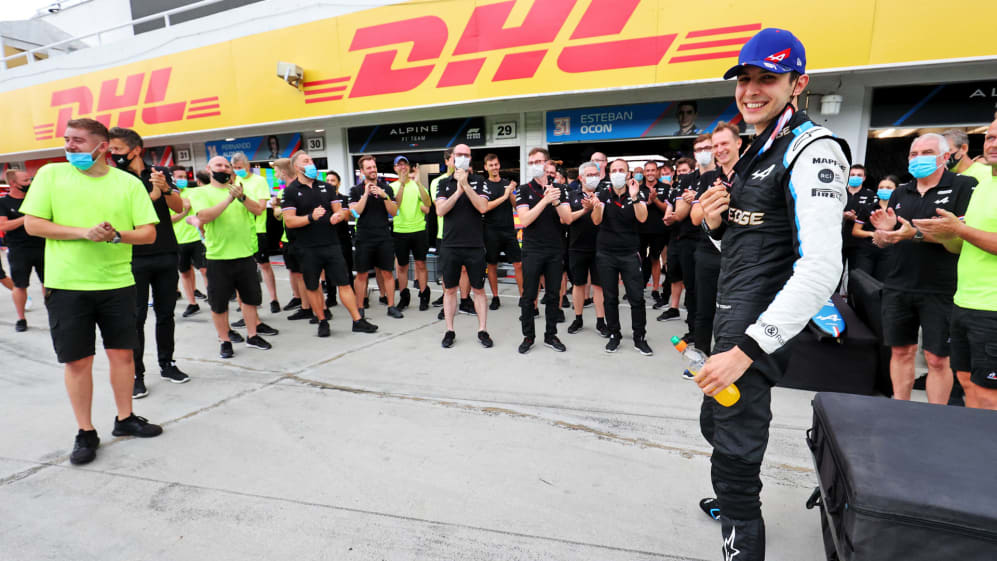 "Once we changed the full chassis for Silverstone, we realised that there were parts that were not operating properly," says Rossi. "There were two or three-tenths that were missing compared to the rest. This year, that is a big gap. Two-tenths were in the car, one-tenth was in his head trying to work out what was going on – if it was him or the car. As soon as you give him a car like he used to have, the performance is exactly the same as he used to deliver. He's back exactly where we left him."
READ MORE: From Hill to Ocon – The 5 drivers who've made Hungary F1's top track for debut winners
Ocon is tied up until the end of 2024 and Alonso around until at least the end of 2022, so opportunities in the medium-term are limited for Alpine Driver Academy drivers Oscar Piastri, Guanyu Zhou and Christian Lundgaard, who are currently first, second and 12th respectively in Formula 2. While Rossi accepts he has a challenge on his hands, especially given that Alpine have no partner teams on the grid, he's confident there are ways forward.
"I have a rich man's problem," he says. "The yield of the Academy is high. It's a testimony to the work done by Mia [Sharizman, Alpine Academy Director]. I don't think they were expecting that number of drivers would come knocking at the door at the same time, which is good, but it's a problem, as we now need to ensure a good outcome for these drivers, who are part of the Alpine family.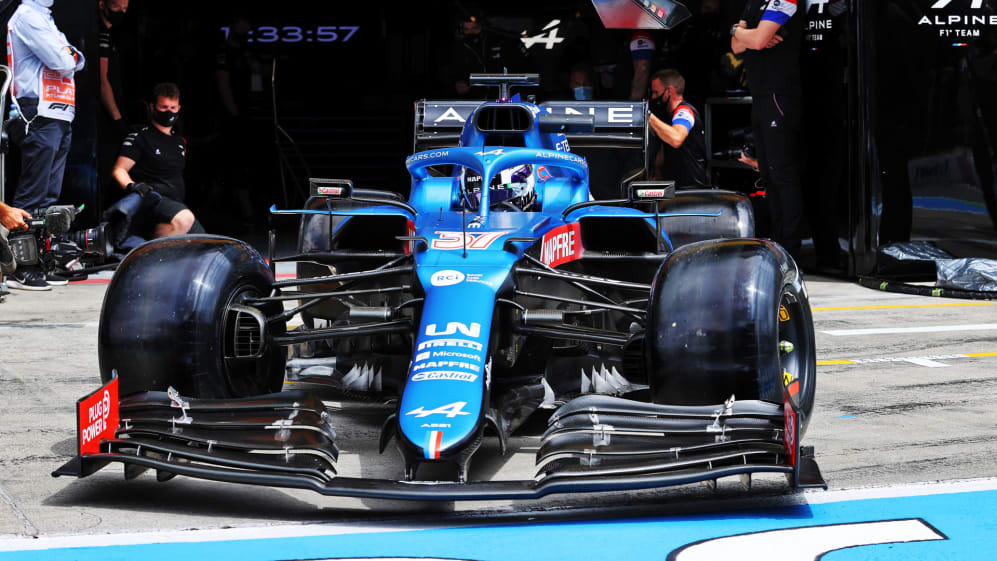 "But there are plenty of options. First of all, we always have a reserve driver available every year, which is normally a good first step towards a permanent seat. We also have potentially, at some point – I will refrain putting a date – Fernando at some point will probably decide it's time for him to retire. As long as he's doing [what he's doing currently], I'm happy to keep him on the team [but] you have to agree with me that it is a question mark. Everyone wonders when. If he's doing just like he's doing today, I'll keep him for a long time. But there is a position there potentially.
"And there are always partner teams. George [Russell] being in a Williams, obviously connected to power unit supply but not necessarily. We can imagine placing one of our drivers in another team, we're fine with that. It's not impossible. It's not like Alpine is the only way after the Academy. I'm sure we will find placements for all these drivers over time. It's just a question of being patient I guess."
READ MORE: Fighting in midfield 'a lot tougher' than leading a race, says Ocon after maiden Grand Prix win
And time is something Alpine have. They committed to the new Concorde Agreement and have the backing for the racing operation from the Renault Group board. And while they are not quite hitting their targets on track right now, things are heading in the right direction – and there's good news off track, too. Before the team was rebranded, very few people knew what Alpine was. Just a few months in, Rossi says there has been a 70% increase in queries about the brand – and that interest is translating into sales.
If that continues, it will provide the funds to "fund Alpine's F1 endeavours" says Rossi. It's that kind of efficient business model that will make Formula 1 work for Alpine and Renault in the long term – and could give them the foundation to ensure Ocon's Hungary triumph wasn't a one-off.