Norris shocked by 0.05s gap to Hamilton ahead – but not surprised by McLaren's huge turnaround for qualifying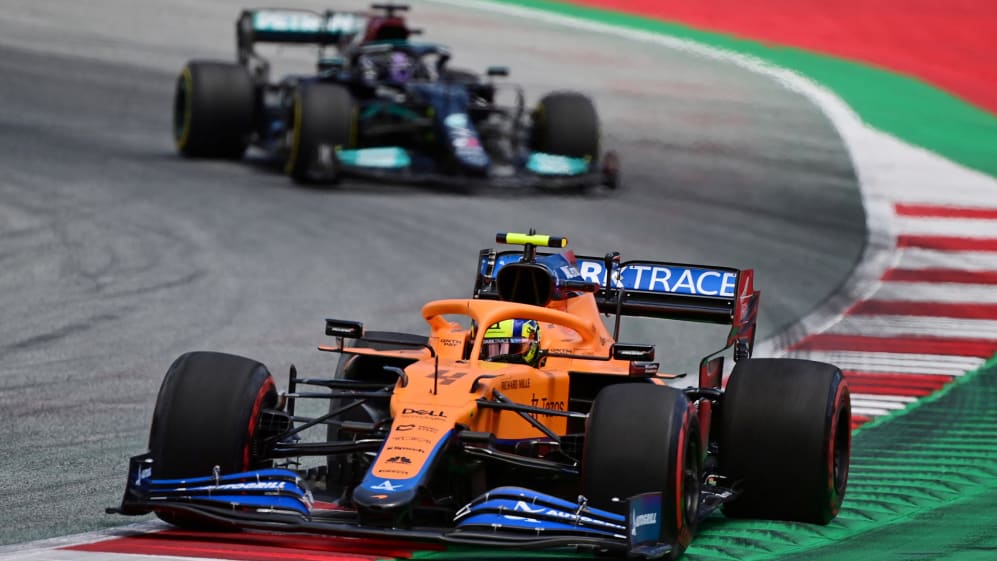 Lando Norris said he was more shocked that Lewis Hamilton qualified just 0.053s ahead of him than he was of McLaren's turnaround from 19th in FP3 to fourth in Q3 – which means he'll start the Styrian GP third thanks to Valtteri Bottas's penalty.
Norris ended FP3 19th on the timesheets but bounced back on Saturday afternoon as he qualified fourth – ahead of Red Bull's Sergio Perez and just behind Mercedes' reigning champion Hamilton. And that will be third on the grid, as Bottas took a penalty for a pit lane spin in FP2 outside McLaren's garage.
READ MORE: 'Everyone is trying to screw you over in this sport' – Bottas unhappy with 'harsh' penalty as he drops from P2 to P5 on grid
Asked he expected the turnaround in qualifying, he said: "Yes, I think we were expecting to be good and strong because we have been relatively decent all weekend – you know, Daniel was very fast yesterday in P2 and stuff. The car's been good, and you know we always take a bit of a step into Q3."
However, he added: "Under a tenth off both the Mercedes is a bit of a shock, because I think I can just state a fact that they have more grip than us, and we're not that far behind. It's weird to think of, but it's a good position, so I'm happy."
He added that it wasn't expected that he'd beat Perez in qualifying either, but explained that McLaren can rival Red Bull and Mercedes when fuel loads are low.
READ MORE: Verstappen says tense exchange with engineer 'fired him up' after claiming first ever back-to back poles
"To be ahead of one of the Red Bulls, I would say, not expected, because they've been very fast from Lap 1 here and miles ahead of us all weekend so It's a similar story to Monaco or Baku or some tracks where we always looked way behind Mercedes or Red Bull, but as the fuel loads come down, I think everyone's car becomes more equal and more competitive and yes, sometimes it can surprise you a little bit, and we can be ahead of them," he explained.
But Norris pointed out that he has been in this position before – having started the 2020 Austrian Grand Prix from third on the grid. That was the race that saw him clinch his maiden podium, so will the 2021 Styrian GP herald a repeat?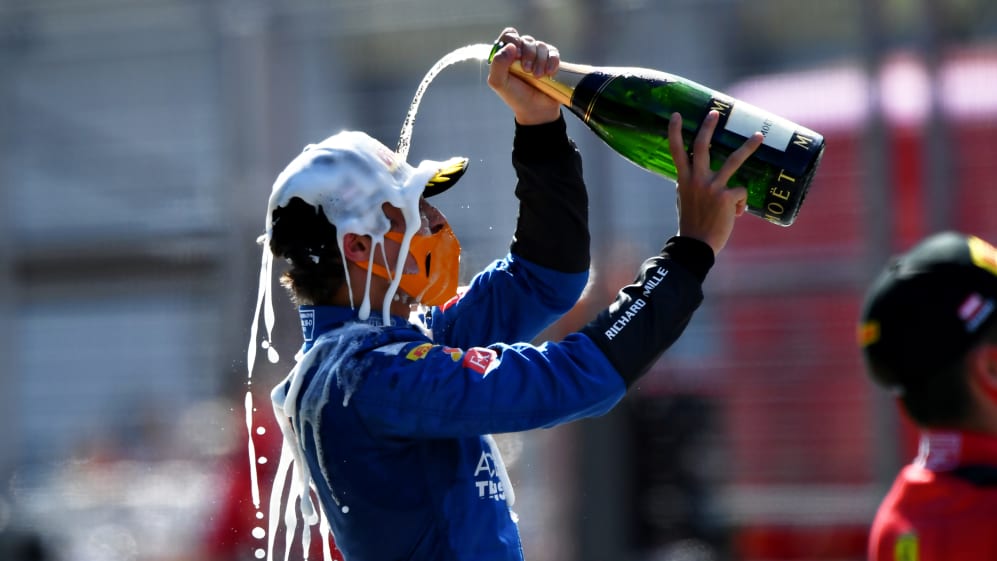 "I mean it's a similar story to a couple of years ago when I was into P2 or P3 and we were mixed with the Red Bulls and the Mercedes guys, and if there's an opportunity, 100% I'll go for it, but I still need to pick and choose my competitors and my racers carefully and not kill the tyres and things like that," he replied.
READ MORE: Tsunoda hit by three-place grid drop for impeding Bottas in qualifying
"So, we'll wait and see. I think on paper, on Friday, they were quite a bit quicker than us – both the Mercedes and Red Bulls – so I'm not expecting to be super competitive against them, but we still have a good chance to beat everyone else behind, so that's the plan," he surmised.
Team mate Daniel Ricciardo starts 10 places behind, in P13, as McLaren have it all to do to ensure a double-points score on Sunday and stay ahead of Ferrari in the Constructors' Championship.