Opinion
PALMER: Were Ferrari right to allow Sainz and Leclerc to fight it out for victory at the British GP?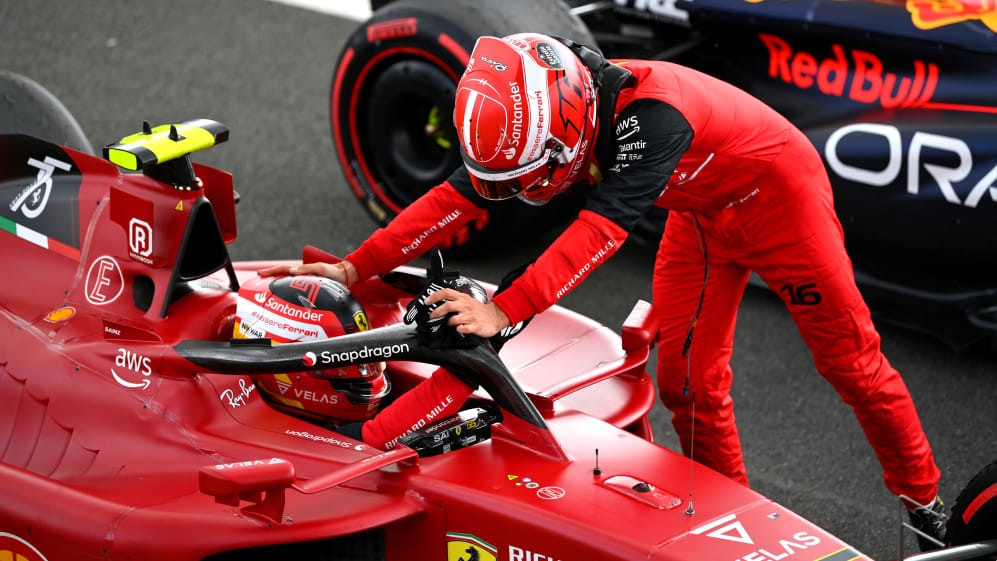 Max Verstappen had an unfortunate weekend at Silverstone. He was looking like the fastest man throughout Saturday before being denied an absolute shot at pole by a yellow flag, and then twice he was held back from the lead of the race through reasons beyond his control.
By opting for an aggressive soft tyre strategy initially, Verstappen easily jumped pole-sitter Carlos Sainz before the race was promptly halted for the red flag after Zhou Guanyu's accident. Had the red flag come out slightly later then the order would have been cemented for the restart, but because of the swift red flag call there was no order deemed and Verstappen had to do it again.
TREMAYNE: Why Sainz, Leclerc and Hamilton all deserved to triumph in the British Grand Prix
Sainz put up a big fight on the restart and held the championship leader at bay, but before long the pressure told and the Ferrari driver made an error at Becketts. The race then looked to be Verstappen's until he ran over some AlphaTauri bodywork and his whole Grand Prix was derailed for good.
This should have opened up a huge opportunity for Ferrari, and specifically Charles Leclerc, to haul back some points in a championship bid that has gone awry in the last couple of months. But alas, another opportunity passed them by.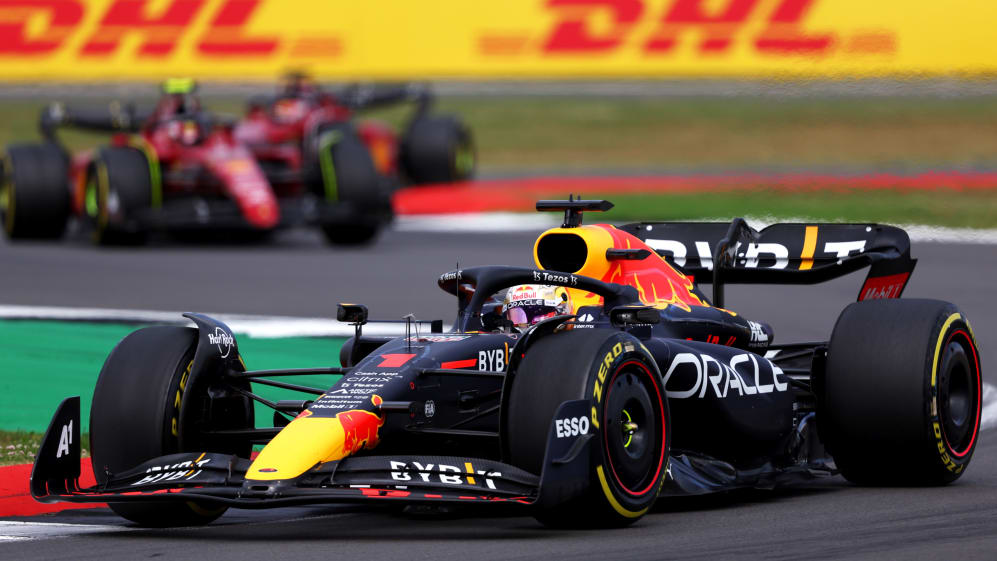 To my mind, Leclerc is undoubtedly the team leader at Ferrari, however It looks like the Scuderia aren't willing to accept it yet and are trying to play fair across their two cars. This is a commendable position, and one which usually would appeal to fans, who have been routinely vocal against the use of team orders. Letting the drivers race promotes pure racing, which is what everybody wants to see.
READ MORE: Binotto says there was 'no way' for Leclerc to win the British GP after the Safety Car – but is he right?
In this case, though, it does seem slightly foolhardy not to back Leclerc in what is surely Ferrari's best chance to win the championship this season. Yes, Carlos Sainz took his first pole and win at the British Grand Prix, and he's been showing much improved performances recently, but this race demonstrated fairly clearly that Leclerc is still stronger at the moment.
Leclerc sustained significant damage to his car following a robust overtaking attempt on Sergio Perez on the opening lap of the restart, which cost him his entire front wing endplate. Ferrari declared over the radio that this cost him about five points of downforce, which is a costly but not an insurmountable amount – perhaps a tenth or two of performance. It's surprising considering the visible extent of the damage it wasn't more.
Either way, despite this deficit, Leclerc was faster and was frustrated over the radio at being held up behind Sainz. In fact, this season there have only been two races where Sainz has looked to have demonstrably strong race pace, Monaco and Canada – and in these two, the comparison with Leclerc hasn't been possible due to traffic for the Monegasque driver.
Given all of this, and the fact that they were both racing a resurgent Lewis Hamilton, I'm surprised at Ferrari's indecision at swapping their two drivers early on in the race; it was clearly hurting the prospects of their main contender.
F1 NATION: British Grand Prix review featuring maiden winner Sainz and Ferrari boss Binotto
After Barcelona, I was a little critical of Red Bull for imposing team orders when I felt they were unnecessary – they had no threat from behind and Verstappen was considerably faster, almost certainly with a big enough pace advantage to make the move on Sergio Perez anyway.
At Silverstone for Ferrari, the case was different and Ferrari – having had weeks of being thumped by Red Bull – needed the maximum response.
In the end, this wouldn't be a talking point had Leclerc pitted for new soft tyres like the rest of the field under the late Safety Car, as he likely would have still won, but this latest Ferrari strategy call cost him a huge amount and meant that on a bad luck day for Verstappen, Leclerc only closed the gap by a meagre six points.
Mattia Binotto has tried to justify the team's decision not to pit their main hope and race leader by saying that, given Ferrari were the only ones with two cars close together at the front, they didn't want to double stack the cars and Leclerc's tyres were fresher, so it made sense for him to hold track position.
READ MORE: Binotto explains why Ferrari didn't pit British Grand Prix leader Leclerc behind the Safety Car
In fact, with just over four seconds between the cars, there was possibly the chance to double-stack the Ferraris and come out in the lead. However, with Hamilton lurking within two seconds, this posed a risk for Sainz.
If this was race one of the season, then it would have been more justifiable, but at this stage you surely have to back your main contender.
Had Leclerc pitted for softs, I believe he would have won the race, whether Sainz and Hamilton had pitted or not, because his pace would have been sufficient to pass those two on hards or hold the lead on softs – whichever was necessary.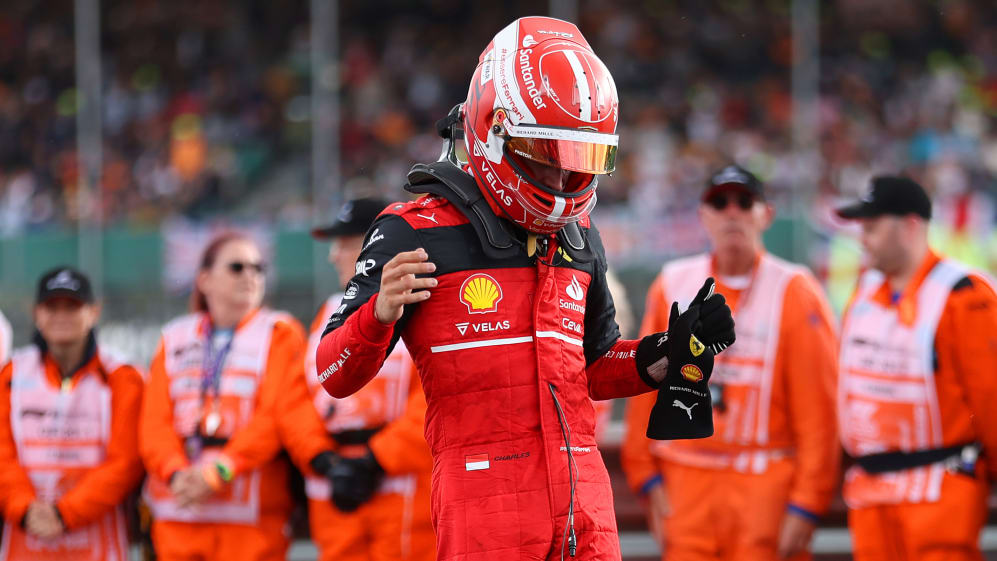 Red Bull have faced questions about team orders, Mercedes have in the past as well when title fighting with Hamilton and Valtteri Bottas at the wheel. But it seems Ferrari are trying their best to let their drivers fight, something that on the face of it is good to see, but that is also beginning to look imprudent when dealing with a 49-point deficit to Max Verstappen.
Leclerc was once again disconsolate after the Grand Prix. For the fourth time in five races, he has lost the Grand Prix from a winning position – and a championship that he was in control of early on is slipping away. Sunday was his big chance to get back on track, but it was another shot missed and Red Bull bad days aren't happening too often at the moment.
READ MORE: 'It was looking good for victory' – Leclerc says he 'cannot hide disappointment' after falling to P4 at end of British GP
Without two engine failures and two strategy missteps – all while Leclerc was leading – this title race could look so different, and it is credit to Leclerc that he is still just about keeping his cool after this series of setbacks.
He is driving as well as anybody out there, and if his team can start to look the all-round package they were early on, then it's not all over. But right now, they seem a far cry from that. There are so many aspects that go into a title bid, as Red Bull and Mercedes know well from last year. From where I'm sitting, Ferrari at the moment are leaving too many bases uncovered.