Feature
POWER RANKINGS: The scores are in after the first Sprint weekend of the season in Baku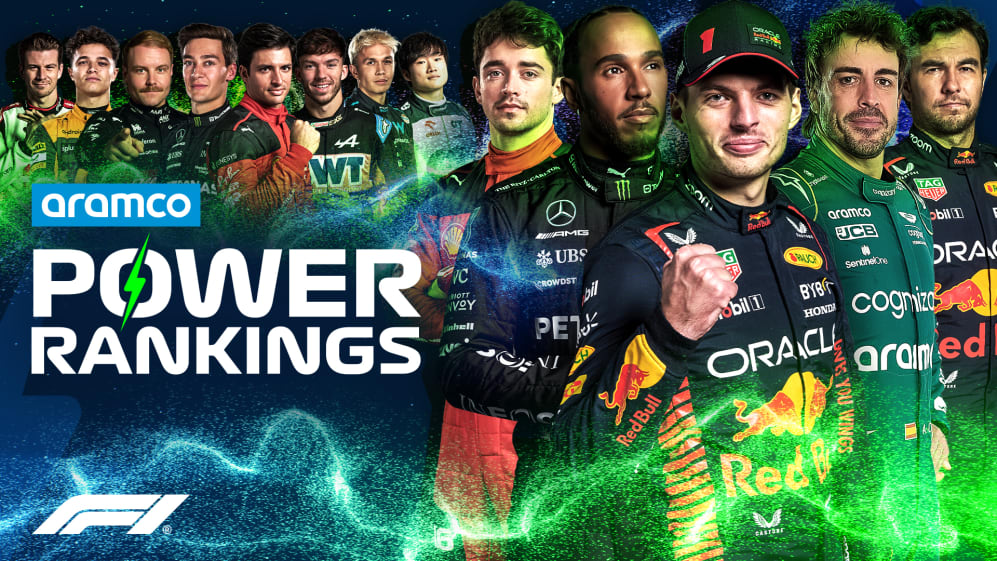 Sergio Perez put in a supreme performance in Baku, taking victory in both the Sprint and the Grand Prix itself. The judges were suitably impressed by his efforts, but who else do they believe deserves a place in the top-10? Here are the scores from Azerbaijan…
How it works
• Our five-judge panel assess each driver after every Grand Prix and score them out of 10 according to their performance across the weekend – taking machinery out of the equation
• Our experts' scores are then averaged out to produce a race score – with those scores then tallied up across the season on our overall Power Rankings Leaderboard (at the bottom of the page)

With victory in both the Sprint and Sunday's Grand Prix, Perez enjoyed as close to a perfect points weekend as possible – other than being missing out on the fastest lap. He qualified third for the race and second in the Sprint shootout, but when it was time to go racing, he was at his irresistible best.
He did benefit from Max Verstappen pitting right before the Safety Car to gain the lead, but even before then he was the faster Red Bull and had looked in prime position to challenge his team mate. Perez believes he is now firmly in the championship battle, and based on this performance, who would dare argue with him?
READ MORE: 'We should be leading the championship' – Perez says he'd be ahead of Verstappen without Melbourne issues

The history books will show that Leclerc qualified on pole for both the race and the Sprint, but finished second in the 100km dash and third on Sunday. What the history books might not tell you is that it was as close to a perfect weekend of driving as you are likely to see this season.
In the much improved SF-23, Leclerc twice beat both Red Bulls to qualify in P1, and although he eventually lost out to them in race trim, he drove outstandingly to give Ferrari their first podium of the year in the Grand Prix, holding off Fernando Alonso to do so.
READ MORE: Leclerc says Ferrari 'absolutely maximised' Azerbaijan weekend after claiming first podium of season

It may have been his first time off the podium this season, but Alonso will still see it as a job well done given the DRS issues he encountered this weekend. He qualified sixth for the Grand Prix, and was only eighth in the Sprint Shootout, but in race trim, he was his usual calculating best.
He finished sixth in the Sprint, before getting up to fourth in the Grand Prix, producing one of the highlights of the weekend with his opportunistic overtake on Carlos Sainz. He could not chase down Leclerc for third, but it was still an accomplished drive from the Spaniard.
READ MORE: 'Ferrari were quite lucky' declares Alonso as he narrowly misses out on podium finish at Azerbaijan GP

It was sixth place for the seven-time world champion in Baku, but he was left lamenting the untimely Safety Car that dropped him from P5 to 10th. But if you ever needed a reminder of the skill Hamilton possesses, look at his overtakes at the restart.
His moves past Nico Hulkenberg, Esteban Ocon, and his team mate George Russell were magnificent, before he later capitalised on Lance Stroll's mistake to get up to sixth. He could not get past Sainz for fifth, and was forced to settle for his lowest finish of the season, although it may have been one of his strongest drives of the year.
READ MORE: Hamilton rues Safety Car that 'kicked me in the teeth' as Russell vows to 'come back stronger' in Miami


Verstappen suffered some bad luck in Baku, having suffered damage from contact with George Russell in the Sprint leaving him unable to challenge Leclerc for second. Similarly to Hamilton, he lost out under the Safety Car on Sunday, dropping him down to third from the lead.
He made quick work of Leclerc at the restart to get back to P2, but could not catch Perez. Verstappen says he learned a lot from the weekend, and knowing the competitive nature of the Dutch driver, he will be using that to try to bounce back in style in Miami.
READ MORE: 'I learned a lot of things' – Verstappen takes the positives from Baku despite losing out to team mate Perez

McLaren brought a few upgrades to the MCL60 in Baku in the hopes of improving their performance, and based on Norris' showing over the weekend, they may have worked. He was in fine form, qualifying seventh, before finishing the race in ninth.
Despite being held up in traffic for much of the afternoon, the Briton believed he achieved the maximum he could have hoped for heading into the weekend, which is a positive sign for him and his team going forward.
READ MORE: Norris says McLaren upgrades are 'a step forward' while sick Piastri is happy to see the back of Baku

Albon's finishing position does not tell the full story, as the Thai racer himself admitted that it was one of his stronger weekends. He qualified 13th, but later blamed traffic for missing out on Q3, and he later proved that he did indeed have top-10 pace by qualifying seventh in the Sprint Shootout, ahead of both Aston Martins.
After finishing ninth in the Sprint, he, like Norris, was also caught in traffic in Sunday's race, and could never quite make a challenge for the points positions. Despite that, it was another strong drive from Albon, who has made a brilliant start to the season.
READ MORE: Azerbaijan GP 'one of my strongest weekends' says Albon despite lack of points in Baku

It was not the best of weekends for Russell, but it was one that still showed the talent of the Mercedes driver. After struggling in qualifying and being knocked out in Q2, he was back to his best on Saturday, putting in a stunning lap in the Shootout to start and finish fourth in the Sprint.
Sunday was less successful, as while he benefited from the Safety Car to get up to sixth, he lost out to Stroll and Hamilton to drop to eighth. He looked to later challenge Stroll for seventh but could never quite get close enough.
READ MORE: 5 Winners and 5 Losers from the Azerbaijan Grand Prix – Who lit up the Land of Fire?

Like his Aston Martin team mate, Stroll also suffered from DRS issues that hampered his weekend, so finishing seventh is a decent outing for the Canadian. However, his race was not without its hiccups, as he did hit the barrier at Turn 5, and made the mistake that saw him lose sixth place to Hamilton. However, it was still a strong result for Stroll and the greatly improved Aston Martin team.
Missing out
Narrowly missing out on a place in the top 10 this week are Oscar Piastri and Esteban Ocon. Piastri battled illness all weekend to finish narrowly outside the points in 11th, while Ocon impressively made the hard tyre last 50 laps, with a last lap pit stop dropping him down to 15th at the flag.
Leaderboard