Feature
THE PALMERS: Jolyon Palmer picks his stand-out drivers and performances from a sizzling 2022 season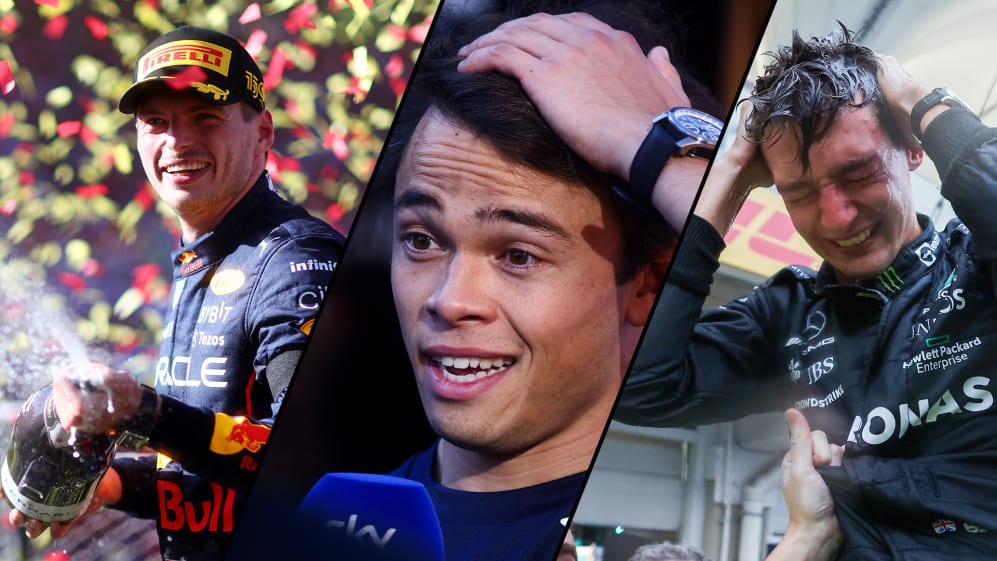 The dawn of a new era of Formula 1 in 2022 was accompanied by some fiery, frantic racing, the 20 drivers on the grid – plus a handful of noteworthy cameos – treating fans to a sensational season. Watching it all was former Renault F1 driver and expert analyst Jolyon Palmer. Here, he gives his view on the best performers and performances from 2022.
BEST DRIVER – Max Verstappen
An easier choice than last year where things were so tightly fought. This year, not only has Max taken his game up to another level, but his rivals have started making a few more mistakes, trying to make up the deficit to the champion.
MAX BY NUMBERS: The amazing stats behind Verstappen's 2022 title winning campaign
From the word go, it looked as though Max was a different driver, fighting tooth and nail in the opening rounds, but ultimately being happier to settle for second than to throw a do-or-die move against Charles Leclerc.
He held his nerve against early adversity and as the year went on, the Red Bull car got better and Max got more out of it as well. The result was one of the most dominant seasons on record, as Max claimed the most victories in a single year. The results on paper will make it look easy, but under the surface were some fantastic drives in all scenarios.
BEST TEAM – Red Bull
Unrivalled across the board this year, Red Bull started with reliability trouble and a marginal pace deficit to Ferrari. They ironed out their reliability woes in three races and added pace to the car systematically throughout the season.
A big development area was weight-saving, and working on that transformed their tyre life as well as the season went on. The top speed of their car allowed them to be a constant threat in the races, their pit stops were the best in the field, their strategies were mostly nailed on, and both drivers won races en route to domination of both championships. This was an almost perfect team season.
READ MORE: 'This year has surpassed anything we could have believed' says Horner after 17th win of the season in Abu Dhabi
BEST INDIVIDUAL PERFORMANCE – Nyck de Vries, Italian Grand Prix
There are numerous Verstappen victories that could have taken the honours for this one: his critical and superb weekend at Imola, or his wiping of the field at Spa. But I've gone for the result that was the biggest standout to me from any driver across a single weekend.
Stepping in as a last-minute reserve is a tricky situation for a driver, particularly if you are a rookie as De Vries was, but he grabbed the opportunity with both hands, and in doing so became a hot property for many teams for the 2023 grid.
We often heap praise on drivers scoring on their debut. Yuki Tsunoda and Zhou Guanyu have achieved it at the last couple of Bahrain season openers, whilst Sebastian Vettel is often trumpeted for scoring as a reserve on his debut in 2007. None of them managed to do it in what was overall the slowest car in the field though.
Okay, in Monza the Williams had a turn of speed, but stepping in in the middle of a weekend, in the middle of the season and putting in that level of performance was exceptional. De Vries's maturity and experience showed as much as his pace, as he soaked up late pressure. It'll be interesting to see how he grasps his next opportunity at AlphaTauri in 2023.
READ MORE: 'The phone just kept going' – De Vries details his whirlwind rise from super-sub to full-time F1 seat
FASTEST DRIVER – Charles Leclerc
The man with the pole position trophy for the second time in his career, Charles Leclerc showed blistering speed, particularly on Saturdays, to set up what should have been a championship challenge. For me, Leclerc is the best qualifier in the field. His ability to put in the perfect lap on the final run of Q3, when the track is at its best but the pressure is highest, is uncanny.
The Ferrari car allowed him to exhibit this talent on Saturdays. He piled early pressure onto Carlos Sainz in the other car with his inherent speed, but sadly as the year went on, qualifying heroics seemed the best Leclerc and Ferrari could hope for.
STANDOUT DRIVER – Lando Norris
It was another stellar season for the McLaren driver, who barely put a foot wrong all campaign to finish comfortably best of the rest in the standings and almost single handedly take the fight to Alpine in the constructors' championship.
The gap between the best and the rest was bigger than anticipated in 2022, something I hope will close up from next season to give more of the midfielders opportunities. But it was only Norris who managed a podium outside of the top three teams, with his drive to third in Imola.
READ MORE: 'I see a lot of positives' – Seidl proud of McLaren's progress in his final year in charge
Out-qualified only once by the departing Daniel Ricciardo, it seemed Norris took his performance to another level, even if the standout moments weren't as exceptional as last year. With a long-term contract in place, he'll be hoping for a leap in performance from his team next season. If that comes, I expect Norris to be knocking on the door of that maiden race win once again.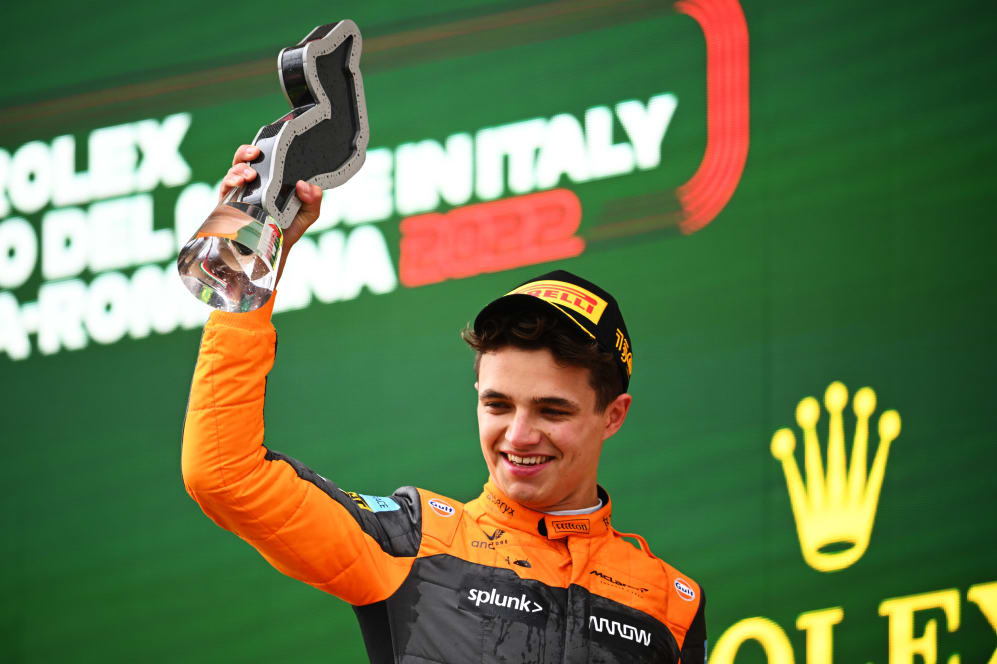 FEELGOOD MOMENT – Sebastian Vettel, United States Grand Prix
Vettel's farewell from Formula 1 was an emotional one. He's been a formidable driver, a multiple champion but also a great ambassador for the sport and a leader amongst the drivers.
READ MORE: How should Sebastian Vettel be remembered – and how good was he really?
Over the years, Vettel has slipped further down the grid with an uncompetitive Ferrari and then a move to an Aston Martin team who are yet to deliver on expectations. But in Austin, the car was competitive and both drivers looked to be set for points.
A crash for Stroll and a slow pit stop for Vettel derailed that, but the way Seb charged back through the field, particularly with his gutsy final lap tussle with Kevin Magnussen – not a driver to yield easily – was fantastic to watch as he rolled back the years. The fist pump as he crossed the line for eighth place sealed the deal as the feelgood moment of the year for me.
BEST RACE – British Grand Prix
While the title fight itself wasn't a nail-biter in 2022, there were many fantastic races to choose from. In the end, for me this one came down to the all-out battle for the win in Jeddah between Leclerc and Verstappen and a topsy-turvy race at Silverstone where a number of drivers fought for victory.
But I've plumped for Silverstone as the best race.
As many as five drivers were in contention for the win at various points of the race. Firstly, pole man Sainz was passed by Verstappen, who looked to be pulling clear, before suffering damage and dropping back. Then Leclerc, despite damage of his own, appeared to be in the pound seat, before Lewis Hamilton came into contention in a rapid Mercedes for the first time in the season.
WATCH: Daring lunges, wheel-banging, and strategic thinking – The top 10 battles of the 2022 season
A late Safety Car shuffled things up and allowed a recovering Sergio Perez a chance to fight it out as well at the front, while Leclerc was hobbled by a poor Ferrari strategy, as Sainz surprisingly came through to win.
Add in the dramatic incident at the start, which showcased the safety standards we have in today's Formula 1, and the exhilarating wheel-to-wheel action we had along the way, and that's why I think the British Grand Prix takes the best race crown this year.
BEST UNDERDOG PERFORMANCE – Fernando Alonso, United States Grand Prix
Alonso has been renowned for his underdog performances for a long time now, but nothing quite sums up the Spaniard's skill and determination like his recovery drive in Austin.
Fernando was already on a charge, searching for a move on Lance Stroll, before the Aston Martin driver's late jink launched him into the air, Alonso smashing into the barriers in a dramatic high-speed crash.
The Safety Car was deployed and it was inevitable both drivers would be out of the race… except they weren't. Somehow Alonso limped back to the pits, got his car repaired and charged back up through the field to take seventh at the flag and secure crucial points.
TREMAYNE: Alonso's Austin fightback proved F1 drivers are not the same as us mere mortals
Thankfully, a subsequent technical penalty was rescinded after his team's appeal a week later and Alonso got his just rewards for a mighty drive.
BEST QUALIFYING LAP – Kevin Magnussen, Sao Paulo Grand Prix
An easy one for me, which could have also fallen into 'feelgood moment' or even 'best underdog performance'. This was a once-in-a-decade treat, where Magnussen put one of 2022's slower cars on pole position in a qualifying epic in Sao Paulo.
The nature of the qualifying was just perfect for a gutsy, gung-ho driver like K-Mag. In a session of changeable conditions, you've always got to be on the right tyre at the right time. You've also got to make no mistakes on critical laps, yet you can't be cautious or you'll have no pace, as some others found.
READ MORE: 'It's been a real journey' – Magnussen reflects on whirlwind F1 return that included 'massive surprise'
Magnussen just made it into Q2 and then Q3 at the death, but the final lap to put it on pole was something exceptional. Yes, Haas did a terrific job as well in getting their driver to the front of the queue, but it wasn't just about that. Magnussen put in a belting lap, seeing off far faster competition. Wonderful stuff.
However, even once Hamilton got back into his stride, it was still Russell who took the only pole and only win for the team this season, confirming 2022 as the first year Hamilton hasn't claimed a victory, not only in Formula 1 but his whole racing career. Russell soaked up the pressure to deny him in Brazil for his maiden win.
With Mercedes showing good development through the year, though, the dynamic and pecking order between these two drivers will doubtless be one to watch in 2023.