Feature
PALMER: My star performers and stand-out moments from the 2021 season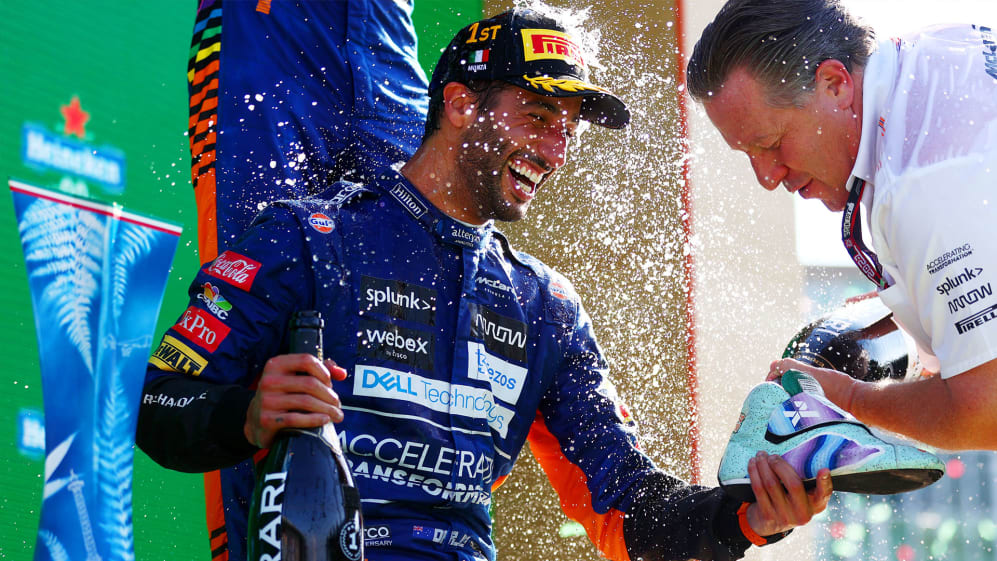 Jolyon Palmer has spent the 2021 season bringing us his unique insight and analysis, breaking down the biggest battles and most controversial moments after each and every race. But with the season now done and dusted, the former Renault racer has chosen his stars of 2021, including best driver, best team, best race – and best feelgood moment.
BEST DRIVER – Max Verstappen
Whatever you make of the final lap drama in Abu Dhabi, it's tough to argue that the Dutchman isn't a deserving champion this year.
He and Lewis Hamilton have been a class apart this season, and whilst they were incredibly difficult to separate, both figuratively and, so often, literally all season long, I put Verstappen as top driver this year based on the fact he barely put a foot wrong.
READ MORE: Max Verstappen's five best wins on his way to the 2021 World Championship
Yes, sometimes he was overly robust on track, but while Hamilton slid off the road in Imola and left his brake magic on in Baku, Verstappen's race days were fairly unblemished from a driving point of view. Were it not for bad luck in Baku and Budapest, and a collision in Silverstone, then he would have had the championship sewn up before the last lap at Yas Marina. Thankfully for us he didn't, and the drama went down to the wire.
BEST TEAM – Mercedes
Constructors' champions once again, in spite of having a tough start in pre-season – rocked by rule changes which favoured the higher rake Red Bull.
Like the drivers' championship, this was extremely tight throughout the season, but Mercedes got on top of their car and came on strong in the latter half. There wasn't a lot between the second drivers in each team either, with Valtteri Bottas and Sergio Perez having very different strong suits – qualifying pace in the former's case versus racecraft in the latter's.
In the end, it felt like Red Bull were more preoccupied by the drivers' title, as they sacrificed Perez's races a couple of times in Silverstone and Abu Dhabi, while Mercedes possibly regretted ordering Bottas back past Hamilton in Austria. Maybe that means Red Bull were the more pragmatic this year to win the more coveted drivers' title, but Mercedes will go down as the best team of 2021 in the standings.
READ MORE: Enjoy the best of Jolyon Palmer's Analysis from 2021 here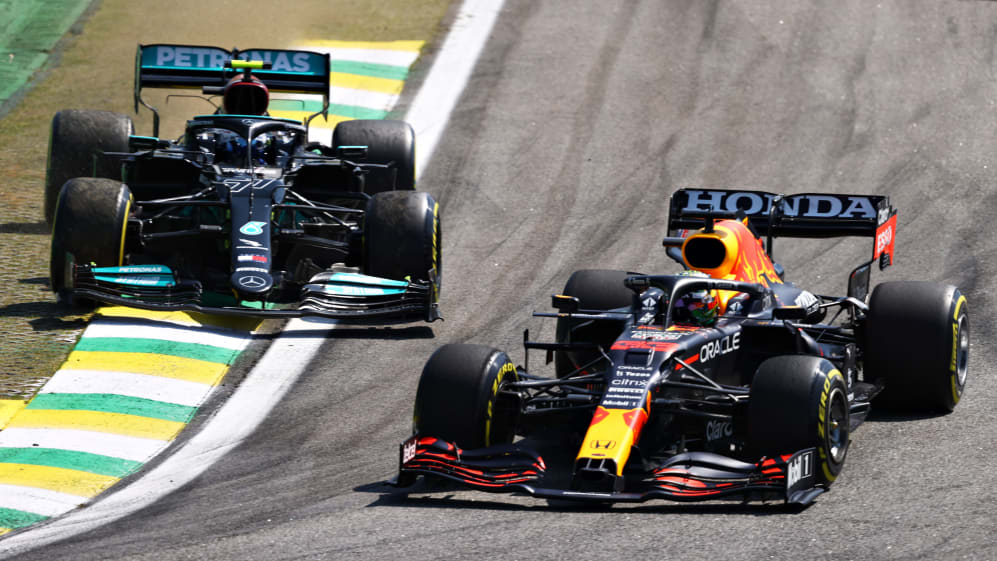 BEST INDIVIDUAL PERFORMANCE – Lewis Hamilton, Sao Paulo Grand Prix
It looked like Verstappen's title was wrapped up on Friday night at Interlagos, when Hamilton was put to the back of the field after his car failed DRS checks post qualifying and had a further five-place grid drop looming for an engine change.
What happened next will go down in Formula 1 folklore. The recovery from 20th to fifth in just a 24-lap Sprint was majestic. Clearly Hamilton had the pace to charge, but the clinical nature of this rampage was that of an old school Hamilton we haven't seen for a while: he took absolutely no prisoners.
READ MORE: 'I don't remember another weekend like this' says Hamilton after sensational last-to-first comeback in Brazil
Having passed 15 cars in 24 laps, it seemed likely he could win from 10th on Sunday – but after another great start he came up against a feisty Verstappen. It was a dramatic fight with some contentious Verstappen defence, but Hamilton claimed the victory and out of the ashes, kept his title fight alive. Superb.
BEST UNDERDOG PERFORMANCE – Lando Norris, Russian Grand Prix
Maybe a surprise considering we've had some shock winners this year and Lando and McLaren ended up finishing seventh as rain fell at the end. But Norris' drive in Sochi was to me the epitome of an underdog performance.
He took a shock pole on Saturday, fought back past fast-starting former team mate Carlos Sainz for a lead he had under control for the first half, until Lewis Hamilton was unleashed to hunt him down. Again, Norris had that under control, against a much faster Mercedes with a seven-time champ at the wheel.
READ MORE: Biggest shocks, funniest moments, best drivers and more – Our writers reflect on an epic 2021 season
The most impressive part was how he held off Hamilton as rain fell. Seeking a first Formula 1 win, being hunted down by a rainmaster in a better car, Norris was brilliant, scrabbling for grip as conditions worsened and actually pulling away from Hamilton on slicks in the wet.
Perhaps let down by his team in the end and beaten by strategy in a gutting final few laps for him, this was nonetheless the best underdog display I saw in 2021, even if it ended in heartbreak, as so many underdog efforts do.
BEST QUALIFYING LAP – George Russell, Belgian Grand Prix
A once-in-a-decade stunner from Russell that almost landed him on pole in a Williams at a sodden Spa – the ultimate drivers' conditions.
The Williams wasn't a bad car in the wet in Belgium, but it never should have been able to split the title contenders on the grid – Russell out-qualifying everyone bar 2021 champion Verstappen, himself a supremo in wet conditions.
If a podium was ever going to be awarded for qualifying brilliance then this was it – and so it was the case when the rain never abated on Sunday. A tough day for the fans, but a great day for George and Williams.
READ MORE: Russell remarks on 'strange feeling' after first Mercedes test since signing for 2022
MOST-IMPROVED DRIVER – Carlos Sainz
A tough call for most-improved given Sainz has been in the top six in the standings for the last three years now. On the face of it, the fact that Sainz and Norris would both jump out as improved drivers this year demonstrates that they were probably underrated as McLaren team mates, at least by me.
But I do think Sainz has stepped up at Ferrari wonderfully, with the culmination being his podium in Abu Dhabi to take him to 'best of the rest' in the standings and become the first driver to outscore Charles Leclerc as a team mate in any car racing series.
READ MORE: Sainz says Abu Dhabi podium was the ideal end to a 'magic' first season with Ferrari
Like many drivers who changed teams, he started slowly, but finished fast and improved well throughout 2021 as well. When Ferrari signed him early in 2020, it seemed he would be a great second fiddle to Leclerc, but perhaps they might just be re-evaluating that assessment now. I think this year he has shown the potential to be an absolute top tier driver.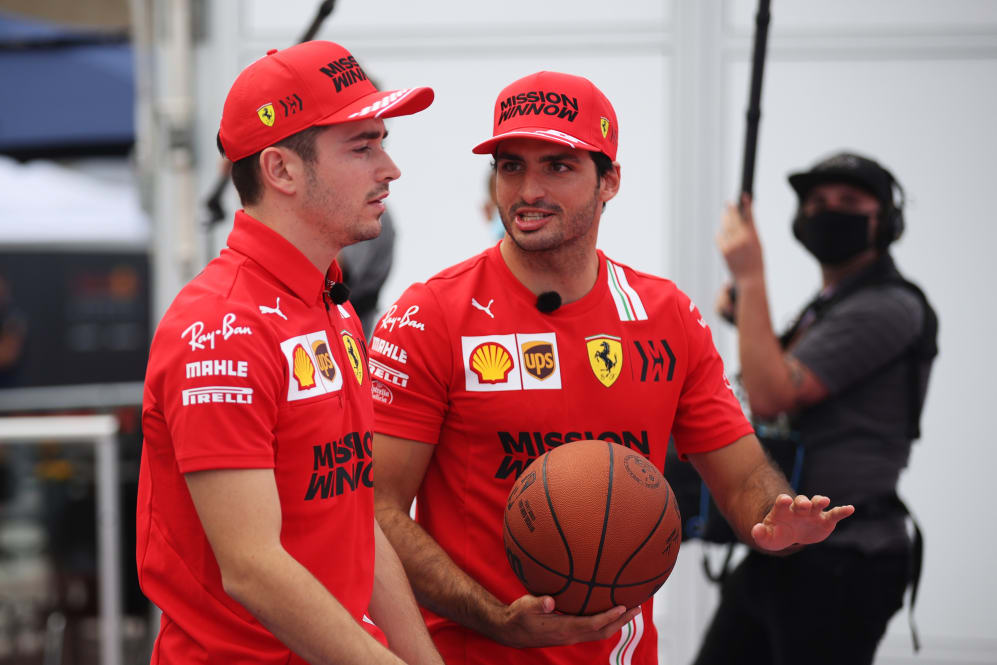 BEST ROOKIE – Mick Schumacher
Not the most competitive category this season it has to be said, but Mick did a solid job in a horribly under-developed Haas, obliterating his team mate Nikita Mazepin – which was the best he could do.
Russell put in those sorts of performances against Robert Kubica in 2019, and it's left him with a top drive at Mercedes for next season. Two Q2 appearances were well deserved for Schumacher, a driver I'd love to see up against a tougher benchmark.
The only real competition for Mick in the rookie stakes was from Yuki Tsunoda, but it was a pretty tricky first season for Yuki. Some flashes of promise from him, though, including a best finish of fourth in Abu Dhabi, will give him and the team some more belief heading into next year.
READ MORE: Schumacher and Giovinazzi to fulfil Ferrari reserve role in 2022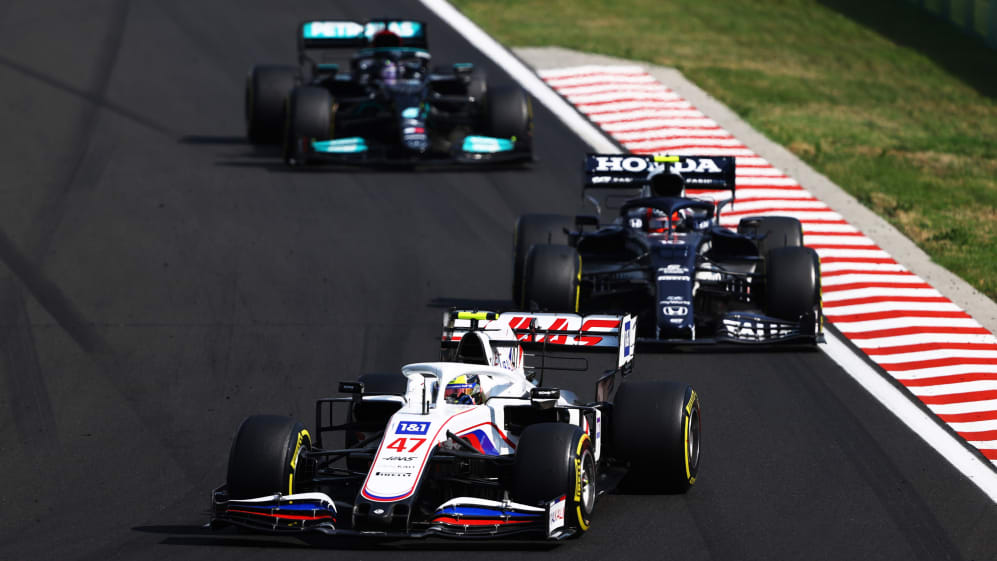 BEST RACE – Hungarian Grand Prix
A tough category this season with so many thrillers and so many races decided between the big guns in the final laps, but I've gone for one that had pretty much everything.
The drama of a chaotic wet start, with crashes wiping out a number of usual frontrunners, then the comedy moment of Hamilton lining up on his own at the front of the grid as everybody else switched to slicks.
HEAD TO HEAD: Which drivers came out on top in the battle of 2021's team mates?
The rest of the race was brilliant as well: a completely topsy-turvy order with Nicolas Latifi running in the top three for a while, as Hamilton fought back and Verstappen tried to do the same, albeit with a hobbled car.
We had a sensational fight between Hamilton and Fernando Alonso as well, as the Alpine driver helped his team mate Esteban Ocon (another contender for most-improved) to eventual victory, his first ever win, and earned by holding off a charging Sebastian Vettel.
A barmy race that will live long in the memory for all sorts of reasons.
MOMENT OF THE YEAR – Lap 1, British Grand Prix
There were so many epic and iconic moments in 2021, but the only choice possible in the end was the first clash of the titans at the British Grand Prix.
A packed-out Silverstone, a scorching Sunday afternoon, the Saturday Sprint switching the starting order and adding to the tension. And then lights out and straight into unabated fury between the best two drivers at the front of the field, neither willing to back down.
PALMER: The Hamilton-Verstappen clash polarised opinion, but I believe it was a racing incident – here's why
Side by side brilliantly for half a lap before Hamilton looked to the inside at Copse and tagged Verstappen's right rear. How they hadn't tangled before Copse was a miracle given how both were driving, but in the end this was a moment that encapsulated the 2021 season, sparked the title race back into life, and ramped the tensions between all at Mercedes and Red Bull.
FEELGOOD MOMENT – Daniel Ricciardo's victory, Italian Grand Prix
Aside from the iconic Verstappen-Hamilton battles, there were so many other sub-plots through the season, with plenty of jubilant moments throughout the field.
Daniel Ricciardo had his toughest season in 2021, but he was able to deliver an opportunistic win in Monza, which was a welcome relief for a multiple Grand Prix winner. Seeing his smile back and some pure celebration from the Aussie was great after a tricky first season with McLaren.
READ MORE: 'No one cracked' – Ricciardo reveals the moment in 2021 when he realised McLaren were 'a bunch of winners'
This category has so many other contenders, though, and I'm sure opinion will be completely split. As well as Ocon's Hungary win, we had Fernando Alonso getting back on the podium for the first time in seven years in Qatar; Sebastian Vettel and Pierre Gasly putting Aston Martin and AlphaTauri onto the podium with determined Baku drives; and George Russell scoring his first Williams points after two and half years of trying in Hungary.
For all the feelgoods, there are a few feelbads too. Charles Leclerc's team radio as he realised all was not well with his Ferrari's left-rear driveshaft hub on the way to a home pole position in Monaco was galling, as was the way that Kimi Raikkonen's swansong ended prematurely in Abu Dhabi .
It's been a season of intense drama and passion, with massive highs and lows throughout the field. Maybe it's too greedy to hope for better in 2022 – but if it can just match up to this season, we'll be in for another belter.