Feature
TREMAYNE: Monaco was vindication for Perez and a test of character for Leclerc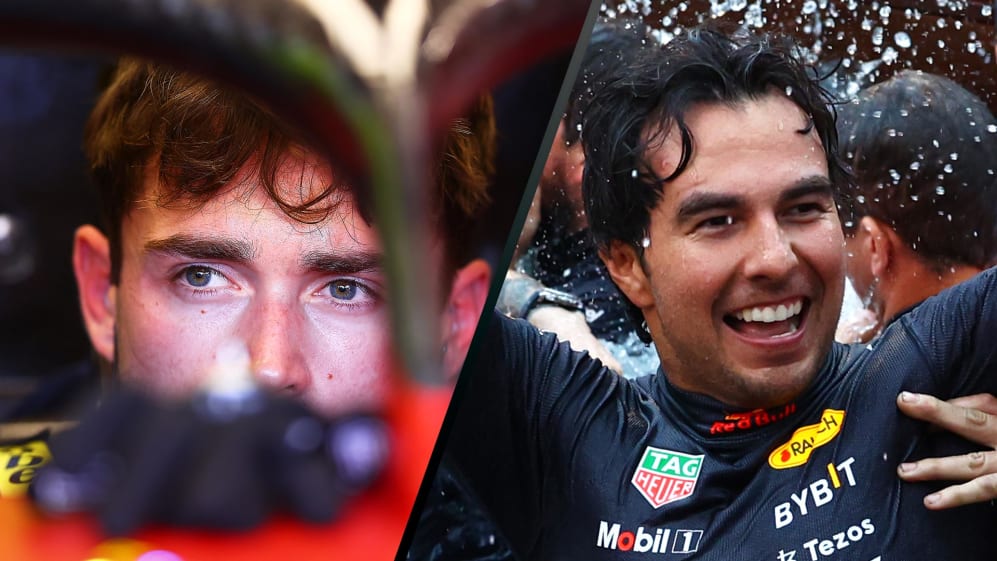 Was there ever such a weekend of contrast as there was for Sergio Perez and Charles Leclerc in Monaco?
The local boy has known all about his home race since hearing the tale from his father Herve about how he had finished eighth behind Damon Hill and Martin Donnelly in the F3 race in 1988 (it was won by Enrico Bertaggia from Erik Comas), nine years before Charles' birth, then watching it with him from an apartment above the pit straight from the age of four onwards.
POWER RANKINGS: Who took top spot after a tough race in Monaco?
He made his own debut there in 2010, winning the Junior Monaco Kart Cup in KF3. But in GP2 in 2017 he didn't finish, retiring with suspension problems after starting from pole. From the back of the grid in the second race collided with Norman Nato, with a similar result. He had desperately wanted to win for his father, who died of cancer shortly afterwards.
He made his F1 debut in Monaco in 2018 for Sauber, qualifying 14th but crashing out after 71 laps when brake failure put him into the back of Brendan Hartley's Toro Rosso.
An emotional yet uncomplicated character, he had some payback to exact and some restitution to make last weekend.
Remember 2019? Now elevated to the Ferrari seat that had seemed destined for his late godfather Jules Bianchi, he was a man on a mission and his helmet design portrayed tributes to the young Frenchman and to his father.
He trailed Lewis Hamilton in the first two practice sessions, but beat both Mercedes drivers in FP3, apparently setting himself up well for qualifying. But, Ferrari mistakenly believed that his position for Q2 was safe and opted to save him a set of tyres; rapid track evolution caught them out, however, leaving him 16th.
His race was a brilliant mix of opportunism and forcefulness, as he found ways of passing Lance Stroll (on the inside at Mirabeau), Lando Norris (on the outside of the hairpin), and Romain Grosjean (on the inside at Rascasse). But when he tried a similar move on Nico Hulkenberg they came into contact and the subsequent puncture and floor damage resulted in his retirement.
There was no race in 2020, but last year he obtained the pole position he may have missed back in 2019, eclipsing Max Verstappen in Q2. But… On his second run in Q3 he tried just a fraction too hard and went right-front first into the barriers on the exit to the Swimming Pool.
The hefty impact and the resultant debris prevented anyone else from going quicker, and for the first time since 1936, a Monegasque was on pole. Back then it had been Louis Chiron, and Charles, being Charles, was wearing a suitable tribute helmet.
READ MORE: 'In the cockpit he becomes a tiger' – David Tremayne on why Monaco 2021 underlined Leclerc's Villeneuve-like qualities
That was the good news. But he fretted about the health of his gearbox overnight, as the back end had also rotated into the barrier. And to his own anguish, and that of Ferrari and thousands of spectators, as Charles left the pit lane on the formation laps he could feel the bad news: the gearbox had sustained damage, and the gamble to avoid a five grid-place drop by not replacing it had backfired. The pole-sitter was out even before the race started.
So there was much to play for this time around, and he rose brilliantly to the occasion (shaking off the accident the previous week when a brake disc failure on the ex-Niki Lauda Ferrari 312 B3 he was demonstrating had put him backwards into the wall at Rascasse). And there was Ferrari #16 at the head of the times in FP1, FP2, second in FP3, and back at the top in Q1, Q2 and Q3…
What could go wrong this time? Despite the weather and the resultant delays, he led confidently, pursued by team mate Carlos Sainz and the Red Bulls of Perez and Verstappen, the whole field running Pirelli's full wets. When Red Bull pulled Sergio in for intermediates on lap 16 it seemed the right thing to do as the track improved, but though Ferrari and Red Bull did likewise with Charles and Max two laps later, Ferrari split their strategy and kept Carlos out until Lap 21.
The rate of track improvement was massive. On his intermediates, Lewis Hamilton set fastest lap in 1m 30.246s on Lap 17; a lap later Sergio did 1m 25.215s. Ferrari could see that Carlos could switch straight to slicks, and their plan to bring both of their drivers in for hard tyres on Lap 21 was absolutely right.
READ MORE: The Red Bull strategy calls that wrong-footed Ferrari after Perez's crucial qualifying crash in Monaco
Red Bull, meanwhile, didn't double-stack their drivers for slicks for another lap, but now events conspired in their favour. Running Carlos longer had been a good strategy but for one thing: by the time he was headed pitward, his tyres were shot, thus his in-lap time was relatively slow.
By the time Ferrari realised this they had already given Charles the signal to stop again: "Box now, box now!" And he was already heading in when they changed that to "Stay out! Stay out!" Too late! Thus they had a double whammy. Carlos lost time with that slow in-lap, and Charles was delated for crucial seconds as Carlos's tyre swap was completed, which meant that Max was able to jump him during his own second stop.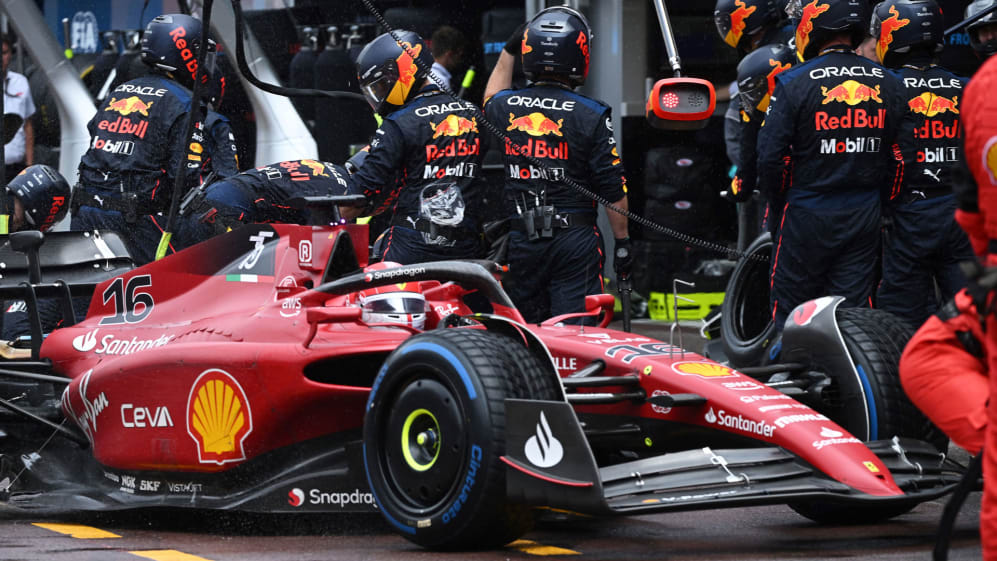 Even worse, Carlos got held up by Nicholas Latifi's lapped Williams for part of his out-lap, up the hill to Casino Square and down to Mirabeau. He was already struggling to get the hard tyres up to temperature, and all these factors meant that Sergio was able to make his stop and get out just before the Ferrari came round. Thus were the tables turned.
Ultimately, it mattered little that, after the race stoppage on Lap 30 due to Mick Schumacher's accident, Red Bull opted to take the restart with both cars on mediums tyres whereas Ferrari stayed on the hards their drivers had taken on Lap 21.
With no means to overtake, the top four chased one another lap after lap until Checo was the first to see the chequered flag after 64 of the intended 78 laps as the race timed out.
READ MORE: 'We made mistakes in our judgement' says Binotto after Ferrari lose out on Monaco victory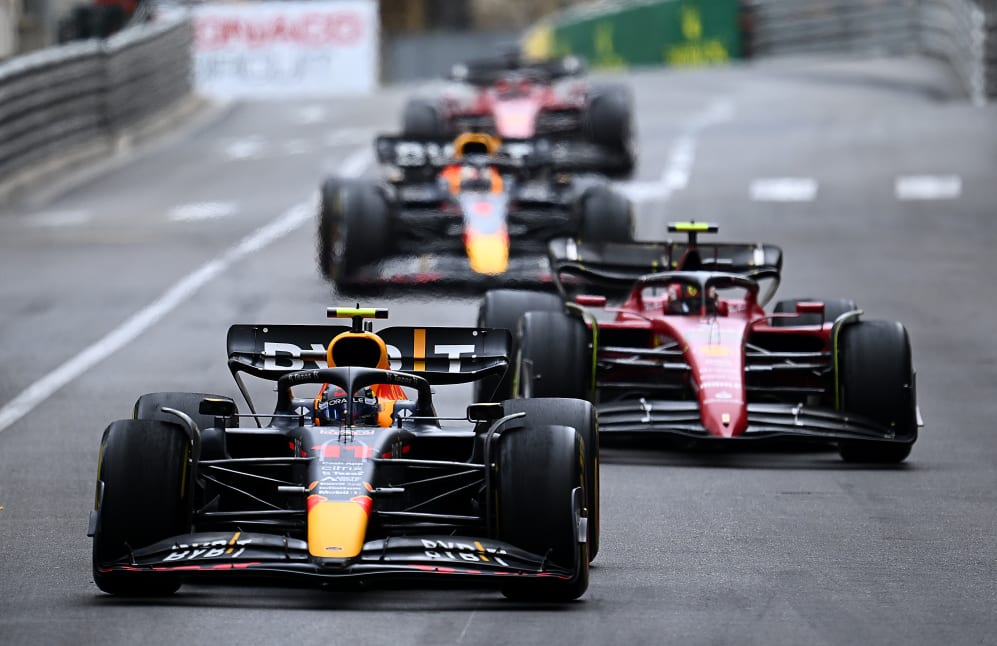 Monaco is one of the Grands Prix at which victory is most coveted by the drivers, but it was not just that which made it the best of Checo's three victories. He had Max covered all weekend, heading him in all but Q1. Yes, he really was that hooked up, and on quite the best form he's shown all season, Jeddah notwithstanding.
One hopes that Red Bull might be minded after his Sunday showing to consider a financial adjustment to the contract extension to 2024 that he had signed last week…
ANALYSIS: Why Red Bull and Sergio Perez extended their marriage until the end of 2024
When he came into F1 he was insufficiently secure to concede that he might aspire to emulate the achievements of his great countryman Pedro Rodriguez, arguably the best wet-weather driver of all time. But now a race winner, family man and father with 12 years in F1 under his wheels, he is better equipped to indulge in a more respectful acknowledgement.
Ironically, Pedro never liked the fussiness of Monaco, but Checo was happy to wear a tribute helmet of his own to recognise the man whose tally of two wins he beat on Sunday afternoon. That, just like Charles's similar emotional indulgences, added a nice touch, and a deeper sign of the inner man.
Meanwhile, told he had only finished fourth – albeit his first finish of any sort in a car around the streets of the Principality – Charles' reaction was a surprisingly restrained yet understandably disheartened: "Aye, aye, aye. It's early in the season, but we can't do this."
PALMER: The myriad factors that cost Ferrari and helped Red Bull win in Monaco
But though it seemed that Ferrari had fumbled once again, it was more the circumstances that were against them. Now they must keep their head and regroup, especially as Checo is catching up with Charles's points tally…
It may be worth mentioning that even the great Jim Clark never won round the streets of Monte Carlo. He was usually the quickest man there, too, yet never got to woo Lady Luck… But that scant 'consolation' most certainly isn't one that Charles would want to hear right now.