Feature
Verstappen vs Hamilton round 2, and 4 other reasons we're excited about the Emilia Romagna GP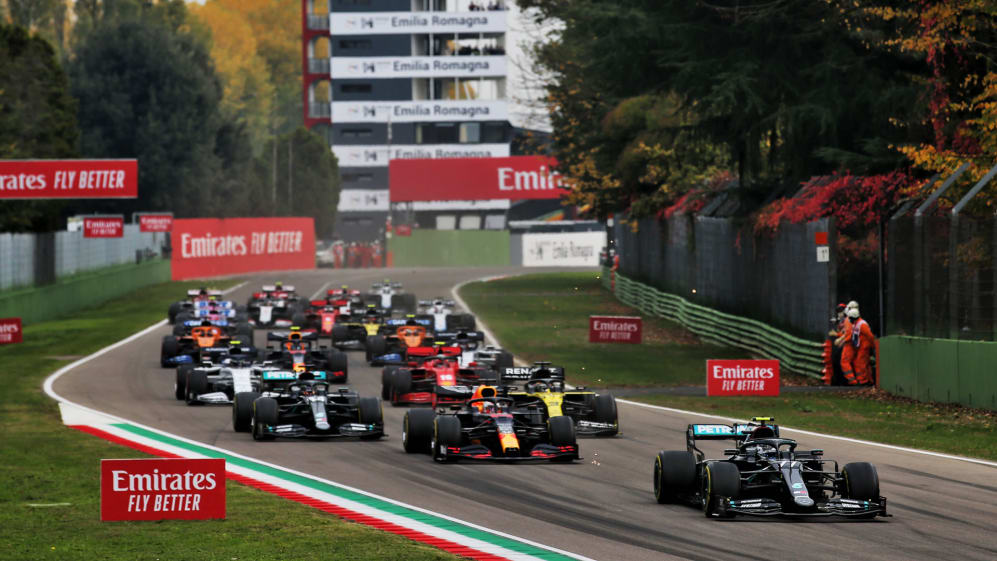 It was a long wait to get the new Formula 1 season started and the past few weeks have felt just as long after a thriller to kick off the year in Bahrain, but we're back racing at an iconic track this weekend. Here are just a few reasons why we're excited for the Emilia Romagna Grand Prix at Imola...
1. Hamilton v Verstappen, Round 2
Bahrain was every bit as good as we'd hoped when it came to the battle between Lewis Hamilton and Max Verstappen, and it's strange to say a Hamilton win was a surprise. But Verstappen could find no way past his rival in the closing laps as the pair finished less than a second apart, and an opportunity for the Red Bull driver to start the season with maximum points slipped away.
But Red Bull left Bahrain both disappointed to not win the race and encouraged by the performance they had shown. They had the quickest car throughout the weekend - even a differential issue wasn't allowing Hamilton to be faster than Verstappen - but track position and the cleanliness of the overtaking attempt proved crucial.
TECH TUESDAY: What's a differential – and did a faulty one cost Verstappen victory in Bahrain?
Imola will provide us with the next installment of what could well become a season-long fight for the championship between two massive talents, and the signs are good from last year's race at this track. Verstappen was a threat but got held up behind the ailing Valtteri Bottas – suffering from damage – and by the time he got into second place the gap to Hamilton was too big to bridge.
This time round, however, Red Bull arrive with a car that they feel can once again take pole position and Mercedes fear they have no strengths relative to their rivals. Should that prove true, then a smoother weekend for Sergio Perez could also give Mercedes a further headache, after his impressive recovery from the pit lane to fifth in the opening round.
2. A very different test
Somewhat unusually compared to recent years, the F1 paddock arrives at the second race having only run the new cars on one circuit. Testing and the first race both took place at the same venue, which means we're yet to see how different cars react to a different challenge. And Imola definitely provides that.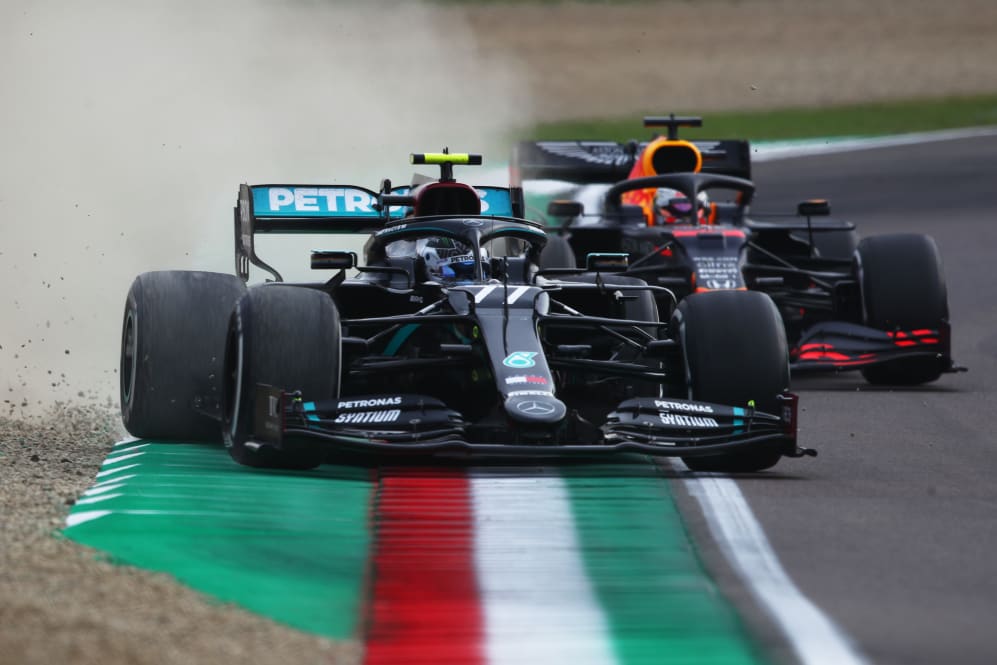 An old-school circuit that is narrower than Bahrain and with little in the way of run-off areas also has a very different layout, with a more flowing nature to Imola compared to the long straights and big stops that make up a significant portion of the Bahrain International Circuit. That could change the pecking order - especially in an extremely close midfield - as the different characteristics play to the strengths of other cars.
On top of that, the weather is set to be another factor, even if it remains dry. For now the forecast is for showers on race day, but if those fail to materialise then the cooler temperatures of April in Europe are a significant departure from the higher figures seen at Sakhir, even under the floodlights. Those sorts of small variables can make a big impact.
READ MORE: 'It's physically not possible' – Mercedes rule out shift to Red Bull 'high rake' philosophy this season
3. AlphaTauri's potential
I mentioned the promising signs for Red Bull from last year's visit to Imola, but if there's another team that can be even more optimistic it's AlphaTauri. Last year saw an extremely strong performance at AlphaTauri's home track – just 15 kilometres from their Faenza headquarters – as Pierre Gasly qualified fourth.
Although he was forced to retire early on due to a reliability issue, Daniil Kvyat then produced an excellent final few laps to charge up to fourth and nearly snatch a podium from Daniel Ricciardo.
BUXTON: Believe the hype – AlphaTauri are going to thrill this season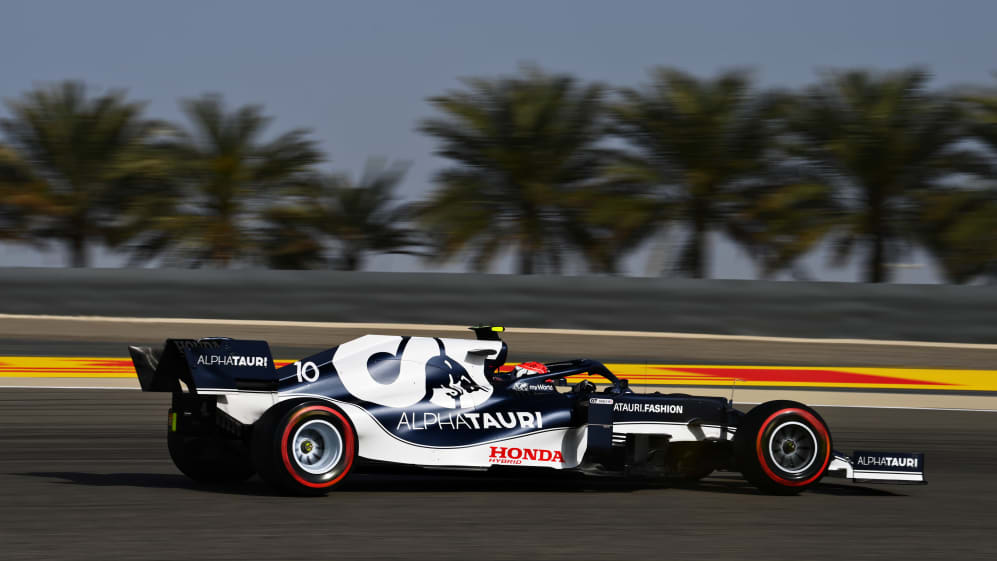 Given last year's race came late in the season, it was at a time when AlphaTauri were really hitting their stride, and they've gone even further this year with a car that looks extremely competitive out of the box. Gasly was again qualifying in the top five in Bahrain but early contact with Ricciardo ruined his race, while Yuki Tsunoda was one of the stars of the weekend as he excelled in Q1 and then climbed through the field to score points in ninth place on his F1 debut.
Tsunoda has tested extensively at Imola in old machinery, so this should be a venue he is extremely comfortable at, and AlphaTauri could be the standout performers in the midfield.
4. Upgrades already
We're only arriving at the second race of the season but there will already be a focus on how the cars look when they leave the garage on Friday morning for first practice. Usually the opening rounds all take place a significant flight away, but the switch to Europe this year – and the three-week gap between races – allows teams more time to prepare updates.
For some that's just a case of introducing smaller parts that weren't ready in time for Bahrain, with Haas one example of a team finalising their car this weekend. But others have something more significant in the pipeline after learning more about the new regulations in recent weeks.
The big teams usually have significant development programs and they are likely to be more active in the early races before attention switches to 2022, while Alpine's Marcin Budkowski admits his team have "a pretty decent upgrade package" coming for Imola that should yield more performance.
5. Big changes at Mercedes
While technical teams are working up updates and the next generation of car, the big news since the first race came out of Mercedes, where it was announced James Allison will be leaving the role of Technical Director and instead taking up a new position as the team's Chief Technical Officer.
Allison has been Technical Director since 2017 and has helped Mercedes continue their dominance of F1 in that time, but he will be succeeded by the current Technology Director and former Head of Aerodynamics Mike Elliott.
ANALYSIS: What does James Allison stepping back from Technical Director role mean for Mercedes?
The change happens on July 1, with Allison tasked with helping Mercedes "meet the strategic challenges of the sport's next era" as he steps back from the day-to-day management of the F1 technical operations.
It's a major move for the defending champions, but not an unusual one. Mercedes have shown throughout the past seven years that they are able to modify their leadership structure and plan for future changes effectively, often promoting from within and providing the opportunity for a handover period that ensures their competitiveness doesn't drop.
Still, Allison moving into a different role is significant, and it will be interesting to hear just how he plans on influencing further change within Mercedes as they try to remain a front-runner into 2022 and beyond.