Video
Vettel and Hamilton at Mercedes would be a 'headache', says Horner in F1 Unscripted with Heineken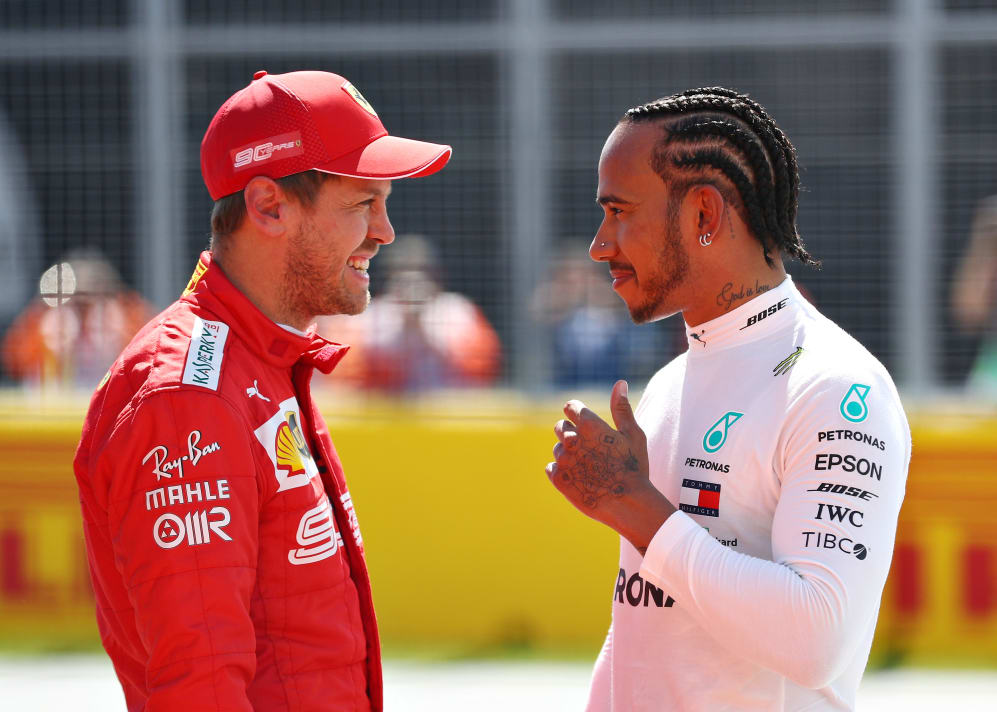 What Sebastian Vettel will do when he leaves Ferrari at the end of the 2020 season is one of Formula 1's most hotly-debated topics currently. And with a move to reigning champions Mercedes alongside Lewis Hamilton mooted as a possibility, Red Bull's Christian Horner said managing that particular driver dynamic would not be easy.
Vettel's four back-to-back championships were all won under Horner's watch at Red Bull – and speaking to another of his former drivers, David Coulthard, on F1 Unscripted with Heineken (which you can watch in the video below), Horner assessed Vettel's possible moves, before giving his opinion that a Hamilton/Vettel partnership would be 'a lot to take on'.
READ MORE: 2019 was Vettel's best season in F1, says former Ferrari man Smedley
"Sebastian is a very deep thinker," said Horner. "He will have given this a huge amount of thought, I've got no doubt about that.
"What he's achieved in his career is phenomenal, so if he were to decide that there's not a competitive drive available to him at the end of this year, and he calls it a day – he could even take a year out if he wanted. He has a young family, [and] he's one of the most successful drivers in the history of the sport.
"In saying that, he's still pretty young. He's in his early 30s, he's still phenomenally quick. Maybe Mercedes will fancy the headache of having him and Lewis together. It will be great for all of us to see and witness.
"From a team point of view, that would be a lot to take on. But he's a great driver and as I say, I'm sure he's given this a lot of thought, and all we can do is wish him the best. I think Formula 1 will be worse off if he's not there, but you have to respect his decision."
Horner knows better than most how disruptive it can be to have two drivers vying for supremacy in a team, having had to manage the Vettel/Mark Webber partnership – which led to incidents between the pair, most famously their collision at Turkey in 2010 and the infamous 'Multi 21' affair at Malaysia 2013.
He also had to deal with Daniel Ricciardo and Max Verstappen fighting for top honours at the team, leading to their crash at the 2018 Azerbaijan Grand Prix, a moment Horner discusses in the show: "I remember absolutely losing it with them… Adrian [Newey] was slightly shocked."
READ MORE: Horner reveals what sparked 'Multi 21' controversy
As a counterpoint to Horner's view, however, former Ferrari race engineer Rob Smedley – himself no stranger to controversial inter-driver moments – argued on the latest episode of the F1 Nation podcast that Mercedes could find a way to make the Hamilton/Vettel alliance a success.
"I'm always of the opinion that you just go for absolute best, and then you manage the fallout afterwards – or before hopefully! But you just want the absolute best that you can do," said Smedley. "You'd always make it work.
"Mercedes have kind of lived through that situation [with Nico Rosberg]," he added. "It brings about its management headaches definitely, so do they want to live through that again, now that they've found a different kind of equilibrium with Valtteri [Bottas] and Lewis? Not sure really.
"But my personal opinion – and that's all it is – is that if we don't see Sebastian in a top seat where he can show his wares at the front of the grid, I'm not sure we'll see him at all."
READ MORE: 'He could be a brilliant asset' – Coulthard's intriguing theory on a possible leftfield move for Vettel