2019 was Vettel's best season in F1, says former Ferrari man Smedley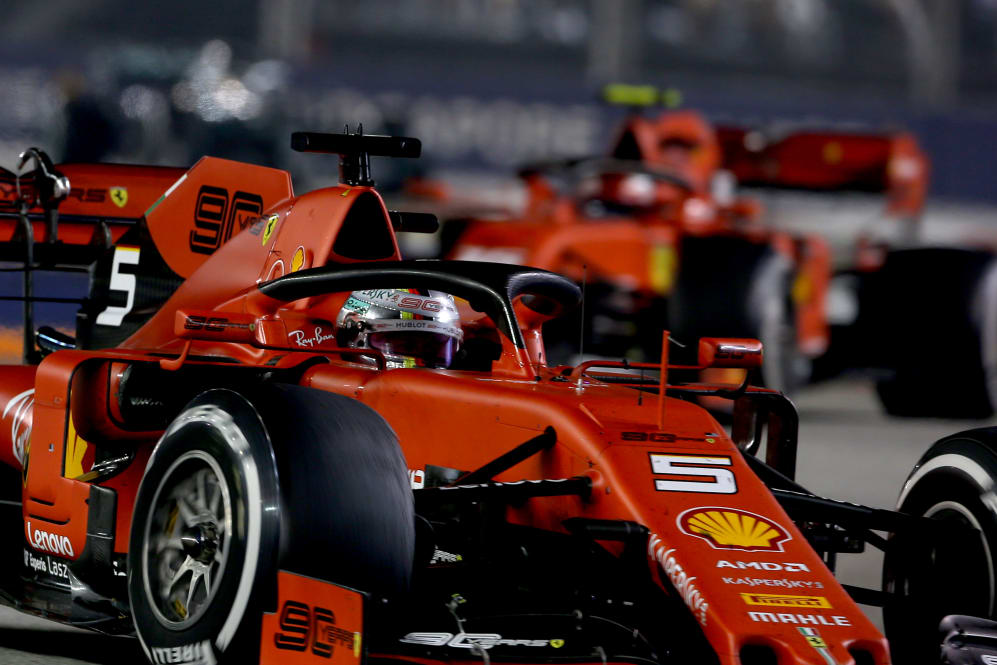 For a driver who won four back-to-back world titles, you'd be hard pushed to argue that a season where they finished fifth, and behind their new young team mate, had been their best ever in Formula 1. But that's exactly what former Ferrari race engineer Rob Smedley has claimed about Sebastian Vettel's 2019 with the Scuderia...
Smedley, who currently works as Director of Data Systems for Formula 1, was speaking on the F1 Nation podcast when he was asked about whether the prospect of Sebastian Vettel retiring at the end of 2020 – having agreed to part ways with Ferrari – would be a loss to the sport if it happened.
"I think it would be," replied Smedley, "because I think we've got a really good driver there, a really wonderful driver. And do you know what I think his best year in Formula 1 is – and I'm going to get hammered for this – his best year in Formula 1 was last year, it was 2019."
READ MORE: 'I'm not surprised Vettel is leaving Ferrari' says former Scuderia race winner
Elaborating on his theory about Vettel's year – which featured several costly mistakes, and saw him win just once to claim fifth in the standings, one place and 24 points behind new team mate Charles Leclerc – Smedley said: "I think he faced the biggest challenge of his career that year, and everybody kind of wrote him off because it was the easy thing to do, that Charles is just going to get better and better and it's the end of Sebastian, if you like.
"I think we saw the real Sebastian Vettel towards the end of the year, [which] Sebastian had a little bit lost – and I'm sure he'd freely admit that, that he wasn't where he wanted to be, both within the team and with his team mate at the start of the year – but then he actually got his head down, and that's the sign of a true champion, he came back.
READ MORE: BUXTON – Why I'd love to see Vettel vs Hamilton at Mercedes in 2021
"Sebastian had all the pressure, there's no doubt about it," Smedley added. "I think that's the most pressure he's probably ever had in his career. And he's been against good drivers, he's been against world champions. He dominated Kimi [Raikkonen], with Mark [Webber] at Red Bull – who's absolutely no slouch, Mark's a really fast driver – and [Vettel] managed to always come out on top.
"But I'm just not sure that he's ever had the challenge that he had in 2019, so for him to cope with that, and to come back and kind of stamp his authority after a shaky start, I personally think we saw something special."
Smedley went on to pick out the Russian Grand Prix, where Vettel beat Leclerc off the line to take the lead of the race, only to appear to refuse requests to hand the advantage back to his team mate, as the best example of the four-time champion re-finding his edge.
READ MORE: 'What's clear is the situation wasn't clear' – Leclerc on Ferrari's Russia team orders confusion
"I'm sure Mattia [Binotto, Ferrari Team Principal] will disagree with me on this particular point, but Russia was a case in point," he said. "He got out in front – however he did it, whatever the machinations were of him getting in front at that point were, he kind of made that decision inside his own head and helmet that he was staying there, and he wasn't going to let him back past. And I think that the sign of a true great is that they're relentless in their pursuit of winning."
ANALYSIS: Why Vettel and Ferrari broke up – and what happens next
You can hear the full interview with Rob Smedley, as well as chat with Mika Hakkinen and Sergio Perez, on F1 Nation in the player above, or listen via Apple Podcasts, Spotify or your favourite podcast app.