'We need to clear our name' – Racing Point explain RP20 penalty appeal
On the Saturday morning of the 70th Anniversary Grand Prix, Racing Point signalled their intent to appeal the penalty they were handed for what the FIA ruled were illegal rear brake ducts on their RP20 car. And ahead of qualifying, the team's CEO and Team Principal Otmar Szafnauer outlined precisely why they planned to appeal, insisting once again that the team had done "absolutely zero wrong".
Interestingly, Racing Point won't be the only team appealing the ruling – which saw them fined €400,000 and docked 15 constructors' points – with Ferrari, McLaren, Renault and Williams also set to lodge appeals, after several team principals expressed surprise at the nature of the punishment, and the fact that Racing Point were allowed to continue running the offending parts.
READ MORE: Racing Point confirm intention to appeal brake duct protest verdict
Meanwhile, Szafnauer explained the basis for their appeal…
"We need to appeal it because we stayed completely within the regulations for sporting and technical, and we need to clear our name," said Szafnauer. "We shouldn't be losing 15 points, we shouldn't be charged €400,000 – we did absolutely nothing wrong.
"We shouldn't forget that we did not get a part from Mercedes at all," he added. "We didn't shortcut the process, we didn't gain any manufacturing time, we didn't gain any money by buying parts.
READ MORE: Renault on why they wanted to appeal Racing Point penalty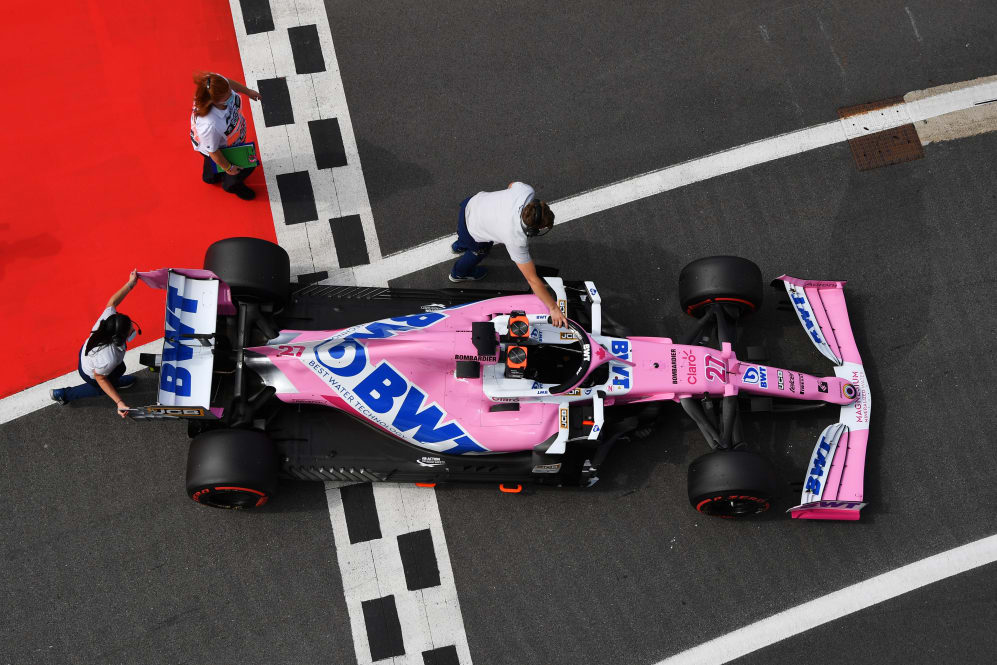 "So we've always designed our own brake ducts. The thing that is a conundrum here is that now it's a listed part. So the information that in 2018 we purchased [the parts] from Mercedes is now looking backwards – people are saying, 'Oh you shouldn't have been able to purchase that.' But in 2018, it wasn't even contemplated, this thing becoming a listed part. So what we did is completely legal, completely right.
"And let's not forget, Formula 1 is all about exploiting regulations to their limit and you have to look at what's written and not written to be able to exploit the regulations. Just because we did a good job and we had a competitive car doesn't mean we did anything wrong."
Szafnauer went on to argue that the FIA's verdict had been particularly galling for the team, after they received what he called a "clean bill of health" from the FIA in March, after the sport's governing body spent a number of days poring over the Racing Point RP20 at the team's Silverstone factory.
READ MORE: Ferrari, McLaren and Renault to appeal against stewards' verdict in Racing Point case
"The FIA came in March and spent a few days with us," he said. "They looked over the entire car, including the brake ducts, and gave us a clean bill of health. We explained everything to them, we hid nothing, we showed them all the genesis of all our designs, where it came from.
"And in this day and age with CAD [computer-aided design], you can show them exactly where you started a part and how you got to the end really, really easily. And they gave us a letter to say 'you're absolutely clean'.
"And if you say, why didn't you ask more questions on a brake duct that was transitioning from a non-listed part to a listed part, the reason is we were 100% certain what we were doing was legal, because like I said, Haas and Toro Rosso last year were running somebody else's brake ducts. We didn't do that, we're well within the regulations which is why we didn't feel it necessary to ask even more questions."
READ MORE: Mercedes have 'zero worry' over involvement in Racing Point case, says Wolff
Szafnauer added, though, that despite his certainty that his team are innocent, Racing Point welcomed going to the International Court of Appeal, feeling that their investigation process would fully acquit the team of any wrongdoing.
"The more you dig, the more on our side it's going to be because we did absolutely zero wrong," he said. "The more you dig, the better off it is for us. I welcome that."