Feature
DT's 10 Hot Takes: On Ferrari's driver rivalry and more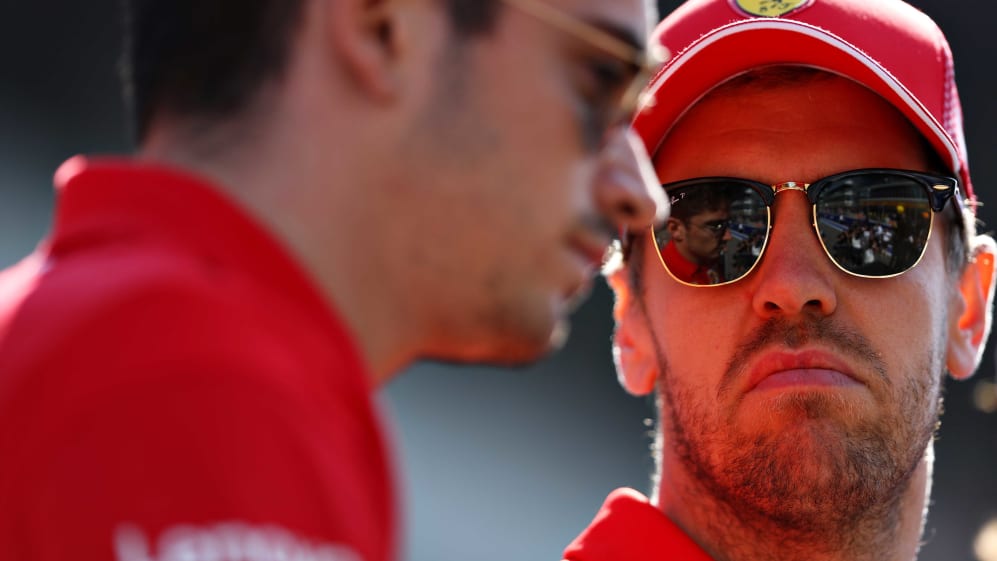 A celebrated Formula 1 journalist with more than 500 (consecutive) Grands Prix' experience, David Tremayne is one of those familiar paddock figures who has seen it all, met them all, and written about it all, over almost five decades of F1 racing. Here, he shares his hot takes from round 16 of the season at Russia…
1. Were Ferrari unlucky in Sochi?
Yes, and no. With the proviso that you make your own luck.
First off, there was that overcomplicated business with the slipstream off the start line. It was a sensible idea that worked brilliantly – until the driver who benefited didn't immediately hand the advantage back to the driver who created it. But that did not lose Ferrari the race. What did was the fragility of Sebastian Vettel's MGU-K, and the way in which the team handled that.
Initially, when the problem first arose on lap 27, he was immediately told, "Box, box, Box!" Meaning come into the pits. Then, as he got as far as Turn 15, he was told "Stop the car. Stop the car!" I'm guessing that all the telemetry was telling an horrific story of imminent failure.
It seems Ferrari opted to shut their car down immediately because of that risk of power unit breakage, but I can't help thinking that had Seb made the pits then there wouldn't have been the Virtual Safety Car which handed the race advantage to Mercedes…
READ MORE: Vettel - Ferrari's Russian pace 'should give Mercedes a headache'
2. And did Mercedes luck out?
Yes, and no. With the proviso that you make your own luck.
In Mercedes' case, the best they expected was third and fourth, such was the pace of the Ferraris, and the manner in which Mercedes had again got their predictions on the performance of the soft Pirellis wrong.
In Singapore the tyres just fell over the cliff when they weren't expected to. Here they went much further. Mercedes predicted 12 laps, and they went double that. Thus their own gamble to start on mediums had less force than it might have had.
But where Mercedes made their own luck was in the manner in which Lewis kept the pressure on Ferrari, never giving them a moment's respite as he hounded Charles Leclerc - and was thus ideally poised to take the fortune under the VSC when Seb's car broke.
3. Vettel-Leclerc rivalry hotting up
Giving Sebastian the slipstream with Charles' car made sense at the start, given the length of the run through Turn 1 and all the way down to 2. But two factors got in the way. First there was Seb's blinding getaway; he had already cleared Lewis when he came up behind Charles, so strictly speaking he didn't actually need the tow any more since Ferrari were already one-two, and the idea of using the slipstream was to achieve that.
The other factor was the way in which Seb went on a spree setting fastest laps, so much so that when Charles started complaining that the agreed switch wasn't happening, Seb was able to say that Charles needed to close up before it could. Easy to say, of course, and slightly disingenuous given that the Monegasque was already using up his soft Pirellis thinking about keeping Lewis at bay.
Eventually, as Charles' rear tyres wore out, he undercut Seb by four laps and retook the lead as Seb was exiting the pit lane. Charles does a good job of playing things down once he's out of the car, but despite promising not to complain so much over the radio in races, it was clear he was upset that his team mate wasn't playing ball in the early stages. Just as Seb had been upset at Monza that his team mate wasn't playing ball in what should have been their final runs in Q3…
READ MORE: 'The trust is unchanged' says Leclerc of Vettel
Team Principal Mattia Binotto also makes quite a good fist of explaining things, and he explained the concept of the slipstream and the switch afterwards. What nobody explained satisfactorily, least of all the man himself, was why Seb lit into the distance instead of letting Charles slip back ahead very early on, before Lewis was gathering pace as their tyres wore out. In fact, Seb largely declined to offer any real explanation of why he behaved the way he did, and what he might have planned to do had Charles not got the undercut, or his MGU-K broken.
There's now a real buzz at Ferrari that we haven't seen for a long while as they have the fastest car. But there's also an undercurrent that says somebody has to get control of the drivers, and fast, if their rivalry isn't going to compromise the dominant pace they've worked so hard to find.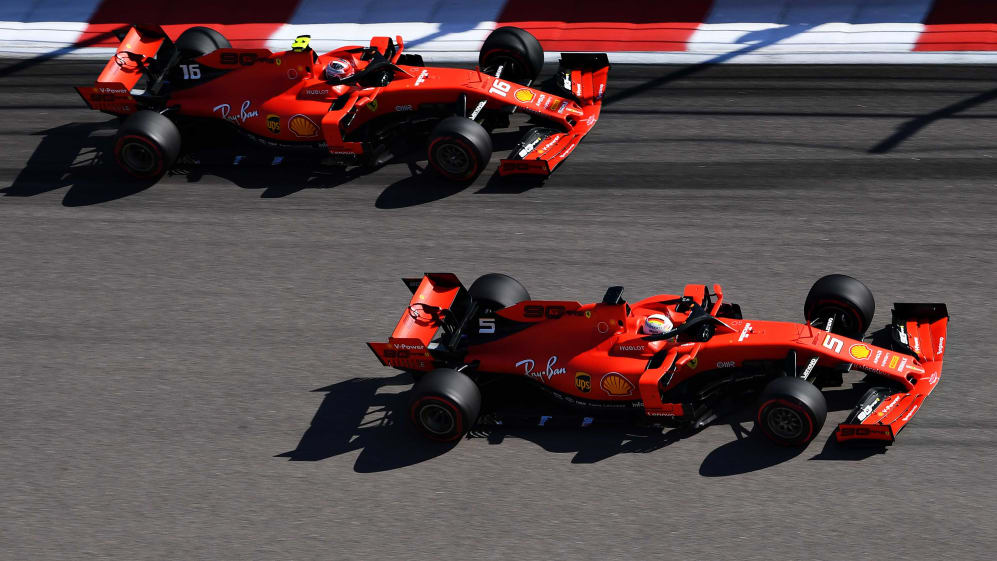 4. Hamilton drove like a true champion
There was a lot of talk after the race of how Ferrari were robbed, but it's important to remember just how hard Lewis was driving to keep the pressure on them and to influence their strategic thinking. His pace was one reason why the switch didn't happen sooner, and why Charles burned out his rear tyres after 22 laps and Seb's were done after 26.
It was boxer Jack Dempsey who said, "A champion is someone who gets up when they can't." Well, Lewis is hardly down on the canvas right now and is still likely to take a sixth tittle despite Ferrari's pace, but the way he extracted everything that his Mercedes had to give, never putting a wheel wrong, never giving his rivals a moment in which to relax and, most importantly, never giving up or settling for third best, was another true hallmark of a champion.
When Lady Luck smiled at him on the 27th lap, he was ready with the bunch of flowers as he stooped to kiss her hand…
READ MORE: 'Deliciously ironic' that Vettel failure inspired Hamilton victory – Mercedes
5. Track position is everything these days
If Lewis had got the undercut in Singapore as he originally wanted to on lap 19, he would have won because he would have had track position. As it was, Sebastian had it instead and there was nothing that Charles, Max Verstappen or Lewis could do about it. That's the way that things are with these current cars, as we well know with all the recent talk of wake turbulence.
Again this weekend, Valtteri Bottas had track position over Charles after the Mercedes pit stops, and though the Ferrari was quite possibly the faster car, it was the Silver Arrows which prevailed. Even a Ferrari with what Lewis likes to call 'jet mode' couldn't pull an overtaking move.
Personally, I find that disappointing, and fervently hope that Ross Brawn's vision for the 2021 F1 car helps to create situations in which everyone has a better chance to fight for the track position they want.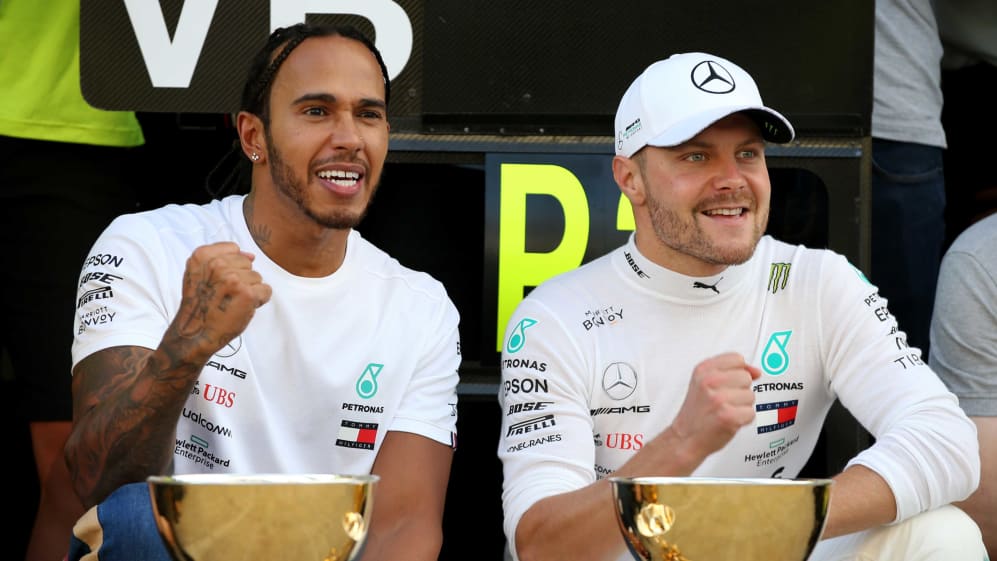 6. Bottas played a key role in Hamilton's victory
It was good not only to see Bottas taking second place on Sunday, but also that he was able to keep Charles Leclerc behind. One might be forgiven for expecting the Ferrari driver to make short work of the Mercedes number two, but that was far from the case. Indeed, if one of the duo got a little lairy at times it was Charles, who had a couple of moments while pushing too hard.
The thing that needs to be remembered most – and this is particularly relevant in the midst of the bad blood between the two Ferrari pilots – is that Valtteri always does the right thing by the team. In the past he's even given Lewis a race win (though Lewis duly reciprocated later on), and as recently as Singapore did as asked and slowed slightly so that Lewis would not fall to fifth after his pit stop.
I'm sure the way that the likable and honourable Finn fits into the team is a key reason why team boss Toto Wolff renewed his contract. He's a big asset as a team player, and that's also a reason why Mercedes are so strong even in the hard times.
"We work together, so it's about having respect," Lewis said of his relationship with Valtteri. "And I think the respect has been there since day one. We talk about the scenarios very openly. Valtteri has always been respectful in all those scenarios and I think it's vital that we're both acting accordingly, which we do, I think." That's perhaps a crucial difference between the Mercedes and the Ferrari drivers right now.
7. McLaren make a serious statement of intent
After everything that failed to happen with their engine deal with Honda, once their mighty partner, you're unlikely to hear anyone at McLaren harking back to the glories they've enjoyed in the past with Mercedes, now that the news is out that after only two years together they are to drop Renault at the end of 2020 and go back to the German power units.
Ferrari's current power advantage notwithstanding, McLaren boss Andrea Seidl firmly believes the Mercedes is the benchmark engine, and the fact that he has convinced his board that another switch is necessary, so soon after the divorce from Honda and the quick affair with Renault, seems to me a serious statement of intent.
READ MORE: Why McLaren and Mercedes have joined forces again for 2021
McLaren have been lost in the immediate aftermath of Ron Dennis's departure at the end of 2016, and the ridiculous decision to curtail Jost Capito's contract. Seidl strikes me as the next best thing after the former Sauber/Ford/Volkswagen star's departure (which upset a lot of the workforce in Woking who saw him as their last hope), and you can already detect his beneficial influence upon the team.
As an unashamed McLaren fan, I'm delighted to see the team regaining the clear-thinking, uncompromising attitude that was once its exclusive preserve.
8. Will single supply actually benefit Renault in the long run?
McLaren's defection to Mercedes for 2020 could actually help Renault.
Team boss Cyril Abiteboul described the decision as being in with the marque's aspiration to be a works team and to get back to the front. And while it means two fewer cars from which to garner feedback, it does mean that the Regie only have to worry about supplying their own two without concerning themselves about the welfare of customers.
As a cynic, I'd also say that it alleviates any embarrassment of having a customer team doing better than your own, as is the current situation with McLaren fourth overall with 89 points to Renault's fifth place with 67.
9. Honda takes pain early for gains in Japan
The days are long gone when we used to make jokes about Fernando Alonso and Jenson Button taking so many Honda-derived grid penalties that their McLarens were starting races from Woking. But both Red Bulls and both Toro Rosso had penalties here. It was, however, part of the plan. The upcoming Japanese GP in Suzuka is, of course, the home race for Honda, who doubtless have not forgotten Alonso's barb in 2015 when he shouted "GP2 engine" over the radio.
You don't need to be a genius to figure out that it is hugely important for myriad reasons for the company to be seen to be doing well there, so Max Verstappen, Alex Albon, Daniil Kvyat and Pierre Gasly all got new Spec 4 engines here, for which each got a five-place grid drop. Kvyat's situation was worsened as he also took more fresh components, putting him right at the back, and his situation was made even less tenable when he suffered further engine problems in practice. Albon, meanwhile, crashed in qualifying, and when he had to start from the pit lane when Red Bull fitted a different-specification floor, they took the opportunity to give him a new turbo and ERS systems too.
So Max in P9 on the grid, Pierre P16, Dany P19… No pain, no gain, they say. But in this instance it was a matter of getting the pain out of the way here, so that they can be at their aggressive best in two weeks' time. When it matters most.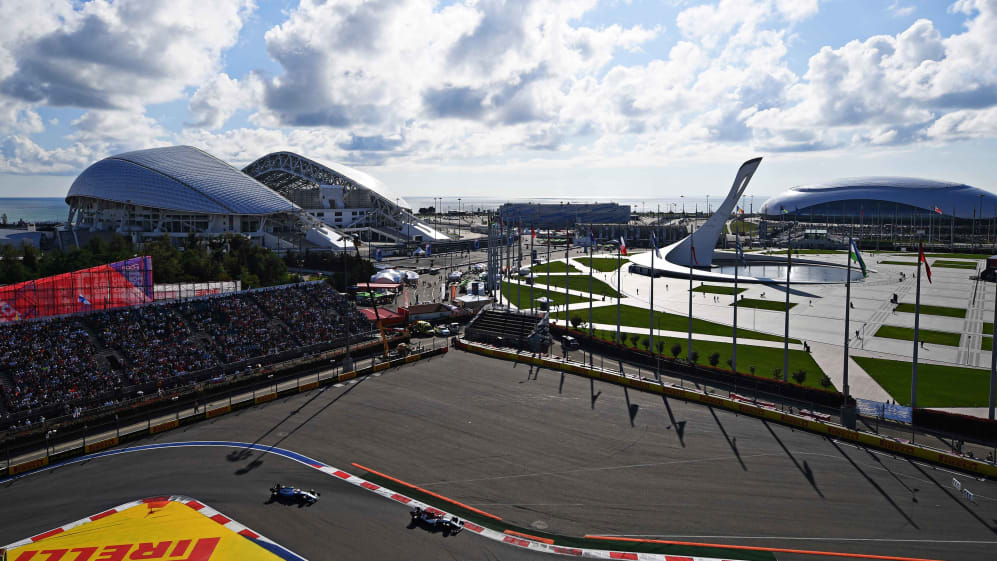 10. Sochi Autodrom delivers the goods
It might not be particularly photogenic, but I really like the Sochi track. It's one of Herman Tilke's better efforts. The second half isn't that exciting, but that run out of the last corner, past the pits, through the gentle right of Turn 1 which must seem very narrow at F1 speeds, and all the way down to Turn 2, is spectacular enough.
And then you have that long, long Turn 3 left-hander all the way down to the tight right-hander at Turn 4, where the brave can sit it out side-by-side. Then there's the sweeping run from Turn 10 down to the tight right at 13.
This all generates some great racing, as we saw in the F2 and F3 races, and then various stages of the Grand Prix. There aren't many venues you could classify as 'street' tracks where overtaking is possible, but thankfully this one is different. More, please.