Feature
From Hill to Ocon – The 5 drivers who've made Hungary F1's top track for debut winners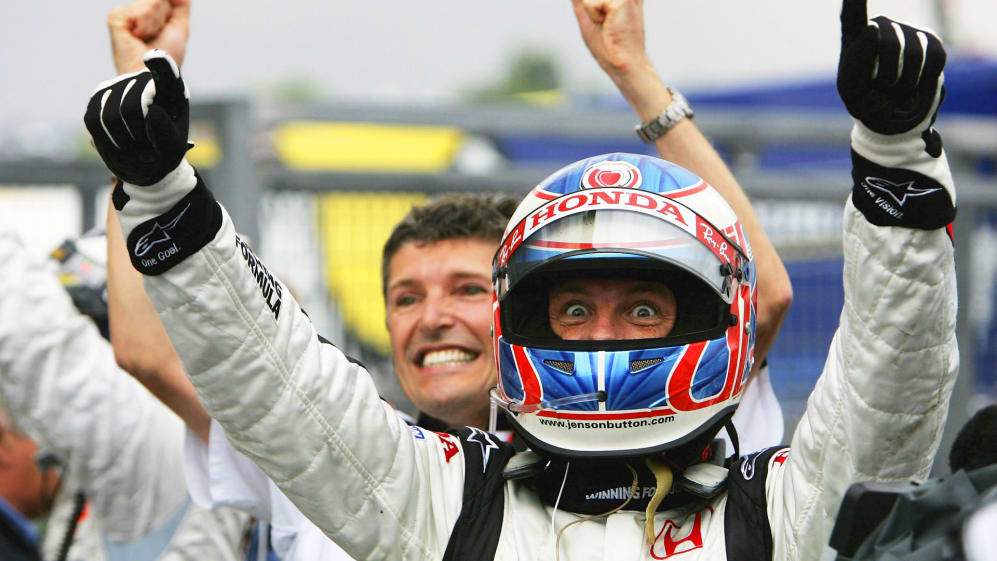 Esteban Ocon's breakthrough Hungarian Grand Prix win made him Formula 1's 111th victor – and yet another debut winner in Budapest. Monaco (9) and Monza (8) may have had more first time victors, but as a percentage of the races that have taken place there, they can't top Hungary, with 13.8% of Grands Prix having been won by drivers who'd never previously stood on top of the podium. What's more, the five races where a driver has broken their duck here have been good'uns. Let's look back at them...
1. Damon Hill (1993)
The first of Damon Hill's 22 F1 victories came at the Hungaroring, one of his happiest of hunting grounds (barring his 11th place in 1992, he never finished outside of the top six here).
Hill had taken an unlikely route into F1, having never raced a car until the age of 24. Yet through his role as a Williams test driver, he landed a full-time race seat alongside Alain Prost for the 1993 season. Victories nearly came his way that year in Spain, Great Britain and Hockenheim, only for various issues to cruelly rob him at the crucial moment.
LISTEN: Damon Hill on his father's legacy, Imola 94 and world title glory
But then at the Hungaroring, Hill benefitted from polesitter Prost stalling on the grid and McLaren's Ayrton Senna retiring to finally bring home victory, becoming the first son of a world champion to win a Grand Prix in the process.
Hill would add another win at the track to his tally in 1995, too, while he came agonisingly close to taking victory there in his unfavoured Arrows A18 in 1997, only for a hydraulic pump to fail and cause Hill to finish second.
2. Fernando Alonso (2003)
Fernando Alonso's lion-like defending from Lewis Hamilton at the 2021 Hungarian Grand Prix ensured that Alpine team mate Ocon was able to secure his first victory in Formula 1, at the age of 24.
But 18 years earlier, and at the same track, it had been Alonso himself, driving for the same 'Enstone' squad in their Renault guise, who'd taken a commanding maiden win in the sport.
READ MORE: Alonso's defence of Hamilton '100% crucial' in securing Ocon's maiden win, say Alpine chiefs
A dominant pole position – the second of his career – was followed up by an absolutely indomitable race day drive, Alonso leading all bar one lap around the Hungaroring to beat McLaren's Kimi Raikkonen by over 16 seconds, and even lapping Michael Schumacher's Ferrari for good measure.
At 22 years and 26 days old, the Spaniard became F1's youngest ever winner, beating Indianapolis racer Troy Ruttman's 51-year record (or Bruce McLaren's 44-year record, if you're not a fan of Indy stats) – with Alonso still officially the fourth youngest ever F1 winner, having since been pipped by Charles Leclerc, Sebastian Vettel, and the youngest of all, Max Verstappen.
3. Jenson Button (2006)
Into his seventh season of F1 in 2006 and still without a win to his name, Jenson Button's chances of changing that situation at the 2006 Hungarian Grand Prix were looking as remote as, well, Esteban Ocon's, when after qualifying fourth on the grid, the Briton was dropped 10 grid spots for having to change engine.
Starting 14th in the wet, however – the first wet race the Hungaroring had ever witnessed since it joined the calendar in 1986 – Button was in his element, audaciously passing the likes of Ferrari's Michael Schumacher as he worked his way up to second behind Fernando Alonso.
LISTEN: Jenson Button on his 2009 title, his toughest team mate and more
But when a wheel nut came lose on Alonso's Renault, Button was through like a flash and into a lead that he wouldn't relinquish, claiming an unlikely maiden victory – much to his, and his emotional father John's, delight.
Incidentally, Button still sits fifth on the list of most Grands Prix – 113 – before a first victory, behind Sergio Perez, Mark Webber, Rubens Barrichello and Jarno Trulli – with all bar Webber having been team mates with Button.
4. Heikki Kovalainen (2008)
Sadly for Heikki Kovalainen, his debut win also happened to be his last in Formula 1.
In truth, Kovalainen had looked to be the third most likely driver to win the 2008 Hungarian Grand Prix for much of the race. Starting second behind McLaren team mate Lewis Hamilton, Kovalainen was outdragged off the line by Ferrari's Felipe Massa, who then sent a scintillating move around the outside of Hamilton to claim the lead.
LISTEN: 'He's got special sensors in his a***!' – Kovalainen on why he struggled to match ex-team mate Hamilton
But then Hamilton suffered a tyre failure, before leader Massa ground to a halt on the pit straight with three laps to go, putting victory in the lap of Kovalainen. "Welcome to the world of winning, Heikki," cooed McLaren Team Principal Ron Dennis over team radio on the Finn's slowing down lap. "The first of many..."
You had to say it, didn't you Ron.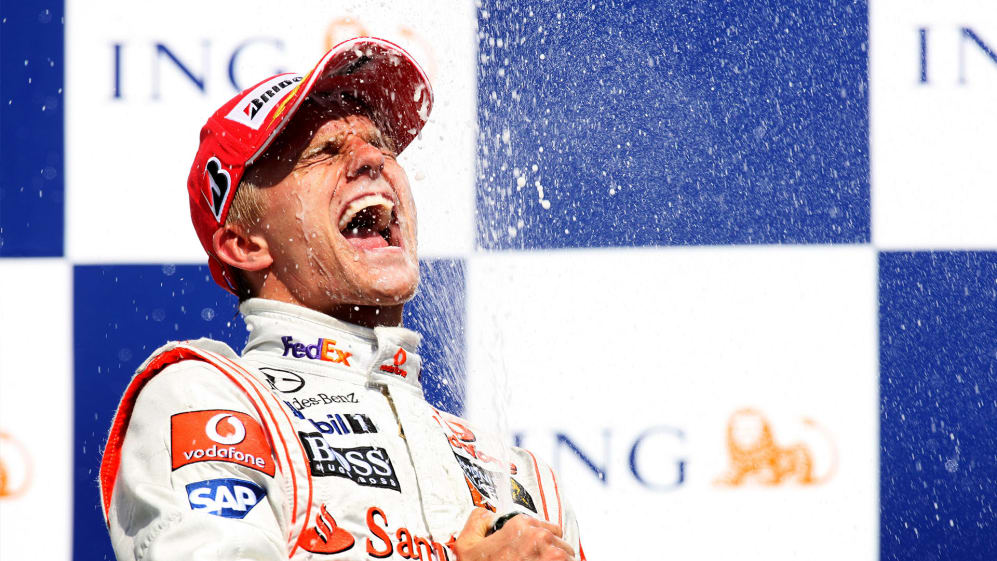 5. Esteban Ocon (2021)
Which brings us up to date. Esteban Ocon's path through Formula 1 has been a rocky one, the Frenchman parachuted into the minnow Manor team midway through 2016 before getting an opportunity with Force India in 2017-18 – only for the team's purchase by Lawrence Stroll to see Ocon forced out in favour of Stroll's son Lance at the end of 2018.
Second place at the Sakhir Grand Prix was the highlight of a lukewarm F1 return with Renault in 2020, while after a strong start to 2021, Ocon's form dipped post-Monaco, before a chassis change for the British Grand Prix seemed to right the ship, and ended his four-race streak of point-less finishes.
READ MORE: Jolyon Palmer – How maiden winner Ocon was inches away from disaster in Hungary chaos
Still, despite lining up a commendable P8 on the grid, Ocon was hardly a favourite for the win in the 2021 Hungarian Grand Prix.