Feature
'You get the same buzz as racing for real' – Lando Norris on the thrill of sim racing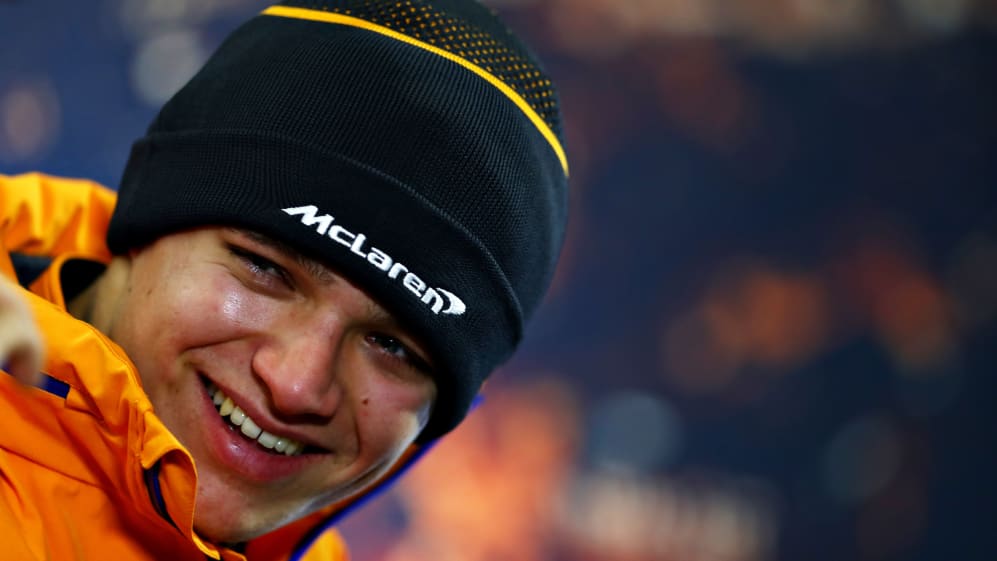 Lando Norris – or Baldo Norris as he's now more affectionately known – has made the best of lockdown so far by honing his already impressive sim racing skills while also bringing smiles to the faces of F1's fans amid a challenging time with the world locked in a fight with the coronavirus…
The McLaren driver has a bespoke professional racing simulator set up in his apartment, just three minutes and 20 seconds away from the team's factory no less, and during the season – when he's at home and not working or training – would spend hours on it.
Now that he finds himself at a loose end in the evenings, courtesy of enforced self-isolation, he's getting even more hours in on the sim, rather than trying to complete Netflix.
"I've been streaming [in the simulator] every day and I've decided to keep that up and do it more regularly," he says.
Oops! Error retrieving Twitter post
In one ten day spell earlier this month he said he had been gaming every single day from around 4 or 5pm to around 10-11pm. "That's not always on a simulator," he says. "I play other games like Rocket League or Escape From Tarkov or Call of Duty.
"I play some different games, especially when I'm streaming, but I spend more time than anything playing on my simulator between these games.
READ MORE: Mustangs, whiteboards & arrive-and-drive karting – Nicholas Latifi's weird path to F1
"I'd say on average I'm on there between four or five hours. It changes depending on the competition or how I'm feeling sometimes, whether I don't want to focus so much and want to relax and be more like other kids in a way and playing Call of Duty or something like that.
"Sometimes you are so caught up and enjoying the moment you are in, whether I'm streaming and chatting to everyone, or playing difficult games with different people – sometimes I'm enjoying it and I forget how much time can pass by during the day. Suddenly it's 11 o'clock and you've forgotten to have dinner or something."
Sim racing was already a competitive business before it was catapulted into the mainstream in the last month or so to fill the void as real-world sporting events across the globe were postponed or cancelled amid the coronavirus pandemic.
And a number of F1 drivers were already competing on the platform at a high level. Norris teamed up with Red Bull rival Max Verstappen, for example, last summer to win the virtual 24 Hours of Spa on iRacing.
But such is the high level in the gaming world, it isn't the case that a Formula 1 driver can just turn up and win all the time because of their pedigree on track in real F1 cars.
HIGHLIGHTS: Watch as Charles Leclerc takes debut F1 Esports win in Virtual Grand Prix
They are competing against gamers who have spent hours all day, every day, for years practising to exploit every little detail in the game in their bid to win. Some have made careers out of it.
Oops! Error retrieving Twitter post
So it's no surprise that when Norris and Verstappen have competed in races so far in lockdown, they aren't always winning.
"I spend hours on sim racing, but I do more on particular programmes than others," says 20-year-old Norris. "You get some drivers who, say, on the F1 game, are extremely quick.
"They know what corners you can push the track limits, what corners you can't, kerbs you can take, kerbs you shouldn't take. How to maximise the car's potential, whether it's gearshifts, or fuel usage, or DRS usage or ERS usage.
"All of these little things, which sound quite simple, add up to quite a bit of lap time. A lot of it just begins with hours and hours and hours, days in fact, spent on the game and knowing these little things inside out and exploiting those little things. That's just the edge they get.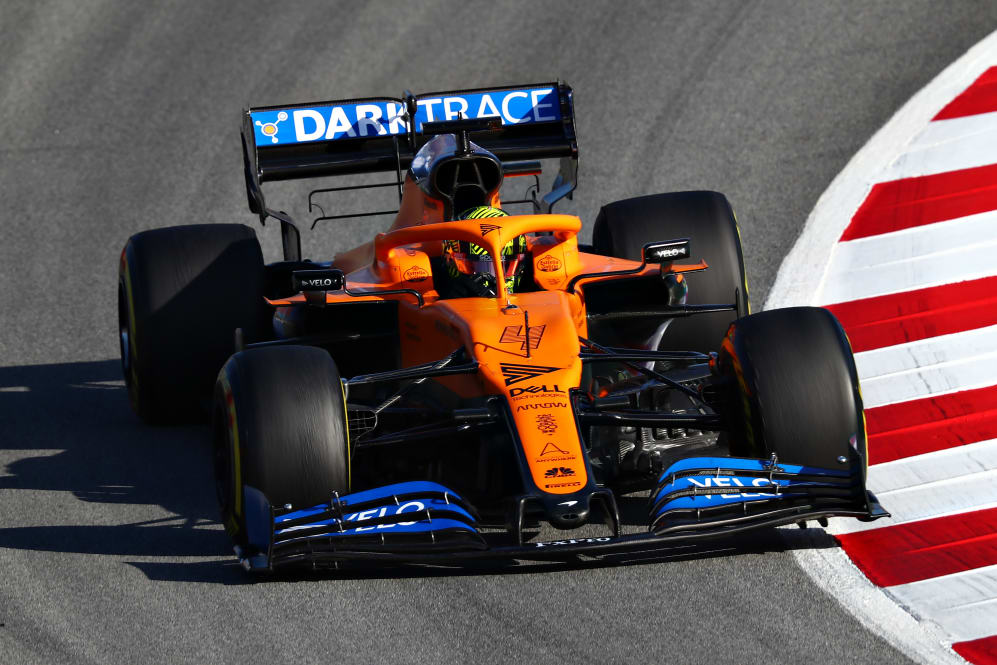 "Some of these drivers, you see more now, have gone to playing one game, such as F1, onto iRacing or rFactor and they are not as special as they are on the other game, the one they play more often.
READ MORE: Leclerc's team boss hails 'important' Esports win
"For some of us, it's just about going on and trying to have some fun racing, rather than always trying to figure out every single thing we can do. If there was more at stake, maybe we would try and exploit more. But now, we just want to do as well as we can."
The #ChallengeLando event a few weeks ago, where racing fans battled to get the chance to take him on, was one of those fun events.
Competing in vintage 1998 McLarens on the official F1 2019 video game, his race was scuppered mainly because he was listening to some questionable race strategy calls from commentators Tom Deacon and Jack Nicholls (as you can watch in the video above) when the rain came and stuck around.
Sim racing has come a long way since the days of Norris playing Gran Turismo on his father's PlayStation wheel and pedals, strapped to a little table.
He got his first simulator when he was 11 and has spent the next few years, alongside his real-life racing career, trying to get better.
But what is the appeal? Many gamers love racing games because it offers an opportunity to race machines – such as a Formula 1 car – that they are unlikely to ever get to try in real life. Norris, obviously, doesn't have this problem. But it's the competition and that buzz you get from racing that draws him in.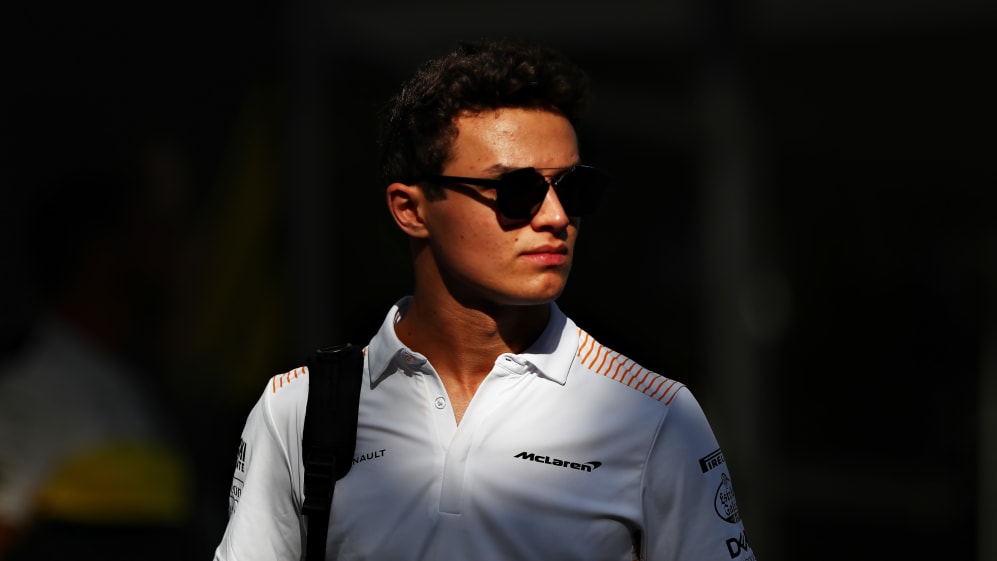 "One of the more appealing things is the competitiveness," he says. "We're racing against other real drivers, such as Max, while some others are top in other categories like GT3 or DTM. The grids are so close, split by hundredths and thousandths.
"We get the same buzz for that and trying to perfect a lap, trying to be P1 in a very competitive field, you still get just as much of a buzz and enjoy it as much as we do from doing it for real.
"It's also good fun to race others. You always believe you can do better and you can beat them, so you keep playing more.