2010 - Vettel's maiden triumph
BEFORE  -  1. Alonso, 246 pts; 2. Webber, 238; 3. Vettel, 231; 4. Hamilton, 222
AFTER  -   1. Vettel, 256 pts; 2. Alonso, 252; 3. Webber, 242; 4. Hamilton, 240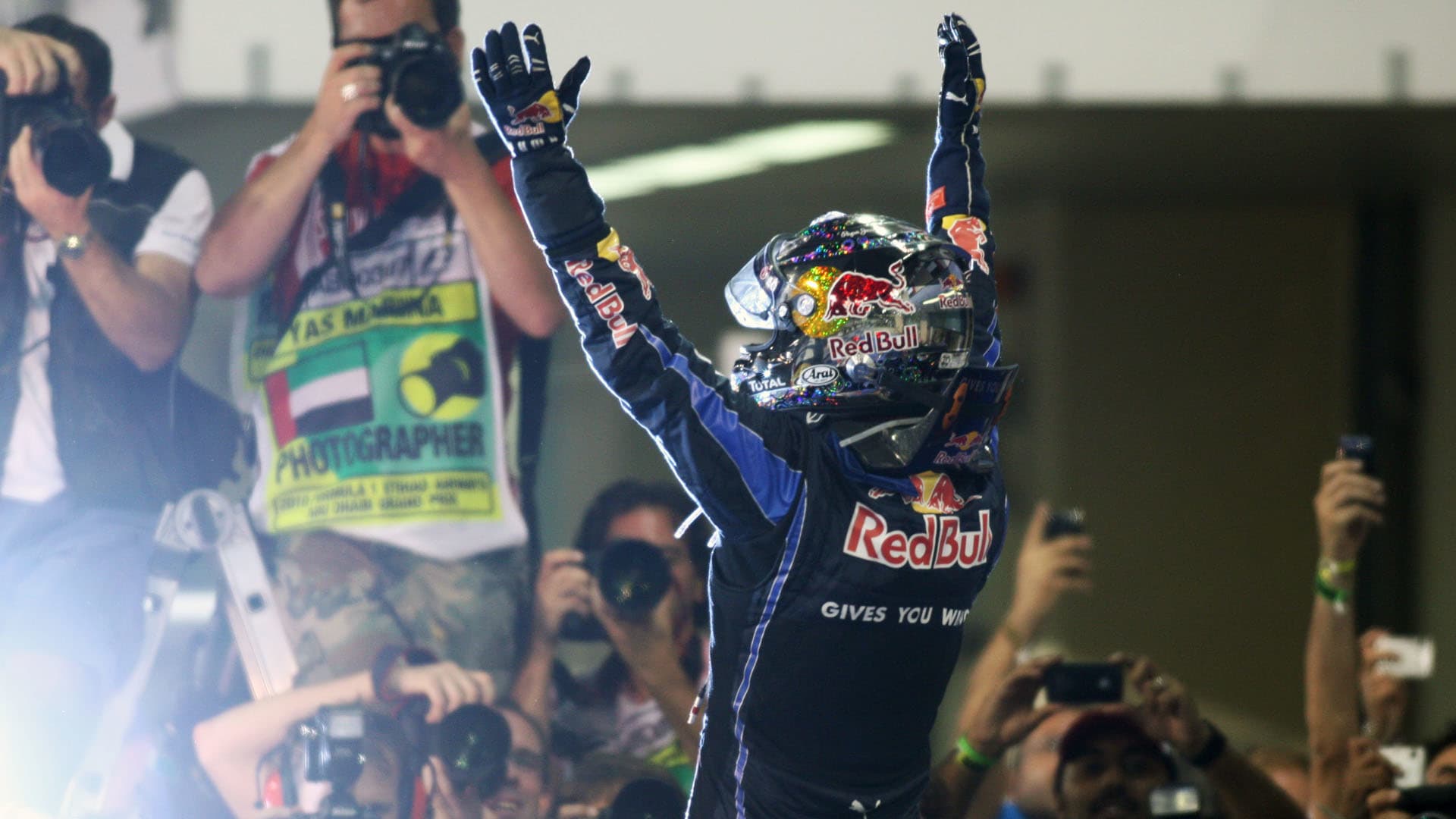 One of the closest-fought seasons in recent history came down to a four-way showdown in 2010. Five men had won races during the year, and five men had enjoyed spells at the top of the championship. Ferrari's Fernando Alonso was the favourite, leading as he did by eight points from Red Bull's Mark Webber. The Australian was duly centre of attention for the Scuderia - but that would come back to haunt them.
It was Webber's team mate Sebastian Vettel who captured pole and led from the start, with McLaren's Lewis Hamilton second and Alonso falling back one spot to fourth, just ahead of Webber. So far so good for the Spaniard. The race would turn, though, on the first set of stops. Webber pitted early and Ferrari reacted, bringing Alonso in too. As Vettel and Hamilton continued to go faster despite being on worn tyres, Alonso and Webber - still together on track - found themselves bottled up behind Renault's early-stopping Vitaly Petrov. The battle, which would rage until the chequered flag, would undo Alonso's title hopes. Stuck behind the Russian, the Ferrari man was only seventh at the finish - enough to keep him ahead of Webber, but not the triumphant Vettel. A new champion - the youngest in the sport's history - was born.

2014 - Hamilton vs Rosberg, Part 1
BEFORE  -  1. Hamilton, 334 pts; 2. Rosberg, 317
AFTER  -   1. Hamilton, 384 pts; 2. Rosberg, 317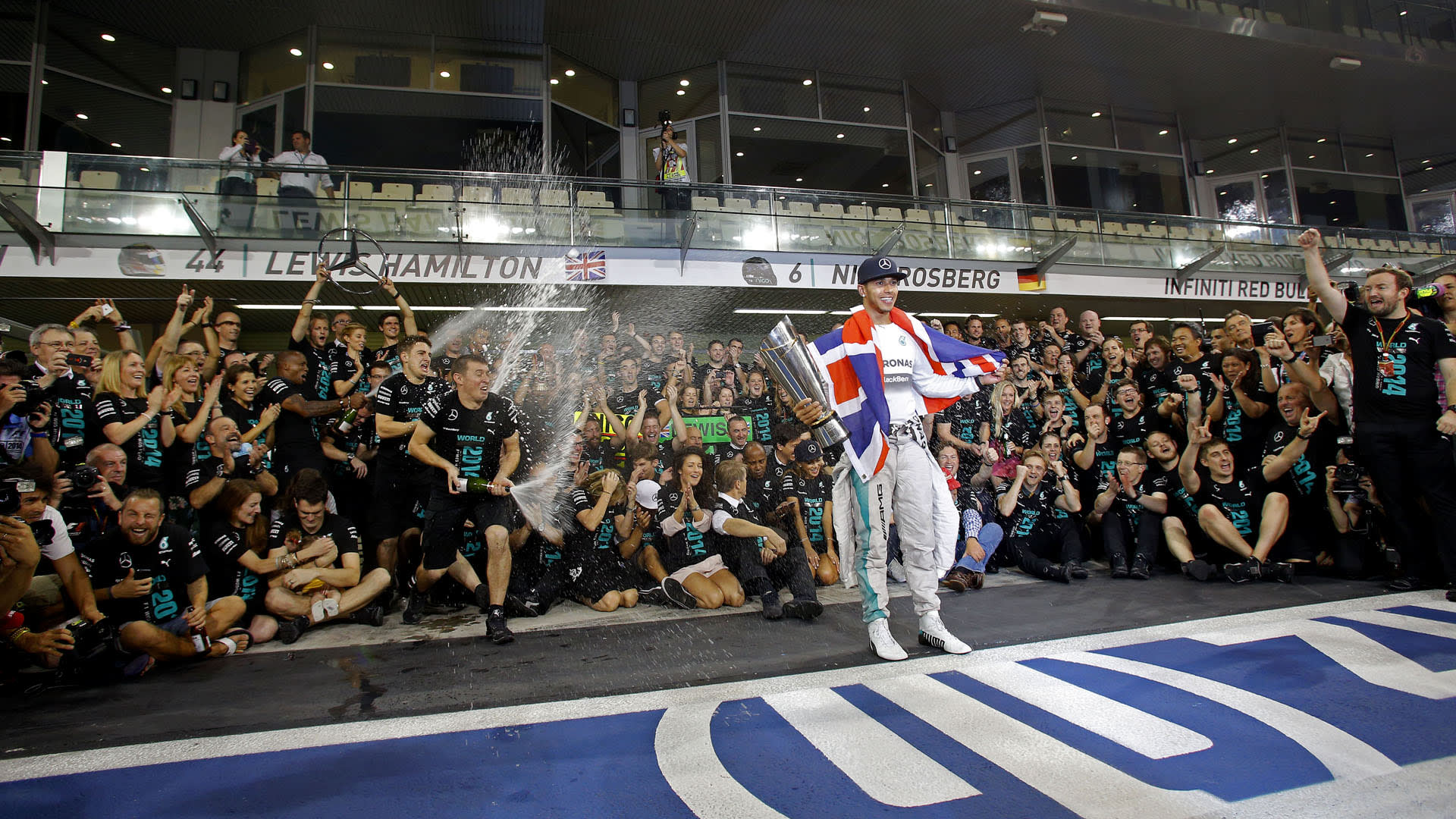 With Mercedes the clear class of the field under F1's new regulations, the title became an increasingly fraught two-horse race between team mates Lewis Hamilton and Nico Rosberg. Gradually the scintillating early battles spilled into something more, with the tipping point coming in Belgium when the two collided while contesting the lead - costing both men the chance of victory. Hamilton was now 29 points behind, but after clear-the-air talks he was a man on a mission, hunting Rosberg down in Italy and the USA to carry the advantage into the Abu Dhabi finale - and as if things weren't tense enough, there was the small matter of double points being on offer for the last round of the season...
Everything hung in the balance: Hamilton needed to finish in the top two to guarantee the title, but Rosberg piled on the pressure by claiming pole. The Briton hit back immediately, vaulting ahead at the start, but Rosberg shadowed him constantly for the first 22 laps - and then disaster struck. The German's ERS failed, and he began plummeting down the order, his title hopes obliterated. The German showed his class by fighting to the end, crossing the line in 14th - and then congratulating his triumphant team mate, who was now a two-time world champion.