Feature
10 records that have been broken in 2019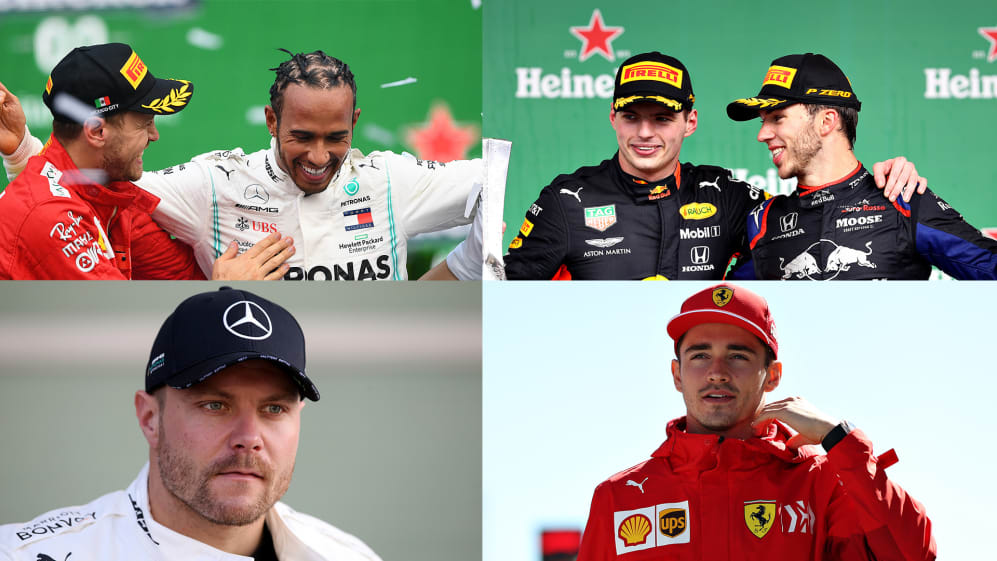 A season full of spectacular races gave us some shock records, including the youngest-ever podium and the end of a 101-race podium drought, a wait of over 3,000 days for a point and the fastest pit stop ever. Here are 10 records that were broken in 2019.
1. Most points in a championship and longest gap between titles
Lewis Hamilton scored 413 points this season – five more than in 2018 when he secured his fifth championship. Yes, he was helped by points for fastest lap, a rule introduced for the 2019 season, but this is still Hamilton's highest-ever tally and the biggest haul ever recorded by a driver, underlining the six-time champ's consistency and dominance. Lewis also broke the record for the longest gap between first and last championships. Michael Schumacher went 10 years between his first and his seventh, there are 11 between Lewis' first in 2008 and his latest triumph.
READ MORE: Could Ferrari sign Hamilton for 2021?
2. Total front-row lockouts
Ferrari and Mercedes duelled throughout the season for this one, but with 65 front-row lockouts, Ferrari now hold the outright record by just one. Much of that was down to their impressive qualifying form after the summer break, and their one-two Saturday showing in Japan edged them ahead of the Silver Arrows. Behind Mercedes in the all-time list are McLaren and Williams, who have 62 front-row lockouts each. Expect this battle to continue in 2020 when the record could change hands a number of times.
LONG READ: Ferrari on what went wrong in 2019 – and what they've learned for 2020
3. Most points without becoming world champion
He's now racked up 1,289 points over his career – the seventh-highest tally ever – but Valtteri Bottas has never secured a championship, giving him this record ahead of Felipe Massa, who famously missed out on the 2008 title to Lewis Hamilton on the very last lap.
READ MORE: Bottas 'bored' by Rosberg comparisons, as he hints at secret plan to topple Hamilton
4. Youngest Ferrari race winner
Jacky Ickx held this record for more than 50 years before Charles Leclerc secured his first F1 victory in Belgium this season for Ferrari, and became their youngest winner at the age of 21 years, 10 months and 16 days. Ickx did it in France, 1968, at the age of 23 years, six months and six days…
READ MORE: Leclerc relishing 'interesting challenge' of developing 2020 Ferrari
5. Youngest podium
The 2019 Brazilian Grand Prix had no shortage of drama, with Carlos Sainz having snatched a podium post-race behind Pierre Gasly and winner Max Verstappen. Their average age was just 23 years, eight months and 23 days old – younger than the previous record, which was set by Robert Kubica, Heikki Kovalainen and Sebastian Vettel at the 2008 Italian Grand Prix.
6. Most races without pole position
Sergio Perez now holds this title, having started 176 GPs without pole position. That's 12 more starts than Romain Grosjean, who qualified second in the 2012 Hungarian GP but never started in P1. Prior to 2019, it was Johnny Herbert who held the record having started 160 races without a pole position to his name.
WATCH: Perez taps Vettel into a spin at Abu Dhabi test
7. Most Grands Prix led
Seven-time world champion Michael Schumacher led 142 races during his career – a record that stood until Lewis Hamilton broke it this year. He's now headed 148 GPs, which is 43 more than Sebastian Vettel, who is third on the all-time list.
READ MORE: The Top 10 F1 drivers of 2019 - as chosen by the drivers
8. Most races before a podium finish
Carlos Sainz waited 101 races before his 2019 Brazilian Grand Prix podium, which he clinched after Lewis Hamilton's post-race penalty for spinning Alex Albon out of contention. Sainz had to wait until the Stewards delivered their verdict, celebrating alone on the podium – but it took nothing away from the McLaren driver's triumph. Before Sainz, it was Martin Brundle who waited 91 races to score his first podium, in the 1992 French GP.
READ MORE: 'A lot of satisfaction' that switch to McLaren was the 'right move' – Sainz
9. Longest time between points finishes
This season brought the long-awaited return of Robert Kubica, who scored a single point for Williams in the chaotic 2019 German Grand Prix. Before that, it was the 2010 Abu Dhabi Grand Prix when he scored his last point – making it a staggering 3,178-day wait between points finishes for the Pole.
10. Fastest pit stop
In just 1.82 seconds at Interlagos, Red Bull managed to change all four tyres on Max Verstappen's RB15, making it the fastest-ever pit stop. That broke their previous record of 1.88s, set during the 2019 German Grand Prix, and it's no surprise that they were the eventual winners of the 2019 DHL Fastest Pit Stop Award.