Feature
Alex Albon on his year on the sidelines, how Red Bull helped him get back on the grid, and the next chapter with Williams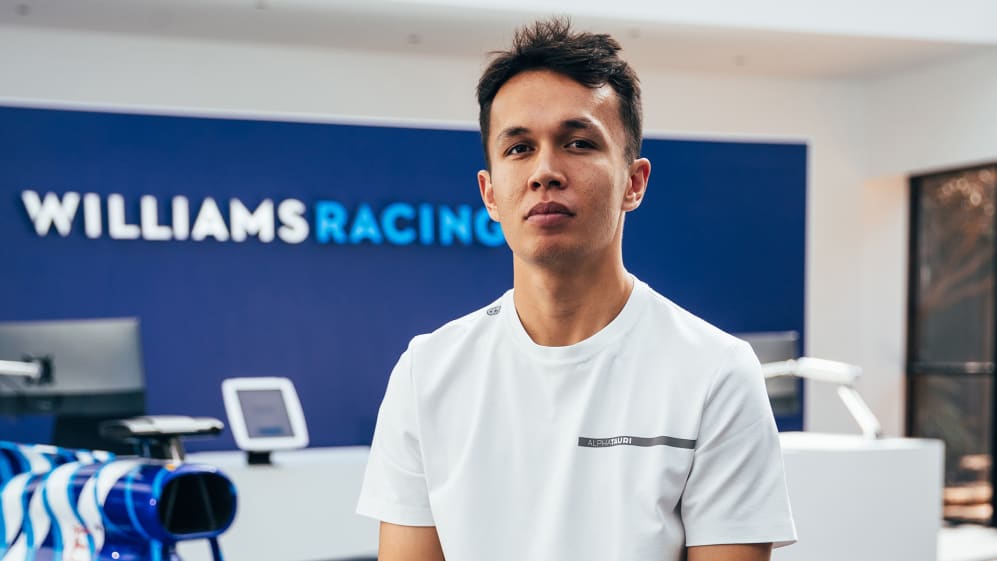 Alex Albon is a fighter. Having been a Red Bull driver on and off since 2008, he knows what it's like to feel pressure. Fail to deliver and you get the dreaded phone call from their motorsport adviser Helmut Marko telling you it's game over.
Albon is also a rarity. Last year, he became the first Red Bull family driver to get a second "it's not us it's you" call from Marko, dropping him from a race seat for the second time.
READ MORE: Why Norris should take heart from former champs Hunt, Mansell and Hill after his Sochi woe
This one hurt more. Whereas the first time he knew his results weren't good enough after his season in 2012, second time around, he had tasted the sweet nectar of Formula 1, and with a team capable of winning races no less, and felt he hadn't had enough time to prove himself.
Many would have called it quits at this point. After all, F1 is a competitive business with only 20 seats. How many drivers get a third chance? Albon, though, was stubbornly refusing to let it go.
It's arguably his greatest strength, that iron-clad resilience, and something of a hidden trait that is masked by an unassuming, gentle and somewhat shy exterior that makes him one of the most likeable people in the paddock.
Red Bull aren't known for their long fuses, but in Albon, they've made an exception. It was partly circumstances, as they had unknown quantities in rookie Yuki Tsunoda – and to an extent Sergio Perez as he hadn't competed in a top team despite shining in the midfield – so keeping Albon around just in case made sense.
But they also felt he could be useful to their championship charge, even if it wasn't in a racing capacity. And that proved a shrewd move. Of all the team's reserve and simulator drivers, Albon had the most recent experience. And with the pressure off, they hoped he could deliver on the talent they believed he had.
Albon seized his chance, throwing everything at his reserve role. No job was below him. He'd do whatever was asked of him.
And it paid off. His work on the sim translated into performance in the car, which in turn delivered results on track. Albon was a useful piece in the Red Bull Racing puzzle.
READ MORE: 'I didn't expect him to be so open with me' – Perez pays tribute to Albon
When it became clear Perez and Tsunoda had done enough to keep their seats at their respective teams, and knowing Albon was desperate to get back on the grid, they rewarded him for his efforts by doing something they had never done before – going into bat for him in the driver market. It wasn't lip service, either. Horner and Marko spoke to Williams chief Jost Capito and Alfa Romeo boss Fred Vasseur about vacancies. Their efforts were genuine.
Albon, then, had to play the waiting game. "There were sleepless nights, early wake ups," he says, when we chat outside the Red Bull hospitality unit. "It's one of those things coming into this year, even a month ago, didn't sound like it was going in the right way but things worked out very quickly."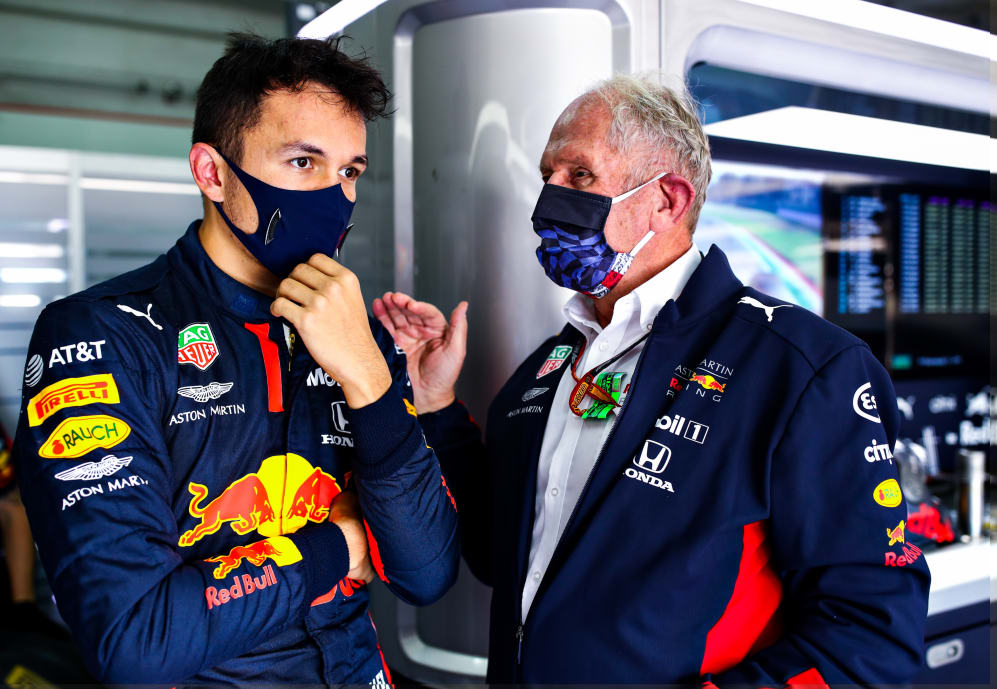 He was kept informed of progress by Red Bull and the tension built as the uncertainty continued into the summer break. "Mostly it was just about keeping your head down," he says. "People's opinions, things like that, you can't control. You can control what you're doing and that for me was being involved as much as I can with the team, doing the best job that I could do off track.
"It's hard to prove yourself when you're not driving the car, but at least on that side, cover all your bases. Once Valtteri [Bottas] and George [Russell] were moving around, it started to spice up the market a bit – and there was an opportunity."
When he got the good kind of call from Red Bull on the Monday, two days before it was officially announced, a weight he had been carrying around for months and which had increased around July when it became clear there was a realistic chance of joining Williams, instantly evaporated.
READ MORE: Alex Albon returns to F1 race seat with Williams in 2022 alongside Nicholas Latifi
"It's been tough," he says. "When you've been in F1, and you're at the race tracks watching it, not driving but being there, it's tricky to sit there and relax. I got better at it during the year. At the first race, it was torture. But I got into the rhythm of it. If anything it increased my desire to be back on the grid, not just for friends and family but also the fans and everyone who has supported me – it motivated me and kept me going to get the seat."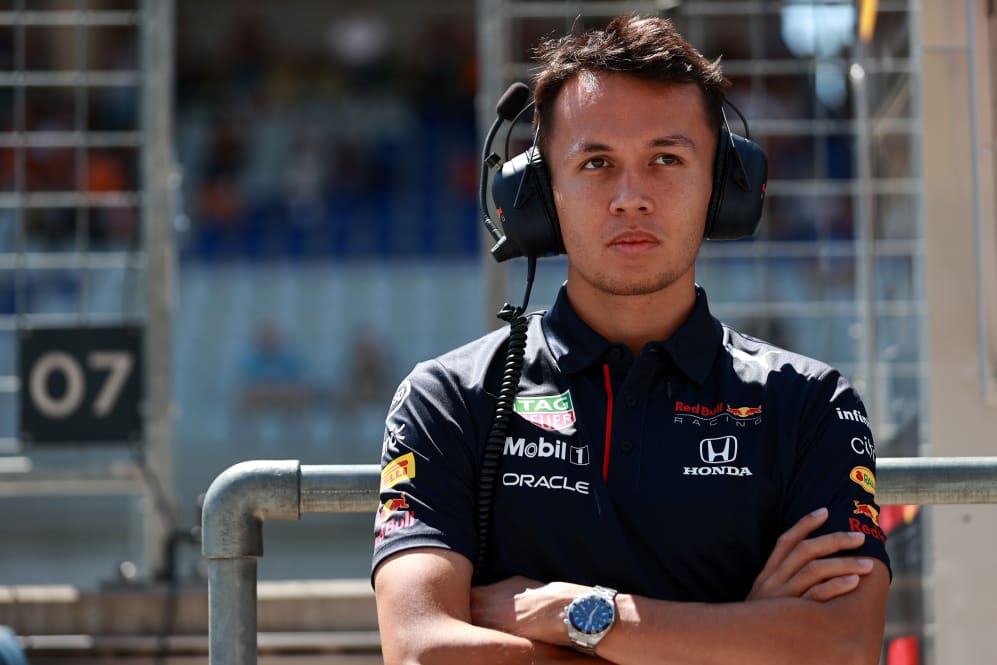 Red Bull's long-held ruthless persona had softened. "They get a bad rap for a lot of stuff," says Albon. "But at the end of the day, they've been extremely helpful. They've helped me talk with Williams and get all this stuff sorted out. It's nice to feel that trust and belief in me. I owe a lot to them and continue to do so. I've been with Red Bull since 2008 so it's been a while."
Albon had a lot of people pushing for him, including his friend George Russell, who went on a charm offensive with the Williams board and campaigned for Albon to get his seat should Mercedes sign him.
ANALYSIS: Why Williams chose Albon as Russell's replacement – and retained Latifi for 2022
"I don't think he did any Powerpoint presentations for me, on my behalf, but I know from the people at Williams, from the board and everyone, that he was pushing quite hard to get me that seat," says Albon. "So I owe him a few beers, that's for sure. But also, just him moving out of that seat helped. I owe him one!"
His return to the F1 grid, where he will add to his 38 Grand Prix starts, also gets the band back together. Alongside his friendship with Russell, the pair are part of a quartet of Lando Norris and Charles Leclerc who have come up through the junior formulae and get on well, as the world saw during lockdown when they streamed their amusing esports competitions.
"People saw that during lockdown on the streaming side, but we've been racing for while together," he says. "We have a good relationship, especially George. He practically lived at my house in 2016, so we get on really well.
"Hopefully we can do more of that stuff. I know everyone is busy now, and even though everything is running back to normal, hope we can still do that stuff, because I enjoyed it and I'm sure they do as well."
READ MORE: 'We all know he has speed' – Verstappen backs Albon to thrive on F1 return with Williams
His focus for the rest of the year is Red Bull and doing what he can behind the scenes back at base to bring the world championship back to Milton Keynes for the first time since 2013. But then it's full steam ahead on his new project with Williams.
"There is still a championship to win over here, so we're pushing flat out and I'm in the simulator a lot. But at the same point on my side, getting fit, getting ready, getting my eye in for next year, getting to know the faces over at Williams, but at same time bringing us home a championship win hopefully."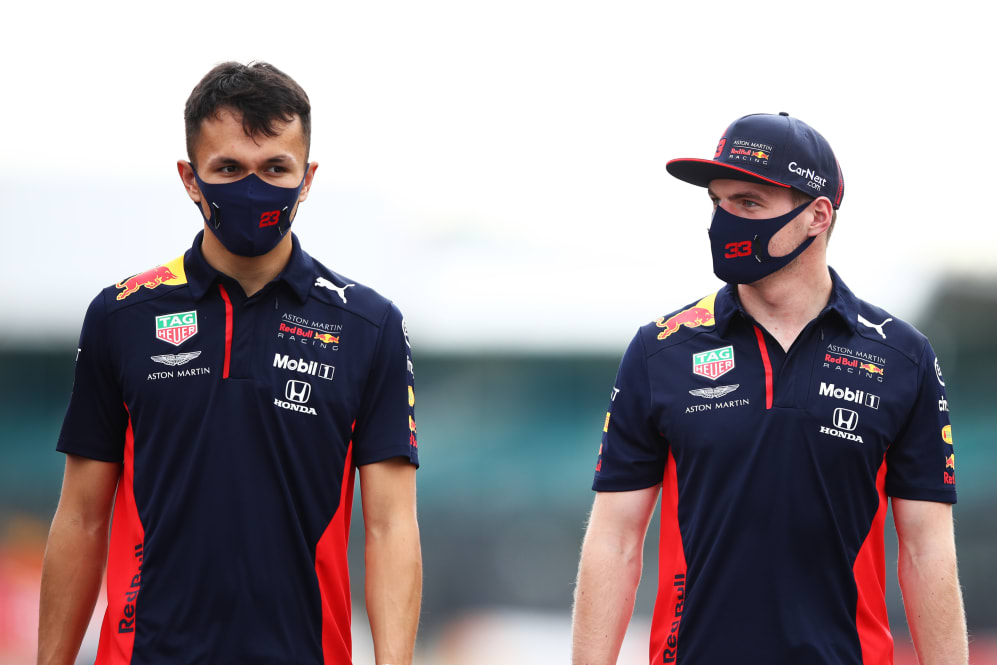 Albon hopes to pick up from the "amazing job" Russell has done at Williams, the Briton scoring 16 points so far this year including a maiden podium at Spa, and while he is under no illusions that he has "some big boots to fill" he is "excited to grab that opportunity".
He adds: "With Williams, they do think long term, and the investment that has come in, they are on the up so it's a great time to be a part of that – and hopefully carry them forwards."
There won't be any Russell-style topless selfies, though. "No way," he says. "That's his job. Lewis and George can do it together! There can be a calendar coming out!"
READ MORE: Red Bull retain option on Williams-bound Albon for 2023, reveals Horner