Feature
DT's 10 Hot Takes – On Verstappen's greatness, Mercedes' meltdown & more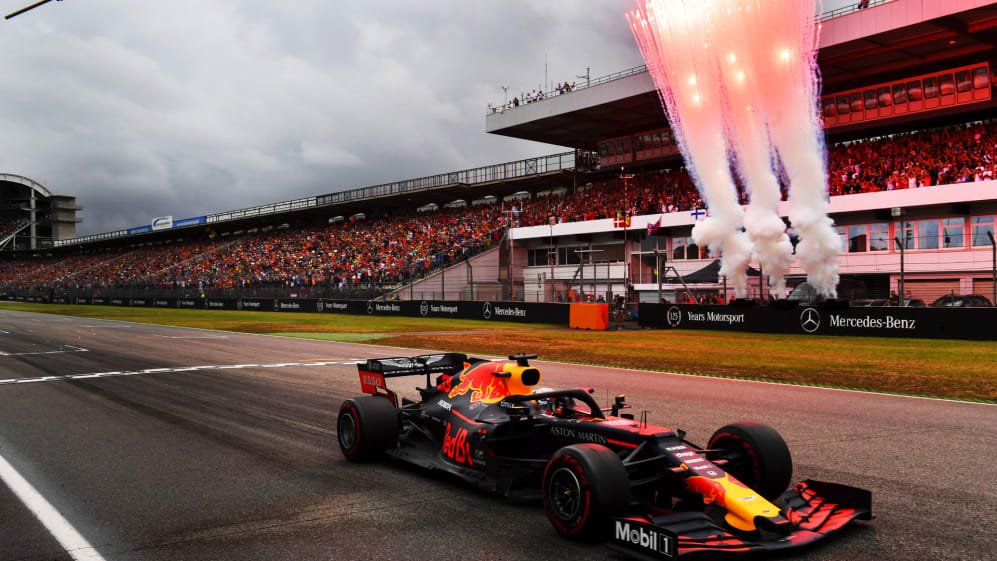 A celebrated Formula 1 journalist with more than 500 (consecutive) Grands Prix' experience, David Tremayne is one of those familiar paddock figures who has seen it all, met them all, and written about it all, over almost five decades of F1 racing. Here, he shares his hot takes from round 11 of the season at Hockenheim…
1. Time for sprinkler systems in F1?
We often talk of having some sort of 'Star Council' in F1. Of course it comprises a few hacks, because we are as egotistical as the next group of people. The idea came from an industry trip I made many moons ago to Jarama, where Pirelli arranged for the inimitable Erik Carlsson to show us how to drive around the John Hugenholtz-designed track, which was deliberately flooded in one or two corners.
Given the choice, our council would randomly soak a corner or two during a race, without warning, because just look what happens when the weather is changeable.
It was so damn hot in the Hockenheim paddock on Friday that I thought of poor old Carl Scarborough, who actually died from heat exhaustion in the 1953 Indianapolis 500.
Then, of course, it rained on and off on Sunday and, hey presto! There's our third great Grand Prix in a row!
The conditions and craziness of the event put me in mind of Canada in 2011, when the official longest-ever Grand Prix took more than four hours and Jenson Button won.
Sunday's race took a whole bunch of unravelling afterwards, and had all the right ingredients. A deserved winner, a fight from the back to the front from a troubled champion, minnows running in unusual places, stars making uncharacteristic mistakes, and enough hard-luck stories to keep a good soap going for an annual series.
Above all, it had what lies at the heart of all good sport: unpredictability. And everyone loved it.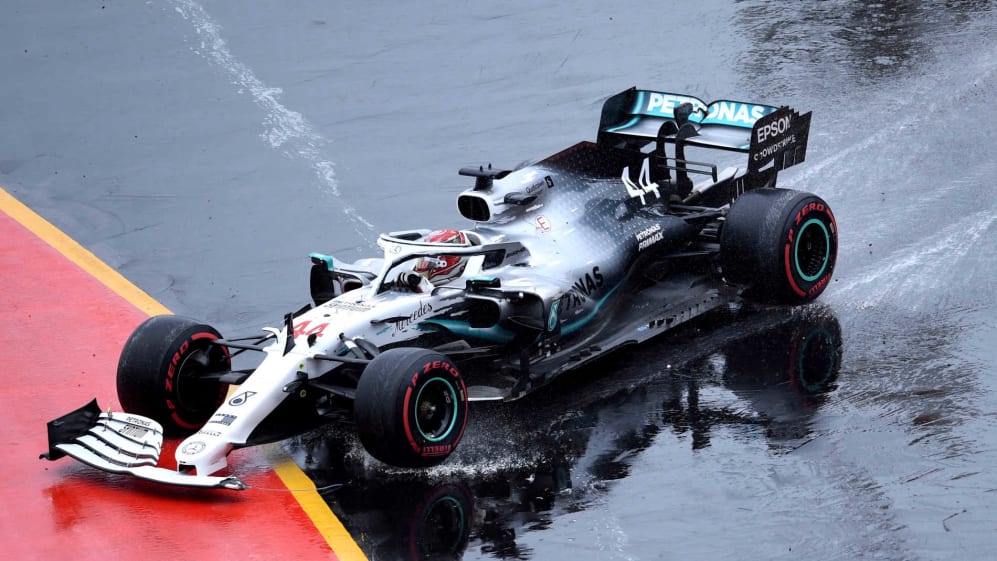 2. Could Max be a dark horse in the title race?
Be honest, did any of us really see Max Verstappen finishing every race thus far this year? With a Honda power unit?
In Austria, as Mercedes suffered their self-inflicted overheating problems, he muscled Ferrari's Charles Leclerc aside to score Honda's first F1 victory since Jenson Button won the 2006 Hungarian GP.
In Germany on Sunday he kept it on the track as acknowledged rainmaster Lewis Hamilton struggled and went off twice, and Valtteri Bottas and Charles Leclerc both crashed out.
He laughed when somebody asked him if his second win of the season could trigger a title challenge over the remaining 10 races and pointed out how big a lead Lewis has. But look at this: he has two wins, and so does Valtteri Bottas. And while the Finn has five second places, two thirds, a fourth and a DNF, Max has two thirds, five fourths and two fifths. Respective totals: 184 points to 162. A gap of just 22 points. Lewis is a further 41 out of reach, but you can bet Max would love it if he can split the Mercs by season end.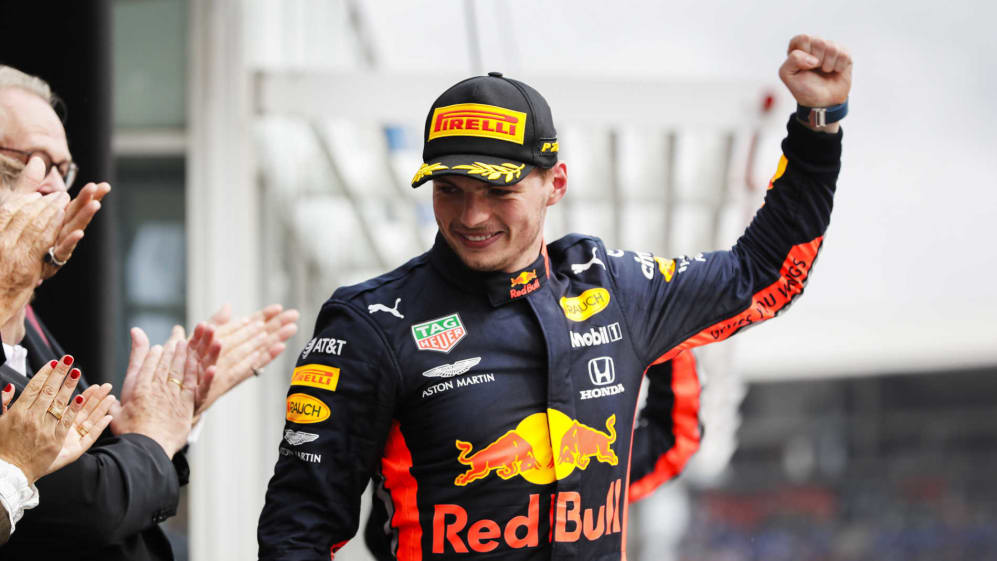 3. Honda's power unit not so 'GP2' now, is it?
Within all the exciting on-track action we've seen since Austria, one very intriguing development has emerged. Red Bull, with their Honda power unit that Fernando Alonso once dismissed as a "GP2 engine", and which McLaren vehemently declaimed and ultimately rejected, won two of the three events.
No wonder Christian Horner's anguished expression at the start on Sunday, when both of his drivers got away slowly, had given way to a massively broad smile when it was all over and his number one had won so decisively as Red Bull made pretty much all the right moves.
It took a while to correct a problem with the correlation between their computational fluid dynamics and wind tunnel calculations, and the RB15's actual track performance – but once that had been corrected, the team from Milton Keynes have been steadily moving forwards. Just as both Ferrari and Mercedes have shown themselves to be vulnerable.
Four races ago, everyone was talking about how terrible the Mercedes domination was for Formula 1. Now the same people are beginning to ask if the championship is coming alive again, with 10 races still to run.
A sort of high-speed version of softly, softly catchy monkey…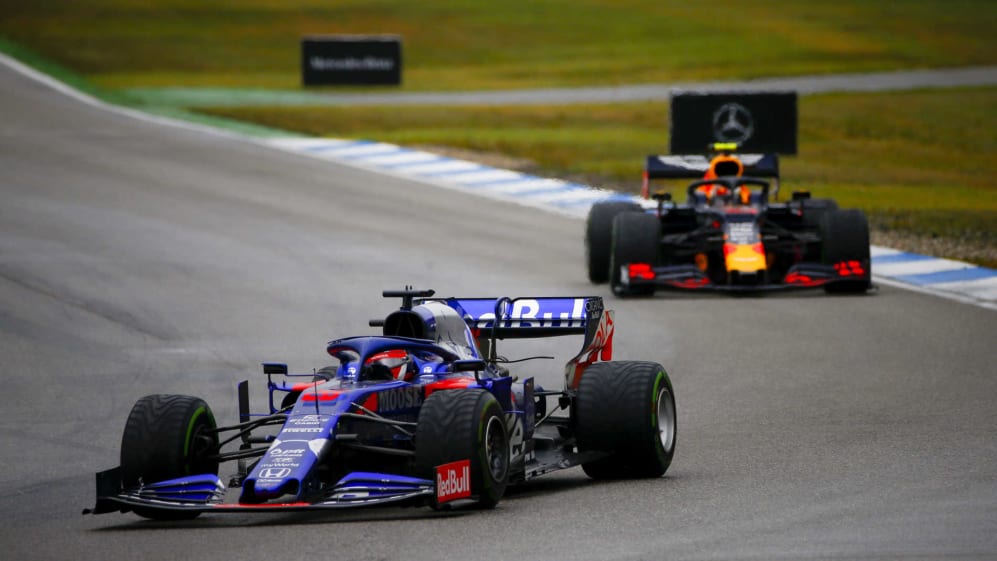 4. Mercedes revealed some key vulnerabilities
Toto Wolff and his men have displayed a remarkable ability to correct occasional problems ever since their domination began when the turbo-hybrid formula was introduced in 2014. Five consecutive drivers' and constructors' title attest to that. Yes, their cars overheated in the Austrian race because their tolerances were insufficient, but the problem was corrected by Germany.
Yet unusually, Mercedes demonstrated surprising strategic vulnerability in the Silver Arrows' 200th Grand Prix.
Their trackside engineering director Andrew Shovlin spoke of how they failed to take the opportunity to score really good points with both cars, how they got caught out on dry tyres when the rain got heavier, and got their timing with Lewis Hamilton's stops about as bad as it could be as they put him on the soft rubber just as the conditions were getting worse and as a result saw him slide off in the same place that had claimed Charles Leclerc.
READ MORE: German GP 'could not have gone much worse' says Mercedes' Wolff
Worse still, when he managed to get to the pits they weren't ready with the right tyres, or for the need to change his car's nose. Yet despite all that, they were still running second and third during the next Safety Car period but were then too cautious switching to dry tyres again.
The five-time champion said he's cancelled everything he had lined up for the next few days, and would be going home to try and sleep off the bug that affected him all weekend, and which hadn't improved by race day.
With Lewis feeling so off colour, throw in Valtteri making a serious mistake, and you had the recipe for what Wolff spoke of as a disaster that hurt to the very core.
I'm a long way from the only one who waits to see how quickly they can recover the equilibrium.
5. Vettel rescued Ferrari's weekend
It's hard now to recall that Ferrari appeared to be the top dog after the pre-season testing, as they have, incredibly, yet to win a race as the season reached its midpoint.
Yet we have almost become used to that with Ferrari in the past few years, when so often they have flattered only to deceive. And, sad to say, the reliability problems that stymied both Sebastian Vettel and Charles Leclerc at different stages of qualifying had a worrying familiarity to them.
But where Mercedes stumbled badly this weekend, Ferrari at least redeemed themselves with some shrewd strategic work that enabled Seb to fight through from last place on the grid to second place and his 50th podium for the team. Cause for celebration there.
They need a lot more of that if they are to have any further influence in the title race.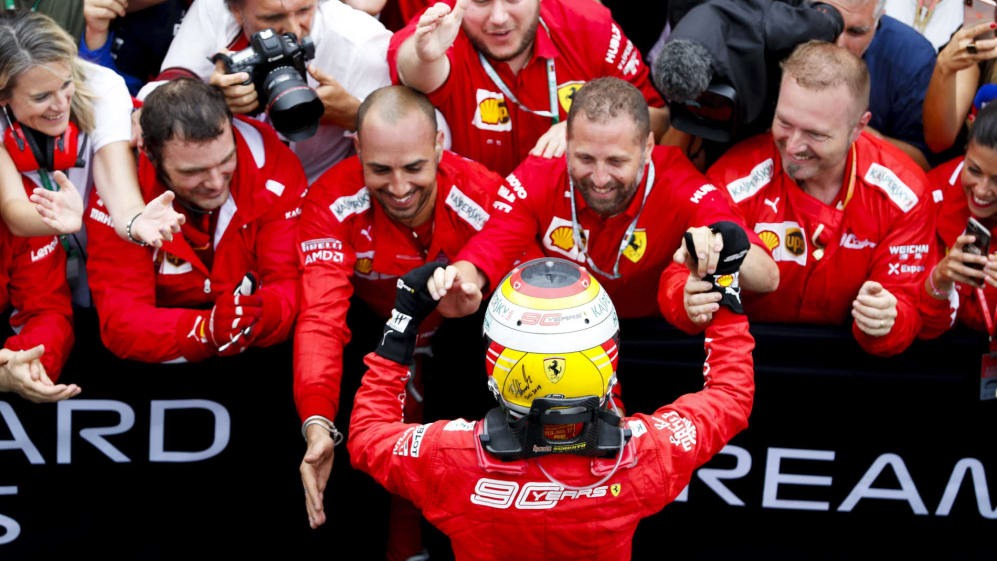 6. Bottas did his 2020 chances no favours
Had Valtteri Bottas managed to overtake both Lance Stroll and Daniil Kvyat, the way that Sebastian Vettel did in the closing stages, he would have won himself 18 hugely valuable world championship points and hacked the deficit to Lewis down from 41 to 23, less than a win's worth.
Instead, on the day when he had trailed Lewis and really needed to pull something out of the hat for his team, he lost it going through Turn 1 on the 57th of the 64 laps and smashed his W10 into the wall. You could only imagine the thoughts going through his head as he sat in the cockpit and the marshals started heading towards the wreck.
There was much talk this weekend about how soon Toto Wolff will decide his future, and I can't help thinking that days like Sunday will have done him no favours in the debate over keeping him or taking a chance on reserve driver Esteban Ocon.
And the final kick where it hurts will have been the news that the penalties applied to the seventh and eighth placed Alfa Romeos gifted Lewis two unexpected extra points after all as he was promoted to ninth.
'Walt' really needs a win at Hungaroring this coming weekend.
7. Albon's drive to sixth was one of the performances of the race
There were plenty of sob stories at Hockenheim, but none for me was harder than Alex Albon's. The London-born Thai was on fire in the race, despite never having driven an F1 car in the wet before.
Just think about that for a moment. He hadn't even had a test run in such conditions, and was now expected to race 19 other drivers…
And race them he did, which is why it sounds odd to say that sixth place was poor reward. But he was one of the stars of the race. By the 45th lap he was running a great fourth after a superb display which saw him battling with Lewis and Carlos Sainz, but ironically the call to gamble and bring in worse-placed team mate Daniil Kvyat for soft tyres on the Lap 45 turned out to be a brilliant bit of opportunism that ultimately ended up working against Alex.
He lost out to his team mate, Stroll and Magnussen, all of whom leapfrogged him when he made his own stop on Lap 46. He was able to get back past the Haas, but by then the other two had cleared off. Nevertheless, sixth, 2.1s behind Carlos Sainz, was true proof that Britain and Thailand really do have a new star to celebrate in F1 this year.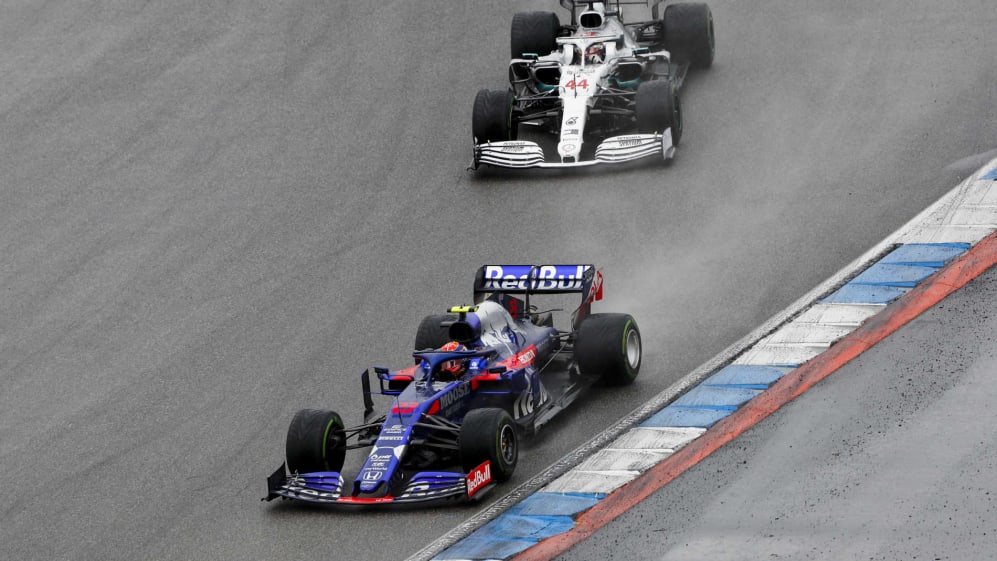 8. Haas need to get on top of issues with both their car and their drivers
Is it really impossible for Romain Grosjean and Kevin Magnussen to stop running into one another? Their third contact came, albeit briefly, in the hairpin on the 55th lap. That just about topped a tough weekend when they vacillated between the Melbourne-spec car and the latest version, and still seemed to struggle to understand either.
I think the situation has reached the point where one or the other of the drivers will be changed for 2020, and my money would be on RoGro being shown the door. Might that open up a slot there for Nico Hulkenberg?
READ MORE: Steiner 'baffled' by Grosjean and Magnussen contact repeat
There was some light at the end of the tunnel, however. Grosjean had led Magnussen home in ninth and 10th, taking three much-needed points. Imagine how Guenther Steiner felt when the problems for Alfa Romeo hoisted his black and gold cars to seventh and eighth and added another seven…
9. It was great to see the order given a good shake
I really like seeing underdogs having their day, so I was really happy to see Toro Rosso score their first podium since Seb's win in Monza back in 2008, and Daniil Kvyat back there for the first time since China three years ago.
I also liked the irony that Seb had been on that podium too, on the weekend when he did the Russian's reputation a power of no good by criticising him driving through the vast gap he himself had left in the first corner on the opening lap, which resulted in Vettel hitting Ferrari team mate Kimi Raikkonen right in from of the late Scuderia boss Sergio Marchionne. Nice, too, that the celebration rounded off a great weekend for Dany K as his partner Kelly had given birth to their first child, a daughter, on Saturday evening.
Good, too, to see Lance Stroll giving his confidence a real boost by fighting for second place and finishing an honourable fourth in a Racing Point that seemed much more competitive with the first of three big revamps that are in the pipeline. And Williams subsequently scoring their first point. Robert Kubica did a good job to score it, though that must have irked George Russell, who has beaten him in nine of the 11 Grands Prix thus far.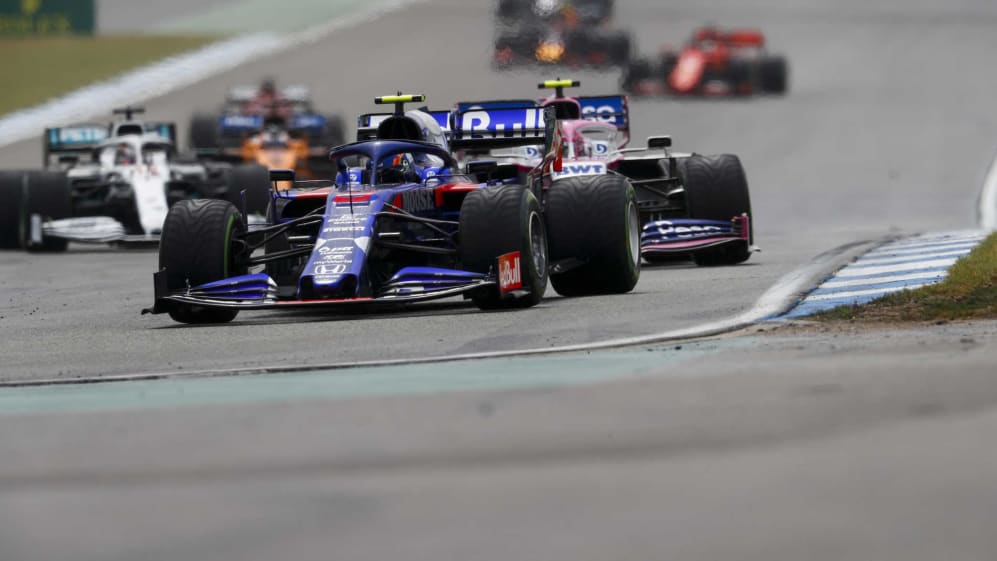 10. Mick Schumacher needs time and space to grow
There was a lot of lovely nostalgia in the Hockenheim paddock, with Mercedes managers decked out very elegantly in period clothing and the mechanics wearing grey caps and white overalls like they did in the old days, as the Stuttgart manufacturer celebrated the 125th anniversary of their first motorsport success and their 200th Grand Prix.
And at a time when the future of the German GP seems poised on a knife edge, F2 racer Mick Schumacher brought back many happy memories for the fans who flocked into Hockenheim when he drove his father's German GP-winning Ferrari F2004 in a brief three-lap demo on race morning.
WATCH: Mick Schumacher takes father's 2004 Ferrari for a spin
"I just wanted to go out and drive," he admitted. "Going out of the pit lane and coming into the pit lane, I never lost my smile. It was always on my face. Even when I was locking up, I was smiling! It was really cool."
Less appealing is the pressure being heaped upon him as a possible saviour of the German Grand Prix' future. As Sebastian Vettel said, Mick needs to be left alone to work through his current F2 programme, and not worry about what F1 might bring him in another year or so.