Feature
F1 FANTASY: Why Haas and Alfa Romeo hammered players in Suzuka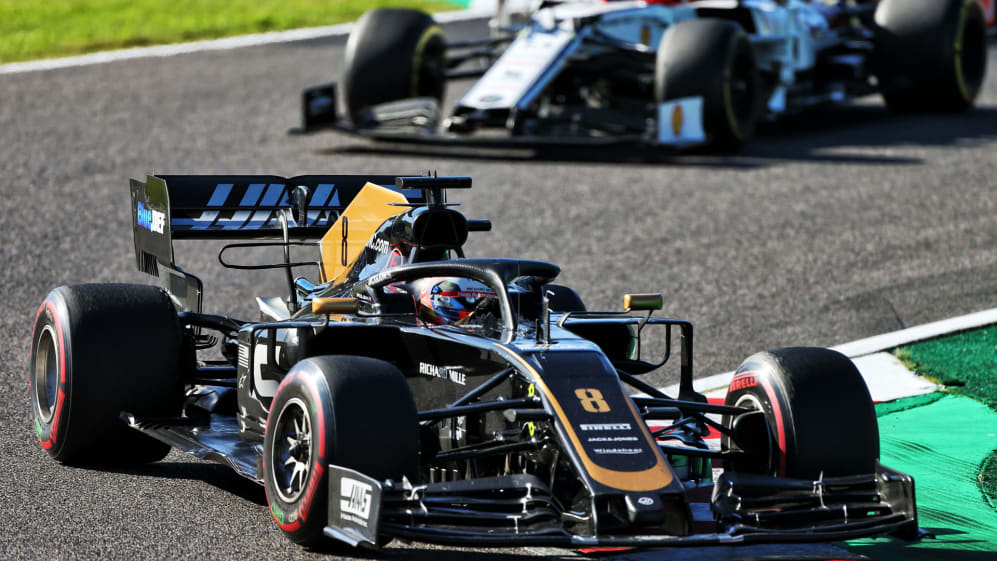 Valtteri Bottas secured win number six of his career in Japan with a stonking drive to victory, as Mercedes secured their sixth straight constructors' title. But which of the 20 drivers and their 10 teams performed best for F1 Fantasy players in Suzuka? Their scores are in…
Fourteen of you F1 Fantasy players out there picked this week's 'Best Team' for the Japanese Grand Prix, using your nous, gall, sophistication and, er, a bit more gall to defy dizzying odds of 15,856,790/1 and soak up some hefty points scores.
So here's who the clever 14 went for in Suzuka – and who you should have avoided like a still-twitching portion of takoyaki…
READ MORE: Sign yourself up for the Official F1 Americas League for your chance to win some fantastic exclusive prizes...
Best Team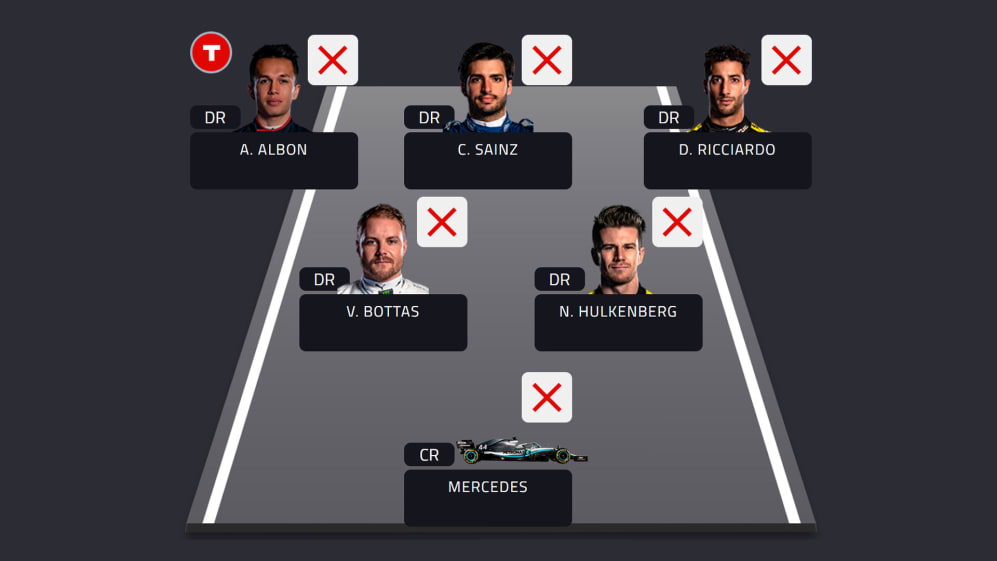 Total points: 257
Budget: $95.3 million
Alex Albon: 56 points (Turbo Driver)
Carlos Sainz: 27 points
Daniel Ricciardo: 23 points
Valtteri Bottas: 46 points
Nico Hulkenberg: 26 points
Constructor: Mercedes – 79 points
If any of you out there don't have Alex Albon in your team, you need to take a long, hard look at yourself… then stop looking at yourself and put him in your team. The soft-spoken Thai driver has now been in the 'Best Team' four times out of the last five races, every time as the Turbo Driver – and his best-ever F1 finish of fourth in Japan meant that he brought home a big haul of points for those who ticked the 'T' next to him.
READ MORE: Japan 'definitely my best weekend with Red Bull' says Albon after career-best finish
Elsewhere, Carlos Sainz's fantastic fifth place – climbing there from seventh on the grid – saw him make his ninth 'Best Team' outing, while race-winner Bottas went one better, appearing in the dream squad for the 10th time.
That squad was completed by the Renault pairing of Daniel Ricciardo and Nico Hulkenberg, whose poor qualifying made for big points as they both climbed back into the points. Mercedes were the constructor to have for the ninth time this year, on the weekend they claimed their sixth straight constructors' title.
Worst Team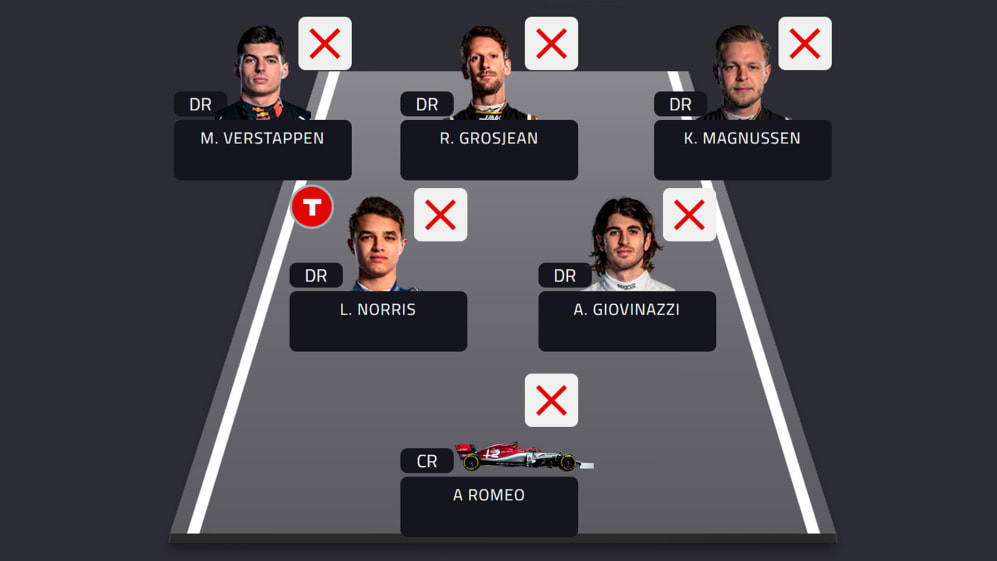 Total points: -10
Budget: $63.3 million
Max Verstappen: -4 points
Romain Grosjean: 0 points
Kevin Magnussen: 0 points
Lando Norris: -6 points (Turbo Driver)
Antonio Giovinazzi: 0 points
Constructor: Alfa Romeo – 0 points
Even if you picked this week's 'Worst Team'… well, it wasn't too bad really, only costing you -10 points. The Haas boys are in it, rather unsurprisingly, after they both had their usual race pace struggles, Grosjean earning his 11th 'Worst Team' appearance for his troubles.
READ MORE: Magnussen says he 'could have scored points' without 'embarrassing' Suzuka qualifying crash
They're joined by the sole DNF of the weekend, Max Verstappen, whose race was ruined after contact in Turn 2 with Charles Leclerc. Lando Norris was a victim of that crash too, after debris got stuck in his brake duct, meaning he makes his sixth 'Worst Team' appearance of the year, while a nothing sort of race for Antonio Giovinazzi earns him the final spot, as his point-less Alfa Romeo team made their fifth appearance in the squad.