Feature
F1 Tracks: Listen to Groove Armada's takeover playlist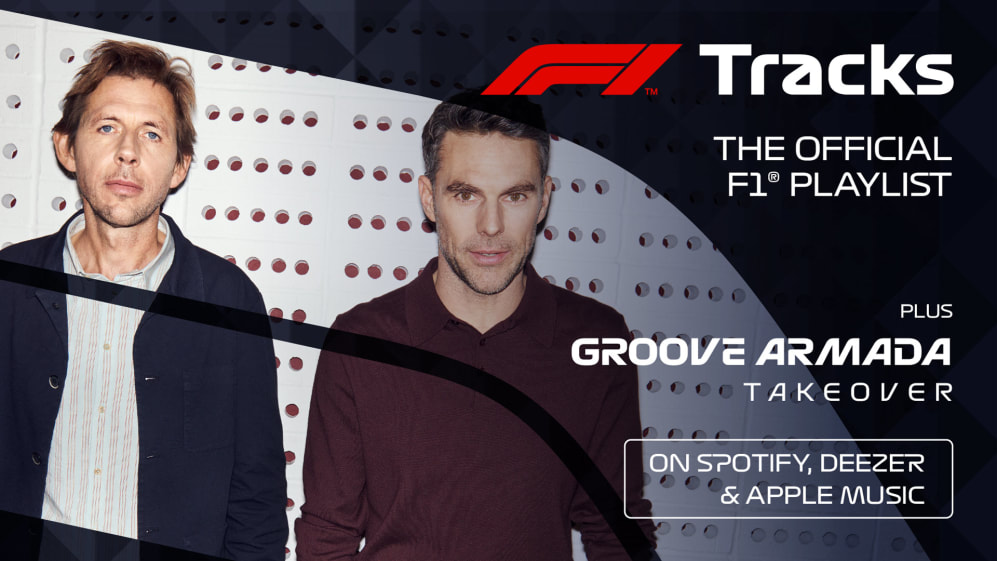 Seminal UK band Groove Armada deliver the latest F1 Tracks Grand Prix takeover with their favourite songs ahead of their new album launch in October.
The influential dance music duo, Tom Findlay and Andy Cato, have pulled together top tunes including Fleetwood Mac's The Chain, The Beatles' Drive My Car and a couple of their own hits too.
READ MORE: F1 Tracks: Listen to the F1 Esports Takeover playlist
This playlist features Groove Armada's very own Time & Space and the Krystal Klear remix of Get Out on the Dancefloor to get you in the mood for the Italian Grand Prix. Read the Q&A below to find out which one of their own songs they'd choose to be the new F1 theme tune.
The full Groove Armada F1 Tracks playlist can be found on Spotify, Deezer and Apple Music
Groove Armada Q&A
What's the best thing about F1?
Sunday afternoons on the sofa.
Any similarities between the buzz of F1 and buzz of live music?
There's a huge rush from coming on stage in front of thousands of people, but I'm not sure how that compares to taking corners at 120mph+…
Favourite Driver?
Lewis Hamilton, what a champ!
Favourite Team?
McLaren for the home team and legacy of incredible drivers
Favourite F1 Track?
Monaco
Please suggest a song for our playlist?
Kavinsky & Lovefoxxx - Nightcall (from the Soundtrack to Drive)
If you could pick one of your songs to be the new theme tune for F1, which would it be and why?
Superstylin'
What are your favourite memories from following Formula 1?
1992 – Ayrton Senna vs Nigel Mansell is still one of the ultimate head to heads.
Which F1 driver do you think would make the best music artist and why?
Senna, the man had soul. RIP
You could go to a gig with three people dead or alive, who would they be and what band/artists would you go and see?
Prince, Arsene Wenger and Derren Brown attending a Richie Havens gig. We were lucky enough to perform and collaborate with Richie a number of times, and he's one of my all-time favourite artists. The pre-gig dinner chat would be an interesting mix.
If you could choose an F1 driver to come on stage with you, who would it be and why?
James Hunt looks like he knew how to have a good time, although he's maybe a little too rock n' roll for us…
How does it feel to be back making music?
We've always been making music since Black Light and White Light back in 2010, but the music was very much built just for dance floors. It feels great to be making music that has more of a radio/home listening feel to it. Hopefully people like it!
Fans are currently missing out on attending live events due to social distancing, what are you looking forward to most about performing in front of a huge crowd again?
Nothing can compare to the feeling of walking out on stage, or being in a crowd with friends and dancing and letting it all go. We're missing it, as is everybody. Just hang in there and we will dance together again.