Feature
FORM GUIDE: The favourites for pole, points and victory in Italy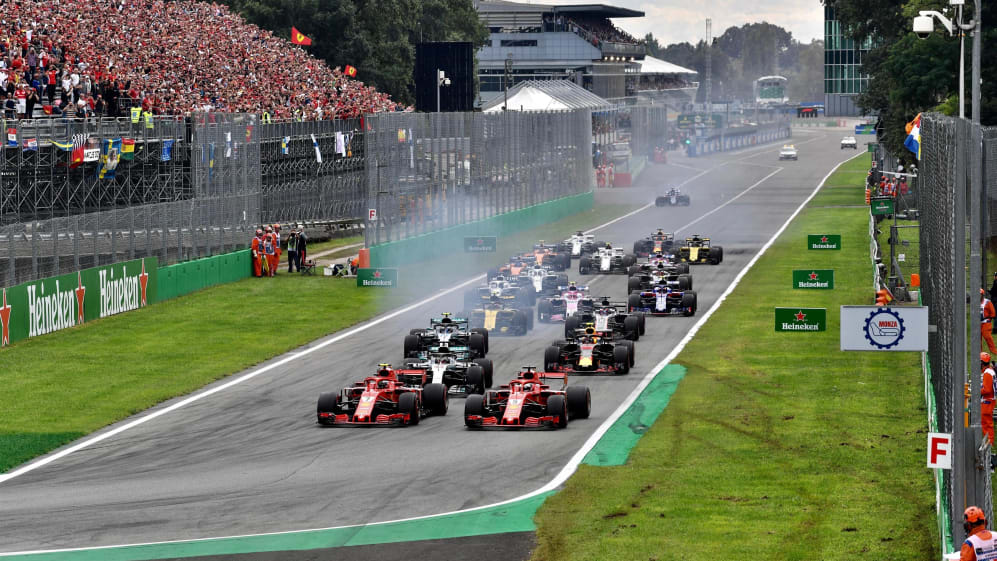 Formula 1 heads to another Blue Riband track, in the form of the Autodromo Nazionale Monza, for the 70th Italian Grand Prix. Here's who we expect to do the business at Round 14 of the 2019 season.
Who's the top tip for pole?
Okay, so what we're going to write now is remarkably similar to what we wrote for Spa, but unfortunately there's no hiding from it. Form-wise, Lewis Hamilton is absolutely the man to beat. Six poles the guy has to his name here, representing his joint-second highest haul for a track (he's got eight in Melbourne!).
And yet, neither Mercedes driver could get within three-quarters of a second of Charles Leclerc's Ferrari in Spa. And with Monza expected to flatter the Ferrari SF90's trademark characteristics of massive power married to aerodynamic efficiency even more than in Belgium, if one of the Ferrari boys can put a proper lap together, it's hard to envisage anyone else getting a sniff of pole.
READ MORE: Why Ferrari's SF90 is tailor-made Monza
Of their two drivers, Sebastian Vettel is predictably the only one with pole experience here – he's taken three, including that incredible maiden one with Toro Rosso in 2008. But Charles Leclerc has outqualified his team mate in the last six races, doing so in Belgium by a full 0.748s, so we're calling it for the Monegasque's second pole on the trot.
However, we'll add here the caveat that it's currently set to rain across Saturday and Sunday in Monza, so all of the above may get chucked out the window if that rain disrupts play.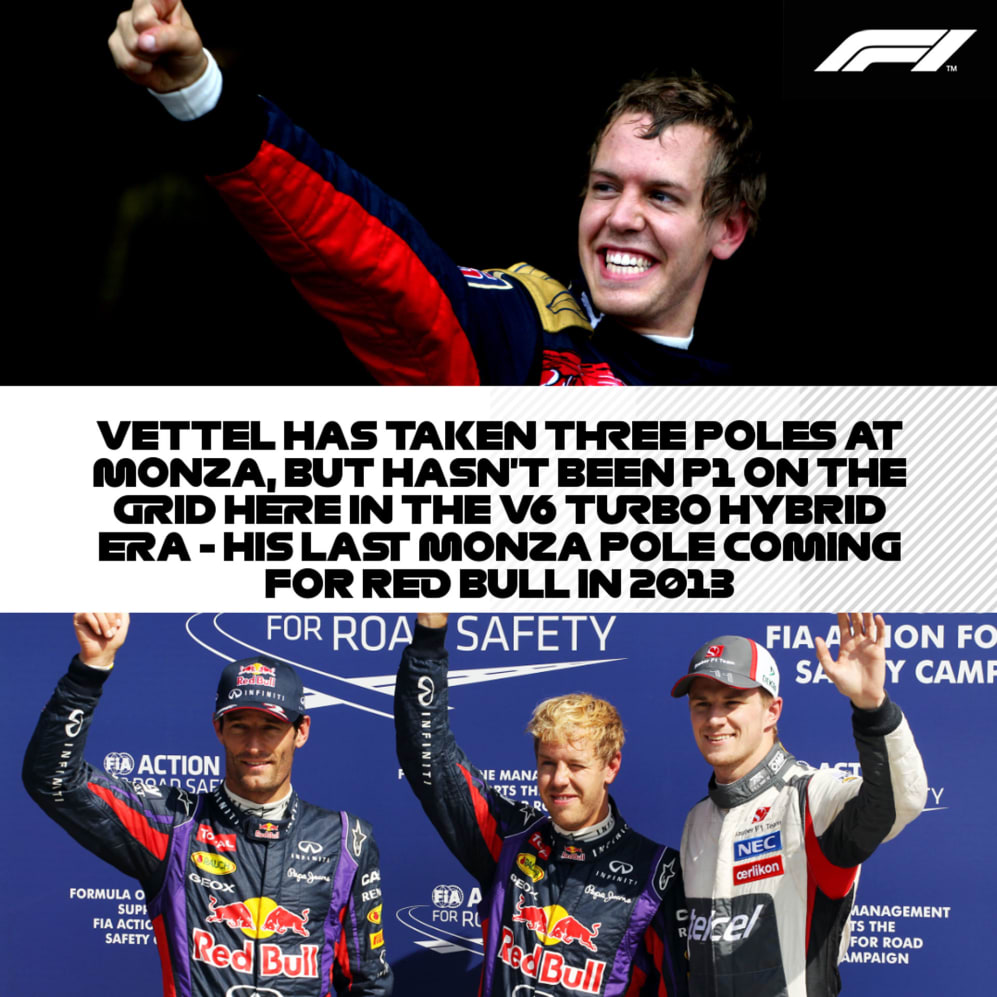 Who's looking good for the win?
Once again, on form, it's Hamilton who gets the nod, with five wins in Monza, including an absolute masterclass last year where he broke (three-time winner) Vettel's resolve and sent him into a spin, before launching a brilliant attack on pole-sitter Kimi Raikkonen to take the win.
However, while Mercedes's race pace in Spa showed them having a 0.5 second per lap advantage over Ferrari – which Hamilton used to come within a gnat's whisker of unseating Leclerc for the victory – Monza doesn't have a twisty Spa-sector-two equivalent where Mercedes's W10 can shine. Quite simply, the Ferrari SF90 is so suited to Italian Grand Prix circuit, it's practically a Monza special.
That being the case (and ignoring the weather) we're calling a Ferrari win at Monza for the first time since 2010 – and given the way Leclerc perfectly managed the race in Belgium a week ago as Vettel fell away, we'll once again call it for the Monegasque.
Who's a podium outsider?
Unless the predicted rain throws the race into chaos à la Germany, it's looking a tall order for Red Bull to count themselves in this category. The team have never had a podium at this track in the V6 turbo hybrid era, with their downforce-orientated car and lack of a class-leading power unit meaning their machines are simply poor matches for this ultimate power-rewarding track. Given that Max Verstappen is also set to start the race in Monza from the back of the grid for taking Honda's new power unit, podium prospects are not looking good for the Red Bulls.
READ MORE: Verstappen to take 'Spec 4' Honda PU and start from the back of the grid at Monza
A dry podium in a straightforward race we'd therefore expect to be made up of a Ferrari driver on the top step, with probably a Ferrari driver and a Mercedes driver either side – or two Mercedes drivers at a push. Hamilton has figured on the podium every year since 2014 (four times as a winner, the other time in second place) which is a daunting record for anyone to face. But Valtteri Bottas has also podiumed at Monza the past two years for Mercedes, so the race for those rostrum spots could be intriguing in itself…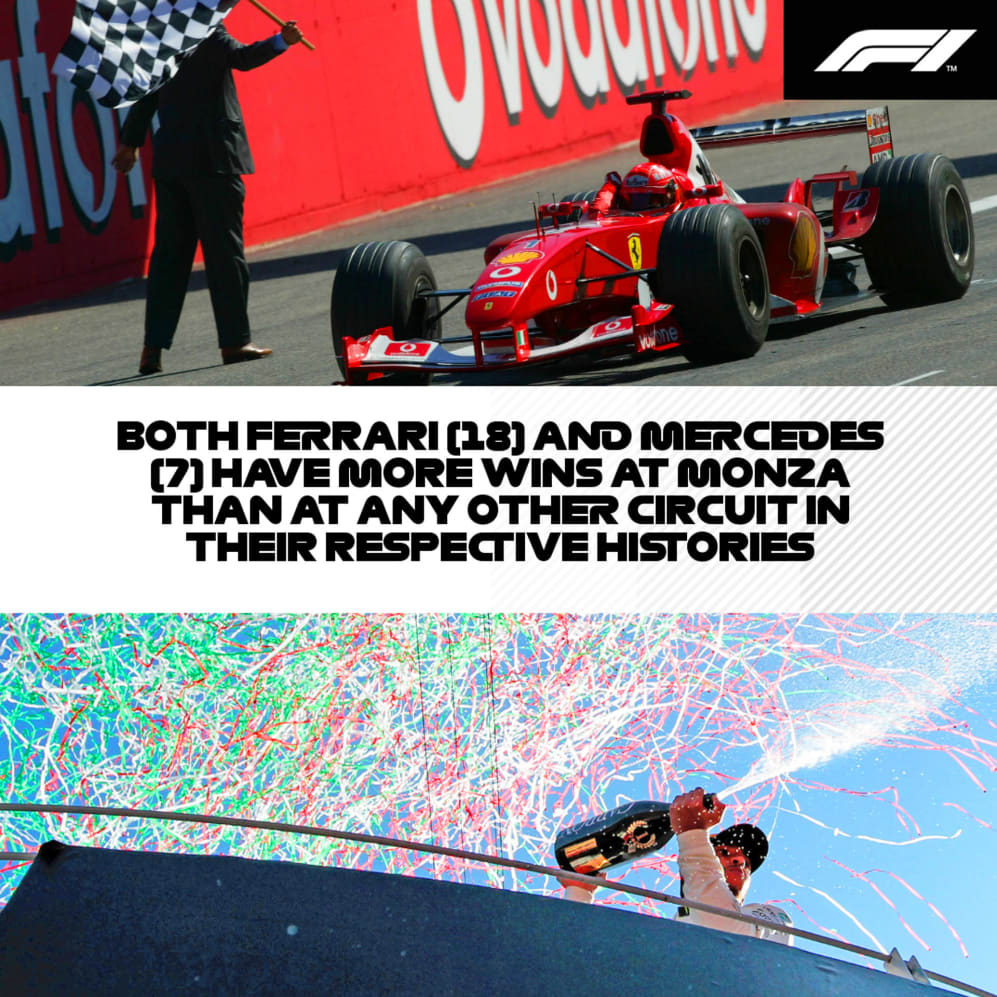 Who'll hoover up any points on offer?
While the Red Bull drivers will have their work cut out to make the podium in Italy, they'll obviously be well-placed after that to claim points (Albon having finished on the podium here in F2 last year, incidentally) while McLaren will also be likely to feature in the top 10, given that Lando Norris came within a lap of taking his career-best result of fifth (and a comfortable fifth at that) in Belgium.
Elsewhere, look out for Racing Point's duo in the top 10. Sergio Perez got the RP19 going nicely around Spa – a track he loves – but he's also got great form at Monza, podiuming for Sauber in 2012 while he's finished in the points here every year since 2014. Similarly impressive is his team mate's form at the track, Lance Stroll having started from second on the grid here for Williams in 2017, while he's taken Williams machinery to points finishes on both occasions he's raced here – a fine record.
READ MORE: Ferrari are Monza favourites but Mercedes can fight them, says Hamilton
The Alfa Romeo cars also look good bets to do a spot of point-hoovering, the car having looked fast in Spa, while Kimi Raikkonen was the last person to take pole in F1 at this track – with the fastest ever F1 lap, no less – and Antonio Giovinazzi won here in GP2 in 2016.
Finally, Renault seemed pleasantly surprised by the pace of their R.S.19 at Spa, Daniel Ricciardo saying that the car appears to thrive in low-downforce set-ups. No set-up of the year is more low-downforce than Monza, so they'll be hoping to find themselves in the mix too.