Feature
HAMILTON VS VERSTAPPEN: Why their rivalry has the potential to be the greatest in F1 history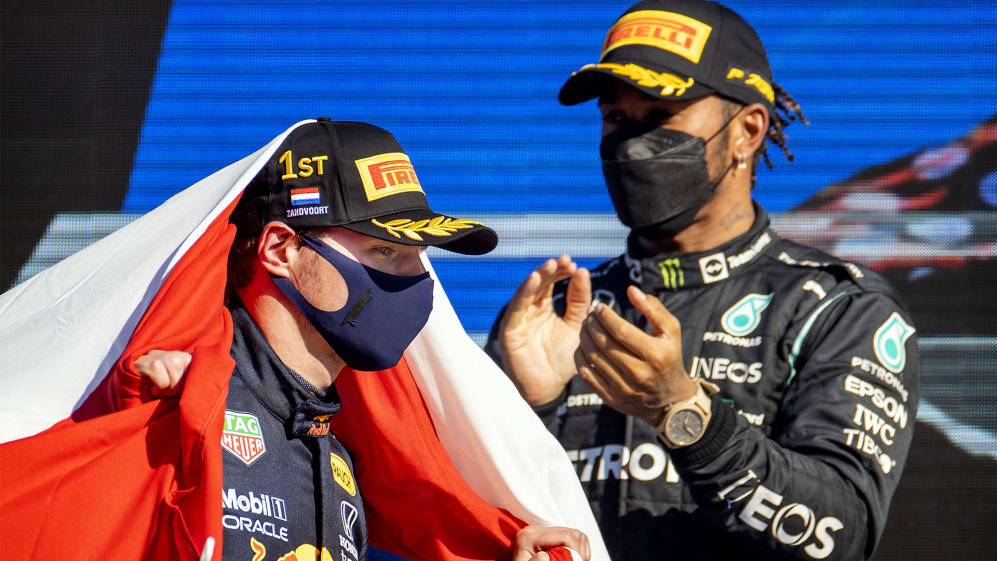 Sports comprise networks of rivalries. F1 is no exception, with the ever-shifting sands of battles between drivers and teams creating new and engaging storylines every season. But sometimes, a rivalry forms that towers above the rest, defining not just F1 in that era, but becoming a defining battle in sport as a whole.
That's what the Max Verstappen versus Lewis Hamilton World Championship fight was in 2021. So intense, thrilling, controversial and dramatic was this battle that it can legitimately be considered as potentially one of the great rivalries, up there with Alain Prost vs Ayrton Senna, Michael Schumacher vs Mika Hakkinen, James Hunt vs Niki Lauda and the other legendary duels that define F1.
EXCLUSIVE: The Top 10 F1 drivers of 2021 – as chosen by the drivers
To evaluate this, we must deconstruct the elements that coalesce together to make any great rivalry.
The build-up
Ever since Verstappen burst onto the F1 scene with Toro Rosso in 2015 and showed increasingly frequent glimpses of his brilliance, he has been on a collision course with Hamilton. It felt inevitable that there would be a reckoning between the established legend and the rising star, but it wasn't until 2021 that Red Bull produced a car equal to the task.
During the prelude, there were glimpses of the battle that was to come: Verstappen diving past Hamilton to win in Malaysia 2017; their brush in Bahrain 2018 that gave the Red Bull driver a puncture; Verstappen's off after being suckered into making a high-risk passing attempt in China the same year; their battles in 2019 at Monaco, the Hungaroring and Interlagos. This slow-burn build-up to 2021 meant the pair already had a storied history as the foundation of their rivalry.
READ MORE: Biggest shocks, funniest moments, best drivers and more – Our writers reflect on an epic 2021 season
F1's defining rivalry also benefitted from such anticipation, with Senna on the radar as a future world champion for four years before he took on, and beat, McLaren team mate Prost to the 1988 title.
A generational battle
Hamilton is just over 12 and a half years older than Verstappen, and holds all the major achievement records in F1: most poles, most wins and a share in most titles with Michael Schumacher. This made Verstappen the potential usurper in 2021 in what is a rare 'generational battle' in F1 history.
PALMER: My star performers and stand-out moments from the 2021 season
Such clashes are vanishingly rare as they require two drivers – one the defining of the current era, the other possibly of the next – to overlap. The Prost vs Lauda rivalry of 1984 exemplifies this, but too often circumstances have prevented such battles – most recently with tragedy preventing the tantalising Schumacher vs Senna championship fight of 1994 playing out.
This made the stakes sky-high, with Hamilton as motivated to prove himself against yet another star driver as Verstappen was to dethrone him.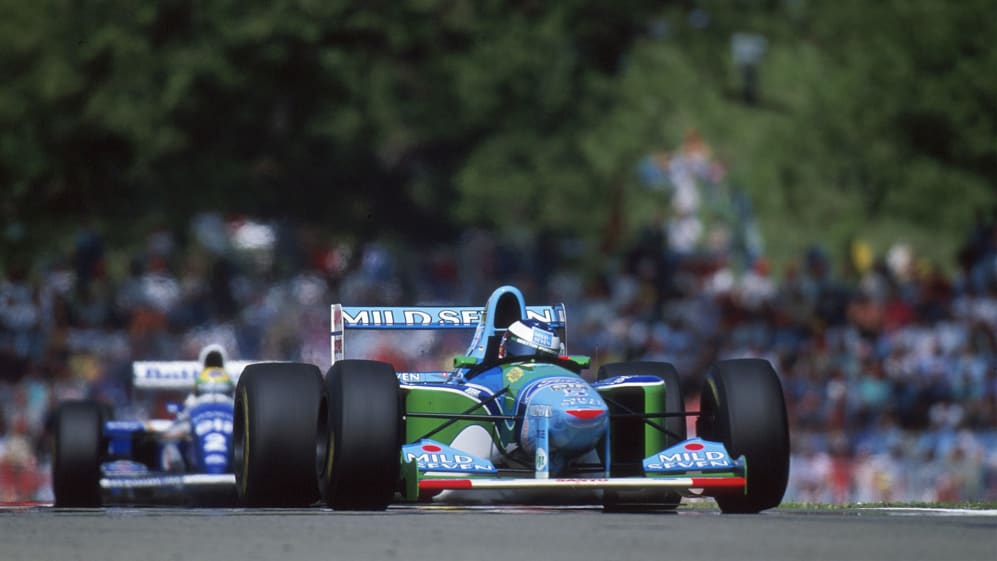 Equals
Statistically, Verstappen lags a long way behind Hamilton, for now at least, given he's at an earlier stage in his career, but there's no doubt that the pair regard each other as equals.
Great drivers have a clear sense of their own superiority over the opposition, the feeling that they've got them in their pocket. But regardless of bluster or public confidence, deep down both Hamilton and Verstappen knew they were equals. That's not self-doubt, simply the fact that to be a sporting great, you need to know your enemy.
READ MORE: How Hamilton and Verstappen's battle evolved over the 2021 season
For a truly great rivalry requires drivers of broadly equal status. To cite Prost vs Senna again, they split the two championships they won when team mates at McLaren, and underpinning all the distrust and hatred was that respect for each other's abilities. That was laid bare by the thawing of relations that seemed to begin the moment they shared the podium in Prost's farewell race at Adelaide in 1993.
At times, Verstappen and Hamilton appear to have hated each other in 2021, but that underlying respect remained.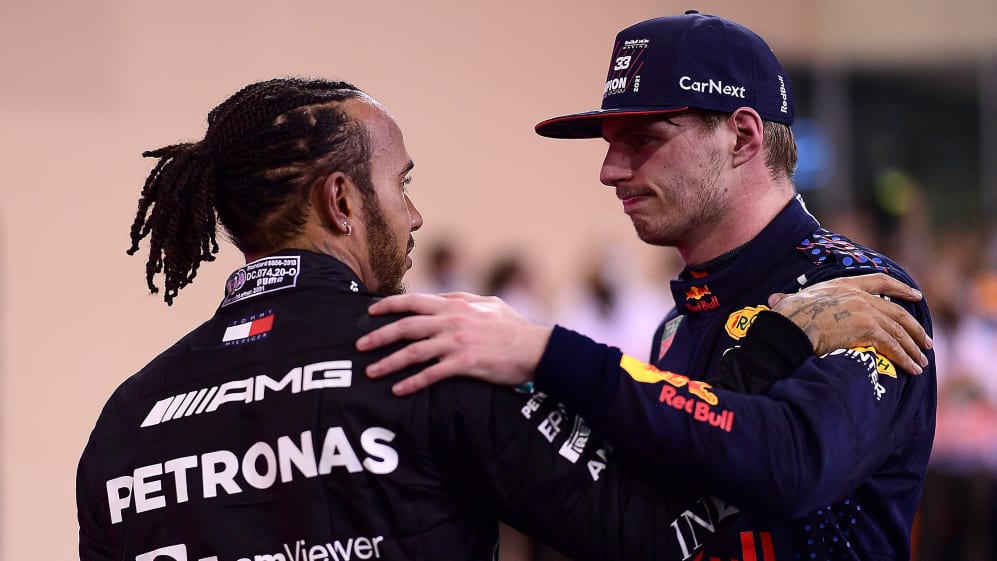 Intensity
The 2021 season was the longest in F1 history. The title battle raged across 22 races, from the start of the Bahrain Grand Prix to the last lap in Abu Dhabi. That made it a conflict of enduring intensity, leaving both the drivers and their teams drained, run ragged and occasionally saying and doing things they would have cause to regret.
Sport creates a unique pressure, and when it's a battle between greats, they resist the cracks better than most. But this 22-part rivalry, during which Hamilton and Verstappen finished in the top two positions 14 times, with the points lead changing hands five times, pushed the pair to the absolute limit. It wasn't just about speed but endurance, with the competitive swings ensuring the role of quarry and prey was exchanged repeatedly.
READ MORE: Max Verstappen's five best wins on his way to the 2021 World Championship
Clash of styles
A great sporting rivalry isn't just about two brilliant athletes. You also require a clash of styles, some key points of difference in strategy.
Even before the season, the fascinating question was whose approach in battle would pay off more often. While Hamilton's incisive overtakes were part of what helped him make his name when he first burst onto the F1 scene in 2007, like all drivers he evolved over the years.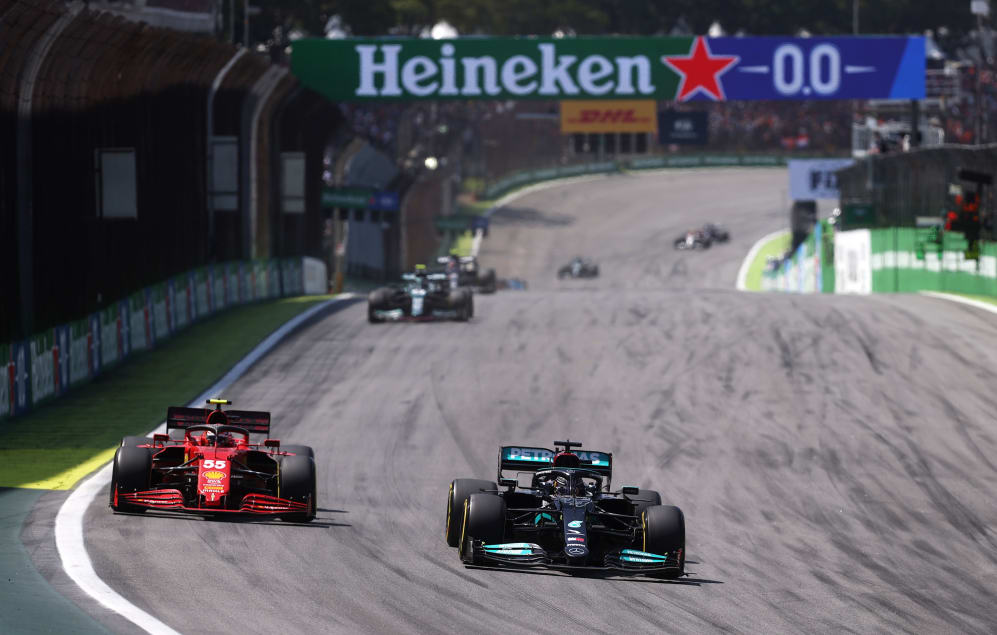 A clear sense of what he believes constitutes clean racing is a powerful part of Hamilton's psyche, even if Verstappen might disagree with that. He also has an ability to calculate the risk/reward in battle when chasing a championship, meaning that, in recent times, he has often pulled out of potential clashes to ensure he can fight another day – but showed a willingness this year to deviate from that.
Verstappen utilises an aggressive approach. It's a description he dislikes but which accurately captures the perfectly legitimate strategy of going for every opportunity that presents itself. After all, usually it has worked for him, although perhaps what happened in Saudi Arabia showed that it can sometimes backfire.
With two different philosophies of racing, the excitement lay in who would prevail and in exactly what circumstances would one or the other modify their approach.
F1 TV RADIO REWIND: The dramatic end to the 2021 Formula 1 season
Flashpoints
A key reason Prost vs Senna is regarded by many as the defining F1 rivalry are the infamous on-track flashpoints. Senna pushing Prost towards the pitwall at Estoril in 1988, the team orders row at Imola a year later and the Suzuka collisions are part of the legend of F1. Now, the clashes between Hamilton and Verstappen have joined them.
The pair battled on track repeatedly during 2021, but the collisions at Copse Corner on the first lap of the British Grand Prix and at the first chicane during the Italian Grand Prix were when the rivalry boiled over. The FIA stewards penalised Hamilton for Silverstone and Verstappen for Monza, with the two incidents making a significant contribution to the bad blood between the drivers and their teams.
They clashed again in the Saudi Arabian Grand Prix, this time with Verstappen penalised after his attempt to let Hamilton past resulted in excessive braking, ensuring that the pair headed to the season finale in Abu Dhabi level on points.
There, the controversial circumstances surrounding the way the race ended and the last-lap pass Verstappen pulled off at Turn 5 created the most dramatic flashpoint of all.
READ MORE: No title, fewer wins and poles – but here's why 2021 was Lewis Hamilton's best season yet
The future
Hamilton is contracted to Mercedes for another two years, raising the tantalising possibility that 2021 was merely chapter one of his rivalry with Verstappen. The new technical regulations could shake up the competitive order, but it would be a shock if Red Bull and Mercedes aren't mixing it at the front again.
Their rivalry is already up there with the greatest in F1 history. With another year or two of the same intensity we saw in 2021, Hamilton vs Verstappen has the potential to go down as the greatest of all.