Feature
TREMAYNE: The greatest F1 title battles of all time – and where 2021 now stands among them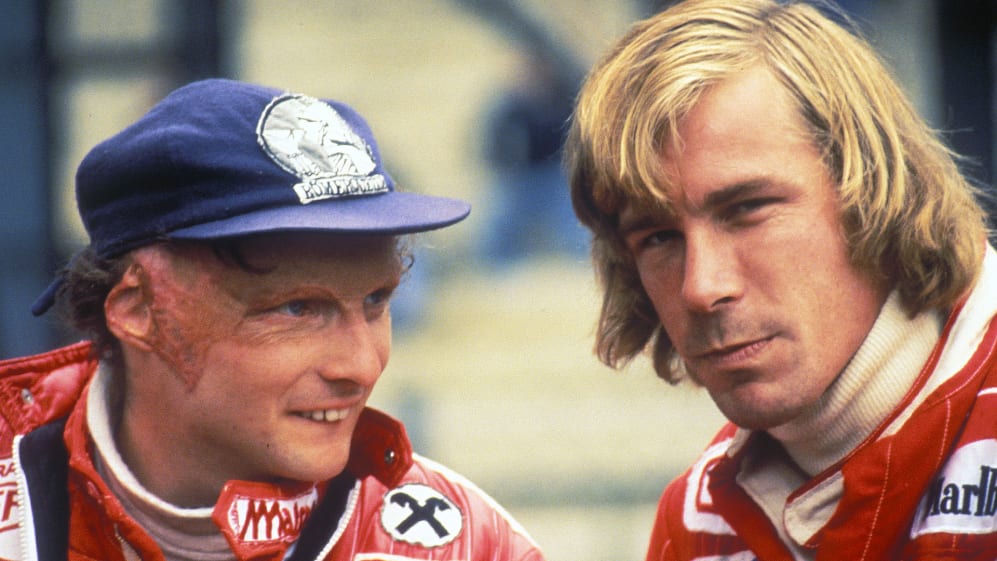 Great movie scripts require a gripping plot and strong characters, preferably one hero and one anti-hero. And if the latter term can be applicable to either central character, thus conflicting the audience and dividing opinion, so much the better.
But was 2021 FIA Formula 1 World Championship racing's best-ever season? We need to look back, to see which other years were stand-outs.
VOTE: What was your favourite race of 2021? It's time to pick the best Grand Prix of the season
1958
CHAMPION: Mike Hawthorn
The 1958 season saw the rise of British Racing Green, as Cooper and Vanwall turned the red tide of Ferrari and Maserati and set the stage for the leading role that British engineering continues to play today.
After Stirling Moss' record-breaking victory in the opening race in Argentina, where he ran his little Rob Walker Cooper non-stop to the first post-war win for a rear-engined car, Stirling won three more races for Vanwall, in Holland, Portugal and Morocco.
Team mate Tony Brooks won in Belgium, Germany and Italy. That left slim pickings for Ferrari, with a win apiece for Mike Hawthorn and Peter Collins, but theirs was the more reliable car. Brooks' victory at Monza ensured the title fight went down to the wire, in the Moroccan GP.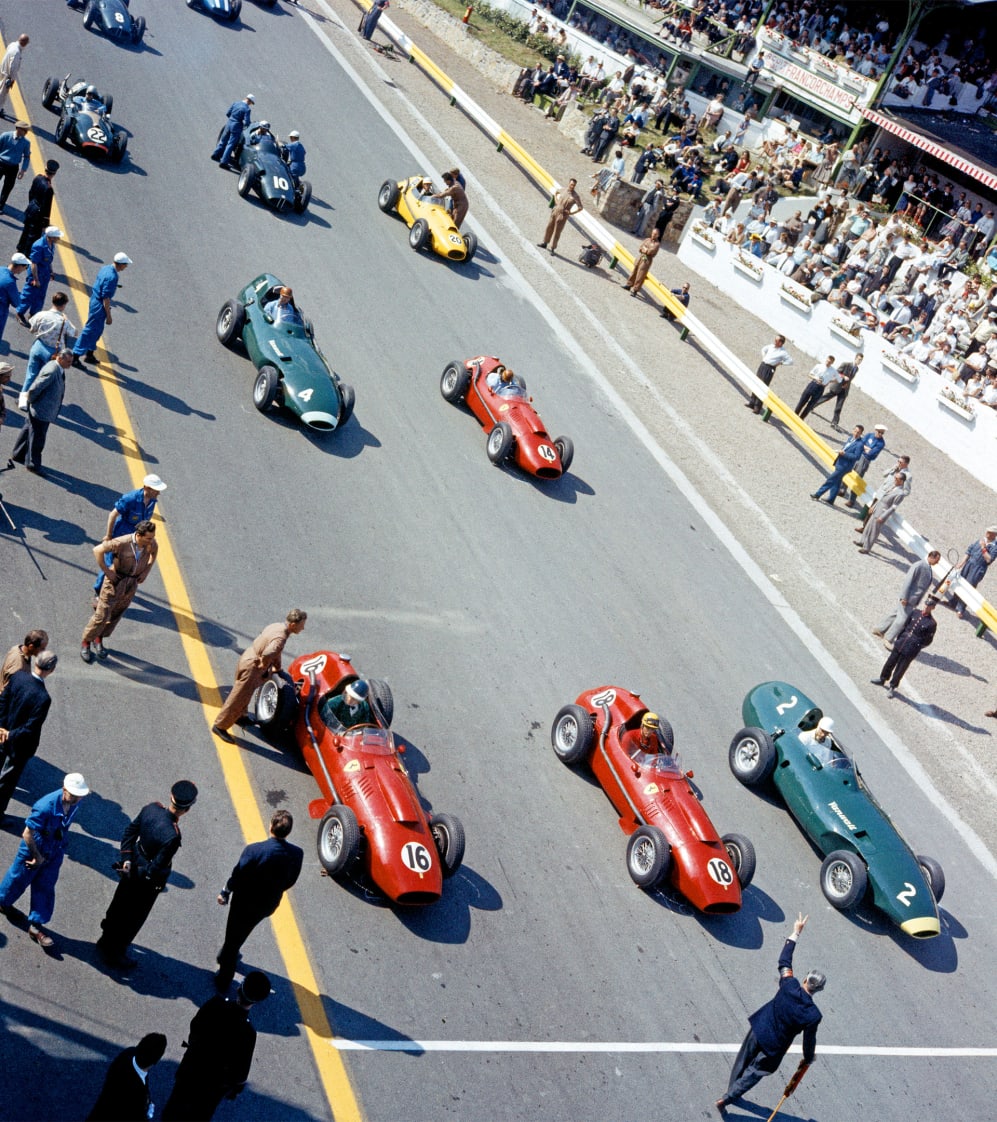 In the Portuguese GP Stirling had stood up for Mike when the Ferrari driver spun on the final lap as he was about to be lapped. Mike went up an escape road and over a footpath while getting back onto the track, and the stewards wanted to disqualify him from his eventual second place which, with fastest lap, was worth seven points. Stirling's defence enabled Mike to keep them.
READ MORE: The king that was never crowned – Sir Stirling Moss remembered
Stirling duly won the final race, but when Ferrari's Phil Hill moved over to let Mike take second place, it secured his team mate the title by a single point. Only the six best results counted, and Hawthorn's single victory and five second places, allied to four fastest laps, trumped Stirling with 42 points to 41. Vanwall, however, took the first World Championship for constructors.
"To me, it just felt quite wrong that Mike should be disqualified," Stirling would say with simple grace. "And I put forward the idea that he was still on the track, albeit the escape road, which they accepted. And it turned out that it lost me the title. But it's a case of what winning means to you."
To have won a title that would always elude him, if it had meant keeping quiet when he witnessed injustice, would have been complete anathema to a great racer.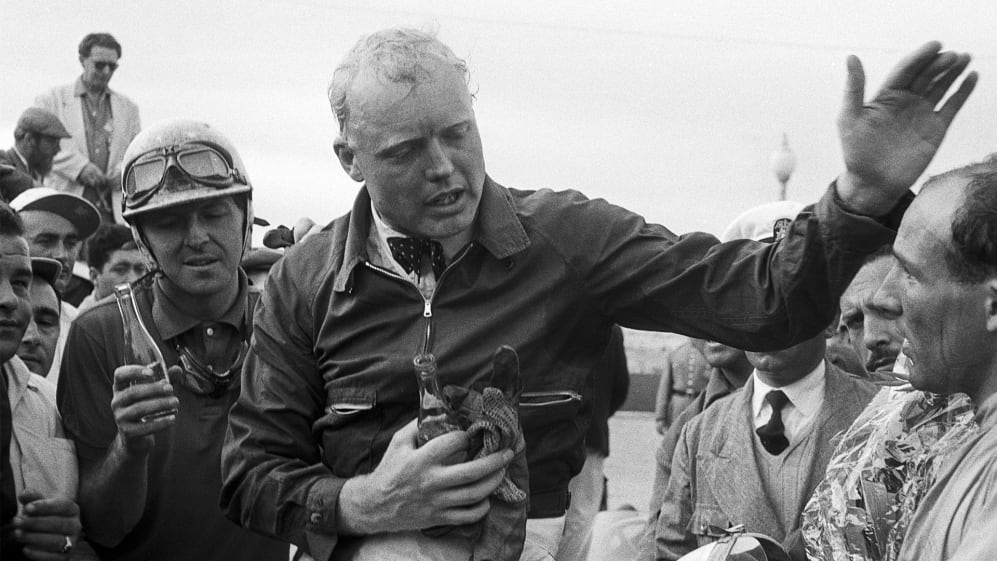 1968
CHAMPION: Graham Hill
The death of the legendary Jim Clark in April set the scene for an heroic fight to championship success by team mate Graham Hill.
In a season where all the leading runners had access to the Ford Cosworth V8, the shattered Lotus team experienced tremendous opposition from Matra, with Ken Tyrrell running Jackie Stewart, and McLaren with Bruce McLaren himself and Denny Hulme. Ferrari were also fast, as was upcoming Jochen Rindt in an unreliable Brabham Repco.
READ MORE: 9 thrilling title-deciding finales from F1 history
In one of the most competitive and open seasons, Lotus won the three opening races, courtesy of Jim in South Africa, then Graham in Spain and Monaco as he lifted the shattered team's spirits. Jackie, nursing a fractured scaphoid, won in Holland after running out of fuel in Belgium had handed the win to Bruce.
Then sophomore Jacky Ickx won for Ferrari in France, and Jo Siffert in Britain in Rob Walker's private Lotus, before Jackie won by more than four minutes in fog and rain at the Nurburging – a victory I elected as the greatest drive in F1 history. McLaren struck again in Italy and Canada, courtesy of title contender Hulme, before Jackie hit back in America. But a gripping finale in Mexico saw the victorious Hill crowned for the second time.
It was the year of wings, and the arrival of commercial advertising turned cars into colourful mobile billboards and offset the bleakness as safety concerns reached a new peak.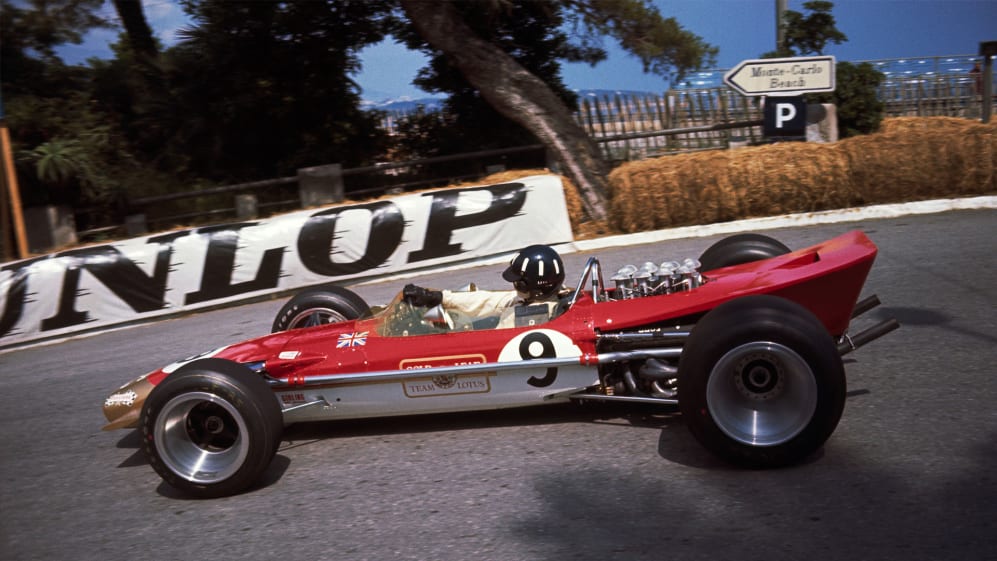 1976
CHAMPION: James Hunt
This was an old school season, Ferrari versus McLaren as upstart James Hunt went head-to-head with his mate, reigning champion Niki Lauda. Niki won the opening races in Brazil and South Africa but damaged his ribs in a tractor accident prior to Spain, where James won but was disqualified for a technical infringement.
Niki also won in Belgium and Monaco, James in France and Britain, before he also lost his home race on a sporting technicality and the win went to Niki. Then Niki had that fiery crash at the Nurburgring. He escaped with his life, and staged an abnormally brave recovery to return to finish fourth at Monza.
In Italy, as James was shabbily treated, Ronnie Peterson joined US GP West winner Clay Regazzoni, Swedish GP star Jody Scheckter and Austrian victor John Watson in the one-time success stakes.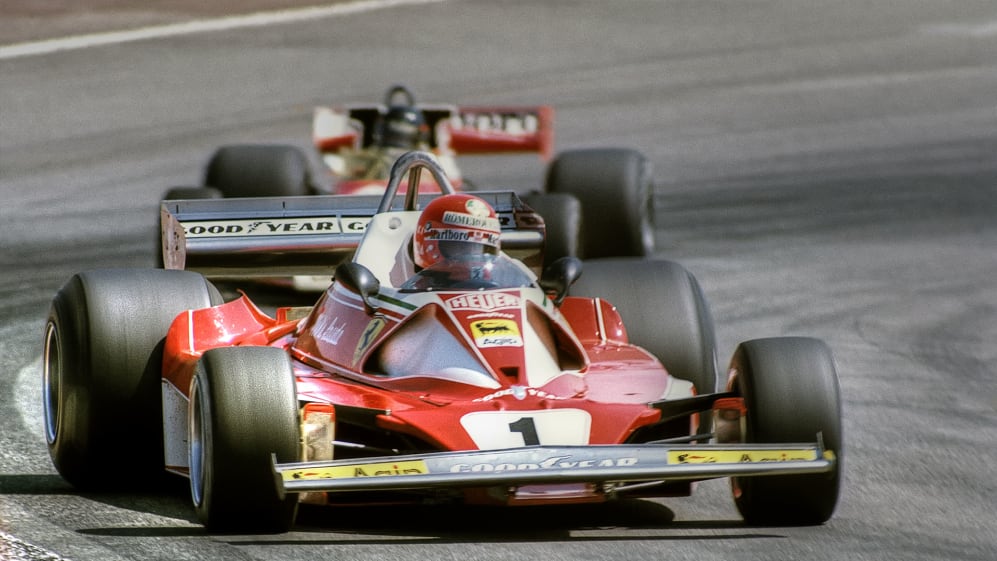 But the overturning of James's Spanish disqualification, victories in Germany and Holland, and others in Canada and America, put him in contention for the title and led to that spectacular final race in Fuji. He needed four points, and seemed to have it made when Niki pitted early to retire. Later, he told this writer the plan had been for everyone to do two laps then stop, but that James, like most others, had reneged on it as the adrenaline flowed.
READ MORE: 'He was like a ghost' – Remembering Niki Lauda's comeback from fiery Nurburgring crash, 45 years on
James' tyres were worn down to the canvas by changing conditions until one finally punctured and forced him to make a late stop, so Mario Andretti joined the 1976 one-win club with Lotus. Certain that he had finished fourth as he crossed the line, James launched into a tirade against team boss Teddy Mayer, who finally managed to convince the incensed Englishman that he had finished third, and was thus champion by a point. It was Hollywood at its very best – except that it really did happen, and it put F1 on the front pages of all the papers.
2008
CHAMPION: Lewis Hamilton
This choice could just as easily have been 2007 instead, but there was greater breadth of opposition this season, with seven drivers and five marques enjoying victories.
Ferrari wanted to prove that they could stay on top again, having pipped McLaren to the honours in 2007. And in Felipe Massa it had a driver in tremendous form.
PODCAST: Lewis Hamilton on how F1 has both built and broken him
McLaren were going all-out to erase the stigma of the Spygate Scandal and the loss of what would have been a sensational first-attempt championship for rookie Lewis Hamilton.
Then there was BMW Sauber with Robert Kubica, whom both Lewis and Fernando Alonso regarded very highly; Fernando himself back at Renault after his bruising year with Lewis chez McLaren; and the young Sebastian Vettel at Toro Rosso.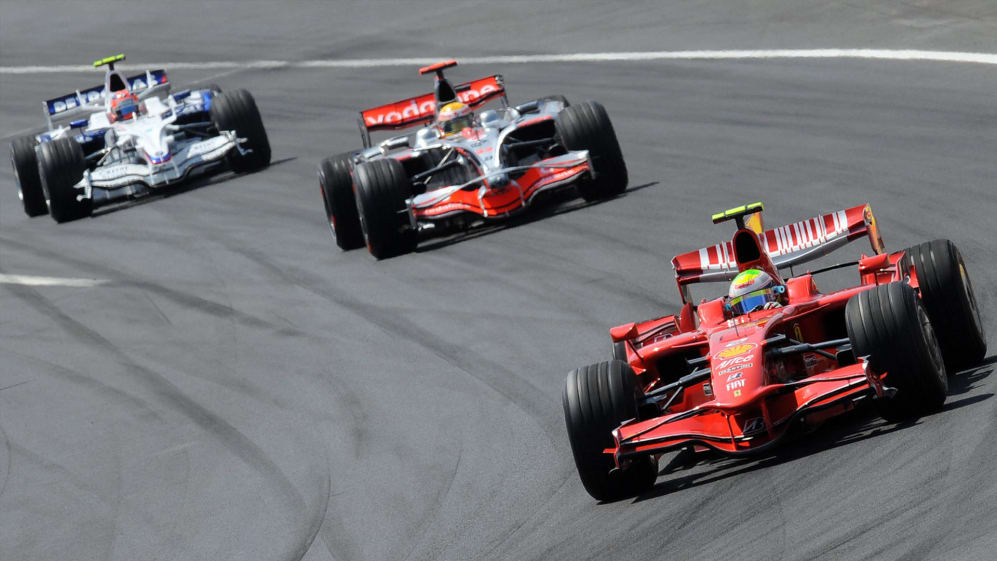 The power struggle between Ferrari and McLaren went back and forth all season, each finding some tracks suited them better than others. Lewis won in Australia, Monaco, Britain, Germany and China (and on the road in Belgium), and team mate Heikki Kovalainen took the honours in Hungary.
LISTEN: Felipe Massa on Brazil 2008, his life-threatening crash and more
Felipe won in Bahrain, Turkey, France, Europe, Belgium (where Lewis was dropped to third) and Brazil, and Kimi Raikkonen in Malaysia and Spain. But for half the season, Robert was a thorn in their sides, and won in Canada. Seb won superbly at Monza, while Fernando surprised in both Singapore and Japan.
In the end it came down to that mesmerising Brazilian race where the victorious Felipe was champion for 38 seconds, until Lewis crossed the line after claiming the fifth place he needed in the final corner… There was none of the acrimony there had been between Ferrari and McLaren in 2007, and at the end a young champion was crowned as his closest rival handled defeat with unmatched majesty.
2021
CHAMPION: Max Verstappen
All of these were great seasons – but so too was 2021.
What made it stand out so much was the aggressive intensity of the fight between Lewis and Max Verstappen. They were literally at one another's throats throughout, with the possible exception in Lewis' case of Monaco.
Regulation changes had played to Red Bull's strengths while Mercedes, by contrast, were on their back foot. That left the man who had dominated the turbo-hybrid formula since its inauguration in 2014 fighting, at 36, a highly talented and very hungry rival two-thirds his age.
WATCH: A quick-fire look at the 2021 season highlights, the year that delivered on drama
Their battle brought out the best in both of them, though it often got too close for comfort and they clashed several times. The finale ignited global fascination amid fears it might end the way that it had at Suzuka in 1990 with Ayrton Senna taking Alain Prost out, or in 1994 in Adelaide with Michael Schumacher doing likewise to Damon Hill, or Jerez in 1997 when he drove into Jacques Villeneuve.
But this time it was the final five laps which grabbed the headlines, after Lewis had for 53 laps seemed headed for a decisive victory and a record eighth World Championship.
However you view what happened thereafter, and the manner in which the tables were so brutally turned, it was perhaps an outcome wholly in keeping with a punchy and controversial season which was far removed in many ways from those mentioned previously.
READ MORE: How Hamilton and Verstappen's battle evolved over the 2021 season
For me, such a disputatious ending stops it being the best season ever. But it was undoubtedly one of the most spell-binding.