Feature
How far can McLaren go in 2020? 5 key talking points from their launch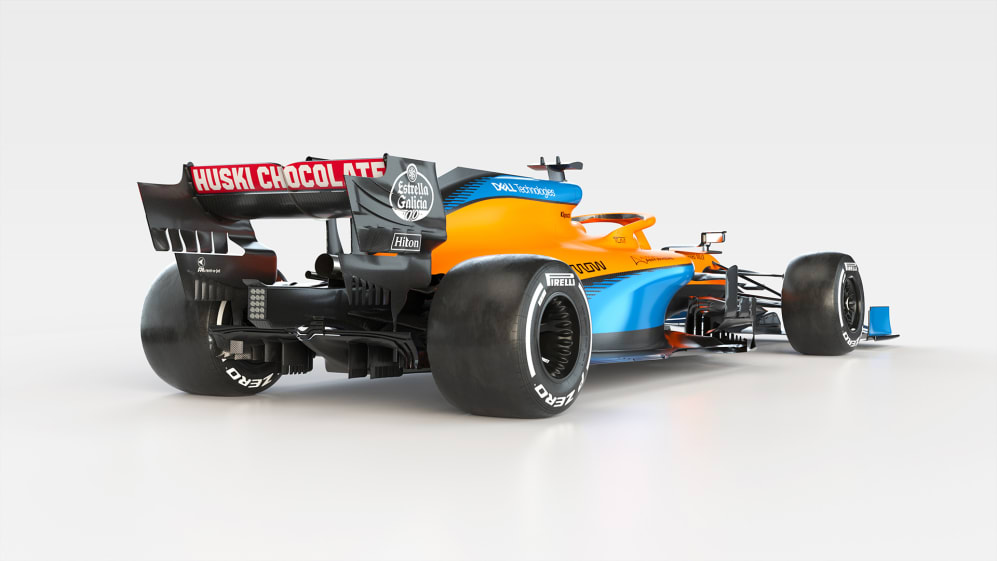 Ruthlessly efficient. That's how best to describe McLaren's car launch at their impressive facility in Woking. Fourth in the constructors' championship last year was far better than expected, so it's perhaps not surprising that, while they portrayed a confident and hopeful persona about their chances this year, it was balanced with a healthy dose of realism.  
The car was the star
McLaren didn't mess about when it came to unveiling their car. Within moments of the event beginning the car was rolled out onto the stage in all its glory, with their drivers Carlos Sainz and Lando Norris soon joining it.
Often it is unclear what spec of car a team unveils at their launch, but with McLaren this year, the MCL35 was the real deal. It broke cover for the first time internally on Wednesday, was revealed publicly the next day and within hours of the event finishing, the orange and blue machine was on its way to Barcelona in time for their filming day.
READ MORE: McLaren's MCL35 revealed as team prepare for 'intense' midfield battle in 2020  
While the livery retained papaya as its dominant colour, there was a greater use of blue across the car – particularly in the sidepod area – while the team have adopted a matte finish for the first time, following the trend set by Red Bull and Ferrari.  
Technical chief James Key said there were weight benefits to swapping to a matte look, which involved a combination of coatings. It's believed around two kilos of weight has been saved by the switch, allowing them more freedom to redistribute that weight to their advantage.
Optimistic but realistic
Having finished a brilliant fourth in 2019, McLaren could have taken the approach to set their sights on taking third in the constructors' in 2020. Sensibly, they have swerved such a tactic and instead are focused on closing the big gap to the top three – Mercedes, Ferrari and Red Bull – while keeping their midfield rivals behind.
RAPID REACTION: Our first take on McLaren's 2020 MCL35
You could see that as unambitious, but it's not. It's pragmatic. Beating Renault, a manufacturer with huge resource, again would be a huge feat. Close the gap on the top three, ahead of the next year's major regulation change, and it'll prove that the project is on the right path.  
Team Principal Andreas Seidl spoke about the need "not to get carried away" by what the team achieved last year. He described this year as a "reset" and added "there are lots of things that make us optimistic but at the same time we need to be realistic about it". It's an example of the calm and measured approach he has applied quickly, and with such success, since joining the outfit midway through last season.
The car looks fast
This is the first car that Technical Director James Key has really had a hand in – and that's clear from the little details from nose to tail. The MCL35 looks like a sharper, more refined version of its predecessor. Key described the MCL34 as the "father of the concept of this car".
READ MORE: 'It's my baby' – Norris and Sainz on how they helped shape the new McLaren
He also admitted a lot of time was spent analysing the weaknesses of last year's car, particularly in areas where the top teams like Mercedes, Ferrari and Red Bull appear to have a sizeable advantage over the rest of the field.  
Encouragingly, and perhaps bravely, they have pushed hard on the 2020 car to continue their momentum, rather than sacrificing this campaign in the hope of making a big step with the new regs in 2021. But that doesn't mean they aren't throwing everything at 2021. "We have a Plan A. You need a B and C as well," said Key. "It's a tough balance. We'll adjust it depending on where we are."
More of the same for Sainz
Last year was Carlos Sainz's best in Formula 1, the Spaniard finishing a brilliant sixth in the drivers' championship. The Spaniard revelled in his role as the most experienced driver in the team, and delivered a string of consistent performances across the season, including that remarkable debut podium in Brazil.  
At the launch, Sainz cut a very relaxed and mature figure. He spoke about how he's tweaked his training regime over the winter, switching his cardio work towards activities that combine cardio with thinking under pressure, such as squash and boxing, as he continues to push himself to be a better, stronger driver.  
The chances are, McLaren won't be in a position to challenge the big teams in terms of raw performance. But if they can be closer than last year and Sainz continues his rapid development, there could yet be more heady afternoons like Interlagos…
Norris is upping his game
It's remarkable to think Lando Norris is only entering his second year in Formula 1, so comfortable and assured does he look as a racing driver in the sport's top echelon. The Briton has developed a brilliant bromance with team mate Sainz – and he's admitted that has helped him get up to speed much more quickly.  
He's not afraid to have fun – you just have to look at his social media to see that – but he plans to rein that in a bit this year, not because he felt he wasn't focused enough last year, but because of the perception it gave.
READ MORE: Norris 'itching' to try 2020 McLaren MCL35
On the racing side, he admitted it took a while for him to stop being shy and speak up about what he really wanted because he was fearful of leading the team in the wrong direction. But with time and solid performances came confidence, and he feels like he's in a better place this year. He's even moved closer to McLaren, just three minutes and 20 seconds away (without breaking speed limits, he hastened to add) so he can spend more time at the factory and make himself and the team better. This could be a really great year for him.
Find out how you can watch 2020 pre-season testing live here