Feature
How the 2019 F1 drivers scored their first podiums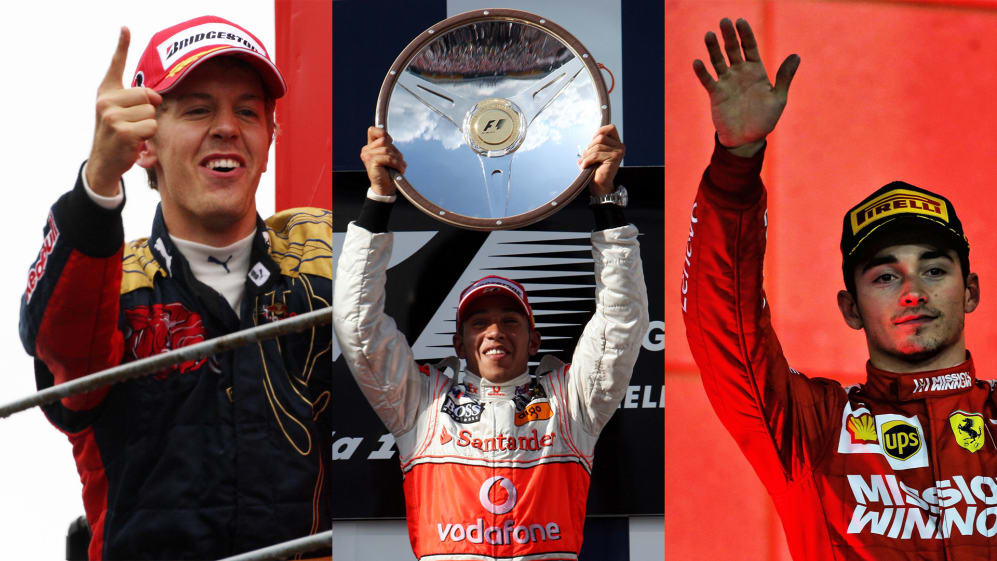 Fifteen drivers on the 2019 F1 grid have scored a podium result in their careers. For some it seems like an age since they did it. For others, it was only last week. We look back at how each clinched his first F1 podium, from stunning debuts for two men, to a 101-race wait for another...
Lewis Hamilton
Races into F1 career: 1
Australia 2007: 3rd, McLaren
In 2007, a certain 22-year-old rookie called Lewis Hamilton made an immediate impact on F1 in a McLaren that began the season-opening Australian Grand Prix fastest in FP1 – with team mate Fernando Alonso at the wheel. Alonso qualified on the front row, with Hamilton a quarter of a second off in P4. But Hamilton overtook the Spaniard through Turn 1, leading until the final pit stops when Alonso undercut him.
It was quite a debut – and a sign of things to come: Hamilton finished the next eight races on the podium with wins in Canada and the USA. And he kept Alonso on his toes throughout, forming one of the most heated rivalries in recent memory – finishing the season level on points with him and just one behind champion Kimi Raikkonen.
PODCAST: Aldo Costa on engineering Ferrari and Mercedes' F1 dominance
Valtteri Bottas
Races into F1 career: 27
Austria 2014: 3rd, Williams
The new hybrid era brought F1 back to Austria's Spielberg circuit for the first time in 11 years in 2014, and Williams' Valtteri Bottas showed the strength of his team's FW36 by qualifying second and giving chase to team mate Felipe Massa. But Massa's rear tyres couldn't last and he had to pit early, handing the lead to the Mercedes of Nico Rosberg, with whom Bottas tried in vain to keep up. The Finn was also undercut by the sister car of Lewis Hamilton, but he had had shown his mettle by finishing third, nine seconds ahead of the experienced Massa, to stand proudly on the other side of his future team mate.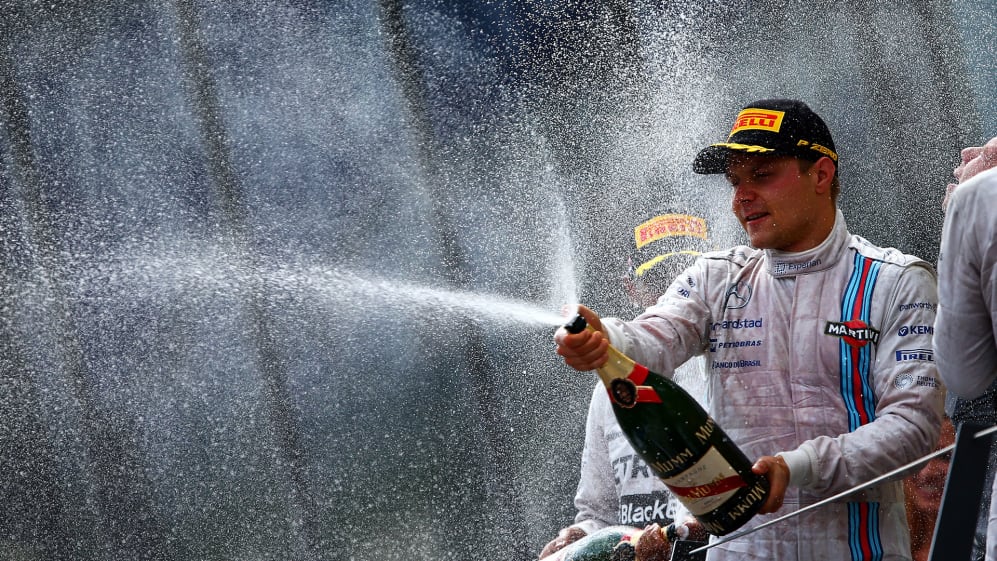 Sebastian Vettel
Races into F1 career: 22
Italy 2008: 1st, Toro Rosso
When it rains, it pours, and boy did it pour in 2008 for the Italian Grand Prix. Toro Rosso had qualified no better than P6 all season, yet the 21-year-old Sebastian Vettel – equipped with extreme-wet tyres rather than the standard wets – took his STR3 around Monza with relative ease, taking a shock pole as more experienced rivals aquaplaned off.
Who would have expected him to stay there on Sunday? The wet race began under the Safety Car and Vettel stormed away, everybody shocked as he took his, and Toro Rosso's first F1 victory ahead of McLaren's Heikki Kovalainen and BMW Sauber's Robert Kubica.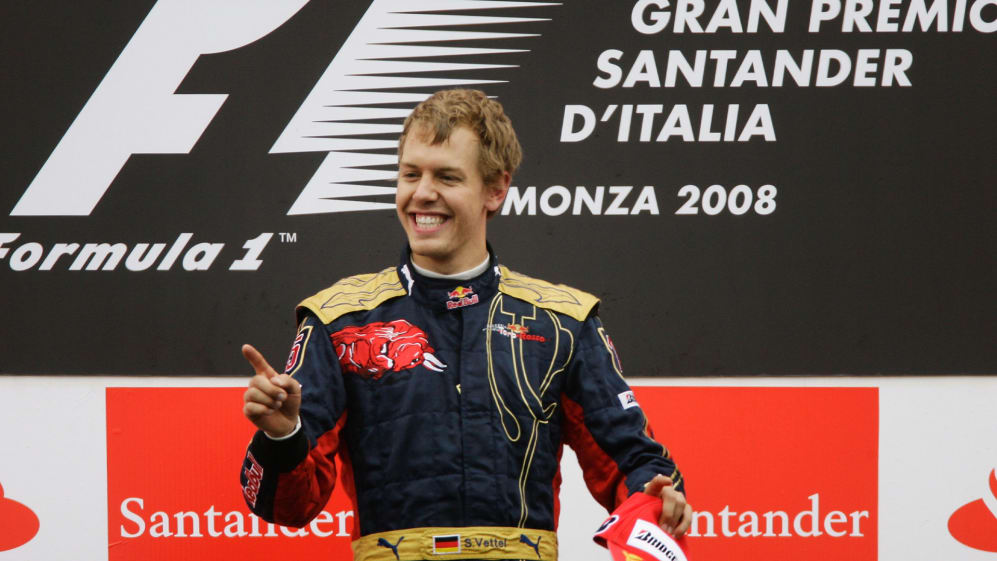 Charles Leclerc
Races into F1 career: 23
Bahrain 2019: 3rd, Ferrari
The first race of 2019 in Australia had been a massive disappointment for Ferrari - who'd excelled in pre-season testing - and their exciting new signing Charles Leclerc. He finished fifth there. Then we were treated to his first pole position in Bahrain. The scarlet cars led off the line, but Leclerc lost out to team mate Sebastian Vettel and Mercedes' Lewis Hamilton on the first lap, only to claw the positions back by lap six. As Vettel spun and damaged his front wing a few laps later, Leclerc was out in front with Hamilton in tow. Cue more disappointment for Ferrari: with less than 10 laps left, Leclerc complained of engine issues and Hamilton swept past with ease, with Valtteri Bottas repeating the move on lap 54. It was a first podium, but it should have been a win for Leclerc.
READ MORE: 'Public pressure' contributed to Gasly losing Red Bull seat – Horner
Max Verstappen
Races into F1 career: 24
Spain 2016: 1st, Red Bull
Mercedes looked to have the 2016 Spanish Grand Prix sorted as Nico Rosberg and Lewis Hamilton led the field away for an inevitable one-two. And then they collided, with Verstappen behind, the Dutchman in his very first race for Red Bull, having been called up from Toro Rosso at the expense of Daniil Kvyat. Verstappen completed a two-stop strategy to keep Ferrari's Kimi Raikkonen – who had raced against his dad Jos Verstappen – at bay by just 0.616s at the flag. It was the first time a Dutchman had won a Grand Prix, and Verstappen became the youngest winner of a GP at 18 years and 228 days old.
Carlos Sainz
Races into F1 career: 101
Brazil 2019: 3rd, McLaren
Spaniard Carlos Sainz wasn't actually part of the podium ceremony following the 2019 Brazilian Grand Prix, as Lewis Hamilton finished third on the road. Then the reigning champion's five-second penalty for a clash with Red Bull's Alex Albon gave Sainz P3 hours after the race. For McLaren it ended a wait of more than 2,000 days since the team's last podium. Sainz had started 20th due to an engine issue in qualifying. He swept past the Williams early on, with the Renaults and Racing Points next on his list. Then came two Safety Car periods, the first due to Valtteri Bottas's retirement and the second after a collision between the Ferraris that put both scarlet cars out. Sainz played things to perfection to finish fourth, and then came the stewards' decision…
LONG READ: The Rise, Fall and Redemption of Pierre Gasly
Pierre Gasly
Races into F1 career: 46
Brazil 2019: 2nd, Toro Rosso
Toro Rosso's Pierre Gasly hadn't had the greatest season before this race, having been demoted from Red Bull halfway through the year. Yet he kept his chin up, starting sixth for the 2019 Brazilian GP and weaving his way past Valtteri Bottas's static Mercedes, the stricken Ferraris, and the Alex Albon/Lewis Hamilton collision. Then came a drag race to the line, surely one of 2019's iconic moments, where he squeezed Hamilton's Mercedes to the inside of that sloping start-finish straight and clinched second place by just 0.062s. A triumph for Gasly and for Honda, both of whom have had their fair share of adversity in F1 of late.
Daniil Kvyat
Races into F1 career: 28
Hungary 2015: 2nd, Red Bull
The drivers on the grid for the 2015 Hungarian Grand Prix were racing for Jules Bianchi, who died the week prior to the race. The poignant minute's silence gave way to an incredible contest.
Starting seventh, Red Bull's Daniil Kvyat lost out to Force India's Nico Hulkenberg early on and then to his team mate Daniel Ricciardo a few laps later. When Hulkenberg's front wing snapped and the Safety Car came out on lap 42, Kvyat was in P7. On the restart, Hamilton and Ricciardo collided and Kvyat jumped to P5, taking another place as Kimi Raikkonen retired his Ferrari. Late on, Ricciardo and Nico Rosberg tangled, with Kvyat thrust into P2 behind winner Sebastian Vettel. Even with a 10-second penalty for leaving the track and gaining an advantage, Kvyat retained second place ahead of Ricciardo.
Daniel Ricciardo
Races into F1 career: 55
Spain 2014: 3rd, Red Bull
Fresh-faced Australian Daniel Ricciardo had been promoted from Toro Rosso to Red Bull for 2014, but his season started badly with a disqualification at home and a DNF in Malaysia. Then came Spain, where he qualified third – though it looked like a podium wasn't on the cards when Williams' Valtteri Bottas overtook him at the start. But Red Bull elected to undercut Bottas and when the Finn stopped, he emerged far behind Ricciardo who successfully nursed his tyres to third place. It was actually the second time Ricciardo had stood on the podium, but his first podium classification: that aforementioned disqualification in Melbourne - for a fuel-flow illegality on his car - came after he'd crossed the line in second place.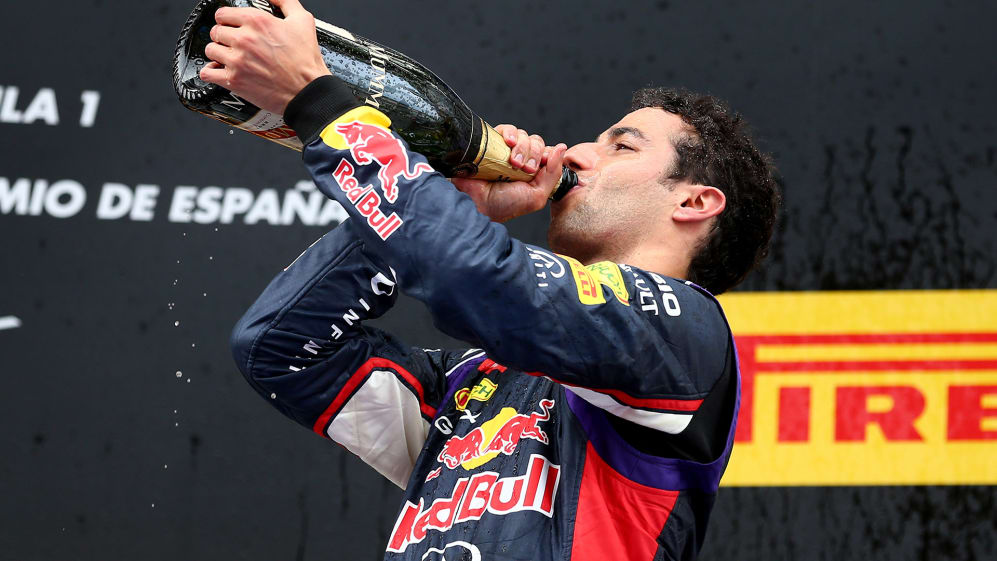 Sergio Perez
Races into F1 career: 19
Malaysia 2012: 2nd, Sauber
Sergio Perez could have taken a shock win for Sauber in the 2012 Malaysian Grand Prix. That's how unpredictable this race was. A torrential downpour – as is customary at Sepang – stopped things early on and Ferrari's Fernando Alonso built a lead on the restart, with Perez in tow after taking on wet tyres over his rivals' choice of intermediates at the start. Favourites Red Bull and McLaren struggled in the wet and it was a fight to the finish between Ferrari and their customer team Sauber. Late on, Alonso pitted for hard tyres and Perez chose mediums. The Mexican very nearly closed in on the Spaniard, but a late mistake cost him a shot at victory. Yet the podium was a huge coup for Sauber, and, given the Ferrari's poor pace that season, the win was just as significant for the Scuderia and Alonso.
READ MORE: 5 Reasons We Love... The Abu Dhabi Grand Prix
Lance Stroll
Races into F1 career: 8
Azerbaijan 2017: 3rd, Williams
After seven races with Williams, Lance Stroll had retired four times and scored only two points. Then came the 2017 Azerbaijan Grand Prix, where things got heated between Sebastian Vettel and Lewis Hamilton under a lengthy Safety Car period. Stroll started eighth behind both Force Indias – who then collided, with Ferrari's Kimi Raikkonen taking a hit too – and when the race restarted on lap 23, he was third. Daniel Ricciardo quickly overtook him but Stroll continued in the podium places as Vettel and Hamilton were out of the running – and he nearly finished second but for Valtteri Bottas's last-lap pass on him that put the Canadian third in only his eighth Grand Prix.
Kimi Raikkonen
Races into F1 career: 17
Australia 2002: 3rd, McLaren
Way back in 2001, Sauber had spotted the raw talent of 21-year-old Kimi Raikkonen – and F1 was made all the richer for it. Oh yes, and a certain Fernando Alonso started out with Minardi. Back to Raikkonen, who impressed by finishing 10th in the championship and swiftly moved to McLaren the next season alongside David Coulthard. The opening 2002 Australian GP was a race of attrition, with 14 retirees. Raikkonen was 11th after the Lap 5 Safety Car restart and weaved his way through the field, up to fourth by lap 10 when another Safety Car came out thanks to Jarno Trulli's stricken Renault. Coulthard then retired, promoting Raikkonen to P3 and he cruised home behind race winner Michael Schumacher and runner-up Juan-Pablo Montoya.
Romain Grosjean
Races into F1 career: 11
Bahrain 2012: 3rd, Lotus
In his first full F1 season, Romain Grosjean started with a bang – colliding with Pastor Maldonado in Australia – but at Round 4 in Bahrain he out-qualified team mate Kimi Raikkonen for the second time. The 2012 Lotus E20 looked resplendent in black and gold, but the pair were set to start behind the faster Red Bulls, McLarens and even Daniel Ricciardo's Toro Rosso. Grosjean had an excellent start around the outside of Nico Rosberg and Jenson Button. A few laps later he DRS'd his way past Mark Webber and then Lewis Hamilton, who later had a slow pit stop that cost him a podium. Grosjean continued, and though Raikkonen swept past on newer tyres midway through the race, both Lotuses finished on the podium behind Red Bull's Sebastian Vettel. Grosjean's maiden podium was the first for a French driver since Jean Alesi's in the 1998 Belgian GP.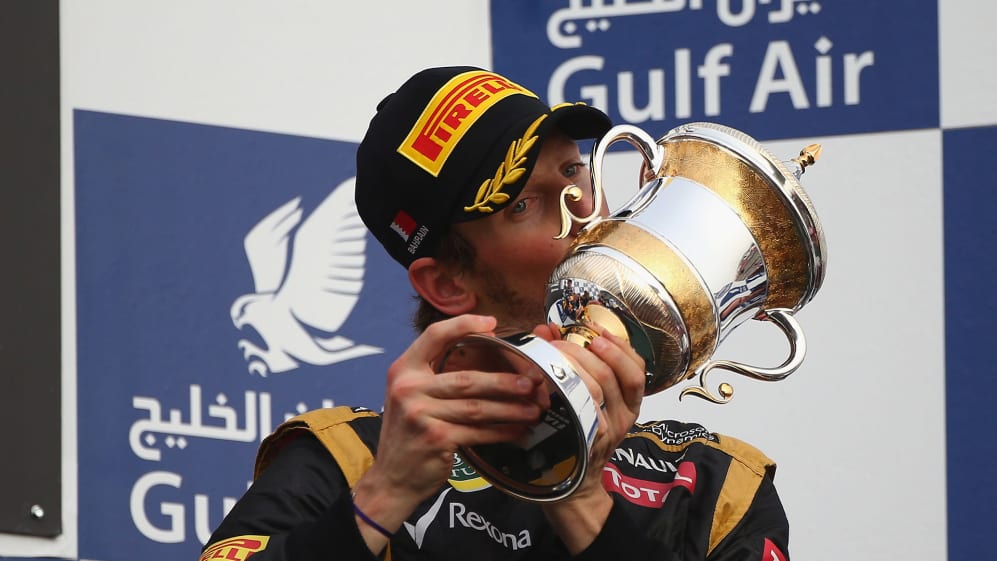 Kevin Magnussen
Races into F1 career: 1
Australia 2014: 2nd, McLaren
Thrust from Formula Renault 3.5 to Formula 1 in 2014, Danish driver Kevin Magnussen replaced Sergio Perez at McLaren, who'd looked solid – if quite not Mercedes-solid – in pre-season testing. When the championship began at Albert Park for the Australian GP, Magnussen qualified a brilliant fourth after the rain came down in Q3. In the race, pole sitter Lewis Hamilton had an engine problem that dropped him down and Magnussen capitalised, snatching the final podium spot – with Daniel Ricciardo just two seconds ahead – on his debut. Ricciardo was later disqualified, which put Magnussen second and made him the first Danish driver to secure a Formula 1 podium. Little did we know that it would be McLaren's last podium until Carlos Sainz's triumph in the 2019 Brazilian GP.
READ MORE: 11 things that happened in F1 between McLaren's 2014 and 2019 podiums
Robert Kubica
Races into F1 career: 3
Italy 2006: 3rd, Sauber
Having dominated the 2005 World Series by Renault, Robert Kubica was rightly deemed a special talent and snapped up to test for Sauber in 2006. When Jacques Villeneuve pulled out after an accident in the German GP, Kubica stepped in to become F1's first Polish driver and duly out-qualified team mate Nick Heidfeld on his debut. Two races later he qualified sixth in Italy and by the end of the first lap at Monza, Kubica was up to third at the expense of Jenson Button and Felipe Massa. And he stayed there, frustrating Massa throughout to clinch his first podium in only his third Grand Prix. Michael Schumacher won and announced his retirement after the race, which somewhat stole the spotlight from Kubica's triumph. But when the dust settled it seemed that Kubica would one day find himself in the realm of Schumacher. He'd made his impact on F1. Now we're left wondering what might have been.
READ MORE: Kubica proud to have defied critics who questioned his limitations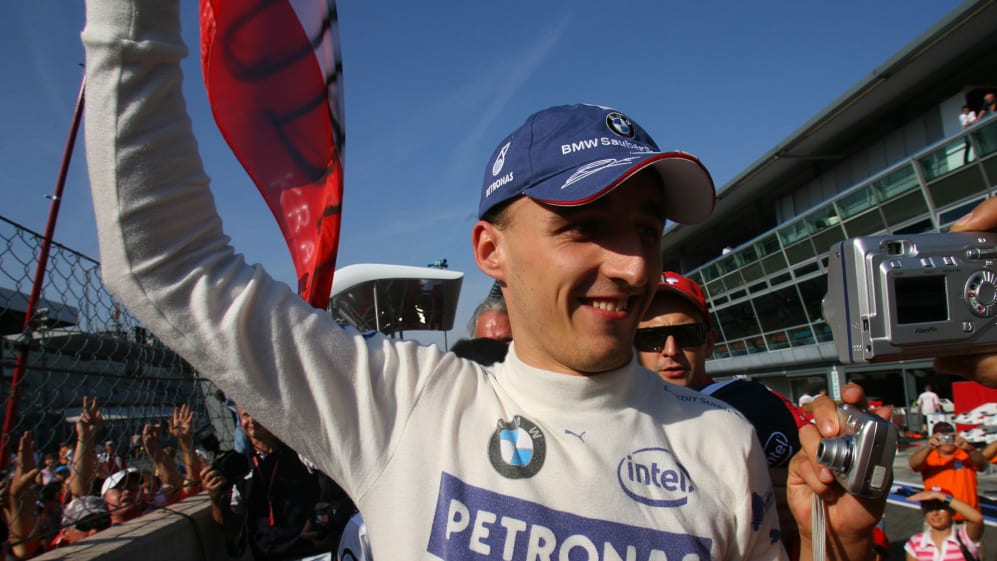 Close but no cigar?
So what of the other five men on the 2019 grid? Here's a quick summary of how close they've come to stepping onto that elusive podium – and no prizes for guessing the most frustrated man in F1...
Nico Hulkenberg
GP started: 176
Best result: 4th (x3)
Antonio Giovinazzi
GP started: 22
Best result: 5th
Alex Albon
GP started: 20
Best result: 4th
Lando Norris
GP started: 20
Best result: 6th (x2)
George Russell
GP started: 20
Best result: 11th