Feature
Hungary 1998: How a classic Schumacher/Brawn gamble snatched victory from McLaren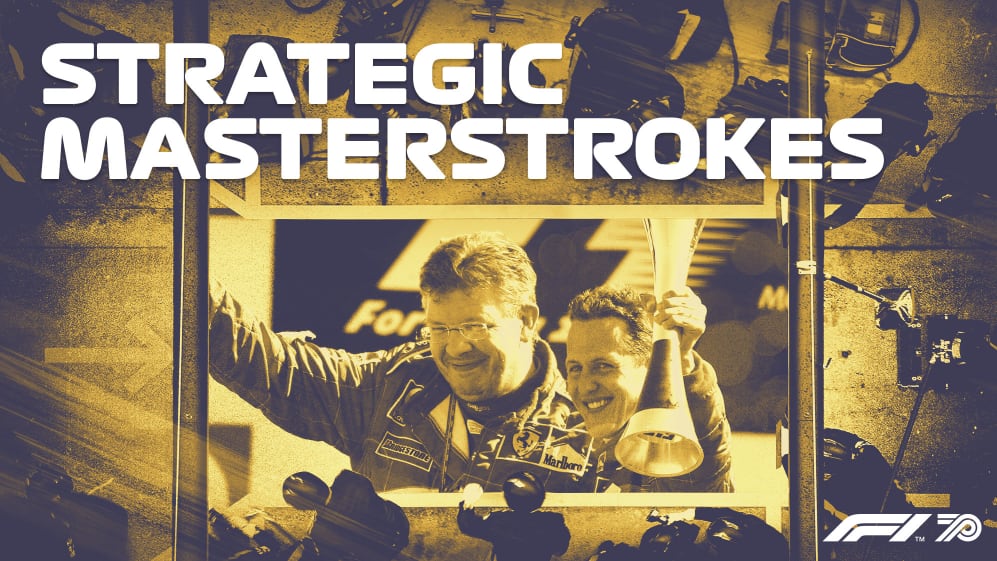 Michael Schumacher had tasted championship success with Benetton in 1994 and '95, and moved to Ferrari in '96 to try to end the Scuderia's title drought. After going close in 1997, Schumacher was battling McLaren's Mika Hakkinen in '98 when the German managed to pull off an audacious win at the Hungaroring thanks to a trademark strategy call from Ferrari's tech chief Ross Brawn. Mark Hughes looks at how they did it...
"Michael, you have 19 laps to pull out 25 seconds. We need 19 qualifying laps from you."
"Ok. Thank you."
It was perhaps the most famous radio conversation in F1 history (with the possible exception of 'Fernando is faster than you'), and it revolved around a great strategy gamble by Ferrari's technical director Ross Brawn, which helped Michael Schumacher win the 1998 Hungarian Grand Prix.
READ MORE: Hamilton or Schumacher? Brawn weighs in on 'greatest' debate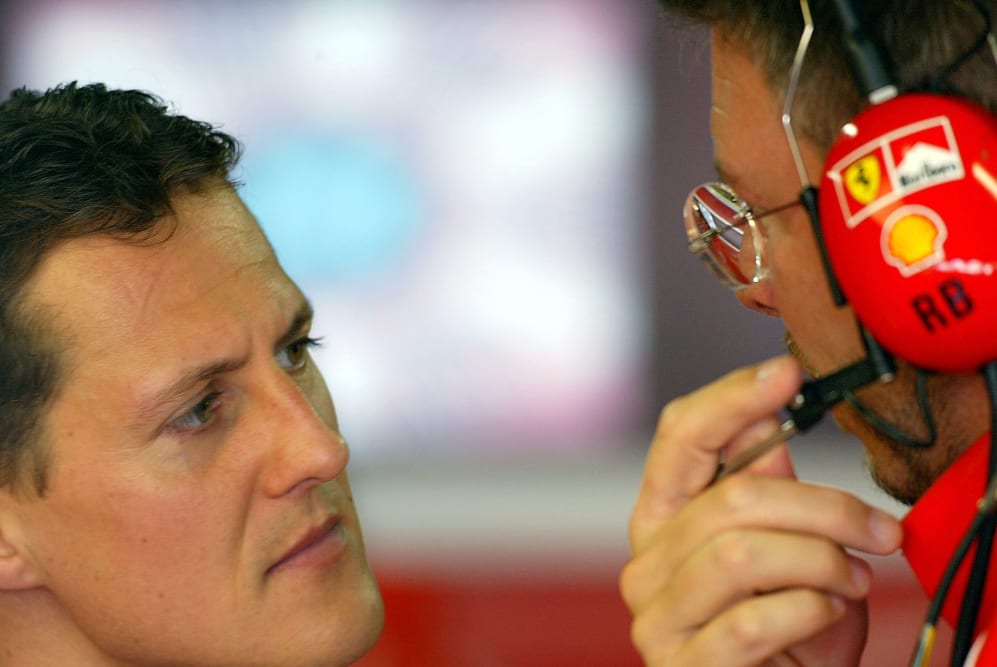 Having been out-qualified by the McLarens of Mika Hakkinen and David Coulthard, and finding himself stuck behind them in the first stint of the race around a track where overtaking is notoriously difficult, the only hope Schumacher had of beating them was a different strategy.
Ordinarily, this was expected to be a two-stop race. But Brawn – with nothing to lose, so big was Schumacher's gap over the fourth place – decided to throw the dice for a three-stop as the first stops approached.
READ MORE: How Ferrari stole victory from Renault with a secret 4-stop plan, France, 2004
Schumacher pitted from just behind Coulthard on the 25th lap. Although Brawn had already taken the decision this was to be a three-stop race for them, it was important not to alert McLaren to the fact too early – and so Schumacher was fuelled for a standard length second stint.
This caused him to rejoin just behind the much slower Williams of Jacques Villeneuve, set to stay out for another six laps yet and costing Schumacher a lot of time.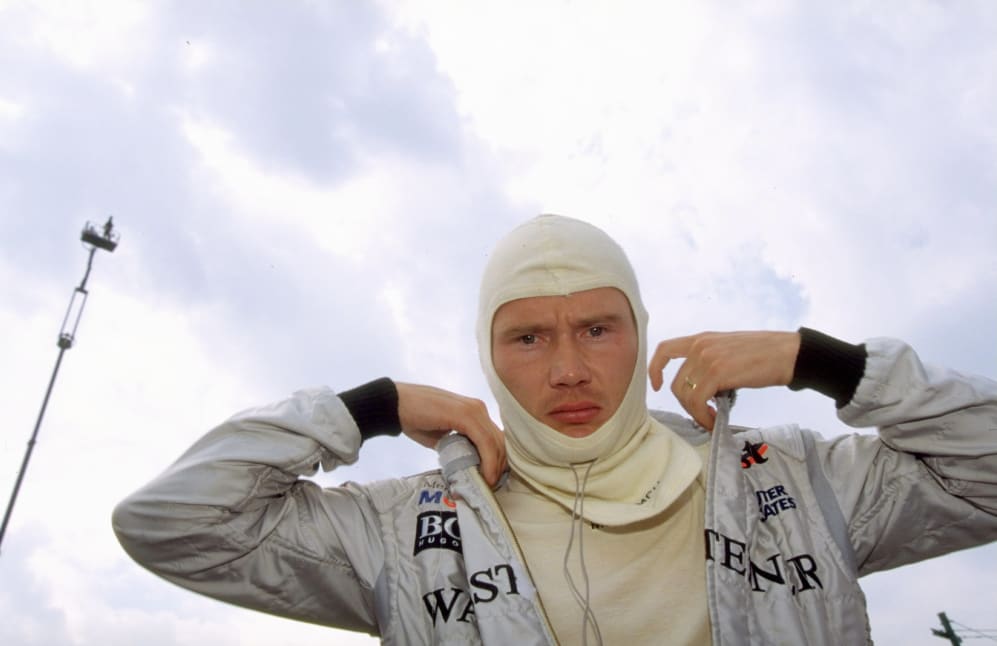 McLaren brought Coulthard in the lap after Schumacher – and he rejoined just in front of Villeneuve. As Villeneuve stayed out there, slowing Schumacher by up to 2s per lap, Coulthard pulled clear and this just further solidified Brawn's thinking about the switch to a three-stop.
Hakkinen pitted two laps after Coulthard and rejoined still leading. By the time Villeneuve pitted out of Schumacher's way on the 31st lap, the Ferrari was 7.4s adrift of leader Hakkinen.
PODCAST: Mika Hakkinen on Schumacher, Senna and recovery from injury
Schumacher set about closing that gap down and reeled off a series of super-fast laps – around 0.6s faster than anything the McLaren drivers had been doing. This too was good data for Brawn, for it suggested that in race trim, thanks to its better use of the tyres, the Ferrari was actually quicker than the McLarens despite having been out-qualified by them. And, in turn, this made the three-stop yet-more feasible.
By the 35th lap Schumacher had the deficit to Hakkinen down to just 3.6s, which put him right on Coulthard's tail once more. But still unable to pass.
Hakkinen didn't pull out a significant gap on Coulthard/Schumacher at this time, which – had McLaren suspected anything of the Ferrari three-stop plan – he might have been able to do.
READ MORE: Moss bluffs his way to victory – and ushers in new era, Argentina, 1958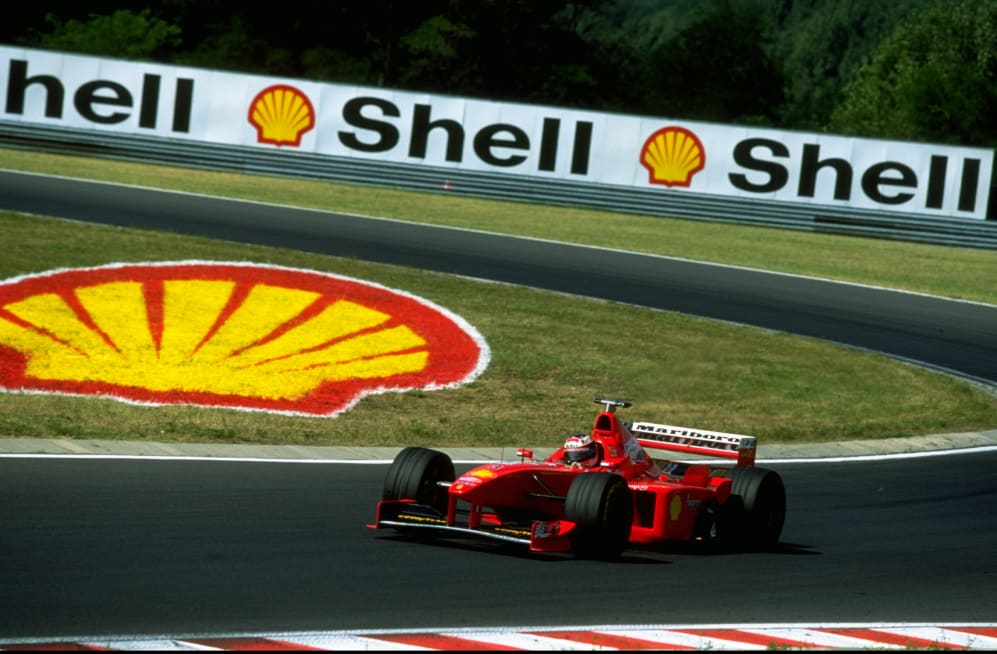 At the end of the 43rd lap, Schumacher was brought in for his second stop. A stationary time of just 6.8s finally revealed the three-stop plan to McLaren. This was when Brawn laid out his famous request to his driver. Schumacher's "thank you" hinted at the apparent impossibility of the task that faced him.
At this point McLaren might have switched Hakkinen to a matching three-stop and just used their track position advantage. Instead, they stuck with their two-stop plan, reasoning that Schumacher wouldn't be able to make up the extra 25s needed for an additional stop.
READ MORE: Top 10 Moments of Michael Schumacher brilliance
Coulthard followed in the lap after Schumacher but in being fuelled to the end, the longer stop time ensured he rejoined now behind the Ferrari. Hakkinen stopped two laps after DC and, thanks to indifferent pace towards the end of his stint, Schumacher's dazzling series of laps in response to Brawn's instructions – and the longer stationary time for Hakkinen to take on enough fuel to get to the end, the McLaren rejoined now behind the Ferrari for the first time.
With the tasks laid bare for both teams now, surely Hakkinen would have the pace not to allow Schumacher to build up those 19s over the next 22 laps?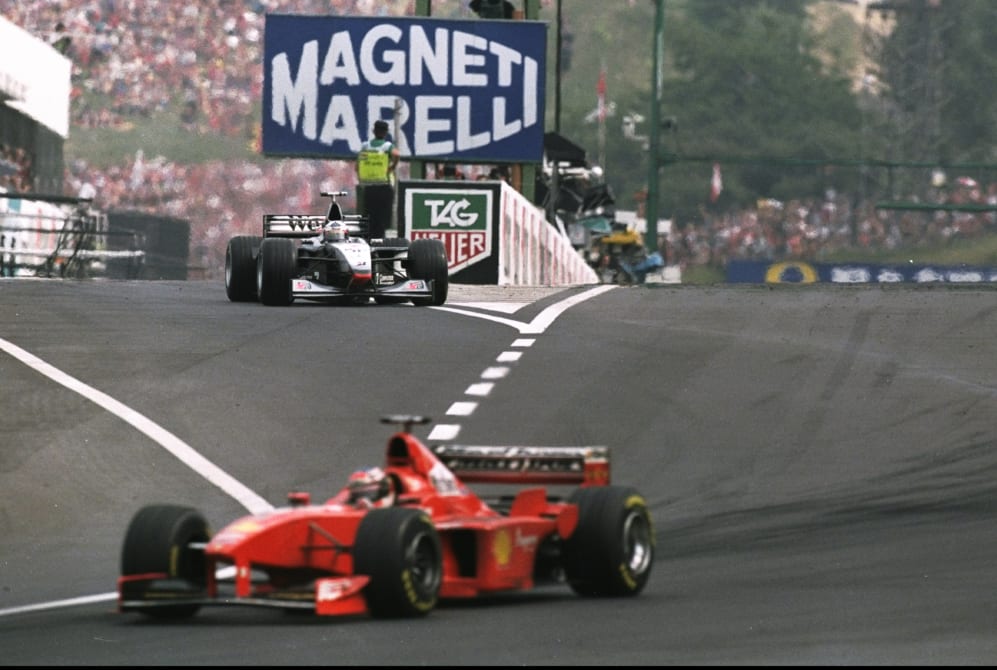 Except, no, he didn't.
What was not known by the watching world at this point was that Hakkinen's car had developed a serious handling problem. A disconnected front anti-roll bar was randomly jamming the suspension's pushrod, giving the car extremely unpredictable behaviour.
Hakkinen's pace steadily dropped off – and soon he was holding up team mate Coulthard quite badly. It was by now obvious that Coulthard was McLaren's main hope of preventing Schumacher from getting that vital 25s advantage, but McLaren took a further six laps to instruct Hakkinen to move aside.
PODCAST: David Coulthard on the highs and lows of 26 years in the F1 fast lane
That lost Coulthard at least 6 of those 25s, maybe more. By the time the McLarens swopped positions on lap 52, DC was almost 11s behind Schumacher – who was fuelled for another 10 laps yet. That still left Schumacher needing to make up 14s in 10 laps. Surely Coulthard could go quick enough to prevent that?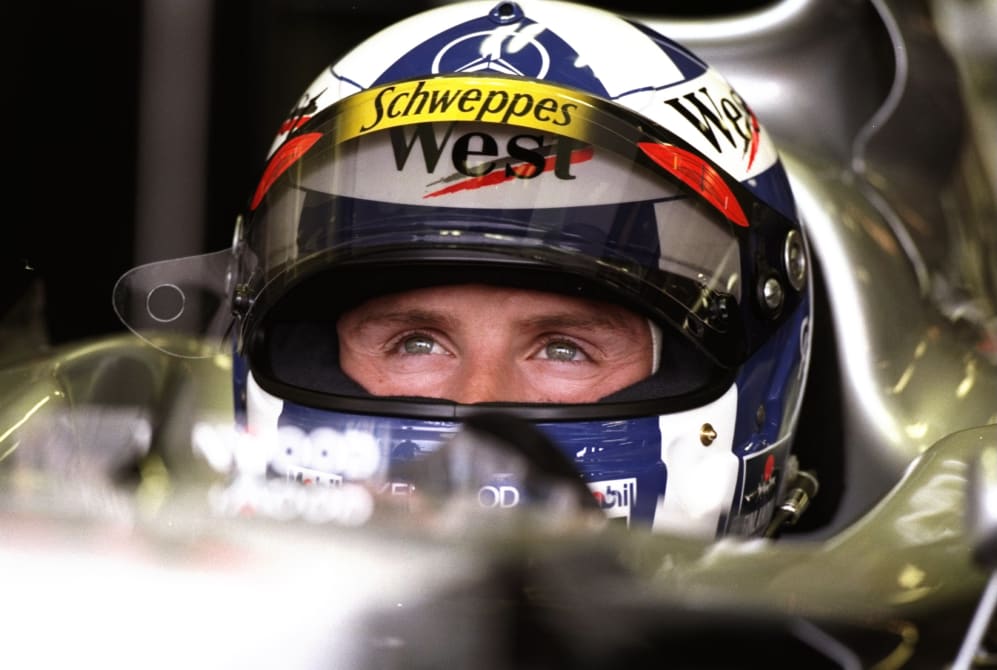 Again, that wasn't the case. For three reasons: 1) Schumacher was setting an extraordinary pace; 2) Coulthard was loaded with 30kg more fuel than Schumacher; 3) Coulthard was finding that the softer tyre he'd chosen wasn't working well in the hot conditions. "I couldn't go as quick after my second stop as I had before," he said.
"We seemed to hit a brick wall with the tyre. Once I got on a clear track I was not quick enough."
That's the way it was as Schumacher did one qualifying-style lap after another and DC came up against his 'brick wall' of speed. However, on the very lap that the McLarens had swapped positions, Schumacher had briefly left the track.
READ MORE: Jordan insider explains real reason Frentzen retired from the '99 European GP
He rejoined without damage but the incident cost him around 5s – thereby at least partly negating the time Coulthard had lost behind Hakkinen.
So just how did Schumacher find those 14s (and more, as it turned out) in the following 10 laps? And just how fast was he going?
Below is a comparison of the laps between Schumacher and Coulthard in that crucial period from lap 52 to Schumacher's lap 62 stop.
Schumacher vs Coulthard, Lap 52 to Lap 62
| Lap | Schumacher's time | Coulthard's time | Gap |
| --- | --- | --- | --- |
| 52 | 1m25.8s (off) | 1m23.6s | 11s |
| 53 | 1m20.7s | 1m23.7s | 14s |
| 54 | 1m19.9s | 1m21.9s | 16s |
| 55 | 1m21.0s | 1m21.2s | 16.2s |
| 56 | 1m20.2s | 1m21.5s | 17.6s |
| 57 | 1m20.1s | 1m21.4s | 18.8s |
| 58 | 1m19.6s | 1m22.2s | 21.4s |
| 59 | 1m20.0s | 1m21.7s | 23.1s |
| 60 | 1m19.3s | 1m21.1s | 25s |
| 61 | 1m19.5s | 1m20.5s | 26.9s |
Some of that pace difference was down to Schumacher's much lower three-stopping fuel load. Assuming they were each almost equally empty when they made their second stops on laps 43 and 44, Schumacher was fuelled to run only for 19 laps. Coulthard was fuelled to run for 33 laps.
Given the fuel consumption of the V10s of the time, that would represent a fuel weight of around 40kg for the Ferrari, and around 70kg for the McLaren.
F1 REWIND: Watch Johnny Herbert's incredible '99 European GP win in full
Around the Hungaroring each 10kg would cost around 0.365s. The 30kg weight difference in fuel between the two cars would therefore be worth around 1.1s.
But Schumacher made up an average of 1.8s per lap on Coulthard in those crucial 10 laps, so around 0.7s per lap more than be accounted for by the fuel load.
It later emerged that there'd been an error at Coulthard's stop and more fuel than intended had been put in – but not anything like as much to account for those 0.7s.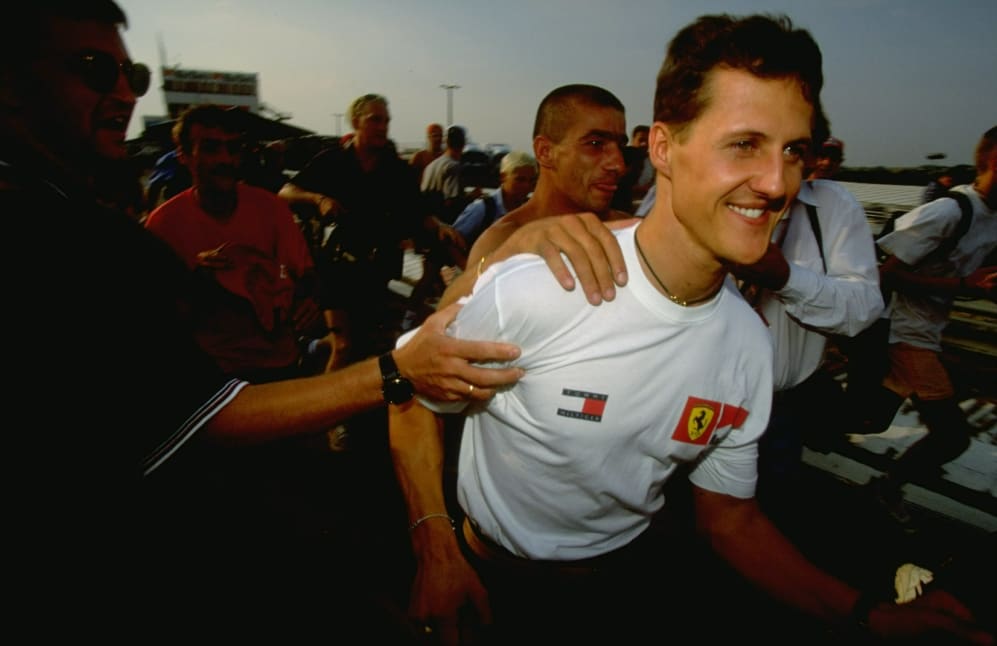 As Coulthard explained, the soft tyres used for his final stint did not work well in the heat. The hards chosen by Ferrari and Schumacher worked just fine.
That accounts for some of the difference. But surely the performance of Schumacher let off the leash played a crucial part too.
The Ferrari had qualified almost 0.4s slower than Hakkinen's pole time, with Coulthard about mid-way between them. On near-empty tanks and brand new soft tyres which had a 'golden lap' within them when brand new worth over 1s, Schumacher's qualifying lap took 1m 17.366s (a full 1s quicker than the sister car of Eddie Irvine).
READ MORE: Do you remember... Schumacher's stunning Malaysia comeback, 1999
In comparing that time to those he was setting in his race-winning penultimate stint, we need to allow for the initial 40kg of fuel (worth 1.46s) and the absence of the 1s boost of the brand new tyres golden lap.
So around 2.5s needs to be added to give an equivalent quality of lap qualifying to race stint. Which works out at around 1m 19.9s.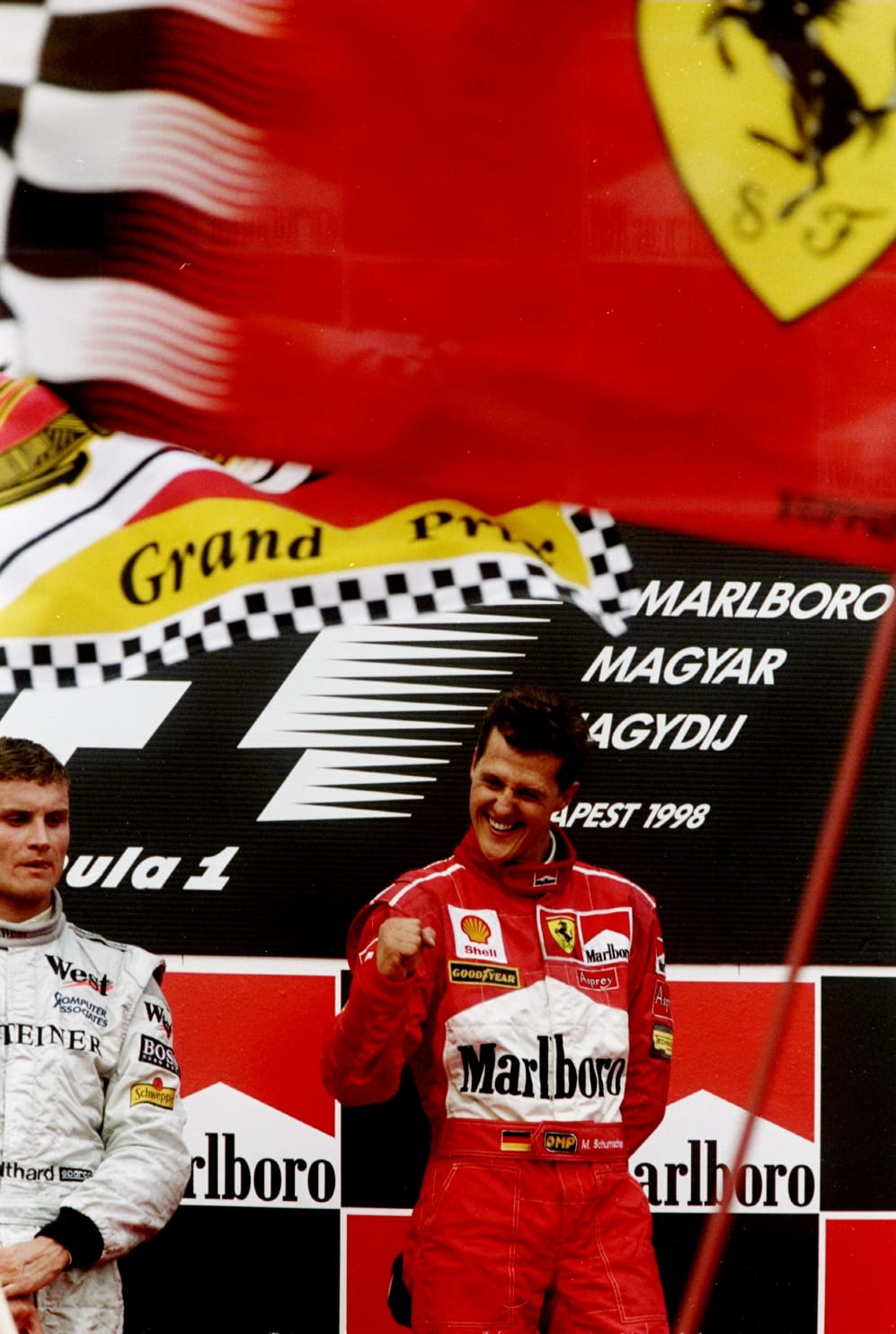 As the fuel load is reducing in the stint, the tyre performance is worsening.
At the Hungaroring, at the time, the two factors generally cancelled each other out. If we accept that a Schumacher qualifying-equivalent lap in this stint was a 1m 19.9s, we can see that in those vital last 10 laps of the stint, he was at or under that time in four of the laps – one of them by a margin of 0.6s.
READ MORE: Honda loyalty prevented Senna joining Williams for 1992, reveals manager in latest F1 podcast
In others he was finding his way around lapped traffic. Schumacher had indeed driven a whole stint at qualifying levels of commitment – and it was this, together with the McLaren troubles, that allowed Brawn's strategy gamble to work.