Feature
Did Bottas really compromise his qualifying in Sochi to ensure Russian GP victory?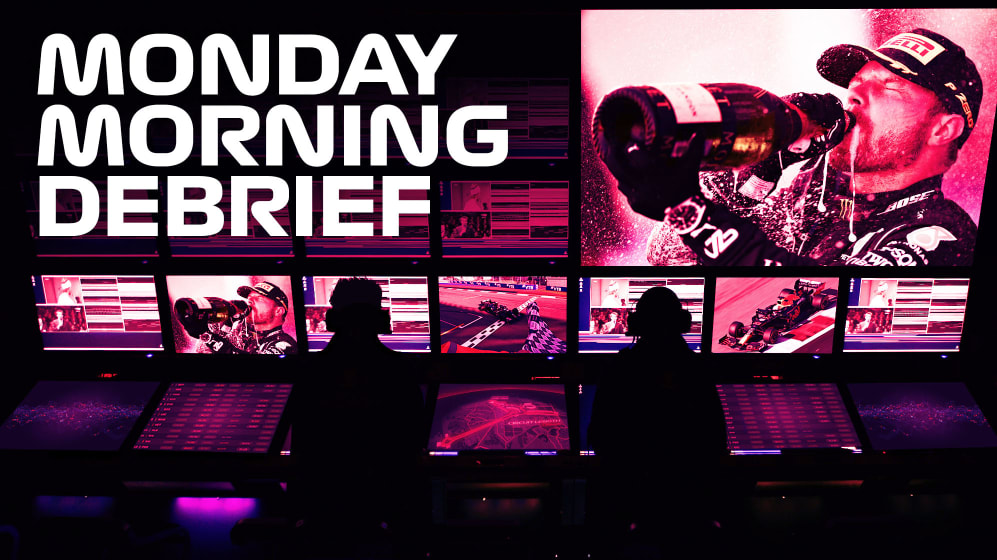 Mercedes' Valtteri Bottas seemed weirdly calm on the Saturday of the Russian Grand Prix, despite having just qualified 0.652s adrift of his polesitting team mate Lewis Hamilton in third, and with the Red Bull of Max Verstappen in front of him. But was this all part of the Finn's masterplan? Mark Hughes investigates...
Given that the Mercedes of Lewis Hamilton was effectively out of contention because of the double penalties incurred for making practice starts outside the designated area, the Russian Grand Prix might have been expected to have given Max Verstappen a very realistic shot at victory.
The Red Bull driver had outqualified the other Mercedes of Valtteri Bottas, after all, and has twice this year (in Hungary and Spain) managed to prevail over the second Merc in a straight fight. Yet Verstappen was unable to offer Bottas any threat at all on race day in Sochi.
READ MORE: Bottas eases to Sochi win over Verstappen as penalty leaves Hamilton P3
What was behind this switch-around in form between Bottas and Verstappen? It's clear that there was an under-performance from Bottas in the final Q3 runs of Saturday, one that was not representative of his true potential. It's also apparent that the form of the Red Bull was somewhat volatile.
Part of that volatility was the state of the track. It's clear that it became much faster in Q3 – and Bottas, outqualified by Verstappen to the tune of 0.089s, reckoned he didn't tune into that as well as he might have done. In Q2 he'd been 0.6s faster than Verstappen on the same medium tyre, but that came on the second of two runs on fresh mediums, whereas Verstappen did only his first run on those tyres and aborted a second Q2 lap on the softs.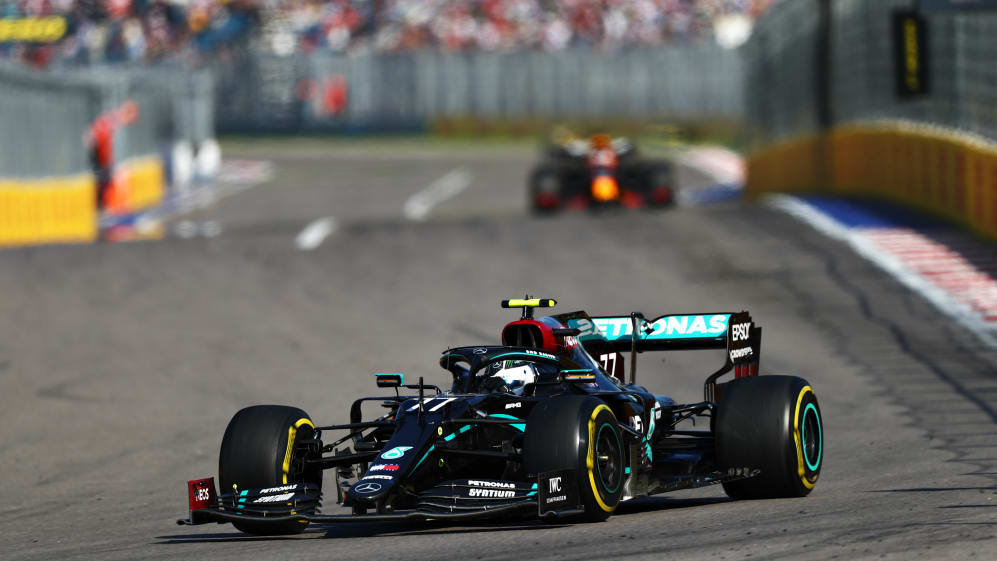 Comparing just their first Q2 runs, the difference was only 0.1s – and Bottas then found a huge 0.7s chunk on his second run. It was clear already towards the end of Q2 that the track grip was increasing – or rather becoming less bad, for in the high temperatures it was low-grip all weekend. So the picture was less than clear at this point.
Verstappen though was not happy with the balance of the Red Bull on the low-grip surface. "I just couldn't push on the entry to the corners," he reported. On a track surface of around 37 degrees Celsius, the rears were tending to run too hot, especially in the 90-degree turns of the final sector. It seemed to be afflicting the Red Bull more than the Mercedes.
READ MORE: 'That's how it should be every weekend' says Verstappen, as he breaks point-less run with P2 in Sochi
But into Q3 there was some cloud cover, the track temperature reduced seemingly by just enough, and suddenly everyone had a lot more grip. On the first runs, with everyone now on the soft compound, Bottas' advantage over Verstappen was back to just 0.1s – and he trailed team mate Hamilton by a massive 0.8s. It's not unusual for Hamilton to be quicker than Bottas – but not by that amount. "My tyres were too cold on the first run," reported Valtteri.
Getting the fronts up to temperature for the start of the lap but not allowing the rears to be too hot by the end is a key part of the puzzle to a Sochi qualifying lap, but Bottas has proved his absolute mastery of this in the past. It seemed odd that he should have been struggling to such an extent.
Verstappen by contrast was feeling more confident in the rear stability of the Red Bull as the track grip increased. With that as his new baseline, he was ready to properly attack on his final run. In what team boss Christian Horner reckoned was the best qualifying lap he'd ever seen Verstappen do, he found a huge 0.5s chunk on that final run.
That still left him 0.5s adrift of Hamilton's final pole-setting effort, but crucially it was faster than Bottas by 0.1s. "I don't know what happened on that second run," said Bottas afterwards. "The lap felt better, there weren't really any mistakes so I'm not sure why I couldn't get closer to pole. There are some question marks there."
This did seem most odd. Here was Bottas a full 0.652s slower than Hamilton, by far the biggest deficit of his season – around a track where he has historically held the edge over Hamilton. That 0.652s represented a shortfall of 0.71% to Hamilton, way bigger than at any other track this year and around what is historically his best track. His average in the season to date is just 0.2% slower. Verstappen certainly over-delivered with that front row, but Bottas most definitely under-delivered – and for reasons he couldn't seem to explain.
READ MORE: 'Maybe I was playing games and wanted third...' - Bottas optimistic about Russia chances, despite 2nd-row start
Perhaps the clue was in what he said next. "But P3 is actually a pretty good place to start here and I think I'm on the right tyre as well. I've started third here before and look what happened, so I'll try and do the same. It's still all to play for." He was referencing his 2017 victory here, when he vaulted from third on the grid to slipstream past the Ferraris into a lead he would never lose.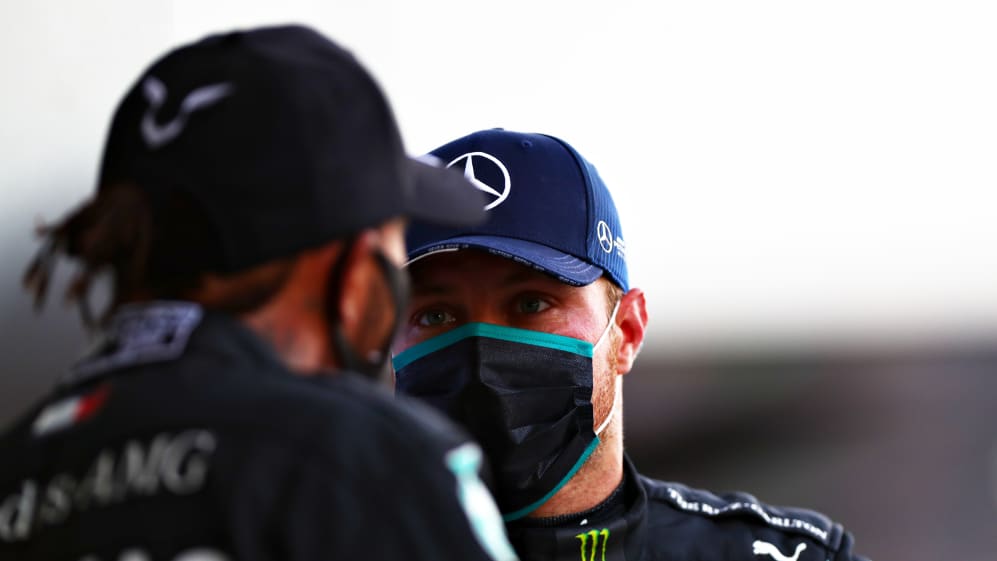 It's true that the Sochi polesitter is always extremely vulnerable in the long run down to Turn 2 at the start. The slipstreaming effect is massive. Pole is not the best starting position here. It gives you the clean side of the grid – and Hamilton's start was hugely better than Verstappen's on the dirty side – but makes you a sitting duck down the long straight, usually to whomever has qualified third.
AS IT HAPPENED - The Formula 1 VTB Russian Grand Prix 2020
Third is probably the best grid spot here, giving you both the cleaner tarmac and the slipstream. Even second – with the potential slipstream but poor traction – is often better than pole, as the slipstream is more powerful than the difference in acceleration off the line. Pole is probably the third-best option! It would of course be impossible to pre-judge how to qualify third. But was Bottas possibly not trying too hard to set pole? Only he can know that.
As it happened, Hamilton's soft tyres gave him a big enough advantage over Bottas' mediums at the start that he was just about able to fend off the other Mercedes into Turn 2 – but it was close. Despite an initial advantage off the line of about two car lengths for Hamilton, they rounded Turn 2 side-by-side.
Without the extra tyre grip from the soft compound tyre he'd been forced to get through Q2 on, Hamilton would likely have been passed by Bottas at this point. Even with the traction disadvantage, Bottas reckoned he still might have made it past were it not for a "huge wasp or something that splattered my visor just as I was picking out the braking point. That's why I ran a bit too deep."
He wasn't too deterred though. Those mediums were going to give him a much longer opening stint than Hamilton and that was going to be the key, even before Hamilton's 10s penalty was confirmed.
So what about Verstappen? He was never a threat. The Mercedes reverted to being much the quicker car. The track temperatures were higher even than on Saturday – and that definitely didn't help the Red Bull, especially in the first stint on the medium tyres.
READ MORE: Hamilton says 'it feels like we're fighting uphill' as he lashes out at 'ridiculous' penalties
"It was a bit like in Q1 and Q2," reported Max afterwards, "where I just couldn't push the entries of the corners and I couldn't keep up with them. So I just tried to not lose too much time. Then once we pitted, I put the hard tyres on, and everything was a bit more stable and a bit better balanced."
But Bottas was 10s up the road by then on his way to a perfect victory.