Feature
POWER RANKINGS: Two drivers share top spot as the scores come in from the Mexico City Grand Prix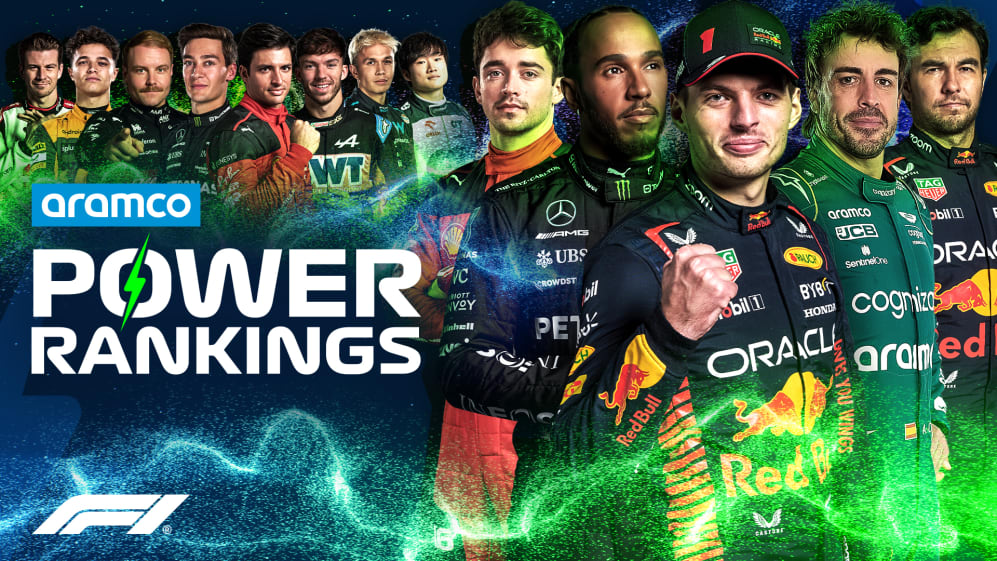 Max Verstappen made more history at the Mexico City Grand Prix as he scored a record 16th victory of the season and makes it into this week's top-10. But who else do the judges believe deserves to join him? Scroll down below to find out…
How it works
Our five-judge panel assess each driver after every Grand Prix and score them out of 10 according to their performance across the weekend – taking machinery out of the equation

Our experts' scores are then averaged out to produce a race score – with those scores then tallied up across the season on our overall Power Rankings Leaderboard (at the bottom of the page)

Another weekend means another milestone for Verstappen who continues to showcase his relentless pursuit of excellence despite having already won the title, by taking yet another dominant victory as he looks to close out the season in style.
After a shock Ferrari front row, the Dutchman squashed any hope of a Scuderia victory by taking the lead immediately into Turn 1. From then on, the result was never in doubt, as he mastered the restart before driving off into the distance.
READ MORE: Verstappen 'very proud' after record-breaking 16th win of the season in Mexico City GP



When the car is in the right window there may not be a quicker driver over one lap than Leclerc. He showed that by once again putting in a supreme performance in qualifying to seal pole position for the Mexico City GP.
Unfortunately, he lost out to Verstappen and sustained front wing damage from his collision with Sergio Perez, as he dropped to second. He also wasn't able to keep the medium-shod Hamilton behind after the restart while he was on hards. Yet still, it was a podium to be proud of for Leclerc and Ferrari.
READ MORE: 'I had nowhere to go' – Leclerc 'surprised' to have strong race after Perez collision at start of Mexico City GP

Unfortunately, it was his mistake that saw him get knocked out in Q1 when it looked like he may have had the pace to challenge at the sharp end of the field. But Norris's recovery drive on Sunday was well worth the price of admission.
His pace in the race showed that he could have battled for the podium, as he sliced his way through the field. What was also impressive was his wheel-to-wheel ability, as his brave moves on Ricciardo and George Russell are now set to live long in the memory.
READ MORE: Norris enjoys 'best ever' stint as he climbs from P17 on the grid to fifth in Mexico

Albon has performed so well this year that whenever you look at the timesheets and he is not in the top 10, it is somewhat of a shock, and after the way he started the weekend – by finishing second in FP1 and FP3 – many expected him to be challenging at the sharp end of the field.
He looked all set to qualify in the top 10 but a track limits violation on his final lap in Q2 left him 14th. But yet again, he got the maximum from his car, while being aided by a good strategy, as he helped himself and Williams to some valuable points.
READ MORE: Quick starts key to points finish in Mexico, says Albon

Lining up second on the grid, Carlos Sainz would have also been disappointed by his start, as he had lost out to Verstappen and Perez before the drivers had made their way to Turn 1 – before later losing his spot on the podium to Hamilton, who undercut him.
But the positives were his qualifying pace, as he was only a whisker away from taking pole from Leclerc. His defence to keep Russell, on the mediums, behind while he was on the hards was also just as impressive. In the tight battle for P2 in the constructors', that defence and those extra points could prove to be priceless.
TECH TUESDAY: The key part on the SF-23 that helped Ferrari beat Red Bull to pole in Mexico

As the end of his comeback season with Haas approaches, it is fair to say that Hulkenberg has driven very well this year. But unfortunately for the German, the pace of the VF-23 has not always been there for him to convert his performances into points.
He was incredibly good in Mexico, as an outstanding start saw him go from 12th to eighth. After the restart, he was holding on to 10th in the closing stages but despite putting in a big shift, he just did not have the tyres to keep both Alpines behind.
READ MORE: Haas open up on how useful Hulkenberg has been ahead of 200th GP weekend in Mexico

Piastri has driven so well this year that it is easy to forget that the Australian driver is a rookie and is very much still learning his trade in F1. So while this may not have been his smoothest weekend so far this year, it was one that was still worthy of applause.
He split both Mercedes in qualifying and while he would have hoped to make an impression on his rivals ahead from seventh, he just did not have the pace. He also struggled with his tyres in the final stint before playing the team game and letting the charging Norris through.
F1 NATION: Verstappen's record 16th win of the season and Perez's heartbreak – it's our Mexico City GP review

You would be hard pressed to find a driver that has suffered more misfortune this year than Ocon – his seven DNFs in 2023 being the most on the grid. But we've also seen flashes of real quality from Ocon this year, one of those coming in Mexico City.
He qualified in 15th but a particularly good strategy and his persistent pressure on Hulkenberg late in the affair paid off, as he was able to get past the German to take P10, scoring a well-earned point for himself and Alpine.
READ MORE: Ocon beaming after 'hard fought' point in Mexico – and explains THAT radio message to Haas
Missing out
Yuki Tsunoda can count himself unlucky in the race and in the rankings, having missed out on the top 10 in both. He was firmly in the points after starting at the back of the field but an unfortunate collision with Piastri ended his hopes, as he crossed the line in 12th.
Leaderboard