Feature
Pre-season testing analysis: Mercedes look unbeatable – but they DO have a weakness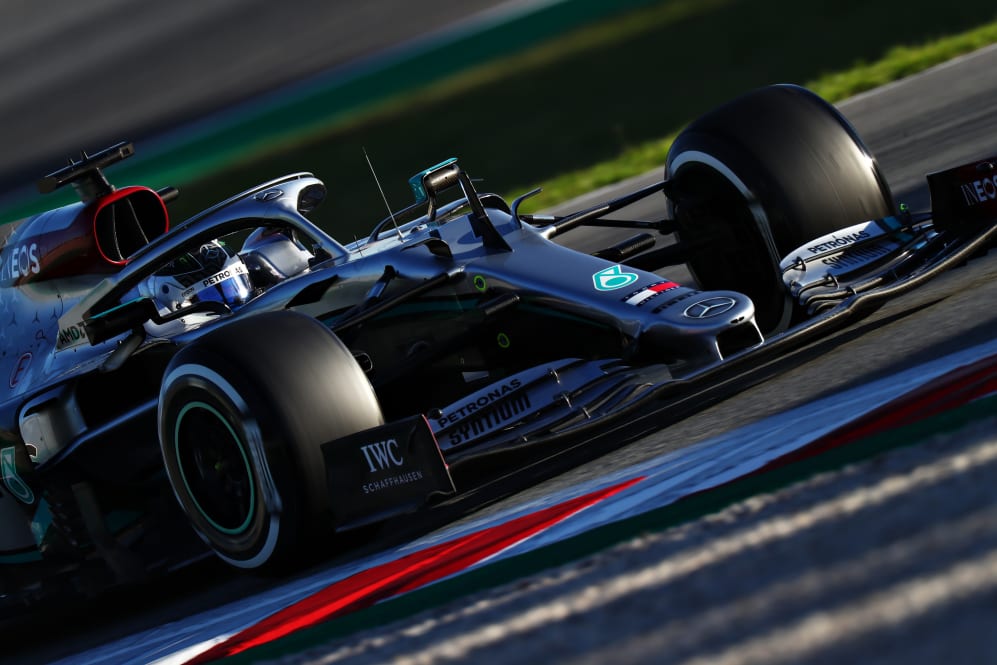 When Valtteri Bottas pulled out of the garage on the opening morning of pre-season testing and got straight down to business with flying laps while everyone else was simply doing installation tours, you knew the Silver Arrows were looking mighty and feeling confident.
It was a brutal, defiant show of strength, a world championship outfit at the peak of their powers demonstrating to the world that they were, once again, the best at what they do. It may be a new year, offering new hope to others, but they had absolutely no intention of relinquishing their vice-like grip on this series.
They hadn't let up over the winter, it seemed, overhauling their aerodynamic and power unit package, and even coming up with an innovative new system - Dual Axel Steering (DAS) – which was the talk of the paddock on day two, sending shivers down their rivals' spines. Not only were they winning the physical battle, they were triumphing on the mental battlefield, too. But it wasn't all plain sailing for the Brackley-based squad. Here's what the data can tell us after the six-day test in Spain...
DAS explained: What we know so far about Mercedes' trick new steering system
Test not perfect for Mercedes
Mercedes ended the first week on top of the world, falling just six laps short of the 500-lap barrier and encouraged by their efforts. Week two started off in the same vein, but then the niggles crept in. Crikey, they were human after all. They lost an entire afternoon of running after an oil pressure anomaly shut Lewis Hamilton's engine down as a precaution.
In isolation, that's not terrible. But when you factor in that customer Williams had four different issues with their power unit over the six-day period, while the works team are believed to have run the engine at lower levels as a precaution on the final day of running, there are signs that their new engine is perhaps a little on the fragile side, meaning even if they do have the pace advantage, they might not be able to convert it consistently.
It was also noticeable that the use of their DAS system in week two was far less frequent, especially during their longer runs, which suggests perhaps its primary use – and where they get the greatest gains – is over one lap during qualifying.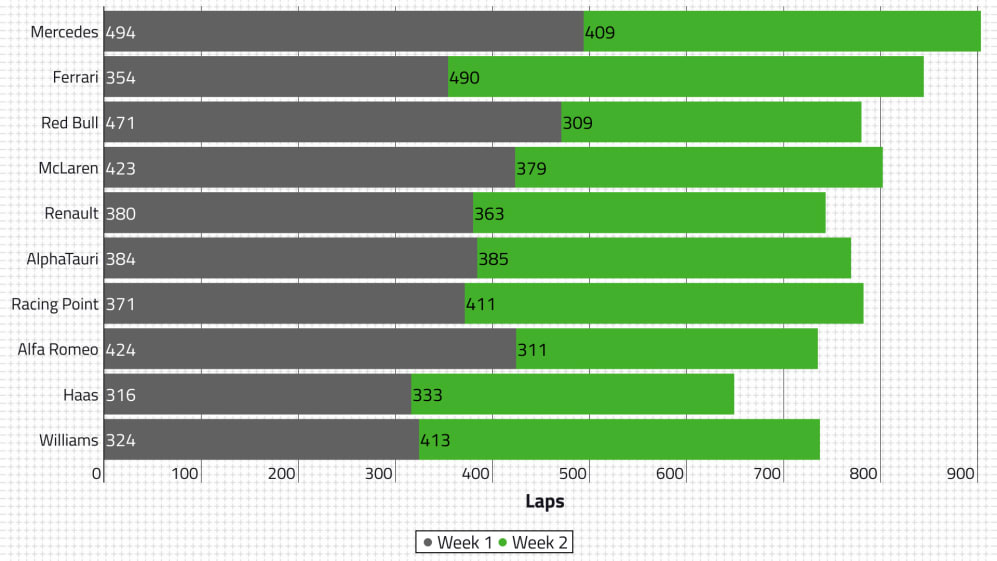 Overall, though, Mercedes had a strong test. As you can see from the total laps graph, they left Barcelona with the highest mileage – 903 laps, which is more than 13 Spanish Grands Prix race distances and 59 more than Ferrari, who had the strongest second week of all with 490 tours of the Circuit de Barcelona-Catalunya.
They also looked quick over both short run and long run pace, when laps and stints from the whole six days of testing were analysed. They held the long run advantage by 1s/lap over Ferrari and 1.1s/lap over Red Bull. When switching to short runs, that advantage swelled to 1.6s/lap over Red Bull and 1.7s/lap ahead of Ferrari.
The reality is the gap won't be that big when we come down to qualifying in Australia, but it does show that Mercedes appear to still be the kings of the top three in terms of performance.
READ MORE: Hamilton 'concerned' by Mercedes power unit reliability ahead of Australia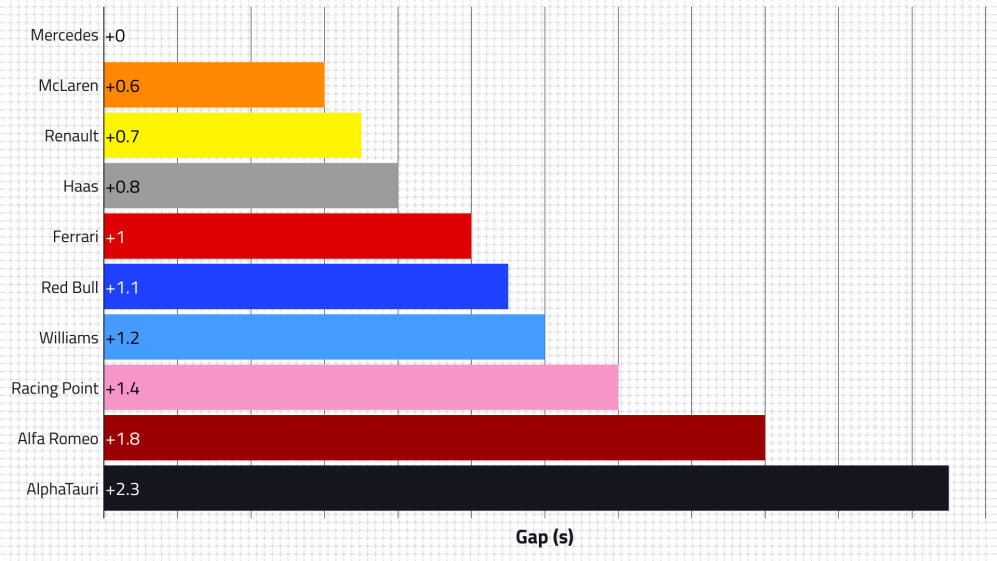 There are caveats for the race simulations too. Mercedes did theirs in the first week, while Ferrari and Red Bull spread their respective programmes over two tests, so direct comparison isn't possible.
Ferrari were running their engine at lower levels for the majority of the time, while Honda spent a lot of timing working on settings and proving reliability, so there's more to come from both.
Renault rise as the dark horse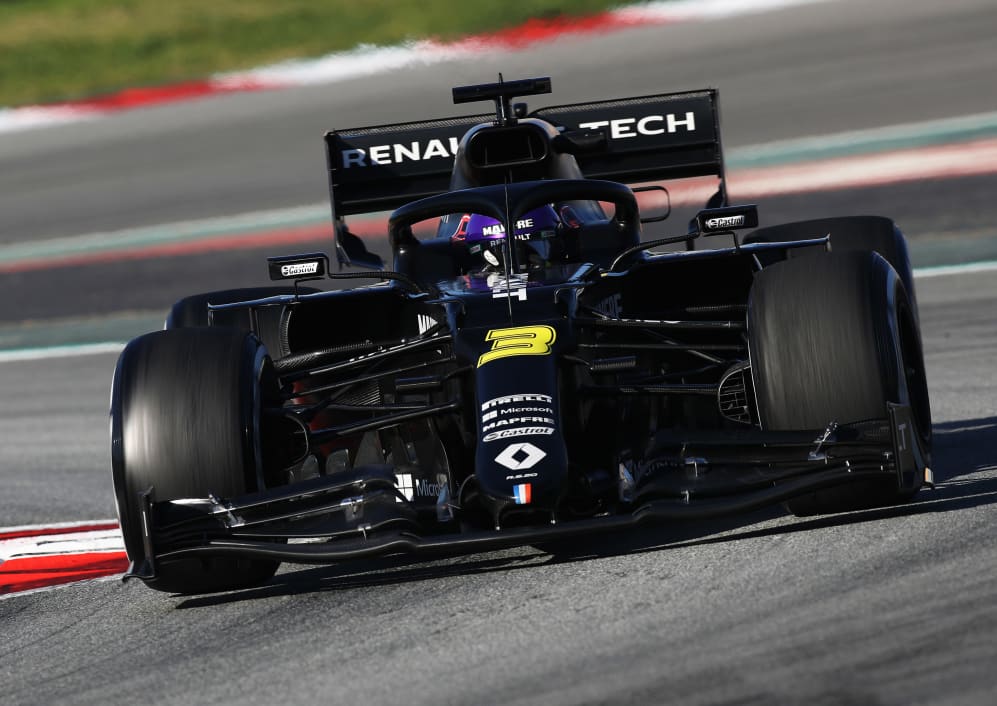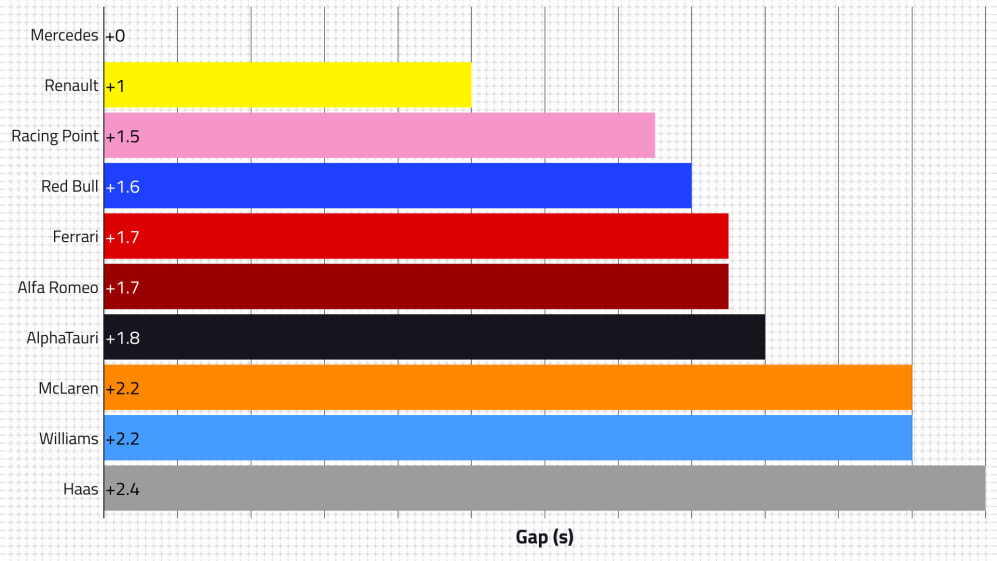 They slotted into second on the short runs, a second behind Mercedes and half a second clear of their midfield rivals and were third overall in the long run metrics, just 0.1s/lap slower than McLaren. Perhaps the most striking stat, though, is of all the teams, they have shown the biggest percentage gain in long-run pace since the Abu Dhabi Grand Prix, with Mercedes as a reference.
They've improved by a staggering 2.91%, with Haas making a 2.63% gain, McLaren up by 1.19% and Williams 0.92%. That's an impressive feat from a manufacturer who has struggled since returning as a works outfit. At the other end of the scale, somewhat concerningly for those hoping for a tighter fight at the front of the field, Red Bull have lost 0.7% to Mercedes and Ferrari 0.5% in the same metric.
The caveat here is that Abu Dhabi and Barcelona are very different tracks, and a race weekend situation is very different to testing, but it is an intriguing comparison nonetheless.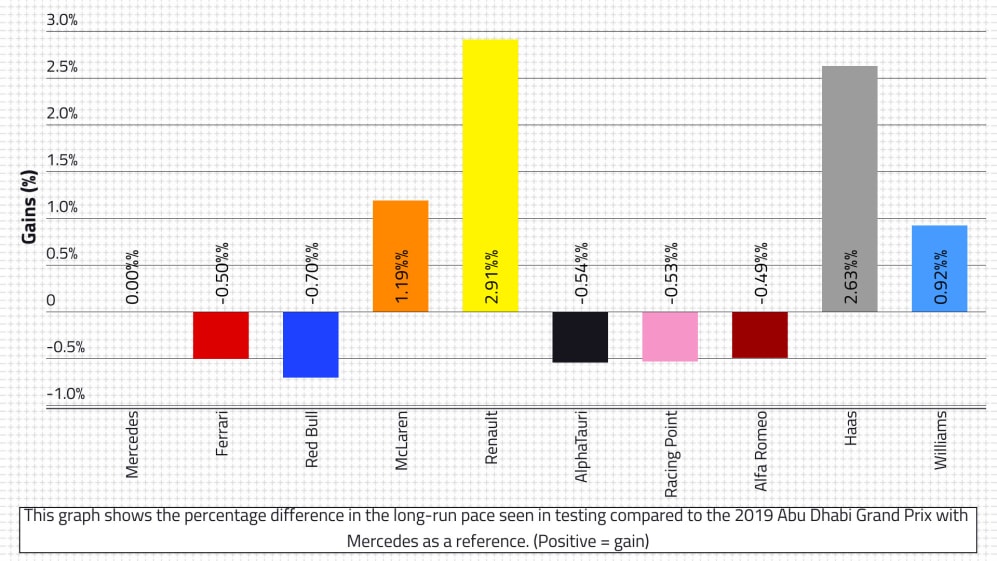 Ferrari form puzzling
One of the somewhat confusing data points of the opening week was Ferrari's straight-line speed – or lack of it.
The Scuderia had a power unit which had emerged as the best on the grid last year, Sebastian Vettel and Charles Leclerc enjoying a sizeable advantage on the straights and hauling them into contention for pole positions and race wins.
READ MORE: We need to improve in all areas, say Ferrari after low-key test
In Barcelona, despite Ferrari chief Mattia Binotto insisting they were not hiding anything, it was clear from our data – as you can see from the performance graph below – that Ferrari's straight-line speed had taken a massive hit, as much as half a second in fact, compared to Mercedes. There was also a staggering 1.5s difference between their speed on the straights and customer Alfa Romeo.
There was some positive news for their loyal fan base the Tifosi, though. Slow corners had been their weakness, as they chased more downforce last year. But having made that a specific focus over the winter – which they conceded would be at the expense of some speed on the straights – they have made in-roads.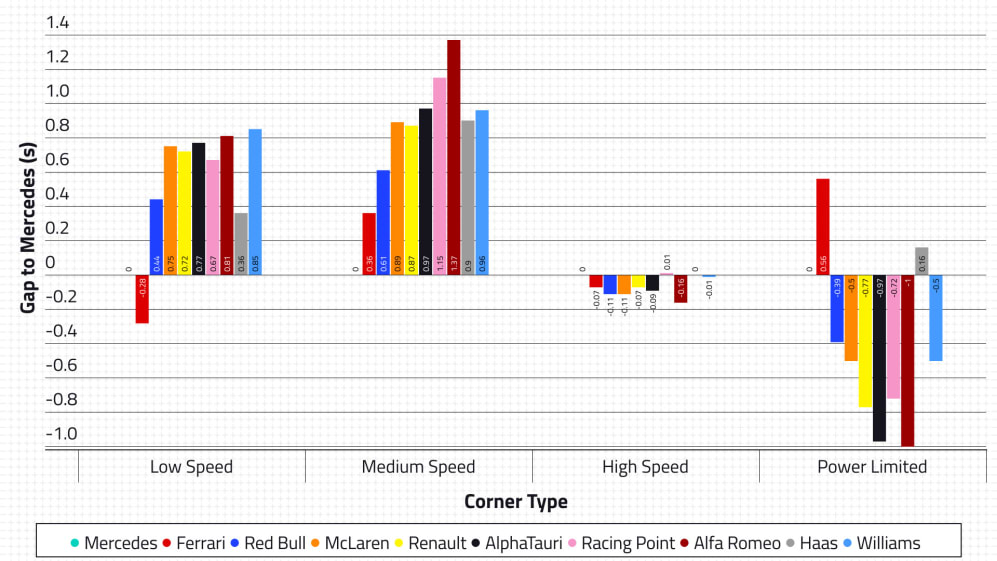 There are three sections deemed as "slow" in Barcelona – Turn 5, Turns 10-11 and the Turns 14-15 chicane. In those areas, Ferrari opened up a 0.3s advantage over Mercedes – while they retained a small advantage in the fast corners (around 0.05s).
It was in the medium-speed corners (Turns 1-2, Turn 4, Turns 7-8, Turns 12-13) where Mercedes excelled, cancelling out their slow corner deficit to Ferrari.
So what does this all mean for the new season?
If you had to nail your colours to the mast, it's clear Mercedes are the ones you'd stick top of the pile. The W11 is one hell of a machine – but it isn't infallible. And that means that there are opportunities for Red Bull – who look to have made a step – and Ferrari who will be there or thereabouts to ruffle some feathers early on.
READ MORE: Ferrari SF1000 'definitely a step up from last year', says Vettel
All too often in the past few seasons, Mercedes start on the front foot and then accelerate away. But on the few occasions they have been put under pressure, mistakes have crept in. So a lot depends on whether they can get on top of their reliability concerns and if Red Bull and Ferrari can apply the pressure to make things interesting.
Behind them, it's looking like a three-way fight for the top of what is a very congested midfield. Renault, McLaren and Racing Point have made good gains, and have potentially closed the gap slightly to the top three. The rest – AlphaTauri, Haas, Alfa Romeo and even Williams – are going to be in the mix at points too.
If the cards fall in the right way, this could be a very close – and entertaining – season. Roll on Melbourne.
READ MORE: The Winners and Losers of 2020 F1 pre-season testing