'The excitement and adrenaline is back' – Claire Williams on how her team have turned the corner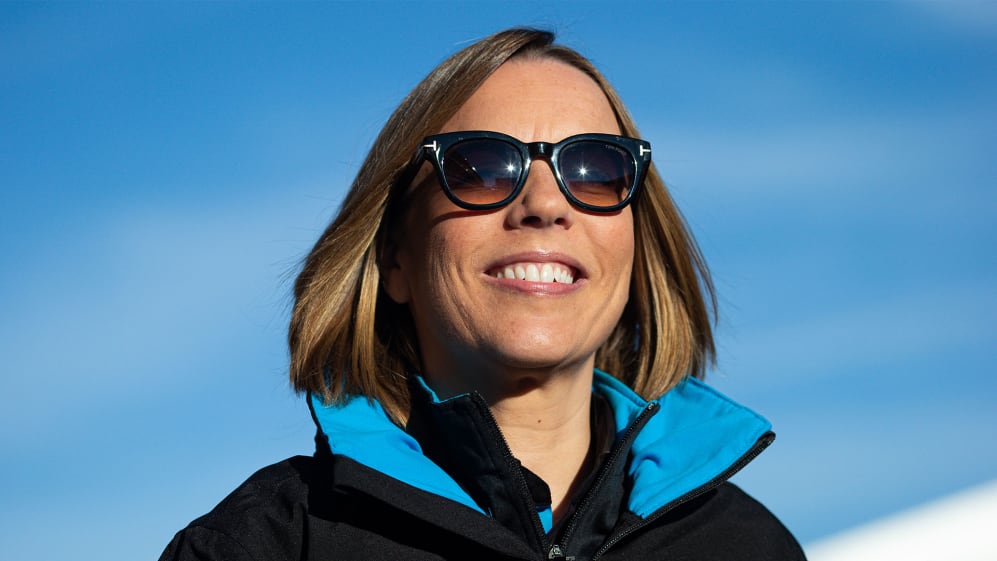 Q1 for the Hungarian Grand Prix, and the cameras pick up the Williams of George Russell looking fast, darting nimbly around the winding track. As he crosses the line with a time that would book him his second Q2 appearance in as many weeks, the airwaves explode: "That's a lap! That's a lap!". And it's those kind of moments, as Claire Williams explains to our F1 Nation podcast, that's making being a Williams team member a happier experience this year.
After a faltering 2018 season, Williams really went through the ringer last year, their infamous missing of the first two days of testing – you've probably seen the F1: Drive To Survive episode about it – a harbinger of what was to come, as the team secured just one point that year – and that only after a post-race penalty had been handed to Alfa Romeo in Germany.
READ MORE: Click here for more F1 Nation content
But with Russell and team mate Nicholas Latifi bonding well and appearing to enjoy the performance in their FW43s, 'relief' was the word Williams Deputy Team Principal Claire Williams chose to use when asked by F1 Nation host Tom Clarkson what the emotions were like in her team this year.
"There are quite a lot of emotions as you might imagine, because we have been through the mill for the past couple of years," said Williams. "It's been extraordinarily painful… and don't forget we were also given a beating while we were down as well by some people, and it has been really difficult.
"The emotions are running quite high at the moment, and they're a mixed bag of them. Relief, clearly, is flooding through the team. We did promise that we were going to deliver improved performance this year, and I'm so pleased that we managed to deliver on that promise, it was very important to us.
READ MORE: Why Virtual GP series win says more about George Russell than you may think
"The excitement is back, the adrenaline is back, sitting there watching the cars go out and knowing that they can do something other than come last in quali and last in the race. You quickly forget after two years what that does feel like.
"I just feel we can all hold our heads up a little bit higher because it's never nice when you're down and to have to try and keep holding your head up is difficult."
Last weekend at the Hungaroring marked a milestone for the team, as Russell and Latifi secured Williams' first double Q2 appearance since the 2018 Italian Grand Prix. And Williams was pleased to finally be able to offer her drivers a car they could put their trust in, after last year's "very, very tricky" (in Latifi's words) FW42.
"Knowing the issues we had last year – clearly the aero wasn't where we wanted it to be, and the team, the aerodynamicists that we've got back at the factory have worked incredibly hard to get the flow structures right, get us better balance, get some more stability on the aero package and I think they've certainly achieved that," said Williams.
READ MORE: The Winners and Losers of the 2020 Hungarian Grand Prix
"We've got some work to do, for sure. There's some mechanical issues that we need to rectify around brakes and cooling, and again we've made steps forward in that. Nothing is perfect at the moment but we definitely made headway in the key areas we wanted to.
"That's all contributed to... a much more stable race car with better brakes [and] the drivers have much more confidence in the car. They're not fearful of it, almost, anymore, because it is much better from a balance perspective. They know that the brakes are there and that all contributes as well."
Listen to Claire Williams discussing her team's plight, as well as why it was important for her to keep Russell at Williams for 2021 and her hopes for the pair of Silverstone races coming up, in the player above or on Spotify, Apple Podcasts or your favourite podcast platform – while also in this week's episode, Rosanna Tennant, Will Buxton and Lawrence Barretto discuss what life's been like in the F1 paddock at the season opening triple header.
READ MORE: How did the F1 Fantasy points play out in Hungary? Click here to find out...