Feature
The Winners and Losers of the 2020 Hungarian Grand Prix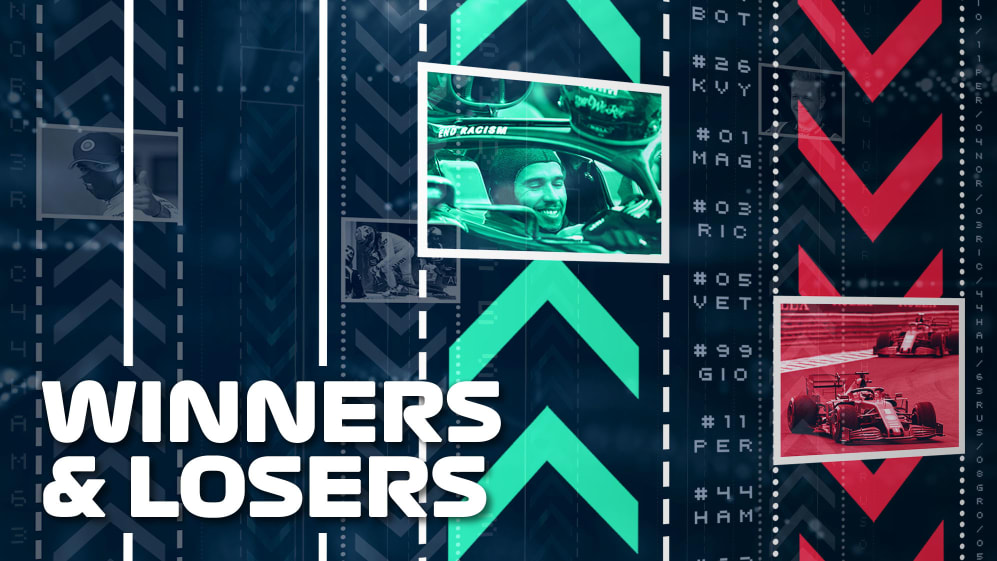 Lewis Hamilton was in imperious form as he swept away the competition at the Hungaroring to bring the curtain down on Formula 1 2020's opening triple header. It's now time for a week off from racing, but before we have a breather, we've picked out the winners and losers of the Hungarian Grand Prix...
Winner: Lewis Hamilton
There was a time when Michael Schumacher's astonishing records looked unbeatable, but Lewis Hamilton has been ticking them off, one by one, with aplomb. And his victory in Hungary – his eighth at the venue – has moved him to the verge of shattering yet more.
Hamilton did not put a foot wrong at the weekend, saying his 90th pole lap required "absolute perfection" and then obliterating the opposition on race day, lapping everyone up to Alexander Albon in fifth.
READ MORE: Hamilton romps to eighth Hungarian Grand Prix win, as Verstappen recovers to second
Victory moves him just five away from Schumacher's win total of 91, and two short of the German's podium tally, while another successive points finish moves his streak to 36 on an afternoon where he led a race for the 150th time – the first driver ever to reach this total.
And to top it all off, he snatched the championship lead from Mercedes team mate Valtteri Bottas. For the Briton, it was mission accomplished.
Losers: Ferrari
Sebastian Vettel secured his best finish of the season with sixth, though his worst in Hungary since joining Ferrari. But that position is simply not good enough for the Italian team, nor is the fact only one of their cars managed to get to the chequered flag in the points.
Worse still, both cars finished a lap down on race winner Hamilton, 61 seconds adrift in fact. The result leaves them fifth in the constructors' championship on a paltry 27 points, almost 100 shy of leaders and reigning world champions Mercedes, after just three races.
READ MORE: 'There's lot of work ahead of us,' says Leclerc after mixed day for Ferrari
Winner: Max Verstappen
Max Verstappen was firmly in the loser column before the race had even started, when the Dutchman got caught out by the wet conditions and slid off into the barriers on his way to the grid.
The team did a phenomenal job to repair the front left-corner of the car, completing the feat with less than 30 seconds to go. Potentially motivated by the guilt, Verstappen made an electric start, rising up to third, which became second when Lance Stroll pitted.
It was a position he would not relinquish, brilliantly holding off Valtteri Bottas to split the Mercedes in a car that doesn't seem capable of doing that in terms of pure pace. As a result, he finished second in Hungary for the second year in a row, taking his 33rd podium to surpass Jim Clark's tally.
READ MORE: 'Second feels like a win' says Verstappen as he recovers from pre-race crash to podium
Loser: Pierre Gasly
As Pierre Gasly put it himself, the Frenchman was "just unlucky" this weekend. He encountered engine trouble in qualifying, which subsequently led to a new ICE, turbo and MGU-H being fitted, but he still managed to make Q3.
The mechanical gremlins returned on race day, though, as he had a drivetrain issue and struggled with gearshifts from the moment he started the race. When it became clear his AlphaTauri team could not remedy the situation, he was forced to retire the car – his second non-points scoring finish in three races.
Winner: Lance Stroll
Okay, so it was not the podium Lance Stroll will have felt was genuinely possible when he lined up third on the grid, but fourth on the road is still among his top three results in Formula 1.
The Canadian had a great battle with Verstappen at the start of the race and made the most of the performance of the car to keep well clear of the pack, once Bottas had jumped him, to cross the line fourth, moving him level on points with Ferrari's Charles Leclerc.
READ MORE: Strategy gamble lost Racing Point chance of podium, says Stroll
Loser: Sergio Perez
The positives were that Sergio Perez's seventh-place was his best-ever finish in nine Hungaroring starts – and that he has now started the 2020 campaign with a sixth, sixth and seventh in the first three races to put him sixth in the championship.
However, the Mexican struggled with neck pain and felt dizzy during qualifying. And on track, he will have felt he could have had a top-four finish – and probably even a podium, given he had outpaced his team mate Stroll up until he started to feel unwell on Saturday.
WATCH: We had a 'very poor start' and it was hard to recover, says Perez
Winner: Kevin Magnussen
Haas have had a miserable start to their 2020 campaign, the car struggling for performance both in terms of aero and power unit, but when an opportunity presented itself in Hungary, Kevin Magnussen grabbed it with both hands.
The team boldly called him and Romain Grosjean into the pits before the start and fitted dry tyres on a wet but drying track. It paid off handsomely, because everyone else took the start and then was forced to pit, while the Haas cars rose up to third and fourth respectively.
Magnussen did a superb job defending from cars that were clearly much faster than him, keeping a McLaren and Ferrari at bay in the closing stages. It was unfortunate he lost a position, and a point, following a penalty from the stewards, but it was nonetheless a welcome point in a season where it will be very tight between them, Alfa Romeo and Williams for the bottom positions.
READ MORE: Magnussen praises 'amazing call' from Haas that helped him to first point of 2020
Loser: Nicholas Latifi
As starts go, Nicholas Latifi made one of the best on the grid, rising up into the top 10 from 15th as he judged the tricky conditions to perfection. But his fortune took a turn when he had an unsafe release into the path of McLaren's Carlos Sainz, puncturing his tyre.
He recovered to the pits, but there was significant damage to the floor and from there, it was simply about getting the car to the finish. He managed it, but the Canadian was five laps down.
Winner: Formula 1
There was an element of trepidation before Formula 1 2020 restarted, so different was the world courtesy of the coronavirus. But though the opening day was a bit strange, F1 personnel soon found a way to make everything work, and by Hungary, it was functioning like a well-oiled machine.
The Ross Brawn column: Copying in F1 is standard – Racing Point have just done a more thorough job
It's still not the same, of course, and the races are missing something without the fans. But at least the show is back on the road, as the first international sport event to come back post-Covid. It's no small feat, given this was also only F1's second-ever triple header.
But everyone pulled together to make it happen and the Hungarian GP – helped in part by the weather – was a third successive entertaining race. If we keep going like this, hopefully Grands Prix as we know them won't be far away.
Were you a winner this weekend with your F1 Fantasy team – or is it time to make some wholesale changes? Or have you not signed up yet? If not, it's not too late, simply tap here to get started.