Feature
The Winners and Losers of the Russian Grand Prix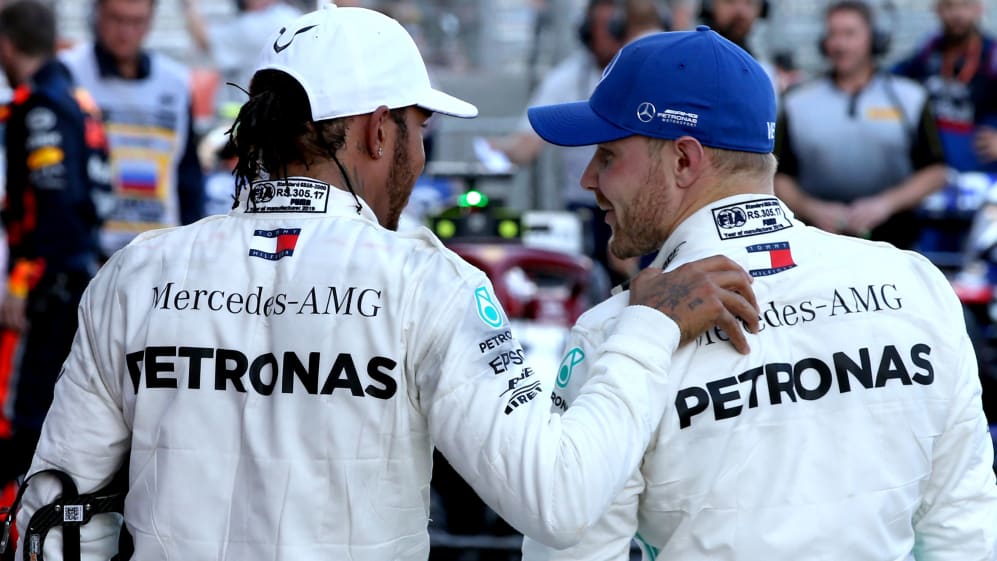 Ferrari were in pole position to pop the champagne for the fourth successive race, but then the wheels came off their challenge in a dramatic Grand Prix in Sochi. We pick out the winners and losers of the Russian Grand Prix…
Winner: Lewis Hamilton
This was not a race Lewis Hamilton expected to win. You could tell that by the way he carried himself throughout the weekend and subsequently celebrated in parc ferme with his mechanics on Sunday afternoon.
But as Hamilton has done so often through his illustrious career, he put himself in the best possible position to take advantage should an opportunity present itself. And when the 'miracle' – his team mate Valtteri Bottas' choice of word – happened, he didn't need asking twice.
Victory was his ninth of the season and 82nd of his career, moving him just nine short of Michael Schumacher's all-time record. He also broke an 18-year-old record held by Schumacher in Sochi, becoming the all-time record holder in races led by heading the field for the 143th time.
Hamilton also scored for the 28th consecutive race and the 61st time in 62 Grands Prix – Austria 2018 was the non-score – with his victory moving him to 73 points clear of Bottas with just five Grands Prix to go. A sixth championship, it seems, is almost certainly his.
READ MORE: Hamilton says Russia win 'feels like the first' after ending Ferrari run
Loser: Charles Leclerc
Sochi was a fourth successive weekend in which Charles Leclerc demonstrated his case for future stardom, but the result was not what he felt he or his Ferrari team deserved.
Leclerc was furious during the race that Sebastian Vettel wasn't handing the lead back, as requested by the team, after the Monagasque gave the four-time world champion the tow. He had calmed down after the race, saying his trust in his team mate is wholly intact.
READ MORE: 'The trust is unchanged' says Leclerc of Vettel
He moved into a clear third place in the drivers' standings, three points ahead of Max Verstappen, and third place meant he has now scored four successive podiums. But that did little to improve his mood. He wants wins.
He also lost ground to Bottas in the battle for second in the drivers' standings, the deficit now 34 points with a maximum of 130 left on the table.
Winner: Alexander Albon
Alexander Albon is making a habit of pulling off impressive comeback drives on Sunday afternoon, the Thai driver starting in the pit lane before recovering to fifth.
Part of it was self-inflicted, as the damage caused from his qualifying crash necessitated the pit lane start, but he kept his head down and delivered a string of stunning overtakes, including on Toro Rosso's Pierre Gasly.
Fifth means he has finished in the top six in all four of his starts for Red Bull, having been promoted from Toro Rosso for Spa. With Verstappen finishing fourth, it was only the third time in 16 races the team have had both cars in the top five.
Albon's chunky points haul also improved his chances of moving up in the drivers' standings. He's now just 14 points shy of seventh-placed Carlos Sainz with Gasly – the driver he replaced – only three points further ahead.
READ MORE: Albon makes up 15 places in 'bounce back' run to fifth in Sochi
Loser: Kimi Raikkonen
This has been a dreadful run of races for Kimi Raikkonen, the Finn's lacklustre performance in Sochi leading to his fourth successive race without a single point. Only the Williams drivers and Haas' Romain Grosjean have that same record.
Qualifying was poor, Raikkonen getting out-qualified by his team mate for the second successive race while his Q1 exit was his second in the last four-and-a-half years. Then in the race, he jumped the start – triggering a drive-through penalty - and was never really in with a chance of points.
Having looked like a contender for best of the rest (seventh) in the drivers' standings in the first half of the year, he now finds himself languishing down in 14th on 31 points, 33 shy of Sainz in seventh.
Winner: Carlos Sainz
Sainz was in the same boat as Raikkonen heading to Sochi, the Spaniard failing to score a single point after F1 resumed following its summer break – but Russia proved to be a breakthrough.
The McLaren driver challenged Hamilton for third on the opening lap, and then drove a strong and sensible race to finish sixth and best of the rest.
It was his sixth top-six finish of the season and ninth points-score of the year, which moves him just three points behind sixth-placed Gasly.
READ MORE: 'We executed everything perfectly' says Sainz after sixth in Sochi
Losers: Williams
Singapore represented Williams' first retirement of the season. In Russia, they went one step worse and failed to see the chequered flag with either car.
George Russell retired after a technical failure pitched him into the barriers while the team told Robert Kubica to stop the car to conserve parts for the rest of the season.
Williams remain rooted to the bottom of the constructors' championship with just a single point to show for their efforts this season.
Winner: Sergio Perez
Sergio Perez is in a rich vein of form right now, the Mexican making the most of a heavily updated Racing Point to score points for the third time in four races.
Seventh place also maintained the Mexican's 100% point-scoring record in Sochi (six events on the bounce) and moves him level on points with Daniil Kvyat in 12th in the drivers' standings.
READ MORE: 'We were just perfect' in Russia, says jubilant Perez
There's more good news for Racing Point, too, as with Toro Rosso not scoring in Russia, Perez's tasty points haul means the team are just three points behind their Italian rivals in the constructors' championship.
Loser: Romain Grosjean
With a 2020 contract in his back pocket, there's been a noticeable bounce in Romain Grosjean's step of late. Unfortunately, that hasn't helped transform his fortunes on track.
He nailed a cracking series of laps in qualifying to line up inside the top 10, but his Grand Prix lasted just a few moments after he was pitched into the barriers by Antonio Giovinazzi.
That extends his pointless run to four and moves his retirement tally up to seven for the year. For context, the most retirements his other rivals on the grid have endured in 2019 is just four.
READ MORE: Grosjean 'wants to punch walls' after early exit in Russia
Winner: Kevin Magnussen
While Grosjean was left thinking what might have been, his team mate Kevin Magnussen gave Haas something to smile about with ninth – the squad's first points haul since the rain-hit German Grand Prix in July.
The Dane also did it the hard way, though, as he picked up a five-second time penalty after running off track when defending from Perez and not re-joining correctly. That meant he had to deliver what he described as the "perfect" stint to stop him dropping out of the points.
He did a decent job of it, and managed to pull out enough of a gap that he dropped only from eighth to ninth, behind Lando Norris, when the penalty was applied post-race.
Loser: Sebastian Vettel
Oh how fortunes can change, eh? Last week, Vettel was riding high after his first victory in 392 days. Seven days later, he was left frustrated that a top-two finish, and maybe another win, had gone begging.
The German made a sensational start, helped in part by a tow from team mate Leclerc, and showed the kind of pace in the opening stint to suggest he was in contention for victory, regardless of how team orders played out.
READ MORE: Vettel not keen to discuss details of pre-Russian GP agreement with Leclerc
His engine issue forced his first retirement of the season, to leave him 128 points shy of championship leader Hamilton with only 130 left (five races wins, plus five bonus points for the fastest lap).
Worst still, he's now 21 points behind team mate Leclerc and faces the prospect of being beaten by his team mate for the first time since 2014 when Daniel Ricciardo achieved the feat.