Feature
TREMAYNE: I wouldn't bet against Norris adding to McLaren's wins tally this season after Ricciardo's Monza triumph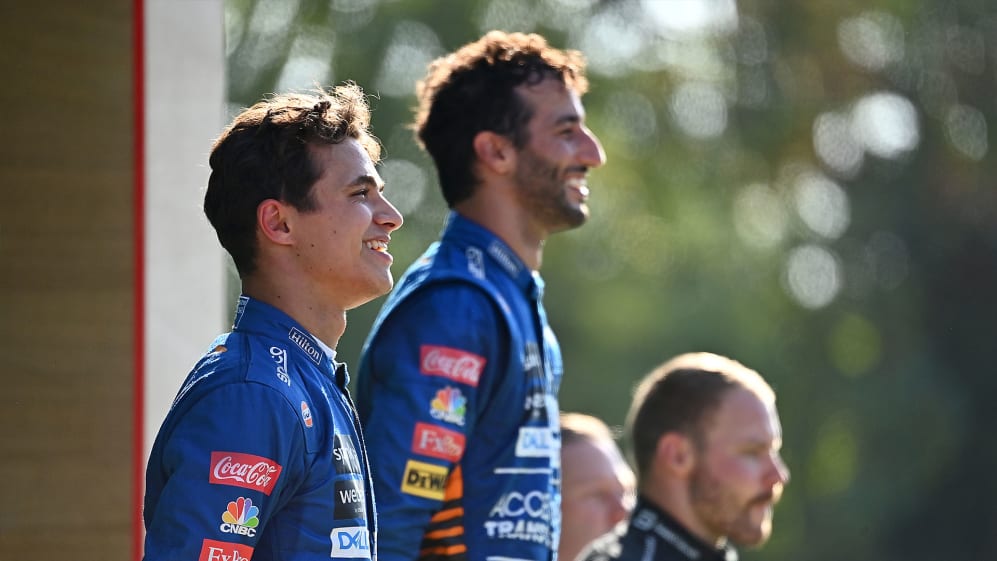 I have to say that in the final stages of the Italian GP a year ago, I was conflicted. There was Pierre Gasly, fighting so valiantly for AlphaTauri and on the brink of what could be a hugely poignant victory, given his relegation by Red Bull and the death the previous wretched season of his childhood buddy Anthoine Hubert. What a story that would make (and, indeed, did, as things transpired)!
Because there, dogging his wheeltracks after closing right in, was Carlos Sainz, another very likeable character also hunting for his first win.
In a McLaren…
I have always had a soft spot for the team that Bruce McLaren founded with Teddy Mayer. The first race I ever attended was the Race of Champions at Brands Hatch in 1968, where Bruce won in his brand-new Robin Herd-designed, Cosworth-powered M7A, with Denny Hulme third behind my new hero Pedro Rodriguez's BRM.
F1 NATION: The shoey returns at Monza – but who was to blame for the Hamilton-Verstappen clash?
I was a BRM fan back then, but in the '80s when I started working in F1, my fondness for McLaren developed fully, and I was proud of close friendships with Denny and Robin. Over the years, close friendships have developed with other McLaren stalwarts which remain important to me.
So Daniel Ricciardo's victory at Monza this time around was something I was so happy to celebrate.
It's one of those great comeback stories, isn't it?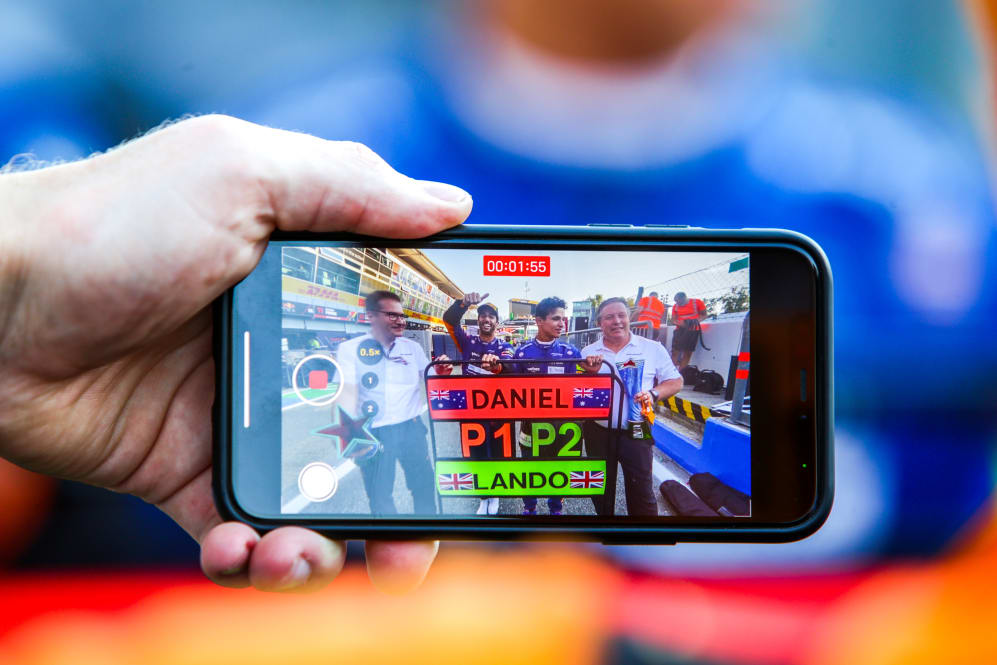 The last time McLaren won a Grand Prix was 2012, 170 races ago, when Jenson Button won the Brazilian GP after Nico Hulkenberg had inadvertently taken Lewis Hamilton out in the first corner. That was Lewis's last race for the team that gave him his break (and how stupid some of us still feel for suggesting he was committing career suicide…).
His departure coincided with the Woking team's fall from grace, with a string of poor cars that were a product of some muddled engineering and managerial philosophies that proved unsuitable to the 'get it done in a hurry' world of F1, as the departure of Martin Whitmarsh removed their human face.
READ MORE: Ricciardo needed summer break to reset, says McLaren boss Seidl after the Australian's Monza win
When Ron Dennis returned, he was right that Honda would be as good a partner as they had been in the glory years of the late '80s and early '90s, and a worthy replacement for the departing Mercedes – though not about the timing. He was also right in bringing in Jost Capito.
And once the team had unwisely parted company with both of them, McLaren floundered again. Having been close to the epicentre of the war with Honda at times, it was pretty bloody. I don't believe that would have happened had Ron and Jost remained in their posts. Thankfully, the arrival of Andreas Seidl and James Key set things back on the right technical road and calmed some of the other excesses.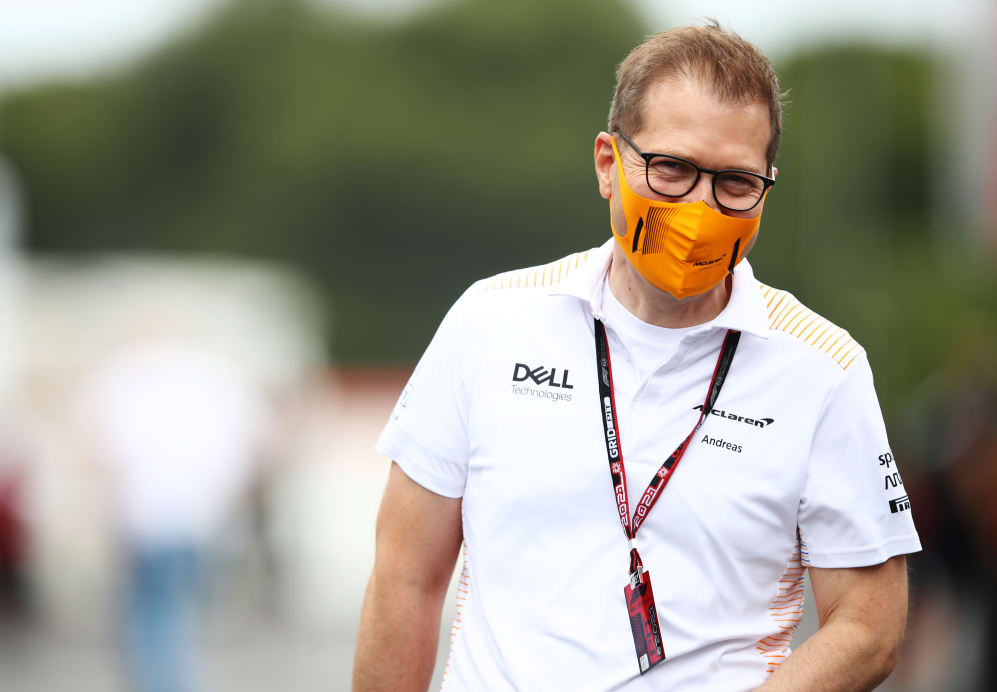 Like Jost, Andreas is a man who understands what needs to be done and, more importantly, what doesn't. The evidence is that he and Zak Brown work very well together, and as McLaren emerged from its final Honda period and rebuilt with Renault, the seeds of rapid improvement were sown.
Who hasn't been hugely impressed, now with Mercedes back behind the drivers' shoulders, with the way Lando Norris has gone this season?
READ MORE: Norris admits he 'would have loved to go for the win' at Monza but feared Hamilton/Verstappen-style crash
Indeed, I felt a bit sorry for him on Sunday, that when the big breakthrough finally came he wasn't the one to achieve it, though he can be proud of his second place and most significantly that fabulous pass on Charles Leclerc in the Curva Grande on Lap 31. That, and his dive past Lewis at start of the Sprint, must surely have convinced everyone that he is a future champion in the making.
But just as Monza 2021 was about McLaren's redemption, so it was about Danny Ric's. Is there anyone in F1 who doesn't like that guy? I doubt it. He's just one of life's good blokes. A fighter rather than a whiner, and a proper racer. Which is why it was distressing to see him struggling and being upstaged so much by his young team mate in previous races.
But whatever it was he had to get his head around, particularly in the braking department on the MCL35M, it appeared from the outset of the weekend he had managed to do so during the summer break, when he admits that he chilled out and reset himself.
READ MORE: 'Deep down I never lost faith or belief' says Ricciardo after taking first win since 2018
The old Danny Ric was back at the Autodromo, and after his performance in the Saturday Sprint, his arrival on the front row of the Grand Prix grid alongside Max Verstappen was a timely reminder that he used to give the Dutchman a pretty hard time when they were teamed together at Red Bull.
There was a lot of Damon Hill's late-career story to Daniel's weekend, I thought. Remember how Damon had to leave Williams when they signed Heinz-Harald Frentzen instead, and how he desperately wanted to prove that he could win elsewhere? How he so nearly did it with Arrows in Hungary in 1997, and did it for real at Spa for Jordan in 1998?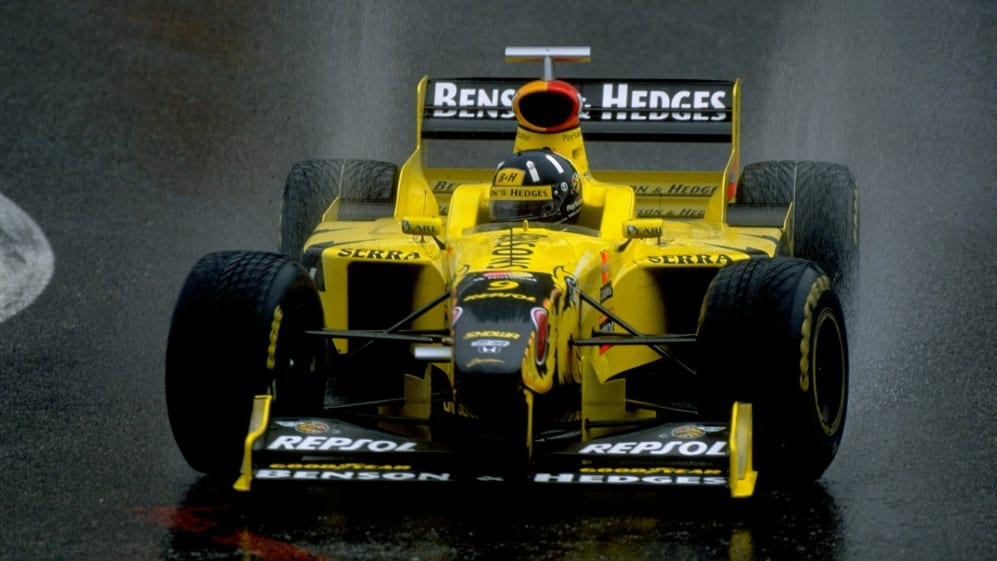 Oddly enough, as things would unravel in a similar way last weekend for Daniel after his post-Red Bull years of disappointment chez Renault, both would get their 'somewhere else' wins while heading a team one-two. I thought both times that was rather cool.
It's easy to be misled into reading the outcome of the race as a slightly fortuitous win, given the latest clash between Max and Lewis, but I firmly believe Daniel could have done it even if they had not clashed.
READ MORE: The Hamilton-Verstappen crash changed the face of the Italian GP – but would Ricciardo have won regardless?
The McLaren had been very quick all weekend in low-downforce Monza trim even if Red Bull had successfully trimmed out the RB16B on Saturday and also seemed to have plenty of grunt from the Honda power unit. Daniel had done the really hard work in that first stint.
Starting on the same medium Pirellis as Max, he had taken the lead in the first corner and then weathered the inevitable storm lap after lap until his pit stop for hards on Lap 22. His radio transmissions confirmed his worries that his first set of tyres were past their best, but it was the same for Max, too. And he'd had no answer while chasing the papaya orange car.
Red Bull had then lost 10s for Max during a disastrous stop on Lap 23, effectively putting him out of the lead fight, and when Lando stopped on Lap 24, all went well there for McLaren, too. Mercedes then pitted Lewis for mediums on Lap 25, which seemed a little odd to me, as they apparently squandered the advantage of him starting on the hard tyres by not leaving him to run longer in clean air.
Then came the accident at the start of Lap 26, which enabled Ferrari to pit Charles Leclerc and get a jump on Lando. Lando dealt with that beautifully on Lap 31 when racing resumed, and now the real threat was from Valtteri Bottas, who was going like gangbusters after also switching to mediums under the Safety Car.
READ MORE: P3 was the 'the maximum we could reach' says Bottas after recovery from back of the grid at Monza
When Valtteri set a fastest lap of 1m 24.827s on them on Lap 34, Daniel's lap time had been only 1m 26.021s. That was when Lando got on the radio to tell the team to get him to speed up. And, perhaps, to suggest obliquely that a switch might be their best strategy…
Thereafter the McLarens did speed up, Daniel towing Lando nicely on their hards. And here's the thing that persuades me that the Max/Lewis clash didn't affect the outcome: Valtteri soon found his mediums giving up, and with its fresher power unit his W12 had been quicker than Lewis's in a straight line. So I think McLaren would still have won after some great strategy and some strong racing by its now well-matched duo.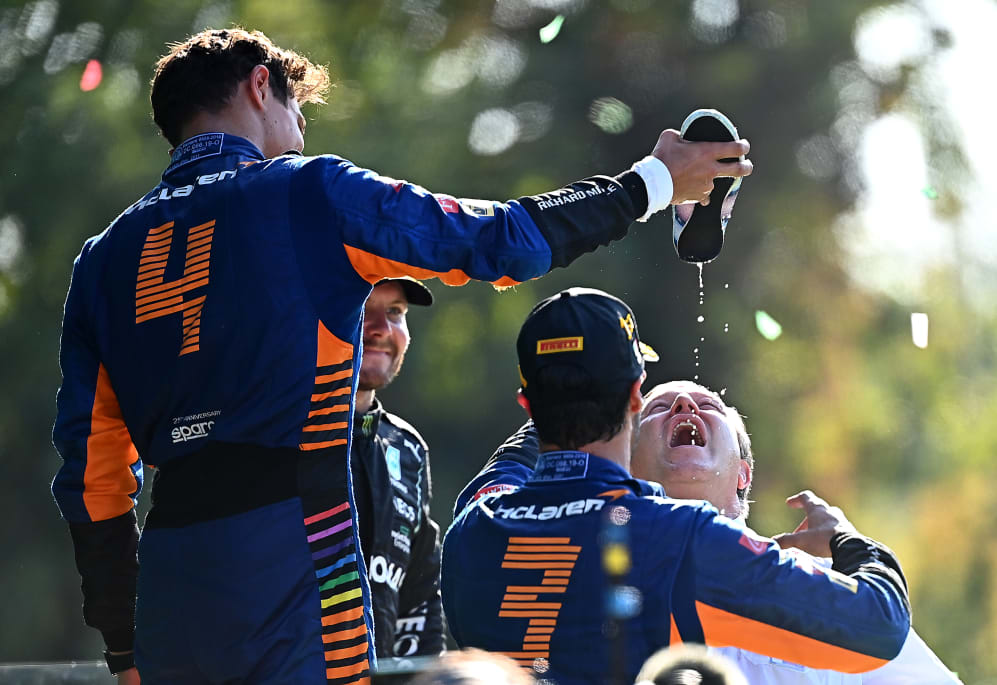 In the end, Daniel led Lando home by 1.7s, and added the final touch by setting fastest lap on the last of the 53. And, in third on the road (before his 5s penalty was applied), Sergio Perez hadn't had an answer to their speed, either. How satisfying that must have been for Zak and the boys, to beat their former engine supplier. And, on Ferrari's home ground, to snatch third place back from them in the constructors' stakes…
READ MORE: 'We still have a lot of work to do' – Brown and Seidl insist McLaren mustn't get carried away after Monza 1-2
So now McLaren have 183 victories under their wheels, and I couldn't be happier about that. It was lovely to see Daniel get the redemption for which he was so desperate, and we'll all be monitoring how he builds on that in the remaining races. If he does, McLaren will be very strong.
But you can bet your paycheck Lando will be even more desperate to get his first win before the season ends. And to be honest, I'm not sure I'd bet against that.