Feature
Verstappen is oozing confidence – but will he extend or lose his title lead to Hamilton in Baku?
Playing it down was the common theme in the messaging coming out from Formula 1 teams on Thursday in a hot but very windy Baku, with the likes of Mercedes, Ferrari and McLaren urging caution after wildly different experiences in Monaco. But one team – or more specifically one driver – was feeling pretty good about things.
Max Verstappen is riding high after his maiden Monaco Grand Prix victory last time out, which was followed by the traditional dinner for the winner with Prince Albert of Monaco, and arrives in Baku oozing confidence. The Dutchman has never been short of self-assurance but seizing the lead of the drivers' championship for the first time in his career on F1's most demanding track has that effect on you.
READ MORE: Verstappen says he 'can't be bothered by mind games' with title battle set to continue in Baku
Red Bull's RB16B is a title contender, the first the team has built since 2013. And after a run of races where they hadn't been able to get the best out of it, Verstappen and Red Bull made no mistake in Monaco, capitalising on the fact Mercedes struggled, to also snatch the lead in the constructors' standings. We genuinely have a title fight on our hands.
The pre-race data simulations suggest this should be tight between Mercedes and Red Bull on the Baku streets. Verstappen generally keeps his cards close to his chest ahead of a Grand Prix, but speaking in Baku on Thursday – while he moved to calm excitement around a title fight – he allowed himself to be more optimistic about their chances this weekend.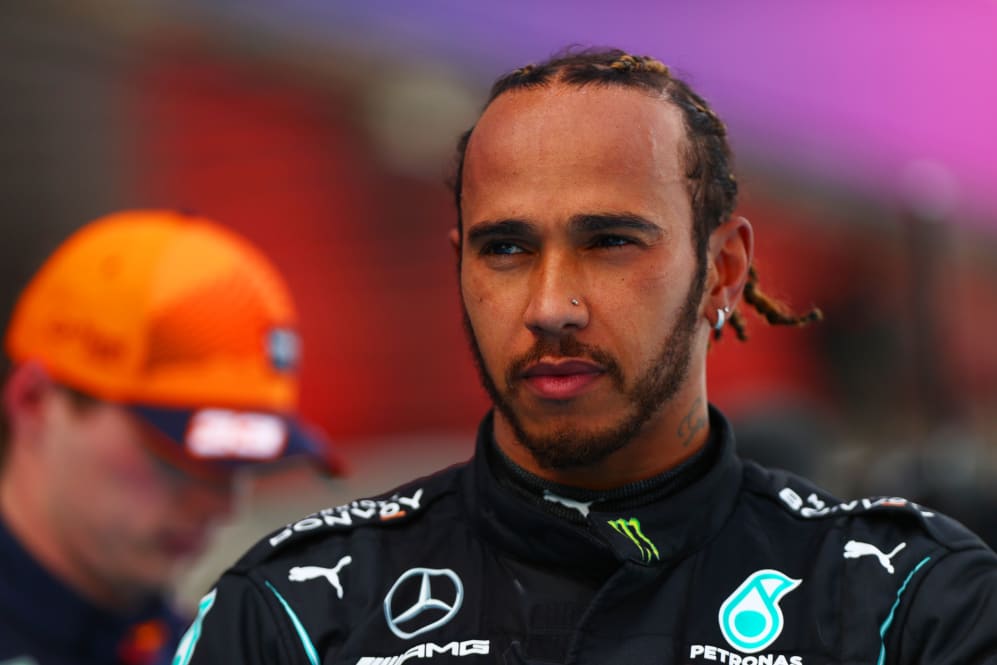 "Winning Monaco is very special, but we want to be in this exact position in Abu Dhabi (this season's finale), which I know will be very hard," said Verstappen. "We just have to keep doing what we're doing, but just a little bit better." He added: "We are only five races in. It's going to be very tight. Lewis is very experienced and has who has a lot of championships already so it's definitely going to be a good battle.
"[Baku] is very different [to Monaco]. Monaco is very challenging. This one [Baku] has a bit more space, it's very slippery around here, then it seems like this weekend the wind is going to play a factor - and there always seems like there is a bit of chaos around the race. So as soon as we find a good balance, I'm very confident we can have a very good result."
READ MORE: Betting odds for the Azerbaijan Grand Prix – Is Verstappen favourite to make it two wins in two races?
Hamilton – who on Thursday expressed regret over his criticism of his Mercedes team in Monaco – wasn't so confident publicly and is instead anticipating a potentially challenging weekend at a venue where he has won once in four attempts.
"It's another street circuit and we've struggled with tyres and temperatures," said the seven-time World Champion, referencing their difficulties on the streets of the Principality. "It is hot here. There are multiple reasons why we aren't great at Monaco and there are some tight sections here where we will physically just lose out. But in the past here, I think we've been OK. So I hope this weekend it is close."
Hamilton rarely has 'off' weekends – and when he does, history suggests he bounces back with aplomb at the following race.
GOOD LAP vs GREAT LAP: Ride onboard with Max Verstappen to see how to nail a lap of Baku
So while he may sound downbeat, the experience that Verstappen referenced will be telling him to keep a calm head and focus on getting a good direction with the car from FP1, rather than feeling the need to come out with fighting talk. Only time will tell whether or not Mercedes' concerns that Baku could be a difficult weekend are correct.
But with Hamilton and Mercedes just four and one point, respectively, behind in their respective championships, there's absolutely no need to hit the panic button just yet. There are, after all, still 18 Grands Prix to go.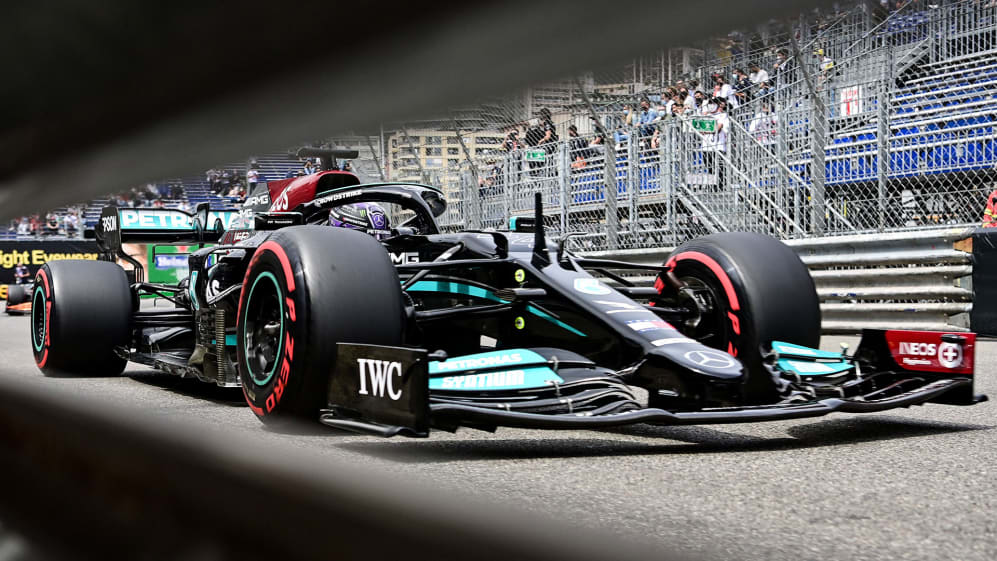 McLaren and Ferrari's fight for P3 intensifies
Behind them, there's an intense two-team battle shaping up between McLaren and Ferrari for P3 in the constructors' championship.
Even before we arrived in Baku, Ferrari were playing down the chances of repeating the form that yielded pole and then second in the race on pure performance – and Sainz, who took that podium in Monaco, continued that train of thought when he spoke to media on Thursday, with particular concern given to the 1.4-mile kinking straight that will likely expose a weak area for Ferrari.
READ MORE: 'Now I look forward' says Leclerc as he insists Monaco heartbreak is behind him
"It's another street race but it has completely different characteristics," he said. "Baku is so tricky. You have all these very long straights. I think we spend two kilometres flat-out. We know that that is still a bit of a weakness for us in terms of top speed and acceleration, so we know that that is going to put us immediately a bit on the back foot going into the weekend."
Lando Norris, who joined Sainz on the podium in Monaco, also moved to calm expectations. "I think we can be confident and optimistic that we can go well; I don't think we'll be anything extraordinary," he said.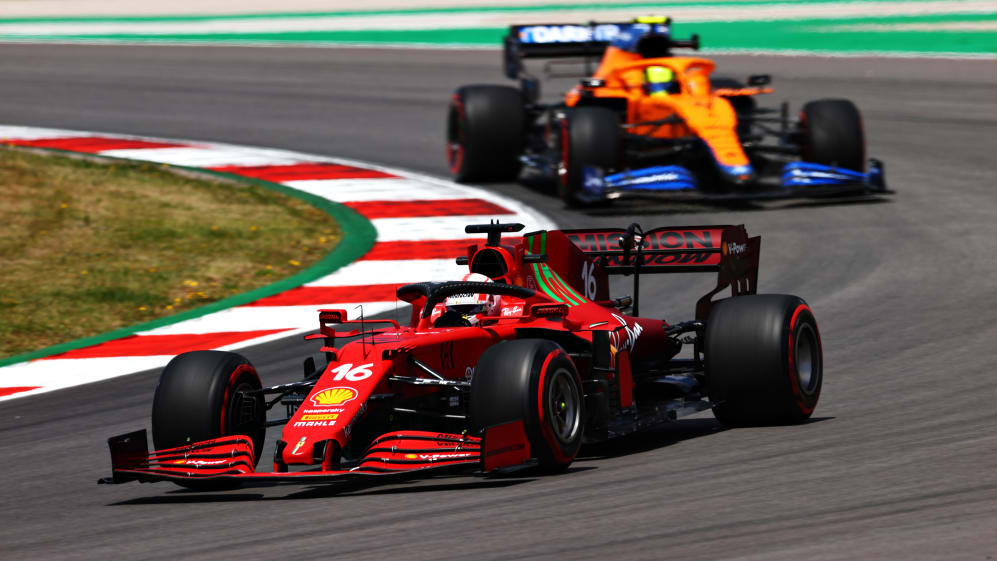 "I think we've got a good plan. I think we've shown over the first five races that we have a good car on all the tracks but yes, I don't know, I don't think we can say we'll be quicker than Mercedes or Red Bull but we'll keep our heads down and try and see what we can do."
READ MORE: 'I know what I'm capable of' says Ricciardo as he looks to get back on top form in Baku
Simulation data suggests they should have the edge on Ferrari, with the Scuderia closer to the chasing pack of Alpine, Aston Martin and AlphaTauri than the resurgent British team, who lead Ferrari by two points in the standings.
But if we've learned anything from racing in Baku over the last four years, it's to expect the unexpected, with those who keep their noses clean and seize their opportunities getting handsomely rewarded. Just ask Fernando Alonso, who suffered damage so significant on Lap 1, he was driving on two wheels back to the pits in 2018 – before McLaren rebuilt his car and he went on to finish in the points.