'We have to prepare for all scenarios' – Hamilton expecting the unexpected in first GP at Portimao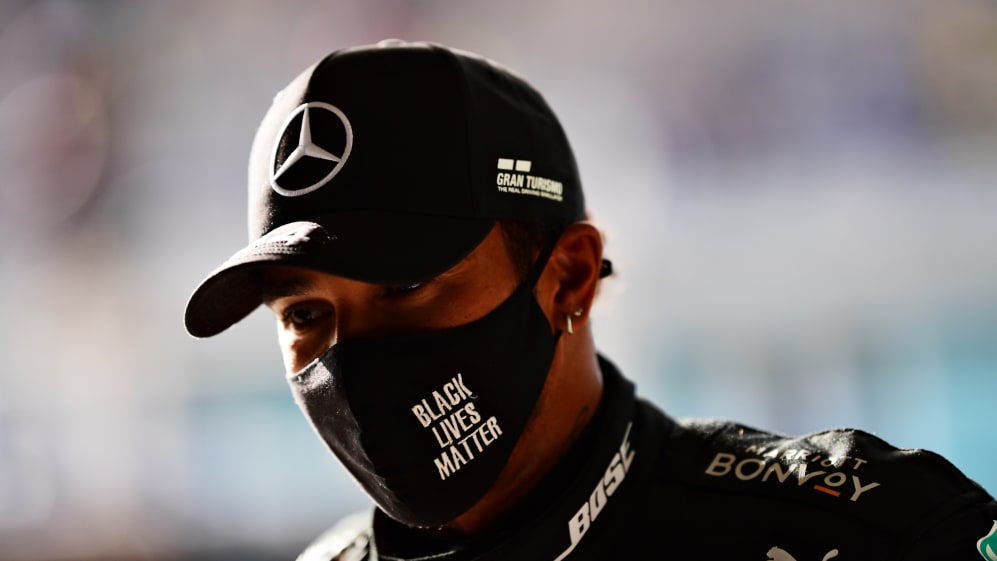 Lewis Hamilton came from behind to take his 97th pole position in qualifying for the Portuguese Grand Prix, snatching it by a tenth of a second from Mercedes team mate Valtteri Bottas with a superb final effort. But that was Saturday – and Hamilton is expecting a much harder Sunday in prospect, with a number of variables to keep the six-time champion on his toes.
Hamilton and Bottas both made it through the Q2 segment of qualifying on the medium tyre, giving them a potential strategic advantage in the race. But with Red Bull's Max Verstappen starting directly behind Hamilton on soft tyres – and on the clean side of the track to boot – Hamilton is expecting to have his mirrors full of Red Bull when the race gets underway.
READ MORE: Hamilton 'had to drive the nuts off the car' to secure 97th pole at 'hardcore' Portimao
"I think it's going to be a very tricky race," said Hamilton, "particularly as we've got the harder tyre. It doesn't work for several laps. That's going to be interesting at the beginning. We lose a bit of performance to Max and the guys behind on softs. I really don't know what to expect tomorrow."
Adding to Hamilton's worries is an unsettled weather forecast in the Algarve, with the six-time World Champion saying that any rain would make the already low-grip, wind-swept Portimao track feel like "driving on ice".
"It's supposed to rain tomorrow," said Hamilton after qualifying, "which means it's going to be the hardest day for us all if it does. Windy and wet – that would really be [like driving on] ice tomorrow if we had that!
READ MORE: Vettel says Leclerc's pace is currently in 'another league' after another Q2 exit
"I think we have to prepare for all scenarios," he added. "If it is dry, restarts will be difficult with the tyres, with the speeds that the Safety Car goes, which I won't comment too much on. But it's going to be a tough race, that's for sure, since we've never been here as well."
The Portuguese Grand Prix will see 91-time winner Hamilton chasing a landmark moment in the history of Formula 1, meanwhile, with his next victory putting him at the very top of the win list in the sport, after he matched the great Michael Schumacher's record with his triumph last time out at the Eifel Grand Prix.