Feature
5 things we learned from Friday practice for the Bahrain Grand Prix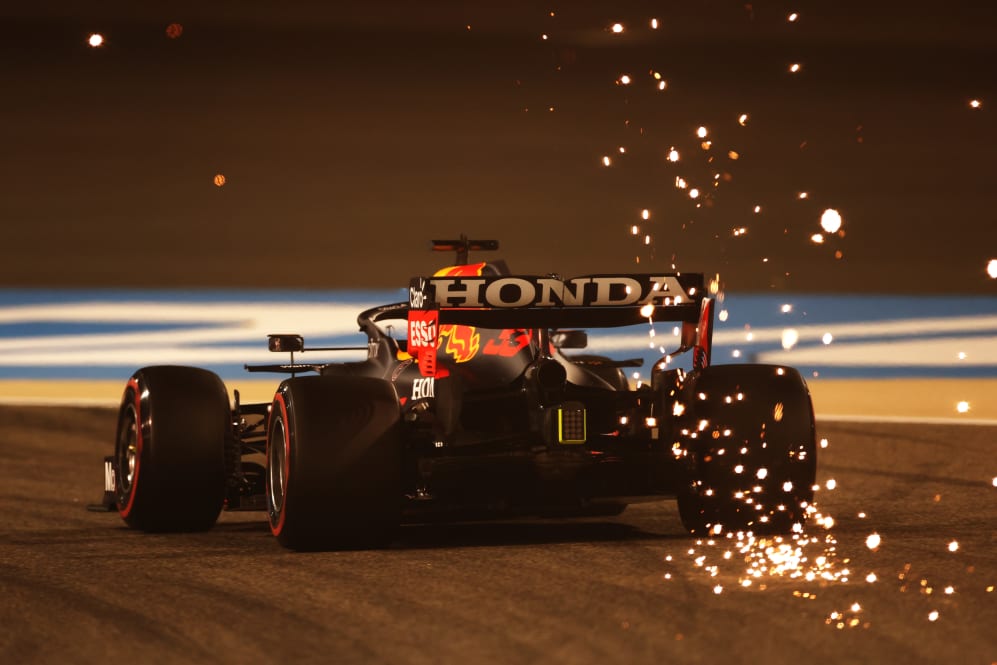 At last, the first race weekend of the new season is upon us and we have the first meaningful running to help us start nailing down a pecking order for the 2021 campaign. Of course, it's still only practice, but there was plenty to learn from the two one-hour Friday sessions…
1. Red Bull's pre-season pace looks like it's real
Red Bull and Max Verstappen have given any chat about them being favourites short shrift in the build up to the opening race of the year in Bahrain. But their impressive form in Friday practice, following up on a super pre-season test, has done nothing to suggest they are anything other than the ones to beat.
Verstappen looked very comfortable out on track in Friday's two practice sessions - which have each been slimmed down by 30 minutes since last season - and topped the times in FP2, which is the more representative of the two sessions as it took place at the same time of day as qualifying and the race.
READ MORE: 'Now we have to show what we can do in qualifying' says Verstappen after topping Friday practice
He moved to play down the team's chances when we spoke after the session, suggesting that while it was a good day, "now we have to do show what we can do in qualifying". Our data suggests Red Bull are pretty much neck-and-neck with Mercedes on short run pace (well, 0.01s adrift of the Silver Arrows), but 0.19s ahead in long runs. Where do they gain? In the short and medium corners, and they are only a fraction behind Mercedes in the fast stuff.
READ MORE: Perez admits he's still not able to drive the RB16B 'naturally' after first practice sessions with Red Bull
The RB16B is clearly an impressive machine, and a big step on from last year, but it seems that Honda have made a big step, too. When speaking to Dutch broadcaster Ziggo after the session, Verstappen said in his native language that if you took the wings off his car, it would be like a rocketship. The Dutchman, it is fair to say, is in high spirits.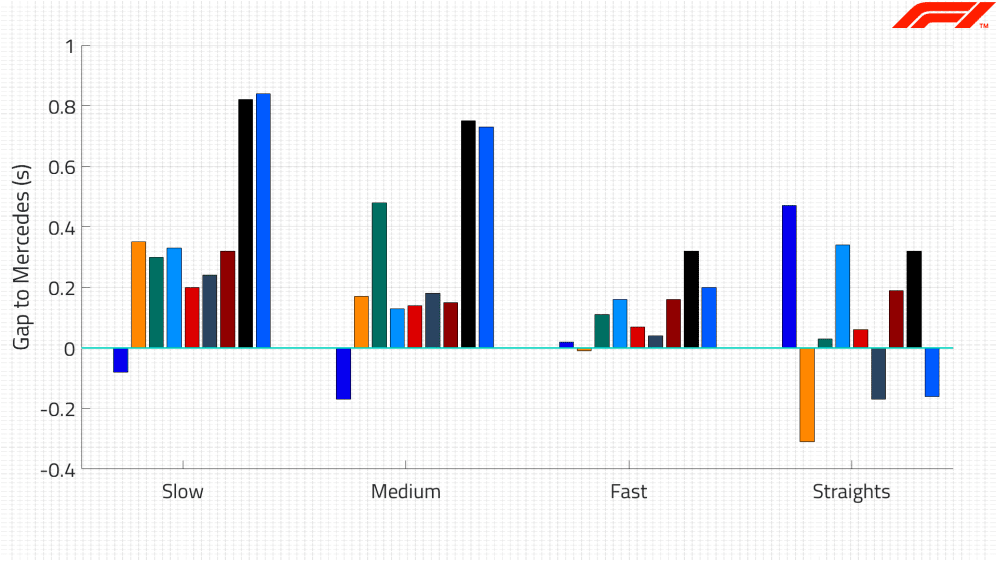 2. Mercedes are not as bad as feared, but still trail
It's not often Mercedes boss Toto Wolff has been asked what it feels like to be the underdog, but that is the situation he has found himself in of late – and again on Friday in Bahrain – with the Silver Arrows heading into the first race of the season seemingly with plenty to do based on their testing form.
The timesheets did little to suggest Mercedes had pulled it all back, but the W12 certainly looked more stable on the Bahrain International Circuit, and that translated into lap time, with Lewis Hamilton 0.235s off the pace in FP2.
READ MORE: Hamilton says Mercedes have improved, but Bottas labels W12 'undriveable' on first day of practice in Bahrain
The data, though, makes for even better reading when you take all of a driver's mini-sectors and combine them to make their ideal lap (see graph below, which compares actual laptimes to the theoretical best lap for each driver i.e. what their fastest lap time would look like if they set their best times in each mini sector on the same lap). In this metric, Hamilton left a staggering 0.648s on the table, which would have been enough to put him top of the pile, even if everyone else completed their ideal lap, too.
That might be why Hamilton wasn't so downbeat when speaking after the session on Friday, saying he "definitely" thinks the team have taken a step forward since testing, even if they have "still got more to do". It was noteworthy that he said that Mercedes thought Red Bull "would be fast – if not faster", suggesting he feels very much in the fight.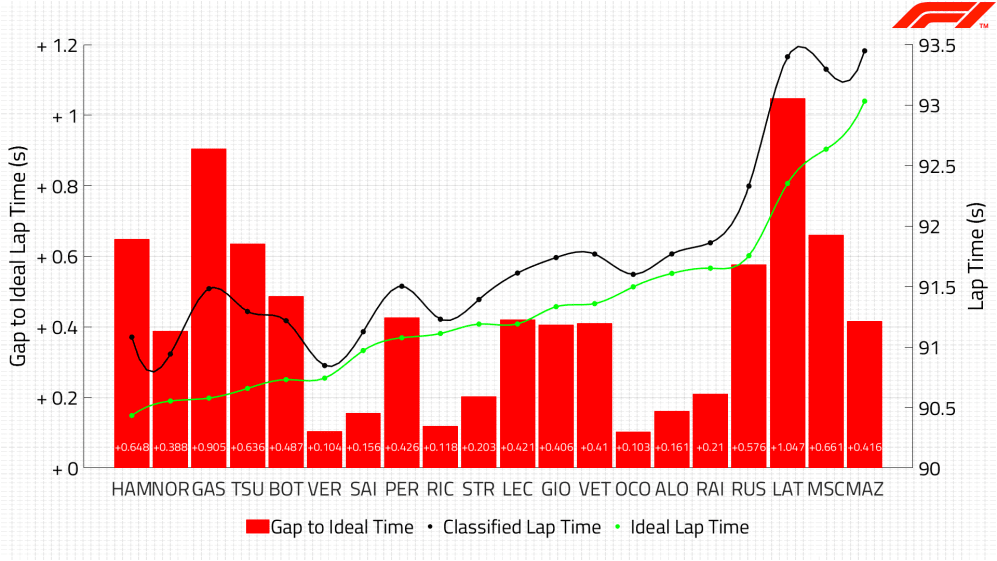 3. The entire field looks closer than ever
We spent much of last season talking about the most competitive midfield in years, with P3 down to P7 so evenly matched. And it seems that after Friday practice, not only has that midfield tightened, but it has hauled itself closer to the front.
Seven tenths of a second separated Hamilton in third from the returning Fernando Alonso in 15th in FP2. Overall Alonso was 0.923s adrift of Verstappen's leading pace. In the same session at last year's Bahrain Grand Prix, the gap from P1 to P15 was 1.6s.
'A lot left on the table' – Champions Vettel and Alonso on their low-key first day with new teams
Alpine's Esteban Ocon, who is working with a new engineering crew this year, was excited by the prospect of such a close battle this season, adding that it's going to "be the details" which make the difference on Sunday afternoons.
AlphaTauri are also worth a shout out, their short run pace looking very competitive – and enough to make it into Q3 in qualifying – but it is their long run pace that is so exciting, with the Red Bull sister team a remarkable third in the metric.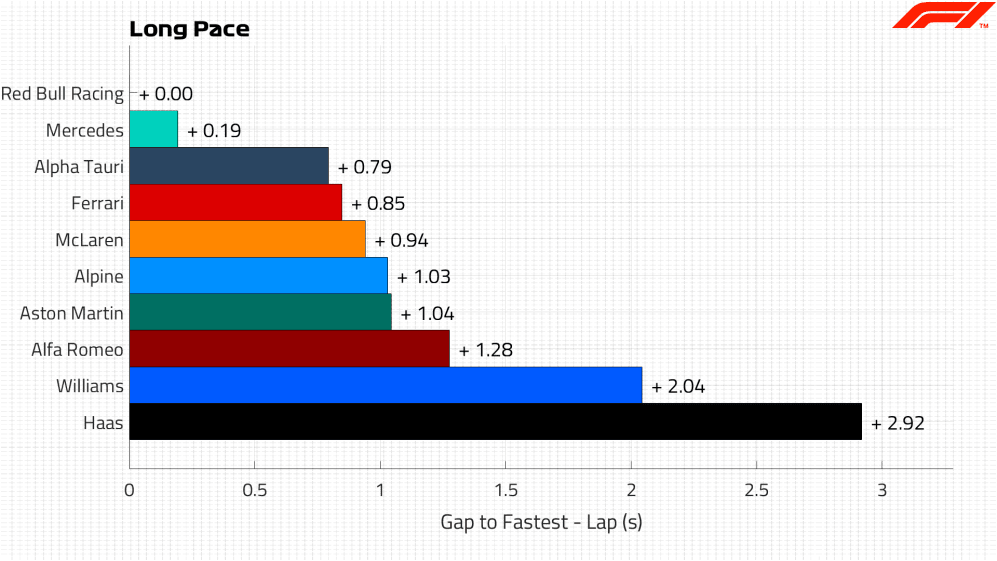 4. McLaren's form supports dark horse tag but drivers unhappy
This appeared to be a hugely encouraging day for McLaren, who left testing looking like the third fastest team and appeared to make good on that appraisal with their performance both in daytime and evening conditions.
Lando Norris was second quickest on the timesheets in FP2 and retained that place in our ideal lap classification, having left 0.388s on the table, with only Hamilton quicker in that metric. And they were third overall on short run pace, just 0.2s off.
READ MORE: 'I don't want to get too confident' – Norris plays down Friday pace as he says McLaren 'didn't feel good'
But the Briton was not a happy bunny when chatting to the media having just jumped out of the car. "We look quick today, but I think it is fairly obvious what is going to happen tomorrow," he said. A harsh assessment for someone who finished so high up the timing charts.
When it was suggested to him that the car looks together, he replied: "You think? It's not what it feels." Some of that might be referring to long runs, as they drop from P3 to P5 behind AlphaTauri and Ferrari in this metric.
His new team mate Daniel Ricciardo was equally cautious, but added: "The encouraging thing is that we are second and sixth, and still both relatively unhappy. Not to be too pessimistic but I don't think we are yet saying we are 100% into the car and comfortable and it is doing everything that we want. We still have some work to do, but knowing that and [given that] we are still at the pointy end is encouraging."
5. Veterans Vettel, Alonso and Raikkonen not yet up to speed
They may have well over a decade apiece of F1 experience under their belts, but Friday practice suggested even veterans like Sebastian Vettel, Fernando Alonso and Kimi Raikkonen need time to get up to speed with new machinery.
For Alonso, it's especially tricky given he's been out of the sport for two years. The Spaniard ended up 15th quickest in FP2, nearly a second off the pace and trailing his team mate by 0.25s. Despite this, Alonso said his Alpine "felt good" and that it was "amazing to be back" – and perhaps his confidence lay in his belief that the team "have something in the pocket" in terms of performance, because the balance felt different to the test.
WATCH: 'It felt amazing to be back' in Formula 1, says Alonso
It was a similarly challenging day for Vettel, as he bids to settle into his new surroundings at Aston Martin. He had the lowest mileage of any race driver at pre-season testing and left Friday practice feeling like he still has "a lot to learn". Like his fellow world champion Alonso, the German felt there was more to come, saying "there's still a lot left on the table, just to get used to the car and being able to squeeze the limit".
There was frustration for Kimi Raikkonen, who put his Alfa Romeo into the barriers during practice. The Finn, though, was very matter of fact about the incident and remains positive about his chances this weekend, having suggested earlier in the weekend that challenging for points this year was a more realistic prospect.
FP2 HIGHLIGHTS: Watch the key moments as Raikkonen crashes and Verstappen goes quickest
"Of course, losing some time because of the incident was not ideal, but we have already so much data from testing that it wasn't a big setback," he said. "We're looking forward to seeing where we stand tomorrow: we still have to refine a few things tonight but we should be okay."