Feature
F1 POWER RANKINGS: Which two-time race winner led the standings in Spain?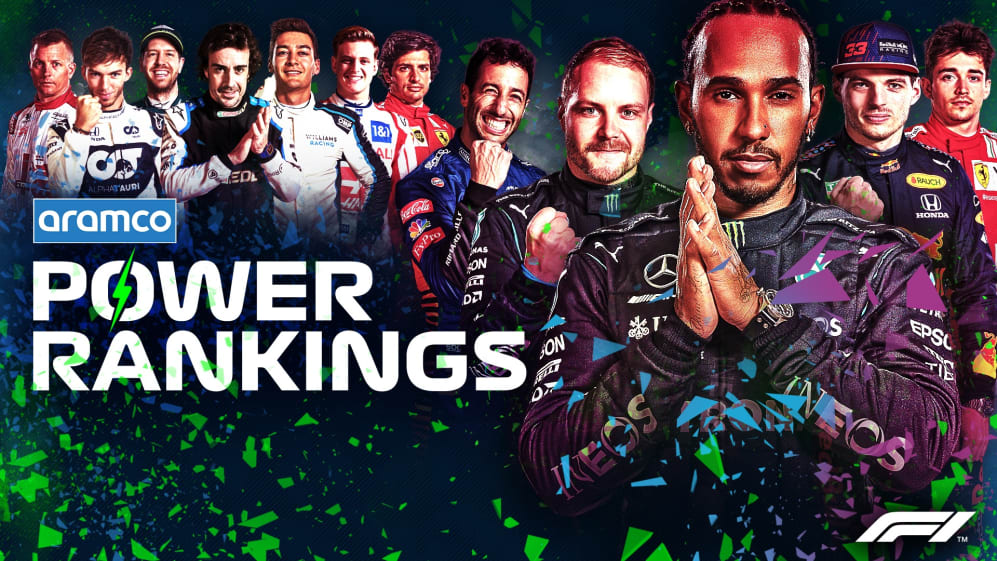 A masterclass in strategy and execution from Mercedes and Lewis Hamilton saw them triumph over Red Bull's Max Verstappen for the third time in four races at the Spanish Grand Prix. But was it Hamilton, or one of his fellow peers, who drew the most praise from our judges in Barcelona? The scores are in for this week's Aramco F1 Power Rankings…
HOW IT WORKS
Our six-judge panel assesses each driver after every Grand Prix and scores them out of 10 according to their performance across the weekend – taking machinery out of the equation

Our experts' scores are then averaged out across the season to create an overall Power Rankings Leaderboard (at the bottom of the page)

A superb weekend from Charles Leclerc in Spain, the Monegasque taking P4 on the grid (for the third time this season) and then – unlike at Bahrain and Portugal – managing to hold onto that position by the chequered flag, demonstrating that Ferrari are getting on top of their race pace issues.
Not only that, but a sweet move around the outside of Bottas on Lap 1 meant that Leclerc spent 28 of the 66 laps in P3, a timely reminder that, when Ferrari can ultimately give him a race-winning car again, Leclerc will do the rest. A worthy earner of a near-perfect Power Rankings score this week.
READ MORE: 'P4 the best we could have done' – Leclerc delighted with 'very competitive' Ferrari performance in Spain

What a luxury Mercedes have in Lewis Hamilton, a driver they know they can chuck a tough scenario at and he'll still come through with the goods. Having lost out to Verstappen at the start, Hamilton then piled the pressure on the Red Bull driver throughout the race, before making the bold move to take an extra stop when he was right on Verstappen's gearbox on Lap 42, and blasting through for the lead six laps from the end. It was a brilliant performance, and a fantastic way to cap off his 100th pole position on Saturday.
READ MORE: I learnt more about Verstappen in Spanish GP than all other races put together, says Hamilton

Verstappen was understandably deflated to have led for 54 of the 66 laps in Spain only to have the win taken away from him by Hamilton – the third race in four that he's finished second to the seven-time champ. Nonetheless, there were positives aplenty to take, Verstappen demonstrating expert brinkmanship with his dive for the lead on Lap 1, qualifying just 0.036s off Hamilton (compared to 0.708s last year!), while he and Hamilton were quite simply in a league of two at the front of the field throughout the race.
READ MORE: Verstappen says he was 'a sitting duck' in Hamilton fight, as he defends Red Bull strategy call

There was yet more encouragement for Esteban Ocon in Barcelona, the highlight of the Frenchman's weekend undoubtedly being his P5 in qualifying – his highest grid slot of the year, and five places up on team mate Fernando Alonso, with Ocon the meat in a Ferrari sandwich. Ultimately he'd fall back in the race, with Alpine's one-stop strategy ultimately costing him positions to Daniel Ricciardo, Carlos Sainz and Lando Norris late on. But despite that, the upward momentum meant that Ocon heads to Monaco, in his words, "with a smile". Which is nice.
READ MORE: Strong qualifying leaves Ocon optimistic for Monaco, despite race pace costing Alpine in Spain

Daniel Ricciardo's pace struggles in the McLaren MCL35M this year – and particularly issues with braking and confidence in long-radius corners – mean that this is the Australian's very fist appearance in Power Rankings this year.
"Familiarity is good for me right now," said Ricciardo on arrival at the much-used Circuit de Barcelona-Catalunya, and so it proved, with Ricciardo outclassing team mate Norris in both qualifying and the race for the first time this year to come home a strong sixth, albeit passed in the latter stages by the faster Red Bull of Sergio Perez. Still, the result in Spain should give the 2018 Monaco winner a decent confidence boost ahead of his return to the Principality.
READ MORE: Ricciardo happy to face 'good problems' on way to joint-best finish for McLaren

A weekend where Sainz was a half a step behind compared to the superlative performance of Ferrari team mate Leclerc – but there was still much for the Spaniard to be happy about. Qualifying P6, and just 0.11s off Leclerc's time, was another sign of how quick Sainz has got up to speed with the SF21, while Sainz blamed choosing the right side into Turn 1 at the race start – where his progress was arrested by Ocon's Alpine – for his failure to finish P5 at the flag.
READ MORE: Sainz left unsatisfied with P7 as he says Ferrari were 'quickest' midfielders in Spain

Fourteenth on paper, but it was another assured performance for George Russell in Spain. The Briton made it to Q2 for his first time ever at Barcelona – yet more evidence of Williams' progress, especially with an AlphaTauri and an Alfa Romeo dropping out in Q1 – while he was battling around the fringes of the points with 10 laps to go when his tyres, like those of Fernando Alonso who he'd been battling with, fell off the cliff, with Russell dropping down to that P14 finishing position.
READ MORE: Russell found the Williams 'joyous to drive' in Spain as he commends team for rolling the dice on strategy

On a weekend where Haas simply didn't have the pace to compete, Mick Schumacher once again showed that he was more comfortable at this stage of his career than team mate Nikita Mazepin. The young German qualified ahead of Nicholas Latifi's Williams – itself a worthy achievement for Haas at this point – while in the race, he was seemingly powerless to finish any higher than P18 but comfortably ahead of Mazepin once again – Schumacher continuing to do a commendably solid job in Haas #47.
READ MORE: Schumacher apologises for putting 'the team in danger' in Spanish GP pitstop

Like Russell, Antonio Giovinazzi made his own first Q2 appearance in Barcelona, his Q1 lap a full 0.368s faster than his two-time Spanish GP-winning team mate Kimi Raikkonen, who couldn't make it through himself. What might have been in the race became a slightly moot point when a puncture was discovered on Giovinazzi's prepared tyre set, meaning that any advantage to pitting under the Safety Car was eviscerated by a 35s stop. In the circumstances, recovering to 15th was a good job by the Italian, who appears to have taken another step in his performances this season.

Lance Stroll should have been rightly proud of his Lap 11 battle with Alpine's Fernando Alonso – not an easy driver to out-wit in wheel-to-wheel combat – Stroll showing excellent spatial awareness to brave it out around the outside of the Spaniard at Turn 4 at the Safety Car restart before holding the position into Turn 5. Alas, Stroll's good work wasn't rewarded with points, the Aston Martin driver pipped by Pierre Gasly in the closing stages as he came home 11th.
READ MORE: Stroll left 'frustrated' with point-less display in Spain even after winning duel with Alonso
MISSING OUT
Just outside of the top 10 this week were Kimi Raikkonen and Lando Norris. Raikkonen may have been comfortably beaten by Giovinazzi in qualifying, but he battled back well in the race to finish P12. Norris had a strangely off-key weekend, meanwhile, nearly four-tenths off team mate Ricciardo in qualifying, while he was unable to make significant headway in the race, finishing outside the top five for the first time this season in P8.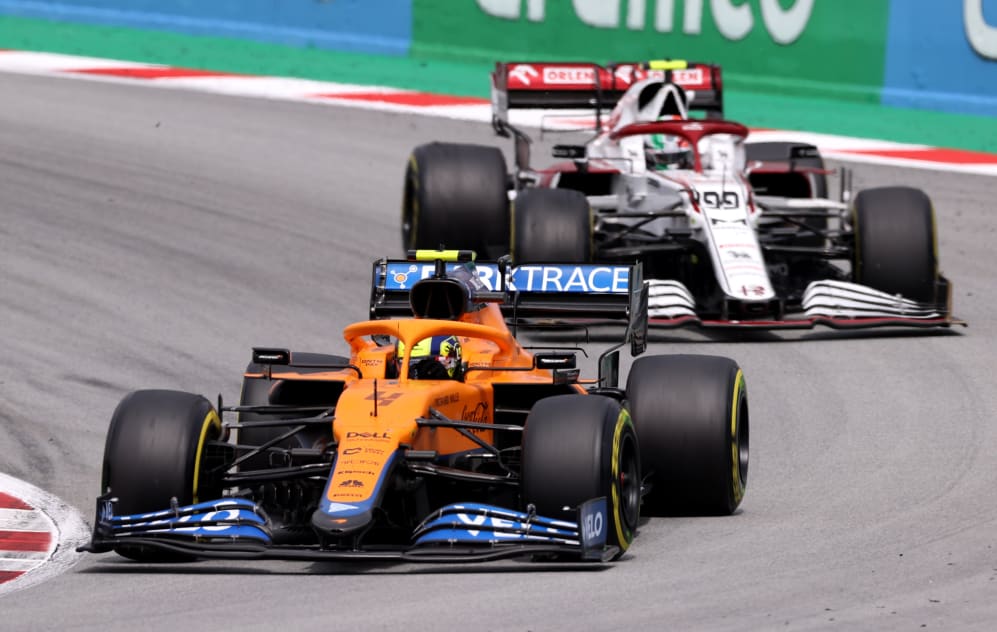 THE OVERALL STANDINGS
Norris' sotto voce weekend means he loses the top spot he shared with Hamilton after Portugal – Hamilton currently the undisputed king of the leaderboard, while Verstappen and Leclerc each climb a place. Meanwhile, we can also welcome Daniel Ricciardo to the fold, the Australian in at P10 for his first showing on the leaderboard this year.