Feature
FORM GUIDE: Can Hamilton hit back against Verstappen in Portugal?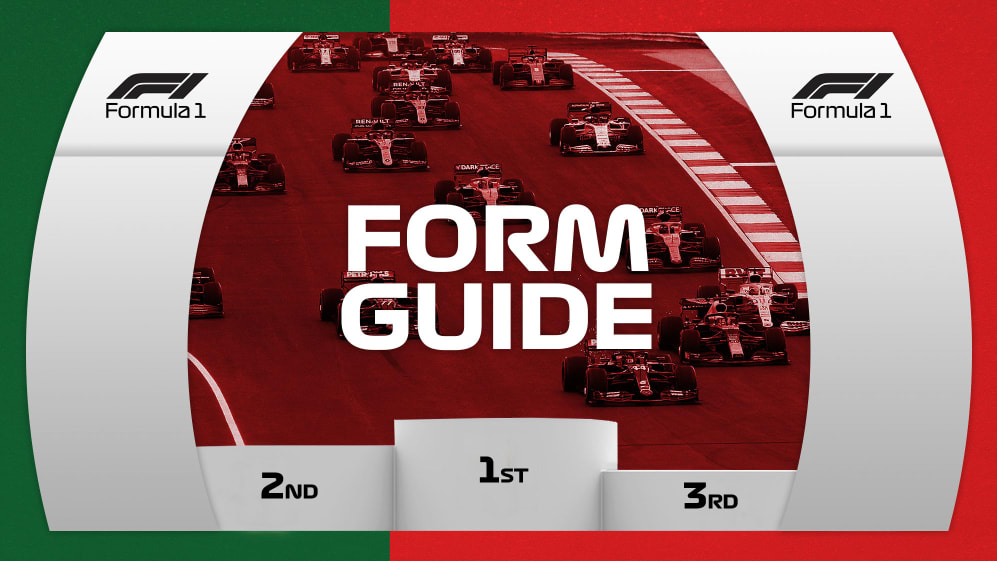 Formula 1 returns to the Algarve this weekend for the second ever Portuguese Grand Prix to be hosted at the fabulous Portimao track. Last year saw Lewis Hamilton setting the record for the most F1 victories in history with his 92nd triumph – but which drivers are well-placed to perform in Portugal in 2021? Here are the favourites for poles, podiums, points and victory.
Vying for pole
Last year's Portuguese Grand Prix may have been a topsy turvy race. But usefully for us (considering the lack of historical data we have on the track) everything ran to form at the front: Hamilton capitalised on the superior pace of the Mercedes W11 to take pole – a tenth ahead of team mate Valtteri Bottas, and 0.252s ahead of Red Bull's Max Verstappen – while after a dodgy start that saw him drop to third, Hamilton eventually converted pole into his second-most comfortable victory of the season (behind Turkey). All very 2020, you see.
READ MORE: Mercedes still lacking 'car and power unit' to match Red Bull in qualifying, says Wolff
Hamilton may have been on pole last time out at Imola too. But his Mercedes team boss Toto Wolff made no bones after the race that Red Bull are a step quicker in qualifying trim than Merc currently – with Wolff reckoning that Verstappen would have been on pole by up to three-tenths at Imola had he not had an off-track moment at Tamburello.
On current form, then, Verstappen looks favourite to pip the Mercedes to pole at Portimao – while team mate Sergio Perez will be keen to see where he stacks up compared to Verstappen if both get clean laps in, after surprising himself by out-qualifying the Dutchman at Imola.
Last year's polesitter: Lewis Hamilton (Mercedes)
FAN VIEW: Red Bull finally have a car which appears capable of mixing it with Mercedes on Saturdays and Sundays. And the F1 Play voting for pole in Portugal reflects that, with Max Verstappen holding a slight edge currently over reigning world champion Lewis Hamilton. Hopefully another thrilling weekend awaits...
In the mix for victory
Wolff may have conceded that Red Bull have the upper hand in qualifying currently – but it seems to be nip and tuck on race pace between the pair, with Wolff even claiming after Imola that Mercedes had had "clearly the quickest car" in the field on race day. That picture, though, may have been skewed by eventual winner Verstappen not needing to push as hard as Hamilton given his hefty lead...
READ MORE: Bottas not expecting Mercedes – or any team – to dominate races in 2021
Nevertheless, all the evidence so far from Bahrain and Imola points to Hamilton and Verstappen being well-matched for pace on a Sunday – with Valtteri Bottas and Sergio Perez seemingly not as comfortable with their 2021 steeds as their team mates at this point.
Should all go smoothly in Portugal, then, it seems that Hamilton and Verstappen are set to resume battle – with Verstappen hoping to banish memories of a scrappy first lap in Portimao last year, which saw him make contact with Perez's Racing Point and then lock his brakes into Turn 5, before recovering to P3.
Last year's winner: Lewis Hamilton (Mercedes)
FAN VIEW: It's the epitome of a two-horse race, with Hamilton and Verstappen eating up just about all the F1 Play votes so far as we get into the meat of race week. Lewis – so dominant in Portimao last season – just has the edge at the moment over the brilliant Dutchman, but it is close. The margin is literally wafer-thin.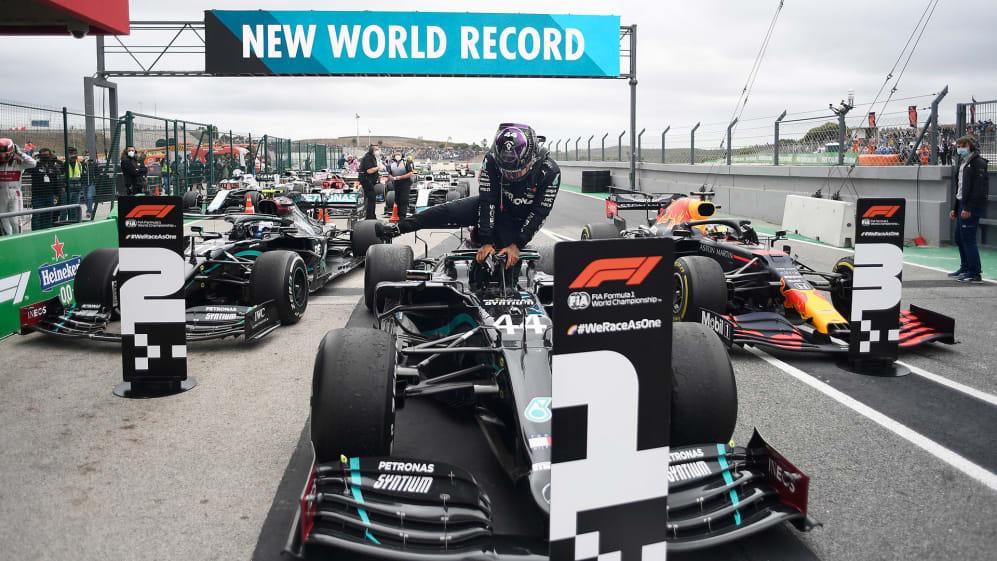 Podium outsiders
Carlos Sainz was one of the stars of last year's Portugal race, using the quick tyre warm-up on his McLaren MCL35 to snatch the lead off Bottas on Lap 2. And given their tight performance at Imola, we'd expect Sainz's old and new teams – McLaren and Ferrari – to be the main contenders for podium glory should any of the frontrunners fall this weekend.
Sainz would eventually come home P6 in Portugal last year, while his now team mate Charles Leclerc took an excellent P4, so both have form around here – while in the McLaren camp, Daniel Ricciardo had a steady run to P9 in Portugal last year for Renault, while Imola podium grabber Lando Norris had to make do with P13 after contact with Lance Stroll at Turn 1.
READ MORE: 'I'm still far from being the Carlos of McLaren' at Ferrari, admits Sainz
But with both teams appearing to have a step advantage over their midfield rivals currently, don't be surprised to see them sharking around behind the Red Bull and Mercedes drivers and looking for any available openings this weekend – with Norris particularly in superb form at the moment, following a P4 and a P3 in the first two races of 2021, while Ricciardo will be hoping to extend his 13-race streak of points finishes.
READ MORE: Ricciardo 'not letting ego get in the way' after failing to match Norris podium heroics at Imola
However, they'll have to fight off two drivers, in the form of Bottas and Perez, looking for redemption in Portimao, Bottas having crashed with George Russell at Imola when the Williams driver was attempting a pass for P9 on the Finn's Mercedes – not a good look for Bottas – while Perez has yet to finish higher than P5 for Red Bull, coming home out of the points in 12th at Imola after an error.
Last year's podium: Lewis Hamilton (1st), Valtteri Bottas (2nd), Max Verstappen (3rd)
FAN VIEW: As you might expect, Sergio Perez in the second Red Bull and Valtteri Bottas in the second Mercedes head up the F1 Play voting to take third place on Sunday afternoon. But it's a pretty competitive market with Ferrari ace Charles Leclerc and McLaren young gun Lando Norris also attracting plenty of support.
Points potential
One factor that made parts of the 2020 Portuguese Grand Prix weekend so unpredictable were the bizarre track conditions, with the drivers' grip levels all over the shop on the newly-resurfaced asphalt and in the chilly conditions.
Don't expect an exact repeat of that this weekend, with warmer conditions (around 20 degrees C) predicted in the Algarve and no real threat of rain forecast, meaning the drivers shouldn't struggle as much to bring in the hardest range of C1, C2 and C3 Pirelli rubber.
READ MORE: The Bottas-Russell fallout, Red Bull's latest hire and 3 other fascinating storylines ahead of the Portuguese GP
Aside from McLaren and Ferrari, then, it should be an epic bunfight to see who can fill out the top 10 positions, with the three As of Alpine, Aston Martin and AlphaTauri best-placed to score on current form.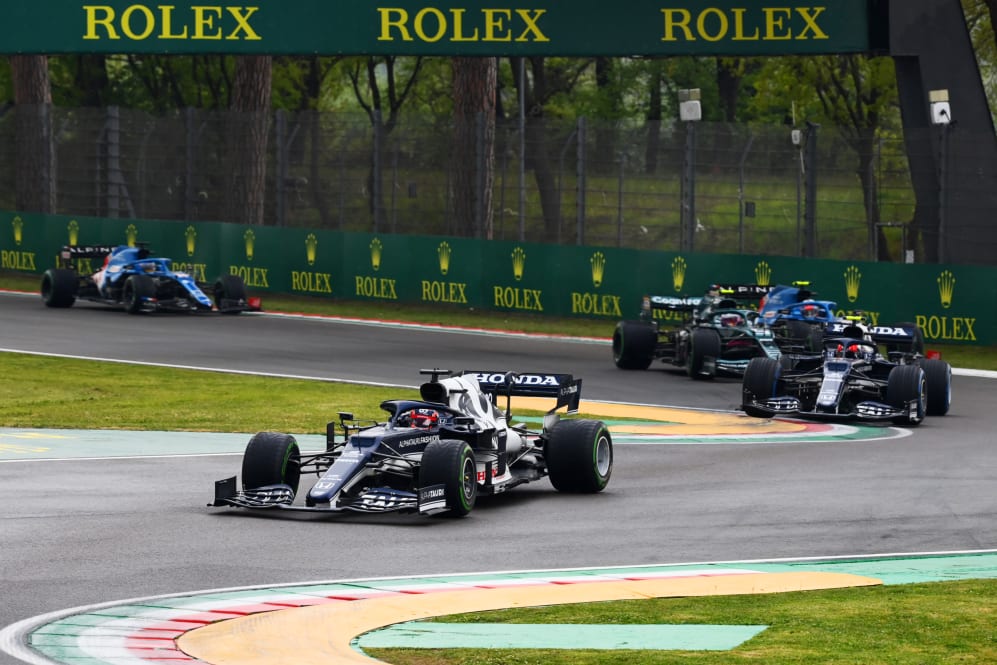 Of those three, look out especially for AlphaTauri. It's been a frustrating first few races the Italian team, who despite their early season promise have taken just eight points (compared to Ferrari's 34 and McLaren's 41) so far. But Pierre Gasly had a great run to fifth in Portimao last year, and would have probably finished higher than P7 at Imola had AlphaTauri changed his wet starting tyres quicker.
And with Yuki Tsunoda looking to make amends for his error-strewn Imola weekend, let's see if AlphaTauri can deliver on their promise.
READ MORE: Tsunoda determined to learn from 'really tough' first wet race after crash and spin in Imola
Last year's points scorers:
1. Lewis Hamilton (26)
2. Valtteri Bottas (18)
3. Max Verstappen (15)
4. Charles Leclerc (12)
5. Pierre Gasly (10)
6. Carlos Sainz (8)
7. Sergio Perez (6)
8. Esteban Ocon (4)
9. Daniel Ricciardo (2)
10. Sebastian Vettel (1)
FAN VIEW: While Norris is a popular choice to spoil the Mercedes/Red Bull podium party, F1 Play gamers also expect his McLaren team mate Daniel Ricciardo to net points. Pierre Gasly is another strong choice to score in the AlphaTauri. There's very little support, though, for the Aston Martin pair of Sebastian Vettel and Lance Stroll.