Feature
The Bottas-Russell fallout, Red Bull's latest hire and 3 other fascinating storylines ahead of the Portuguese GP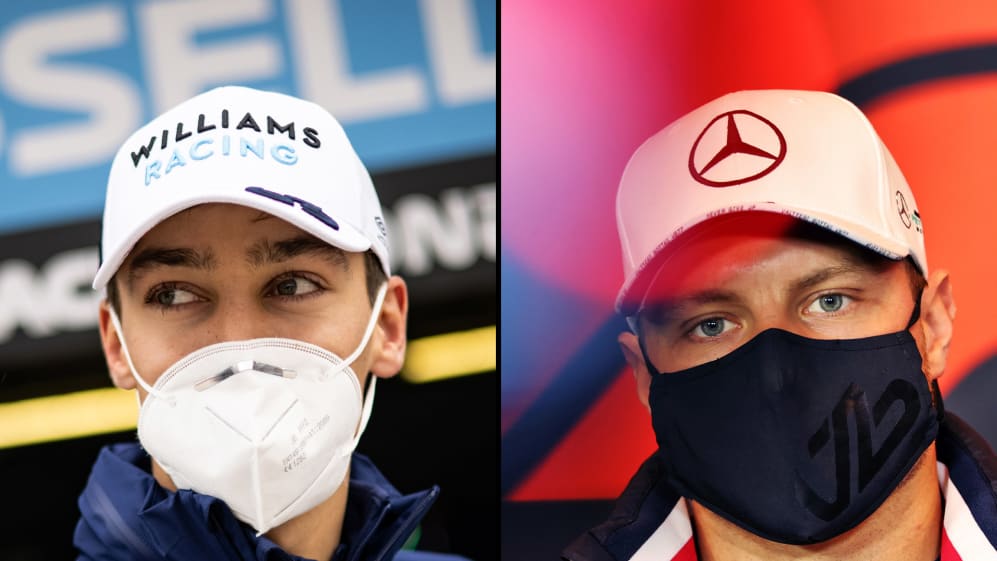 After two epic races to start the 2021 season, it's time for our first double-header of the year to keep that momentum rolling, with a trip to Portugal up first. Here's a few reasons we're excited about Formula 1's second visit to Portimao...
1. The Bottas vs Russell fallout
Round two at Imola provided another battle between Lewis Hamilton and Max Verstappen - with the Red Bull driver coming out on top this time – but there was nearly an actual fight between two other Mercedes drivers.
When Valtteri Bottas and George Russell collided at high speed on the run to Tamburello, Russell climbed out of his Williams to go and remonstrate with Bottas, who was still sat in his car. After some choice words and a one-finger salute from Bottas, Russell tapped the Finn on the helmet before storming off and making his feelings known in the media afterwards.
READ MORE: 'I should have handled the situation better' – Russell posts public apology to Bottas after Imola collision
The stewards decided nobody was wholly to blame and Russell was forced to backtrack on his comments somewhat, apologising via social media last week. But he was also put in a pretty difficult position by Toto Wolff who suggested Russell shouldn't be racing a Mercedes particularly strongly due to his connection to the team, while Bottas will feel he shouldn't be racing against a Williams at all.
It's gong to be fascinating to see how both view the incident two weeks on, with the heat having dissipated but opposing views likely to remain.
2. Can Norris continue his form?
Only four drivers can leave Portimao potentially leading the drivers' championship. Two of them are very obvious, but the other two have had impressive starts to the season. Lando Norris and Charles Leclerc remain within striking distance of Hamilton and Max Verstappen, with Norris a genuine threat to both at times in Imola.
During qualifying, Norris looked capable of snatching pole position before his lap time was deleted for exceeding track limits, and then in the race he put pressure on Verstappen after a restart before making life very difficult for the recovering Hamilton.
READ MORE: McLaren happy to have got through first races without major incident says Seidl, as teams feel cost cap bite
Norris started 2020 well with a podium and a fifth-place finish, so he's only slightly better off this year but has an even more competitive McLaren at his disposal. Comfortable in the car and keeping mistakes to a minimum, Norris is in very good form but will know last year's race at Portimao – where he failed to score after contact with Lance Stroll – meanss it won't be easy to keep this run going.
Two other drivers will also have their eyes on catching Norris as quickly as possible, with Bottas looking to bounce back from Imola. The other is Sergio Perez, who was remarkably quick in qualifying as he took second on the grid but made a number of errors in the race. If he can iron out the latter issues, Perez could be a factor in the fight for victory.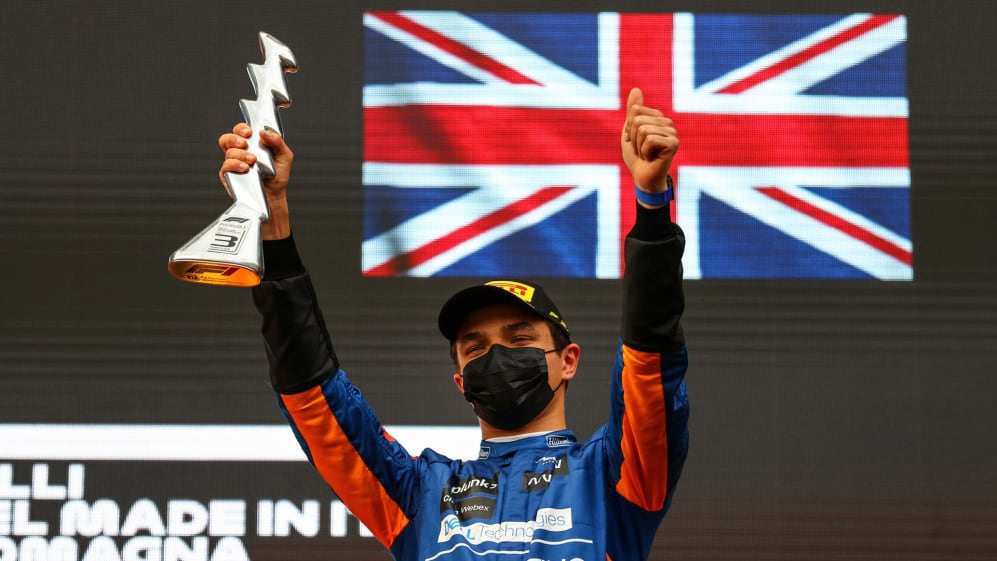 3. Red Bull making moves behind the scenes
Speaking of Red Bull, there was some very significant news announced on Friday that has no bearing on this season but could have a major impact on the team's future.
The first key hire of the team's new Red Bull Powertrains company is a big one, as Red Bull have enticed Ben Hodgkinson away from their biggest rivals. Hodgkinson has worked for Mercedes High Performance Powertrains (HPP) for some 20 years, stretching back to when it was known as Ilmor.
ANALYSIS: Why Red Bull's swoop for new engine boss is such a huge statement of intent
He rose to the position of Head of Engineering at Brixworth, but will now leave to become the new technical director of Red Bull Powertrains.
Such a hire is important in isolation, but what Red Bull say is that it highlights their determination to develop their own power unit whenever new regulations are brought on. This new company is not simply a temporary measure to be able to run the Honda technology for the next few seasons, but a full commitment to building everything in-house for the long-term.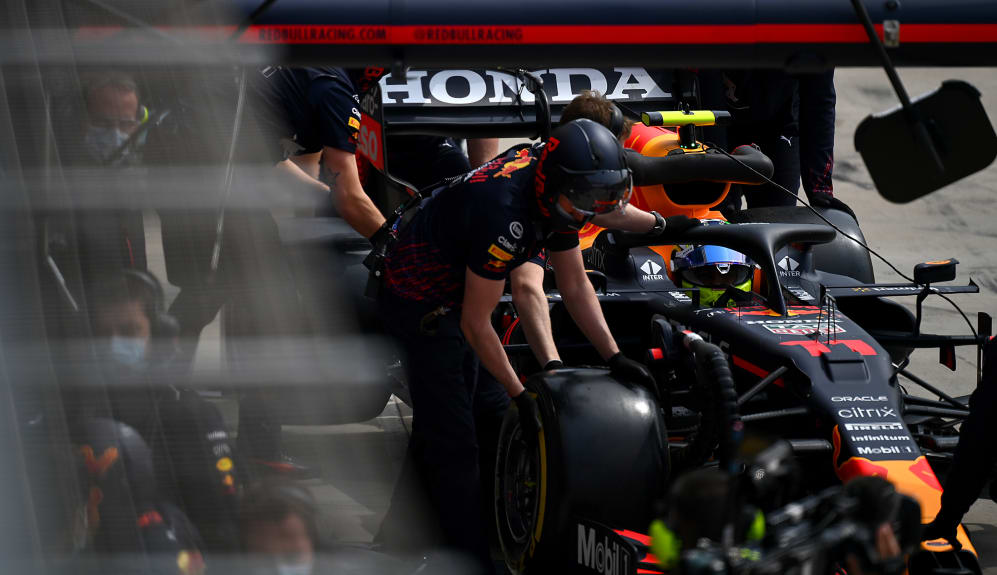 4. Pressure building on some big names
OK, it's a bit early to say that it's serious pressure that is building, but there are a number of drivers who have not got off to the start they will have wanted and will be keen to rectify that as soon as possible.
While I mentioned Norris earlier on, by contrast, Daniel Ricciardo has struggled a little to match his new team mate. Ricciardo has still been very solid – securing a seventh and a sixth place in the first two races – but Imola saw him asked to move over for the much quicker Norris. The Australian admitted he needs to forget about his pride a little and focus on where he can improve compared to the other McLaren, as he perhaps expected to be a little closer at this point.
That said, other experienced drivers are facing similar problems.
READ MORE: Why it will take time for Ricciardo, Sainz, Perez, Vettel and Alonso to adapt and get up to full speed
Sebastian Vettel has yet to score a point while team mate Lance Stroll has a pair of top 10 finishes, and the German is clearly not yet conformable with his Aston Martin. There were signs of encouragement in Imola but he still failed to make Q3 and then was hit by a brake issue on the grid that later led to a penalty and ruined his race.
Vettel's bigger problem is last year's form for Ferrari, leading to even greater scrutiny than might be expected just two races into his new venture, but he's in good company as his old rival Fernando Alonso also struggled in Imola as he was outqualified and outraced by Alpine team mate Esteban Ocon. Alonso says his return is a big learning curve but he expects better of himself, so all three will be looking for a reaction this weekend.
5. A chance for Ferrari to show their potential
Last year was a strange one, but one interesting quirk of the calendar has been the ability to see direct improvements from teams at venues that only hosted races a few months ago. Bahrain was the season-opener after being part of the final triple-header in 2020, while Imola hosted races in November and April.
Portimao is similar, having been the first part of a double-header with Imola last season and held in October – and Ferrari have fond memories. Charles Leclerc qualified fourth and finished fourth – as the last car on the lead lap – in Portugal in 2020, before taking fifth place in Imola.
A much more competitive fourth last time out provides another example of how much Ferrari have improved, and Leclerc will head to Portimao believing he can be best of the rest behind the Mercedes and Red Bull drivers. But don't rule out Carlos Sainz, who showed impressive speed in only his second Ferrari start at Imola and led early on in Portugal last year, suggesting hopes will be high at Maranello for another big haul of points.
TREMAYNE: Ferrari are showing green shoots of recovery - but will their fans afford them the patience they need?