'I'm still far from being the Carlos of McLaren' at Ferrari, admits Sainz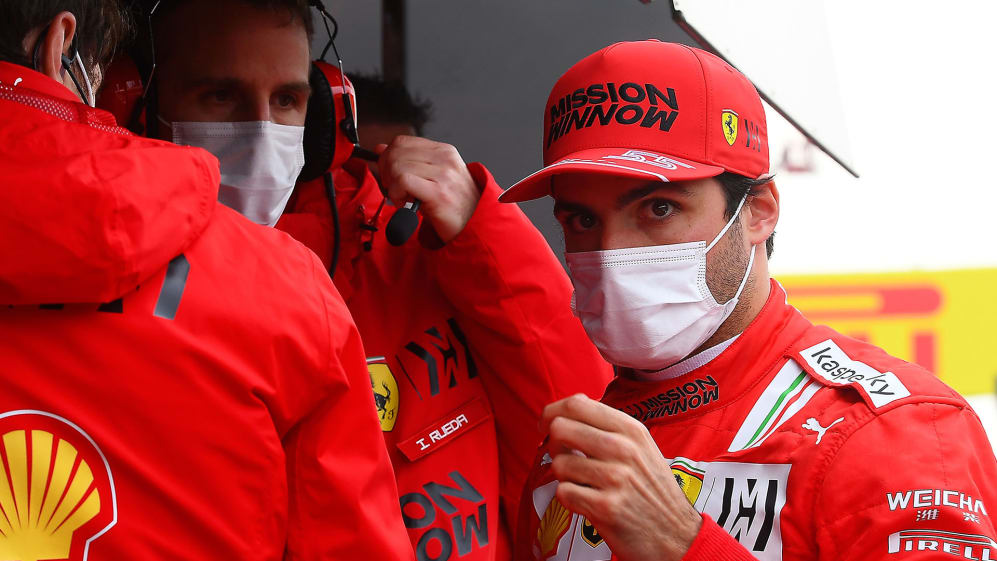 Carlos Sainz may have netted two points-paying finishes in his first two races as a Ferrari driver. But according to the Spaniard himself, he's still yet to start performing at the level he was at during his successful two-season tenure with McLaren.
Sainz followed up his eighth-place finish at the season-opening Bahrain Grand Prix with fifth at the Emilia Romagna Grand Prix, overcoming a P11 starting position and a brace of off-track moments to finish right in the wheel tracks of team mate Charles Leclerc.
And Sainz said that, in the face of difficult races at Imola for several drivers who have switched teams this year – the likes of Red Bull's Sergio Perez, Aston Martin's Sebastian Vettel and McLaren's Daniel Ricciardo – he was happy to be one of the drivers adapting best to his new environs, even if he admitted there was still more performance to come.
READ MORE: Why it will take time for Ricciardo, Sainz, Perez, Vettel and Alonso to adapt and get up to full speed
"That's something… I [set] myself as homework over the winter and I've been working really hard," said Sainz, speaking on F1 TV's Post-Race Show in Imola. "I've been spending a lot of time in the factory and I'm working very hard with the guys. I'm still far off from being the Carlos of McLaren and I know that and the team knows that.
"But I have flashes of a lot of speed like we saw in Bahrain qualifying. We saw it again today in the wet that I was flying in some laps, even in the mixed conditions. So there's some very good flashes out there and now we just need to keep working, let the races go by and all the experience will join together and it will make me stronger."
While Sainz finished the Emilia Romagna Grand Prix just behind team mate Leclerc, he was also just 3.334s off former McLaren team mate Lando Norris' third place – with Sainz hinting that, given his Ferrari team's pace this season, a return for him to the rostrum for the first time since the 2020 Italian Grand Prix was a real possibility this year.
"Today actually we were very close – I must say that the podium was two seconds away and I lost 10 seconds by going in the gravel," said Sainz. "So the podium was not far away today, even starting 11th like I was starting. The pace is encouraging, my feeling with the car in the wet is encouraging, and even in the dry I could keep up with Charles and Lando – we were pushing each other a lot.
TREMAYNE: Ferrari are showing green shoots of recovery - but will their fans afford them the patience they need?
"So there's some positive signs out there, I just need to put a whole weekend together. But today considering I was starting 11th, I did a couple of mistakes, first time in the wet and all that, I cannot be too disappointed with a recovery to fifth."
Sainz will now prepare for the Portuguese Grand Prix, where last year he caused a stir by taking the race lead from Mercedes' Valtteri Bottas in the early stages, before falling back to P6.