Feature
LONG READ: Daniel Ricciardo on adapting to McLaren, partnering Norris, and finding perspective in the bad days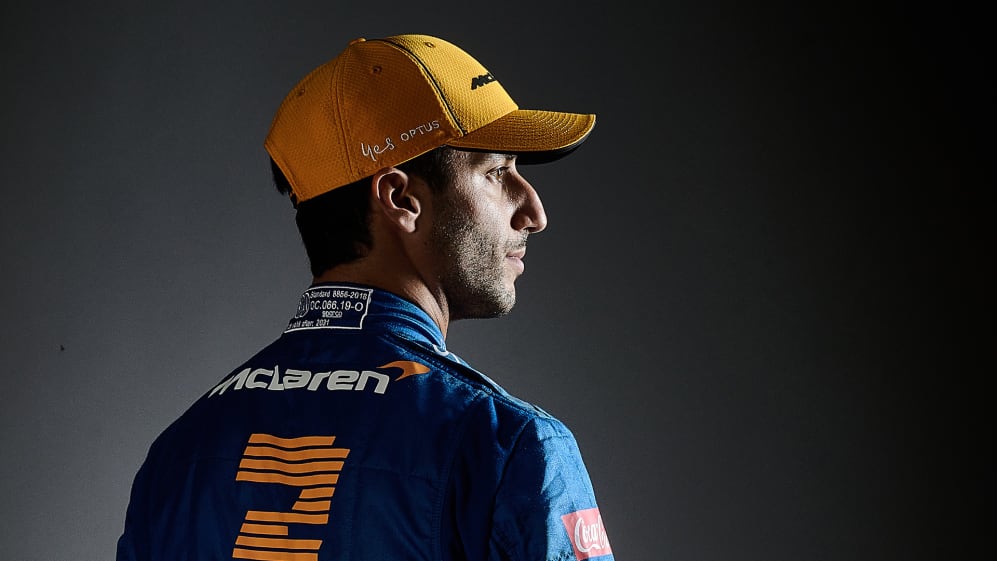 Daniel Ricciardo hates losing. He hated it when he was younger. He hates it just as much now. So right now, life is not easy.
He arrived at McLaren riding the wave of a strong finish with Renault – two podiums in the last seven races – and with the experience of winning seven Grands Prix. With such pedigree, many anticipated he'd face a tough challenge from team mate Lando Norris but ultimately come out on top. But his season has gone off-script.
READ MORE: McLaren set to join Extreme E racing series in 2022
After six races, Ricciardo has a best finish of sixth and while he has scored in five, the Australian has amassed a tally of 26 points. That's nothing to be scoffed at, but tougher to take when his team mate Norris has pushed himself to another level, free from Carlos Sainz's shadow. The Briton has scored two podiums, is the only driver to have scored in every race this year and is 40 points ahead of Ricciardo in the standings.
Ricciardo isn't enjoying this. You could see and feel his pain when he was knocked out of qualifying in the opening segment in Portugal. But he's not letting it get to him – yet. Day in, day out, that trademark smile is stretched across his face. For him – and his bosses at McLaren – it's only a matter of time till things come good.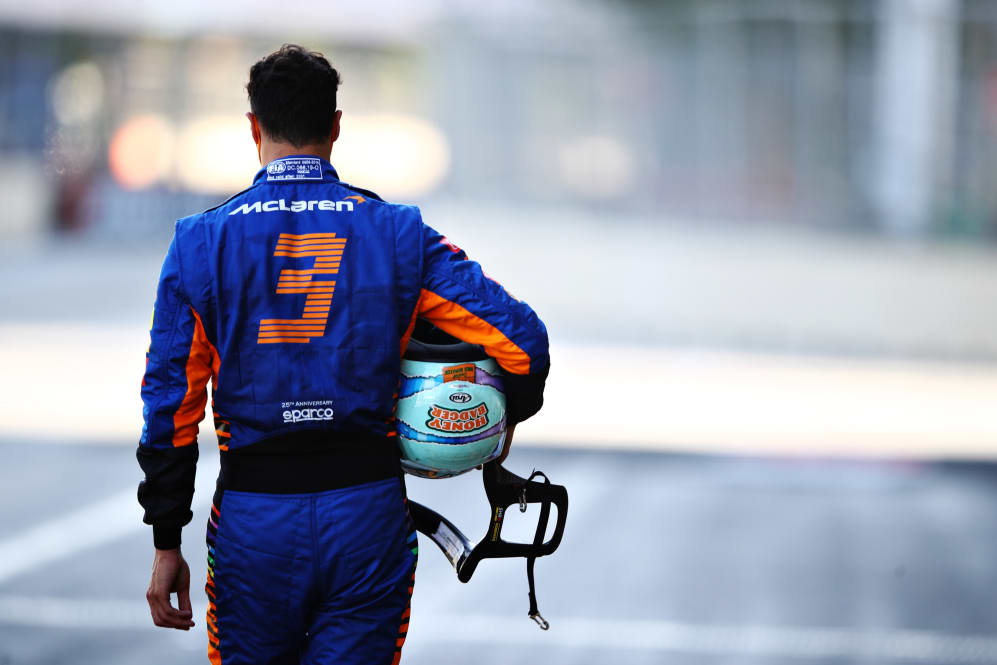 Why are they so confident? Because he has a track record. He's been around the block, having raced for five teams (HRT, Toro Rosso, Red Bull, Renault and now McLaren) in 11 years – and it's always come good. He knows it can take time to get your feet under your new desk.
It wasn't until his second year at Renault that things really came good, with something of a light bulb moment at race seven in Belgium. There he finished fourth, and never again finished outside the points in the remaining 10 races.
READ MORE: Why Ricciardo gambled his future on McLaren – rather than staying at Renault
"I've been here before, whether it's to this level, or not, whether it was in F1 or not," said Ricciardo, as we chatted in the last of the sun in Baku following Friday practice. "Naturally you always have these highs and lows. I fall out of love with the sport at least once a year! It's always done this [to me] and it will probably keep doing that.
"But the good thing with me is I'm always able to wake up Monday morning, after say a [tough race like] Monaco, and be full steam ahead again. I'm down in the dumps for the next week. I'll be sad if I need to on Sunday night but then I wake up Monday morning with a fresh motivation. I'll say to myself: 'This feeling, I don't like it, what am I going to do to change it?' I definitely find perspective in the bad days."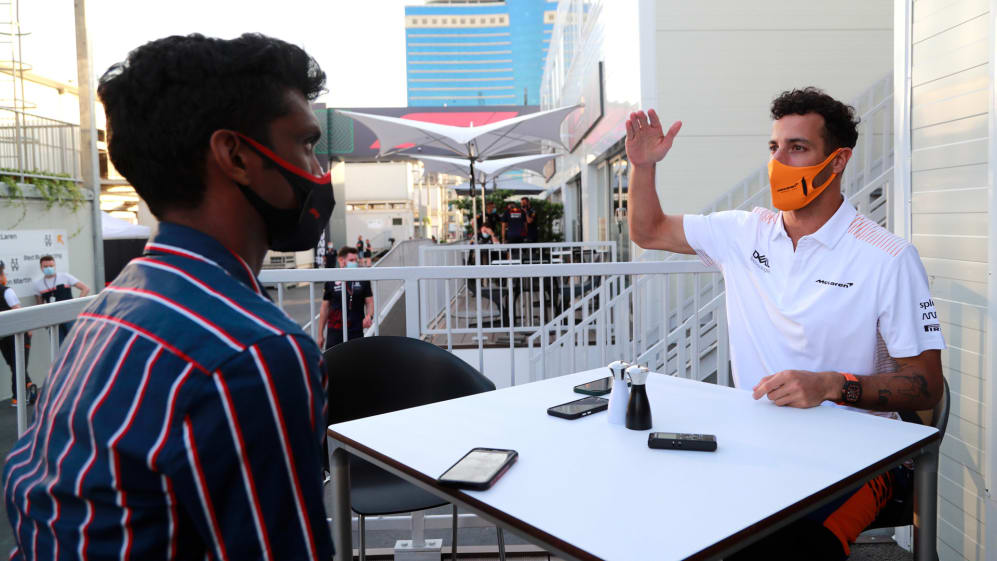 Adapting to his new wheels
The 31-year-old has had a fair few of those bad days recently – and aside from a crash in the second part of qualifying, when it looked like he comfortably had the pace to reach Q3 – Baku felt like it was something of a turning point. And that came from a change of approach.
When he joined the team, he knew it would take time to settle in, but if truth be told, he didn't anticipate it would take this long. It was only when he first turned a wheel in the MCL35M that he realised what he was faced with.
READ MORE: Seidl calls Baku result 'damage limitation' after McLaren concede P3 to Ferrari
"When I first drove the car, I said to myself 'OK, it's a different one'," he adds. "But I wasn't discouraged by that. I just said to myself 'I'll have to figure it out. The more laps I do, it'll just come'.
"The car is different enough, you need to work a little harder at it, it hasn't so far come just by circulating and doing laps. I've had to adapt a few things with my driving style to help the car. I'm still trying to get on top of that.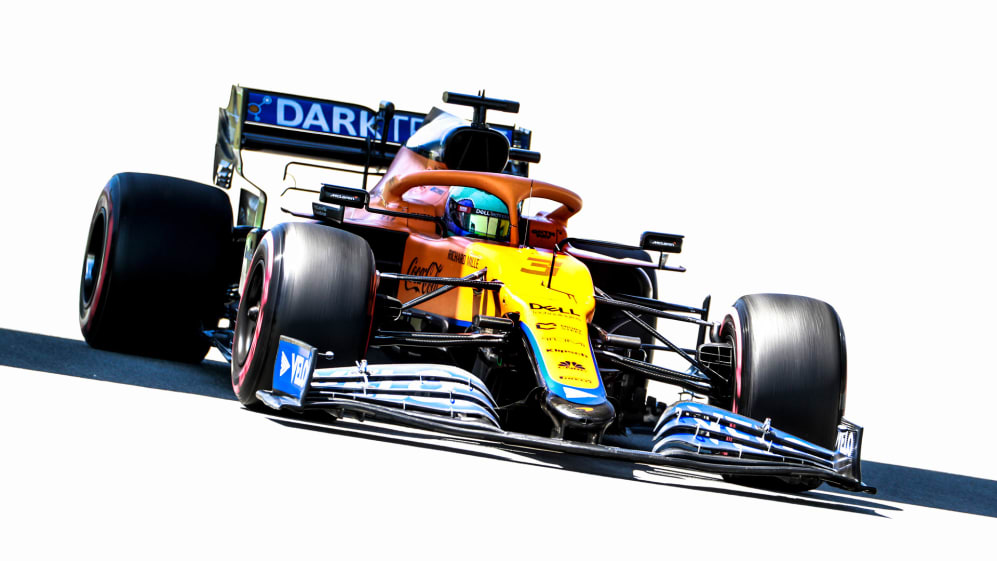 "Today [Friday in Baku] for example, I know the car isn't perfect – no car is – I was less focused on set-up, more just about me executing the way I know this car should be driven, and then I worry about the balance.
"I'm just focused a bit more on me now. But yeah, I felt early on it was quite a different car. Different not being bad, different being – 'I've got my work cut out'."
READ MORE: Ricciardo says triple header will 'fast-track' progress with McLaren, after bagging points in Baku
Effectively, Ricciardo is taking one step back to move two steps forward. Trying to drive the car the way he was used to won't work, so he's adapting. Charles Leclerc did similar, around this point in the season too, when he joined Sauber from F2.
That Norris publicly said even he is finding that this year's McLaren needs to be driven in a different way will almost certainly help Ricciardo's morale, not that he needs it boosting. And he can also take comfort in the fact that like many of his rivals who switched teams (Sebastian Vettel, Sergio Perez and Carlos Sainz) the deck was stacked against him.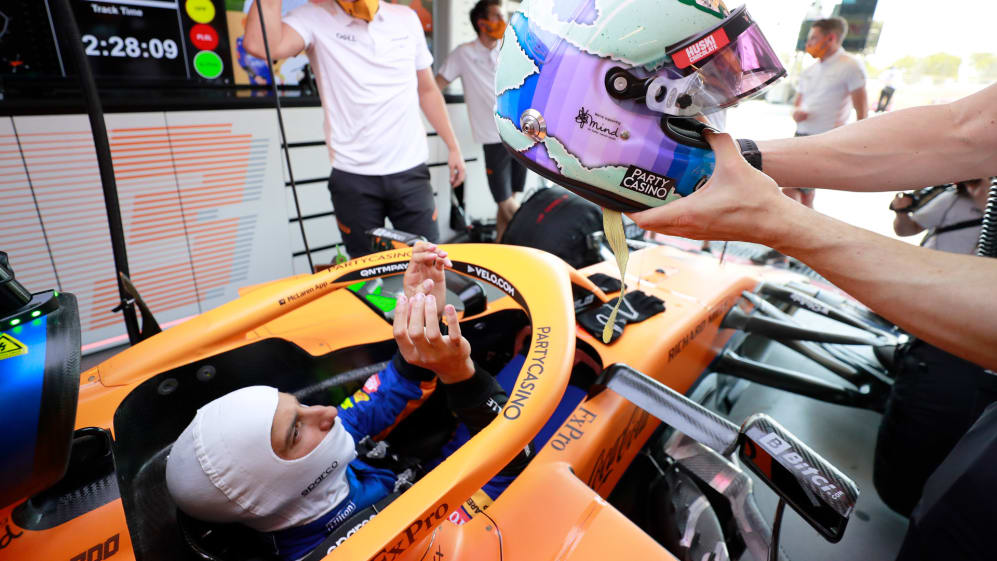 For a start, Ricciardo – like Vettel – did not get a chance to drive an old-spec McLaren before he made his debut. That meant his first experience of a McLaren race car was at the shakedown, which offers minimal – if any – learning for a driver given it's on demonstration tyres and limited to 100km.
He was then thrust into pre-season testing, which this year was just 1.5 days per driver, with a car that had a floor defined to new rules and new tyres. And when he arrived at a race, practice time had been slashed by 25% to three hours.
READ MORE: 'I didn't expect him to be so open with me' – Perez pays tribute to Albon after first Red Bull win
"Chatting with other drivers [about the new floor rules and the way these tyres operate], it is a bit challenging for everyone and maybe that is amplified because of my switch in team and also the uniqueness of this car," says Ricciardo. "[The lack of time I'd spent in the car relative to what he would have had in previous years] was brought up in Monaco within the team, and there was a bit of realisation that OK, mileage wise – and Fridays are shorter – we may be in race six but in a previous season maybe that's only race two or three.
"At the time, I'm thinking 'you're just trying to make me feel good' – but it's fact. Obviously, you want the result today, but I'm not getting too carried away and ultimately, we're not in a championship season this year, so what is there to lose? Maybe a fifth place, maybe an eighth. I'd rather get everything in order and if next year is a season for us to fight for a title, then I want to be tip top for then."
Making gains off-track
Ricciardo – who has 31 podiums under his belt – loves a challenge. It's partly why he left Red Bull for Renault, so he just sees his time at McLaren as the next one he has to conquer. "In a way, I got out of Red Bull because I had a fear of becoming complacent," he adds.
"I was so comfortable with the team and familiar with everyone and I was worried that maybe there's things I'm missing. You're definitely out of your comfort zone going to a new team. It requires a bit more work and a bit more energy, but I feel over time – and I'm obviously committed to McLaren for the next few years – it should pay off. Whether it's six months' time, 12 months' time, I should be a more complete driver."
IN-DEPTH: Daniel Ricciardo on his enduring title target and 10 years in F1
Unsurprisingly, Ricciardo has quickly become part of the McLaren family. He spent all of February in the factory, staying nearby, to fully integrate himself. And the team threw everything at getting him settled in quickly. They even spent time going through his team radio at Renault so they could hit the ground running with efficient communication, such was the level of detail.
It's why Ricciardo feels the off-track stuff is sorted, the Australian expressing his gratitude by sending every single employee one of his team baseball caps with the following note.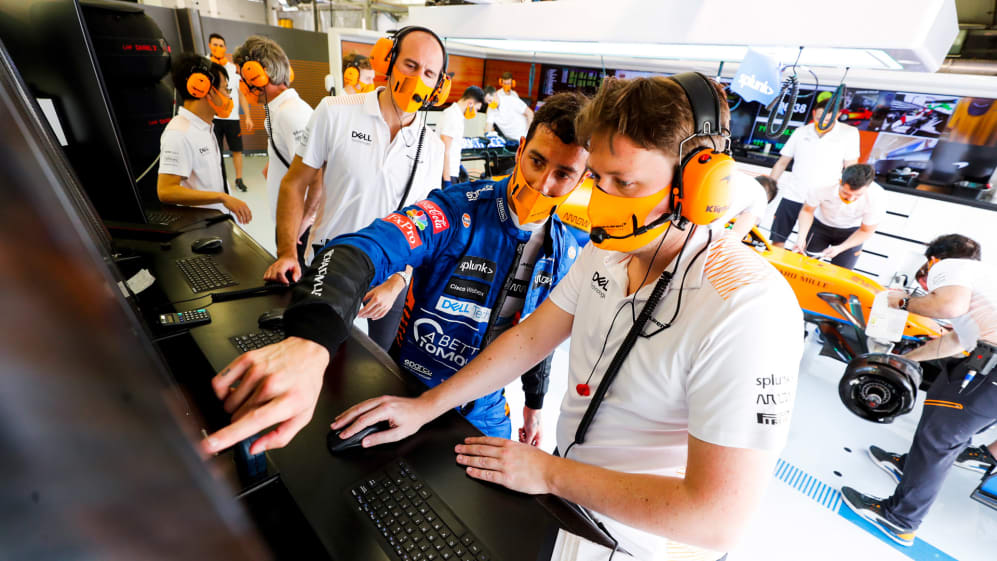 "G'Day my McLaren fam! Just wanted to send a little note thanking each and every one of you. The welcome you've given me has been amazing, made me feel warm and tingly. Can't wait to get on track and give it plenty, but until then I hope you enjoy the cap. Cheers, Daniel."
"I'm very comfortable with the team," the Australian told me. "We all have a good relationship. We did a lot of work pre-season, so the bigger percentage is me getting up to speed – and by that I mean getting comfortable driving it the way it should be driving the car."
READ MORE: NASCAR fan Ricciardo offered drive in Dale Earnhardt Sr stock car – if he lands podium for McLaren
Covid has made life significantly harder for Ricciardo – and others who have changed teams – to integrate – but it's also had a big impact from a personal side. "Family time is what I'm missing the most," he says. "It was a year the other day since I've seen them. Now more than ever, it highlights that drivers not from Europe, this is the extra stuff we have to deal with. People forget it.
"Even other drivers here on grid, they might not live at home anymore, but they are an hour's drive from their parents or an hour's plane away. I've never been homesick, I've been really good since I left home, and I think that's because I've been so driven of course, but I think this year will test me for that. A year is long and it's probably going to be 18 months till I see them again."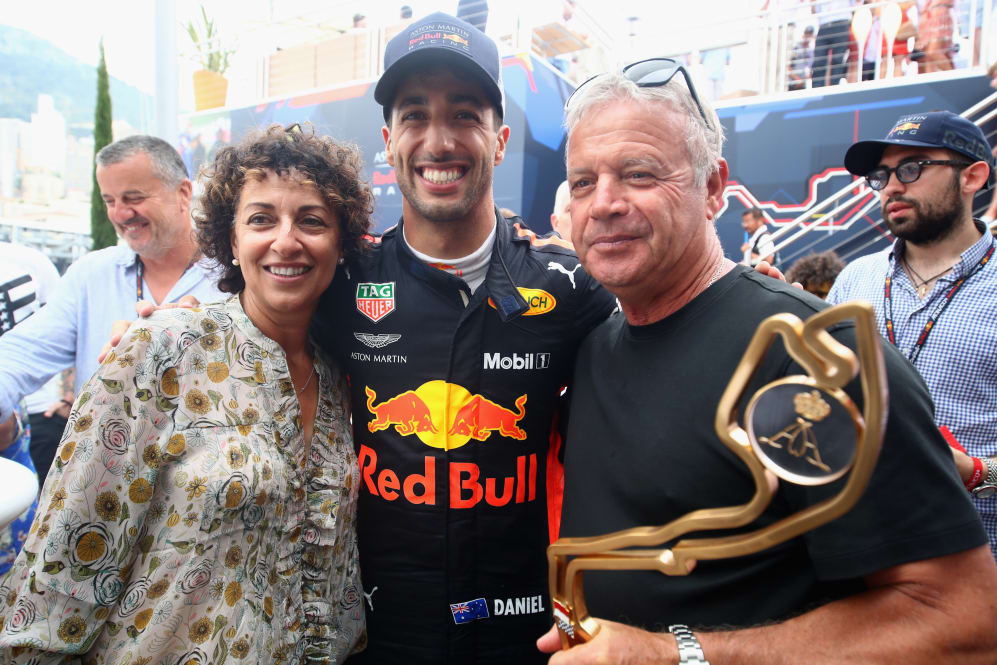 Watching your team mate – 10 years your junior – beating you can't be easy, but Ricciardo says he's taking the positives from Norris' brilliant start to the season that has been so good, it convinced McLaren to extend his contract until at least the end of 2023, in line with Ricciardo's arrangement. "Honestly, it's encouraging," he says.
"It shows there is the pace there and if I get it right then there's podiums available in certain races, so that's encouraging. I don't look at it as a negative. It makes me want to be better. I've always said I do want to see if I'm the best so having a strong team mate will help and it shows some of my weaknesses as well. That's where I can work and become an even more complete driver. I'm certainly not looking at it as a threat or negative – and I'm not bitter. [My pace is] just something I need to work on."
READ MORE: The inner steel behind Ricciardo's smile – and why McLaren wanted it
We've seen Ricciardo get frustrated in the past after prolonged stretches of difficulties. When that happens, he has admitted he needs to see destruction. He punched the wall of his driver room in Austin back in 2018, after suffering his seventh DNF of the year with Red Bull.
The anger was so palpable, he "scared" himself. A year later, then racing for Renault, he bypassed the TV pen, walked behind the team's hospitality unit and searched out something to break after a poor qualifying in Mexico.
Those moments are rare but show how much it means to Ricciardo. He left Australia for Europe aged 17, moving a hemisphere away from his family who he is very close to, to pursue his dream. He believes he can be the best. He knows he's got talent. So when he's unable to show that pace or wrestle control of the car he's driving, it gets under his skin.
LISTEN: Andres Seidl on McLaren's resurgence – and his failed attempt to sign Ricciardo for Porsche
But it's that speed, hunger to succeed and steadfast determination that attracted McLaren to him. And the fact his emotions boil over so rarely shows the tough times are few and far between.
It's why while their new relationship has got off to a stuttering start, his bosses are not reaching for the big red panic button, nor do Ricciardo's knuckles or the chaps who build the drivers' temporary rooms in the team's hospitality unit have anything to worry about just yet. It's just a matter of when, not if, the real Ricciardo turns up.