Feature
FORM GUIDE: Can Mercedes be stopped as F1 heads back to Bahrain?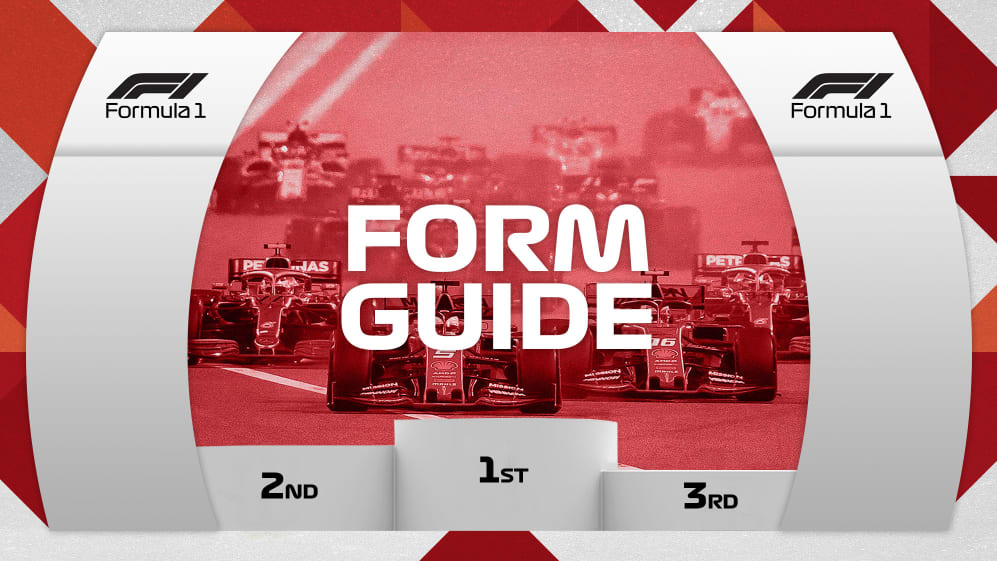 As the 2020 season draws to its conclusion, the Bahrain Grand Prix kicks off a Middle Eastern triple header to close the year. Here then are the favourites for pole, victory, podiums and points at the Bahrain International Circuit.
Vying for pole
Well, after trips to the uncharted – or lesser charted – waters of the Nurburgring, Portimao, Imola and Istanbul, we finally arrive back at a Bahrain track where we have some meaningful recent data.
Already we hit a snag, though, because although Ferrari have had it all their own way pole-wise at Bahrain for the past two years – Sebastian Vettel in 2018, Charles Leclerc in 2019, with a Ferrari front row lock-out both years – those were earned largely thanks to the grunt advantage Ferrari had back then… and don't have now. Yes, the Bahrain Grand Prix circuit is a power sensitive venue – although not as much as the Outer Track, more on which in a week's time – meaning that Mercedes look well-placed to re-capture their advantage here this weekend.
WATCH: Button vs Perez and a heavy Hamilton crash – 5 forgotten moments from the Bahrain GP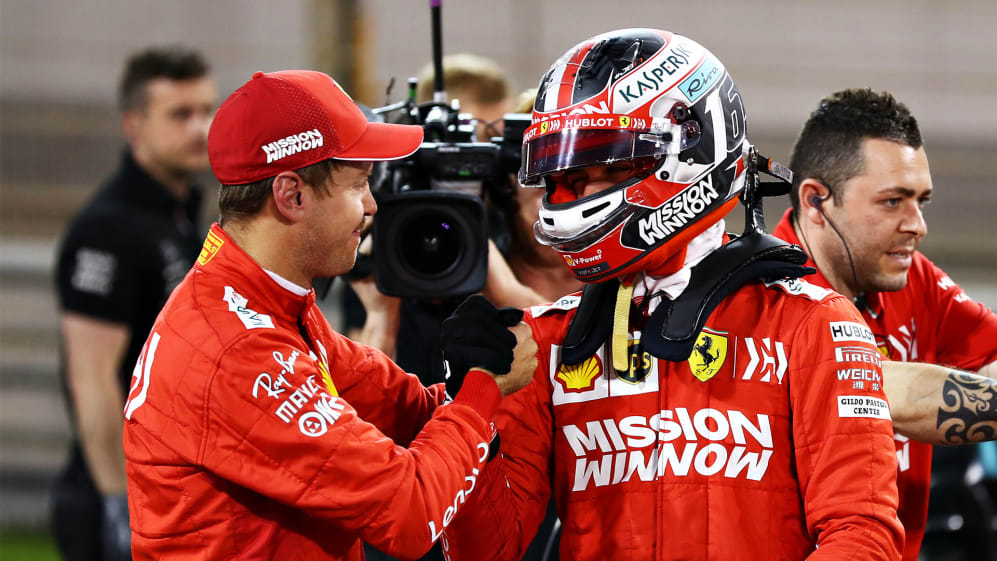 Okay, so Mercedes' chances of a clean sweep of poles in 2020 were ended by Racing Point's Lance Stroll two weeks ago in Turkey. But extremely abnormal conditions were behind that, with Mercedes admitting that their car wasn't prepared to be dealing with those conditions at this late stage of the season.
Now, back on an even keel in the balmy heat of Bahrain – where average temperatures in November are three degrees hotter than the 25 they would have been in March, when we were originally due to race here – the Silver Arrows will be tough to head.
READ MORE: What time is the 2020 Bahrain Grand Prix on and how can I watch it?
As to which Mercedes driver looks most likely, though, Lewis Hamilton and Valtteri Bottas had shared two poles each in the run-up to the Turkish Grand Prix. But Bahrain isn't one of Hamilton's happiest pole hunting grounds, the now seven-time champ having only claimed two here in 2015 and 2016, while Bottas is actually the most recent Mercedes driver to take pole in Bahrain back in 2017.
One thing to look out for though is, er, rain, with current forecasts suggesting that both Saturday and Sunday at Bahrain will be wet. Maybe those abnormal conditions aren't done just yet…
Pole positions in the last five years:
2019 – Charles Leclerc (Ferrari)
2018 – Sebastian Vettel (Ferrari)
2017 – Valtteri Bottas (Mercedes)
2016 – Lewis Hamilton (Mercedes)
2015 – Lewis Hamilton (Mercedes)
FAN VIEW: You might have expected a little less support for Mercedes to take pole on Saturday after they struggled in qualifying in Turkey. But Lewis Hamilton is still well clear in the F1 Play voting so far. Max Verstappen and Hamilton's Mercedes team mate Valtteri Bottas are next.
In the mix for victory
Pole position in Bahrain is no guarantee of victory, with the pole-sitter having won just six of the 15 Grands Prix held here. That's especially bad news for Valtteri Bottas if he prevails on Saturday, with the Finn having failed to convert the last three of his poles into victories – although a DNF at the Nurburgring accounts for one of those – while his Bahrain pole in 2017 ultimately resulted in a Sebastian Vettel victory.
WATCH: Re-live last year's Bahrain GP as Leclerc suffers heartbreak under the lights
Hamilton, on the other hand, has more wins (three) than poles here, even if an element of luck allowed him to benefit from an issue on Charles Leclerc's Ferrari last year. And despite his seventh title being sewn up, there's still a record for Hamilton to chase down this year, with victory in the last three races ensuring him of the highest win percentage (13/17, or 76.47% ) in a season – beating Alberto Ascari's 68-year-old record of 75.00%. And with Hamilton on a four-race win streak to boot, he'll be a hard driver to stop this weekend.
Challenger-wise, assuming Max Verstappen is back in his traditional Mercedes-hunting role this weekend, it might be hard for him to do any better than P3 – unless he can use any wet weather that shows up to his advantage – with Red Bull having not taken so much as a podium in Bahrain since 2013.
Wins in the last five years:
2019 – Lewis Hamilton (Mercedes)
2018 – Sebastian Vettel (Ferrari)
2017 – Sebastian Vettel (Ferrari)
2016 – Nico Rosberg (Mercedes)
2015 – Lewis Hamilton (Mercedes)
FAN VIEW: Hamilton is not surprisingly the overwhelming choice of F1 Play gamers here after that peerless display to clinch the title in Turkey. The more interesting note surrounds Bottas and the complete lack of support for him after his miserable P14 in Istanbul. More gamers so far have selected Verstappen to win in Bahrain.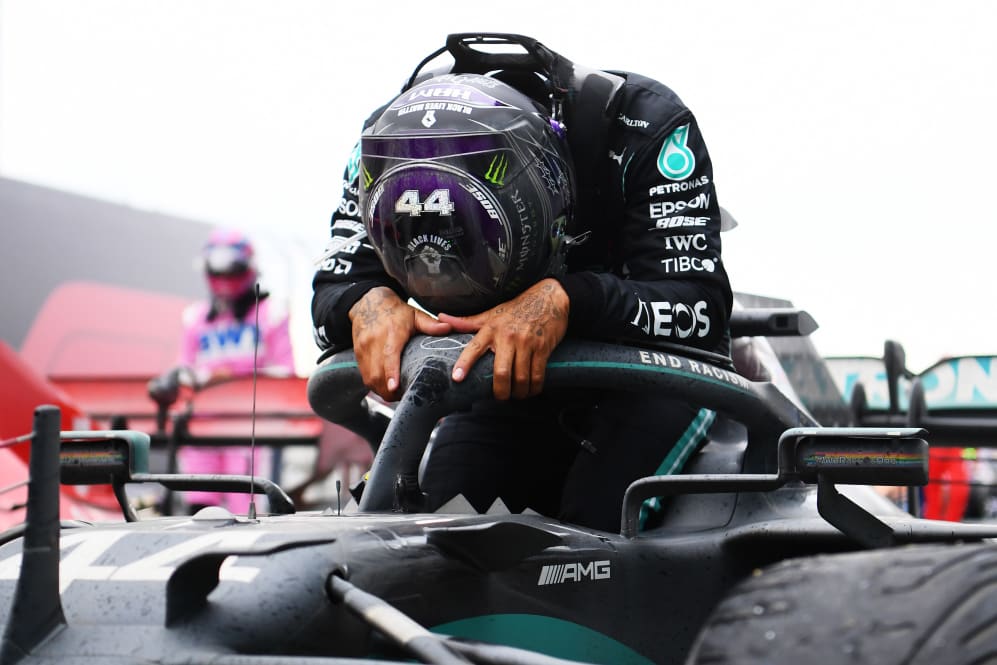 Podium outsiders
Sergio Perez was on the Bahrain podium for Force India in 2014 – and off the back of his Turkish Grand Prix P2, Perez looks a decent outside bet to take a top-three finish again this weekend if one of Hamilton, Bottas or Verstappen falter, with the Mexican on a nine-race streak of taking points – and having scored in every race he's started this year. Renault's Daniel Ricciardo, on his own eight-race points streak, including two podiums in the last four races, is also in fine fettle heading to Bahrain.
READ MORE: Ricciardo one of four drivers 'at different level' says Renault sporting director
Looking past Perez and Ricciardo's recent visits to the podium, it could be about time for Charles Leclerc to get back there himself for the first time since the British Grand Prix. The Monegasque hasn't finished lower than fifth for the past three races, and would likely have had a podium last time out had he not misjudged his braking on the final lap.
Meanwhile, Turkey witnessed an improved performance for Alex Albon, who said that some set-up tweaks on his car had helped him to feel more comfortable, and close the gap to Verstappen. It will be interesting to see whether it's enough to get the Thai driver acting as a consistent rear-gunner for Verstappen in the last three races – and maybe even snatching his second podium of the year here.
Podiums in the last five years:
Mercedes – 10
Ferrari – 5
FAN VIEW: Ferrari's Charles Leclerc is the hottest tip to crash the Mercedes/Red Bull podium party in Bahrain this weekend. The Monegasque has been pushing for a spot in the top three in recent races, and F1 Play gamers like his chances. Renault's Daniel Ricciardo – also in excellent form recently – is attracting support as well.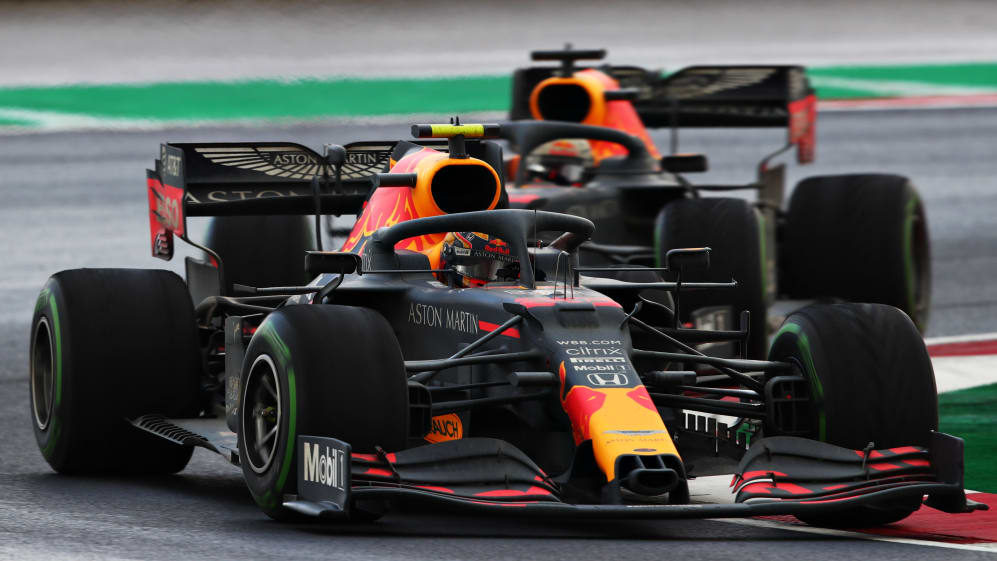 Points potential
Behind Mercedes' 47-race (yeesh) points streak, Racing Point are the next most consistent team on the grid with 12 races in the top 10. Bahrain may not have been the team's most successful track in recent years – the 'Silverstone' squad earning just 13 points in the last five races here – but with their radical design shift this year, they look good to extend their run of points further, with Lance Stroll surely keen to strike back after his bittersweet Turkish Grand Prix weekend.
Renault are on their own eight-race streak, meanwhile, and have gone well at lower downforce venues so far this year like Spa, the Nurburgring and Imola. A good result in Bahrain would also help the team pull themselves back into contention for P3 in the constructors', with Renault 18 points adrift of Racing Point after Turkey.
READ MORE: Racing Point, McLaren, Renault or Ferrari – Who will win the fight for P3 in the constructors' championship?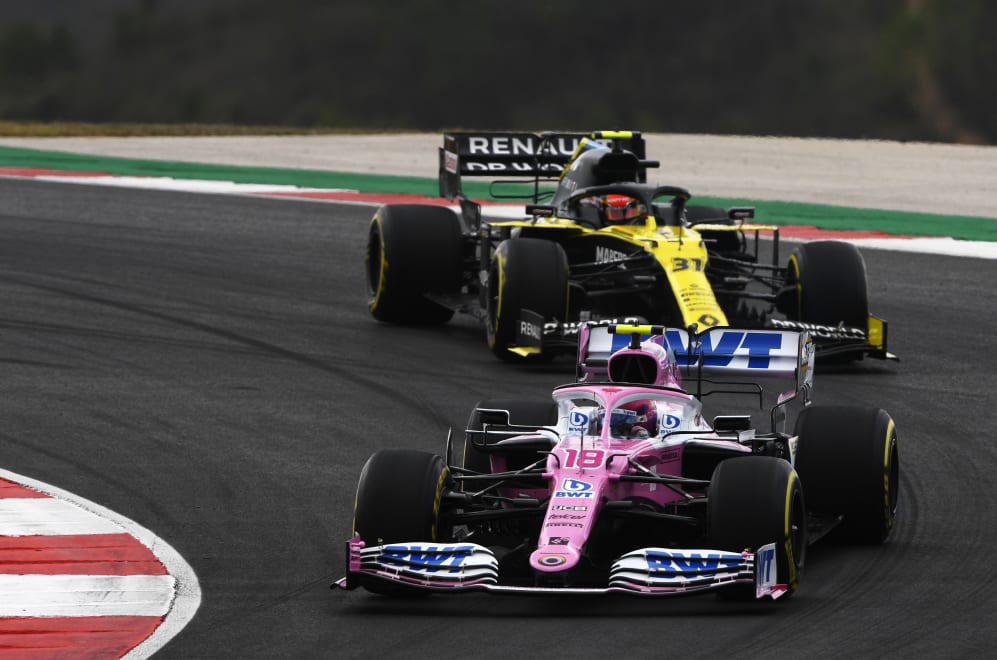 Elsewhere, Ferrari have scored at the last six Grands Prix, and their haul of 27 points from Istanbul – earned via Vettel's first podium of the campaign, and Leclerc's P4 – means the Scuderia are also getting interested in the P3 scrap, sat as they are just six points off Renault in P6.
READ MORE: Vettel now comfortable with Ferrari SF1000 after 'difficult season', says Binotto
And finally, can Williams prevent themselves from becoming the only team in 2020 not to score a point in Bahrain? Their Mercedes power unit should help at the power-hungry track loaded with three DRS zones, while the team have an agonising four 11th places to their name in 2020. With Safety Cars at each of the last three Bahrain Grands Prix, and the threat of rain looming, can the Grove team spin any disruptions to their advantage – and finally get off the mark this year?
Points in the last five years:
Mercedes – 189
Ferrari – 134
Red Bull – 54
Williams – 27
Haas – 24
AlphaTauri/Toro Rosso – 22
McLaren – 19
Renault/Lotus – 16
Racing Point/Force India – 13
Alfa Romeo/Sauber – 8
FAN VIEW: Behind Leclerc and Ricciardo, Sergio Perez is the man attracting most support to put in another strong showing. The Mexican – still without a drive for 2021 – was a superb second behind Hamilton in Turkey and is well fancied by F1 Play gamers to produce the goods again for Racing Point in Bahrain.